If travelers did not relish being seated in snug economy class seats before the COVID-19 crisis, will they be content to return to the same cramped quarters and sit shoulder-to-shoulder post-pandemic?
Some airlines are clearly not yet ready to find out. Setting the industry standard, Delta has extended its commitment to block middle seats and cap seating in every cabin through 30 September 2020, saying that reducing the number of customers on every aircraft across the fleet "is one of the most important steps we can take to ensure a safe experience for our customers and people".
JetBlue's onboard distancing program, which sees the New York-based carrier blocking middle seats on its Airbus narrowbodies and aisle seats on its smaller Embraer 190s, will remain in place through at least 6 July to give customers "peace of mind that they will not be seated directly next to someone they don't know", says the airline.
Several operators are endeavoring to space passengers apart on board but are not making firm guarantees. Others, like All Nippon Airways, are not blocking seats at all, but "if a passenger wishes to move seats after boarding, a flight attendant will inform them of the available seats and help best accommodate their needs", says an ANA spokeswoman.
To help instill confidence in travelers, aircraft interiors stakeholders have proposed a bevy of seat separation solutions to airlines. Runway Girl Network has highlighted a number of these new ideas. While each concept is different, they all share two common attributes – they more clearly define the living space afforded to the economy class passenger, and they put the onus on airlines to do something proactive.
Now, award-winning creative design agency Factorydesign says it has developed an inexpensive and quick way for passengers to create a more personal space on board. Called HeadZone, the recyclable cardboard product slips over the back of an economy class seat and folds out to immediately add privacy.
"As we begin the cautious return to travel, passengers will need to feel comfortable both mentally and physically about the space they are soon to inhabit. This may only be for a transitional period, it may not, but the ability to create a sense of independent space will be important to nervous returning passengers," states the UK firm.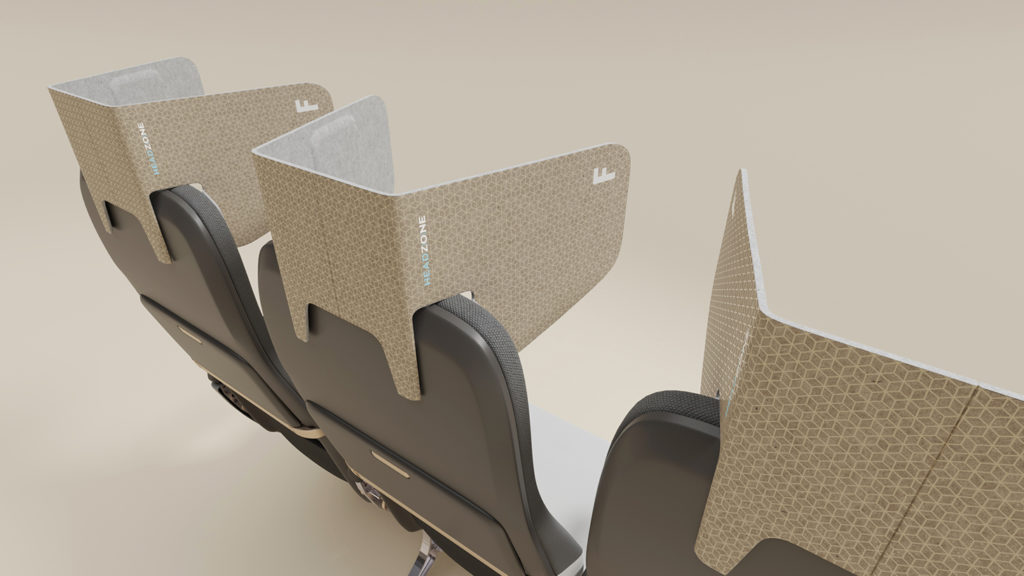 Simple and portable, the HeadZone smart card has been designed primarily for seats with no seatback IFE flying on short-haul routes, says Factorydesign.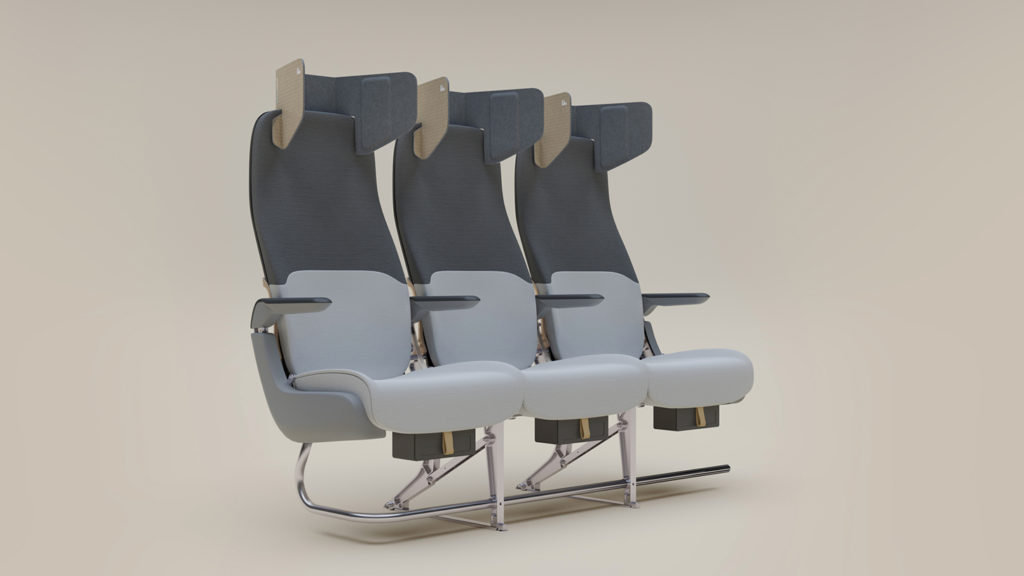 Notably, HeadZone would not change the inherent nature of the cabin interior layout or require an aircraft retrofit, but rather serve as an environmentally-friendly, personal add-on.
While Factorydesign is targeting high-density budget travel operations for HeadZone, it says it also sees tremendous opportunities in the world of fixed seat rail travel.
"It would be purchased by the passenger within the terminal or supplied by the airline or railway company as part of a flight/travel purchase on boarding," explains the company.
"There are opportunities for branding, sponsorship and high impact advertising, which may also allow companies to provide it free to customers."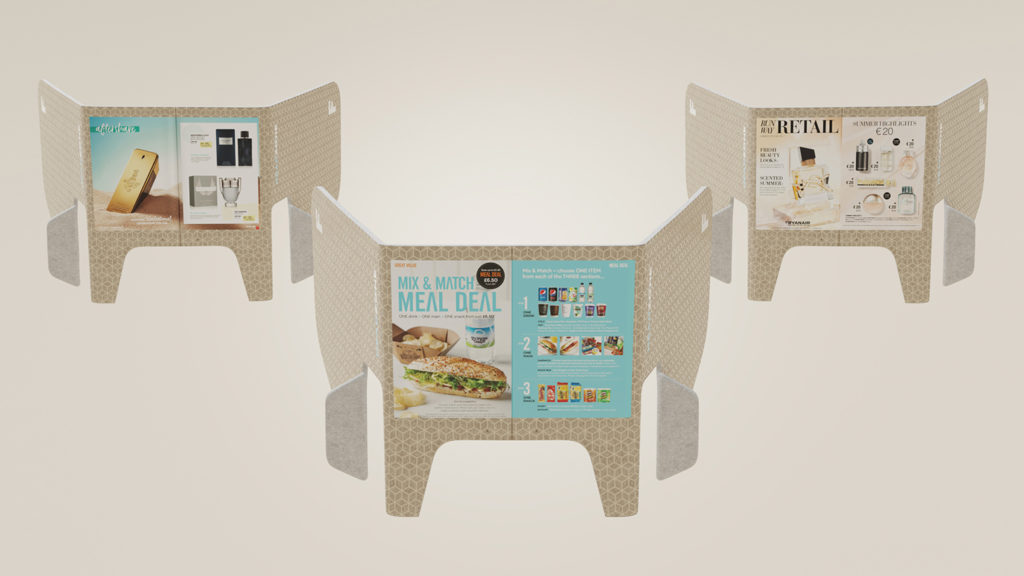 Industry seems to be divided on whether onboard social distancing, blocked seats, and seat dividers actually enhance safety or merely the perception of safety, but perhaps it dismisses passenger perception at its peril.
Research supports the idea that passengers feel more comfortable when they feel in control. And HeadZone is about "giving the passenger control of their personal space", Factorydesign director Peter Tennent tells Runway Girl Network.
"HeadZone is 'low-tech' and, as a carry on, has less regulations to meet so can therefore be available more quickly and cheaply than the various, more complex and robust screens which have been seen in the press," he adds.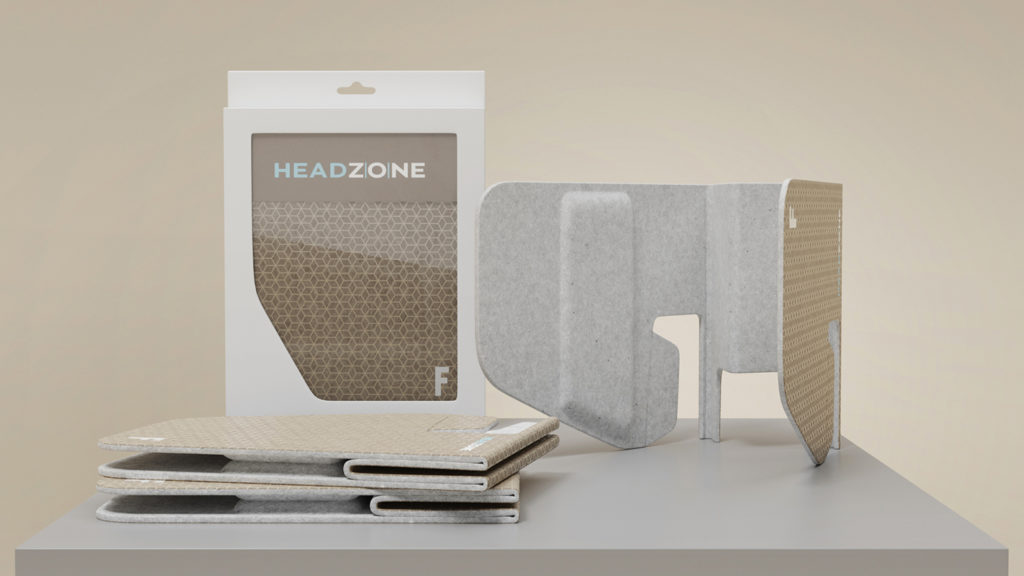 All images credited to Factorydesign
Related Articles: