Collins Aerospace's new president, Interiors, Troy Brunk is convinced the airline passenger experience as we know it will change in a post-pandemic world. Whether that new reality includes long-term social distancing on board remains to be seen, but it's here for a spell.
"The only thing we know for certain is that as long as COVID-19 remains an issue for the world, social distancing is here to stay for a while. I don't want to guess what that means for the long-term," he told Runway Girl Network, when asked if onboard social distancing will continue after aviation gets back to business.
"What I can say with certainty is that the flight experience as we know it will change – and we'll be there creating what our passengers need every step of the way – helping our customers help their customers."
A growing number of airlines are blocking seats and spacing passengers apart to help prevent the spread of COVID-19. Consumer advocacy group Flyers Rights is calling for IATA and ICAO to publish best practices for facilitating onboard physical distancing, arming flight attendants with M-95 masks and ensuring all passengers don masks, among other proposed measures.
Now a unit of Raytheon Technologies, Collins Aerospace is a premier provider of aircraft interiors, including economy and premium seats, lavatories, and systems for waste, oxygen and potable water. As such, the company is well positioned to aid in the aviation industry's recovery. Indeed, this is "a key topic of discussion not only within the Interiors business – but across the entire organization", says Brunk.
However, new products and solutions take time to develop and get certified. We're certainly looking at those future concepts – but right now our first priority is to help the airlines make the changes they need to keep passengers safe in a financially strained environment. For example, helping them explore seat configuration changes with existing equipment, and new measures to deal with social distancing requirements.
In recent weeks, aircraft interiors stakeholders have tabled a number of intriguing ideas to support social distancing on board. Italian firm Aviointeriors is proposing forwards-backwards seating with a wraparound shell layout that includes a head-level transparent thermoplastic screen. HAECO, which in 2019 débuted its Eclipse staggered-angled hybrid seat, suggests that Eclipse offers "unmatched privacy, safety and social distance" as onboard social distancing is adopted by airlines.
Noting that the future of aircraft interiors "will require more means of providing passengers with piece of mind that their journey will be comfortable, safe and sanitized", thermoplastics specialist SIMONA Boltaron suggests that "new cabin concepts, as well as retrofitted aircraft seats, will feature privacy and safety dividers that separate passengers and can be cleaned frequently". Boltaron is pushing forward its Boltaron 4350 translucent and transparent materials, which meet crucial flammability requirements and can be thermoformed to provide a safety barrier without sacrificing regulatory compliance or aesthetics.
For its part, Collins Aerospace has done a lot of research in this area with its innovations throughout the cabin, from nose to tail. "Looking at innovations to reduce interaction through touch, innovations for surfaces we have to touch and innovations that positively impact the environment inside an aircraft are all areas our engineering organizations are exploring," Brunk tells RGN.
In terms of whether Collins Aerospace has any IP that might prove useful in a post-pandemic world that perhaps didn't suit the market before, Brunk says: "We are always looking into future technologies, the associated IP and the market timing. I don't necessarily think that suitability has changed, I think about it more from a market timing standpoint. I am convinced that the post COVID-19 environment is more likely to accelerate market entry points for many of these innovations."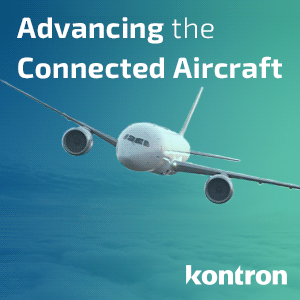 Meanwhile, Collins Aerospace – and more broadly, Raytheon Technologies – is still helping to fight the spread of COVID-19. "From an Interiors perspective, our team has been actively involved in producing 3D print headbands for face shields. This is part of a larger Raytheon Technologies effort to produce nearly 2,500 headbands a week," says Brunk.
"I'm particularly proud that these are being produced at some of our Interiors sites including Bohemia, NY, Everett, WA, Colorado Springs, CO, Nogales, Mexico, Savannah, GA, New Berlin, WI, Phoenix, AZ, Peshtigo, WI and Kilkeel, Northern Ireland – which has also been producing hospital scrub kits for medical workers. It's been extremely gratifying to see the great work that our team is doing."
He says the team has also been been witnessing many individual stories of employees volunteering their time and effort throughout the entire organization.
Collins Aerospace is also "working closely in an advisory capacity with our airline customers as they transition passenger aircraft to all-cargo flight missions. There are however, other parts of the Collins organization that are involved as well, including our Information Management Services group which is helping with humanitarian flights and waiving fees for those efforts," notes Brunk, who recently succeeded Dave Nieuwsma as president, Interiors, reporting to Collins Aerospace president Stephen Timm.
As an essential business, has Collins Aerospace scaled down any of its interiors production operations?
"As you know, the commercial aerospace industry has been hit hard by COVID-19 – and we aren't immune to that," responds the Collins Aerospace executive. We are currently working closely with our airlines and OEMs to adjust to this new reality. I can't get into specifics at this time, but I would expect that we'll hear more about the impact in the May 7th earnings update from Raytheon Technologies."
Related Articles: