Even before COVID-19 wreaked havoc with the airline industry, Pat Baylis, managing director and corporate medical director for United Airlines, was a busy woman.
A trained physician assistant with a specialty in aviation medicine who has worked with United in various capacities for over 35 years, Baylis serves as the key medical consultant for a wide range of company issues.
"I'm involved with everyone in the airline industry from the ramp workers to the pilots to the management people," Baylis tells Runway Girl Network. "We protect their health and safety and, ultimately, the health and safety of our passengers by doing so."
Based at United's corporate headquarters in Chicago, Baylis works with a small corporate medical team to clear pilots to return to active flight status. She consults on fitness for duty cases involving other airline employees. And during inflight medical emergencies, she oversees the on-the-ground physicians providing medical advice directly to the aircraft.
Baylis and her team also maintain the contents of the FAA-required medical emergency kits, and other medical equipment used on board United's airplanes, including the First Response Kits, which Baylis created.
Baylis says United is the only airline to have these "bonus" first response medical kits on board, which contain diagnostic medical equipment such as an automated blood pressure cuffs, glucometers to measure blood sugar and oxygen level pulse oximeters.
"Physician or treatment providers on board aircraft use these kits to help diagnose an inflight medical emergency before opening the big emergency medical kit," says the United executive.
Baylis still has all these duties and responsibilities. "But my priorities changed completely with the onset of this pandemic crisis. I have become totally immersed 24/7 in providing COVID guidance for United as well as mental health support through our internal employee assistance program," she says.
Baylis is the medical advisor on United's Pandemic and Emergency teams and has been coordinating with the Centers for Disease Control and the World Health Organization on everything from aircraft sanitation and the use of face masks to post-exposure protocols and procedures for employees returning to the workplace.
"From the start I've been continually updating and educating people on what was going on with this virus," she says. "It was new, we didn't know what the symptoms were yet or how it spread. Did we need to clean things differently? Did we need to wear masks? The more guidance I got from CDC and WHO the more I could come forward to help establish guidelines and processes to help mitigate risks."
As the only US airline with a full-time, on-site medical director, United has taken a proactive approach to ensuring crew and passenger safety under the guidance of Baylis. In coordination with the Association of Flight Attendants, it is the first major US carrier to require that all flight attendants wear a face covering or mask to help protect themselves and customers on board (the AFA, meanwhile, is calling for passengers to do the same).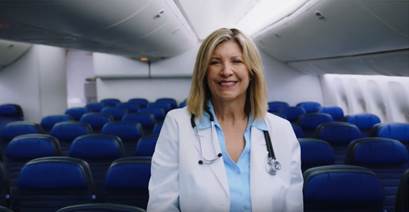 United has also changed onboard service to minimize touchpoints between crew and customers, including: handing snacks and beverages to customers, moving to primarily pre-packaged foods and sealed beverages, and suspending the buy-on-board program, hot towel service and pick-up pans to collect trash.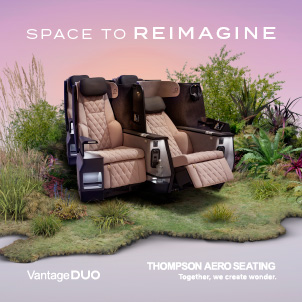 The airline is also boarding additional disposable cups so new cups can be used for refills. And it is implementing additional, temporary changes to promote social distancing on the ground and in the air.
United says it is limiting seat selections in all cabins, "so customers won't be able to select seats next to each other or middle seats where available. We're also alternating window and aisle seats when seats are in pairs." It intends to keep these measures in place through 31 May and says it "will continue to evaluate how best to proceed given the fluidity of the current situation".
Now that employees are starting to come back to work after self-quarantine or self-monitoring, Baylis is working with CDC to create back-to-work guidelines.
Want to be a Corporate Medical Director like Pat Baylis?
She says she took a somewhat circuitous route to reach her position as the only corporate medical director for a US airline. "Now I tell people, go into occupational medicine and then train with the FAA on aviation medicine, which is a different type of medicine."
Baylis credits some of her success in the field to both medical and management experience gained on the job over 35 years in the industry. She says her loyalty to and "tribal knowledge" of the company has helped, but there are plenty of other skills needed to be good at this job.
"I am not a technology whiz, but my knowledge base and my relationships have really helped. You also have to be a good communicator, be logical and have a calm head."
Two other skills Baylis says are important: the ability to be both resilient and a trusted resource.
Related Articles: