As much as I enjoy flying all over the world, I have never quite been able to figure out how to effectively sleep on a flight. Even in the best business class seat, sleep is a rare luxury for me at altitude. The East Coast of the United States is lucky enough to have a few daytime flights to London, and these are among my favorite flights, period.
Though the coronavirus has pummeled air travel demand and airline schedules, I'd like to share a recent travel experience, when I had my pick of carriers – American Airlines, British Airways and Virgin Atlantic – to fly nonstop during the day from New York JFK to London.
American has later departure times than BA, and Virgin Atlantic was scheduled to operate a ready-to-be-retired Airbus A340-600, so I opted for an American Boeing 777-200 with the less-than-loved Safran Seats (former Zodiac) Concept D seat configuration.
My day started at the Flagship Lounge at American's Terminal 8. Recently renovated, the lounge was bright and more than spacious enough for the light morning flight schedule.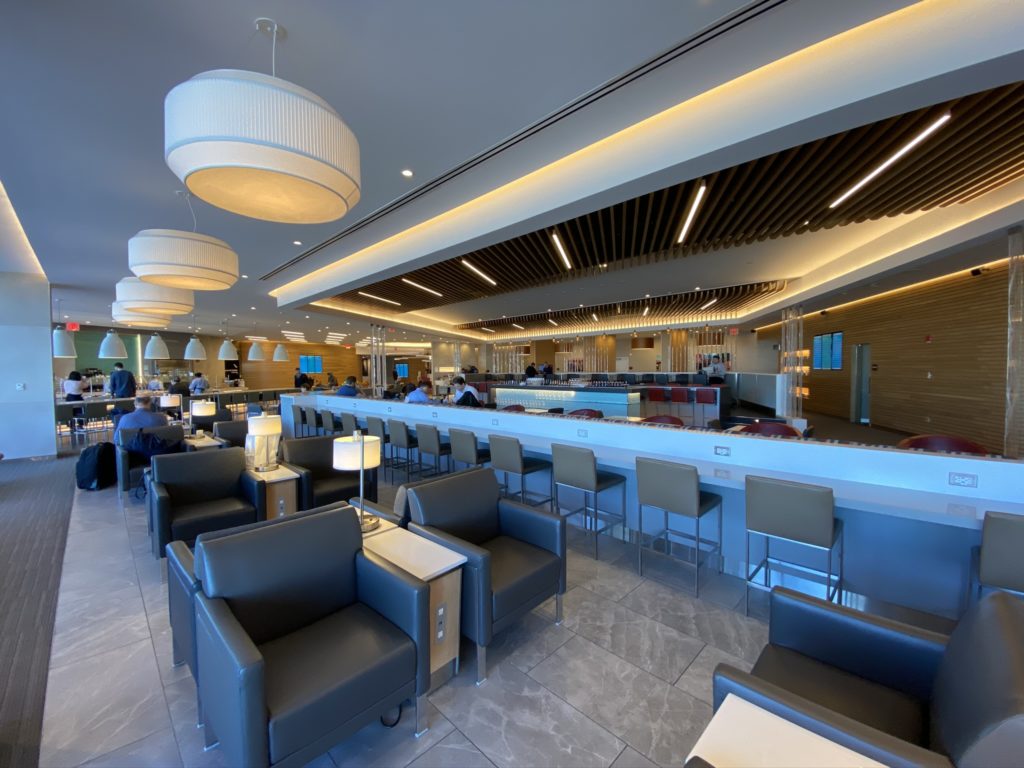 The lounge Wi-Fi was extremely fast, and the breakfast buffet spread was a nice way to spend an hour before boarding.
On board the aircraft I found a pillow and blanket wrapped in plastic, an amenity kit wrapped in plastic, a plastic bottle of water, a food and beverage menu, and a pair of headphones.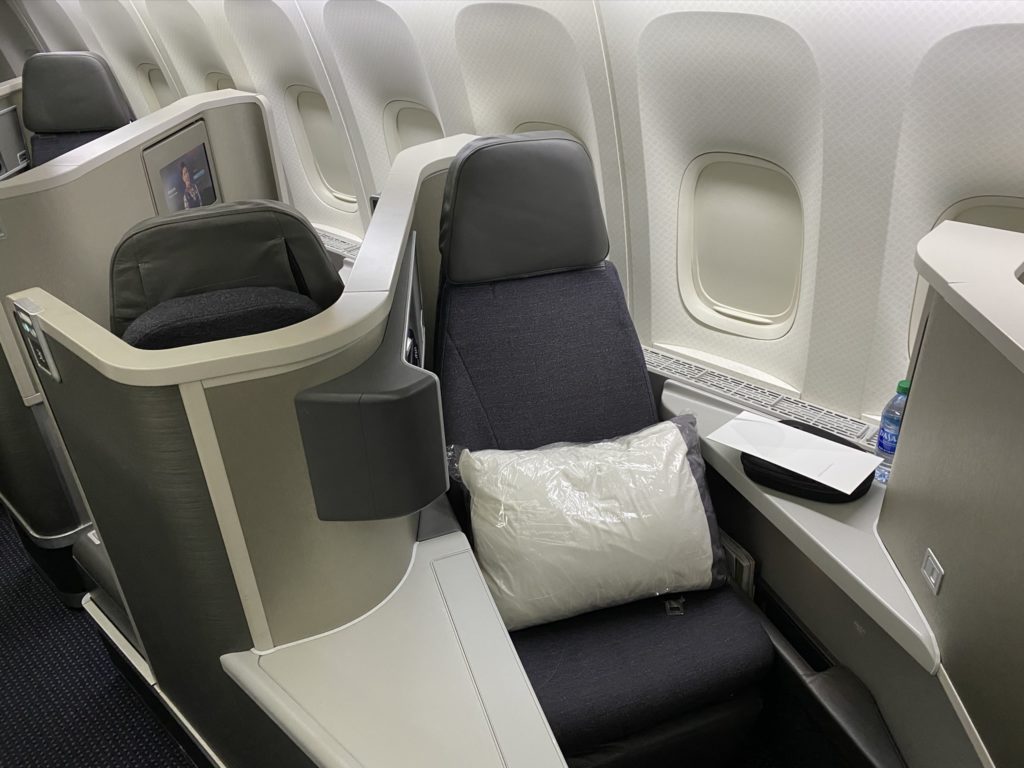 I had chosen a backward facing seat since those seats are placed closer to the windows than the forward facing seats. As we waited for all passengers to board, flight attendants came through with a choice of a few pre-poured drinks, and I opted for some sparkling wine while I watched the engine windmill from my interesting backward point of view.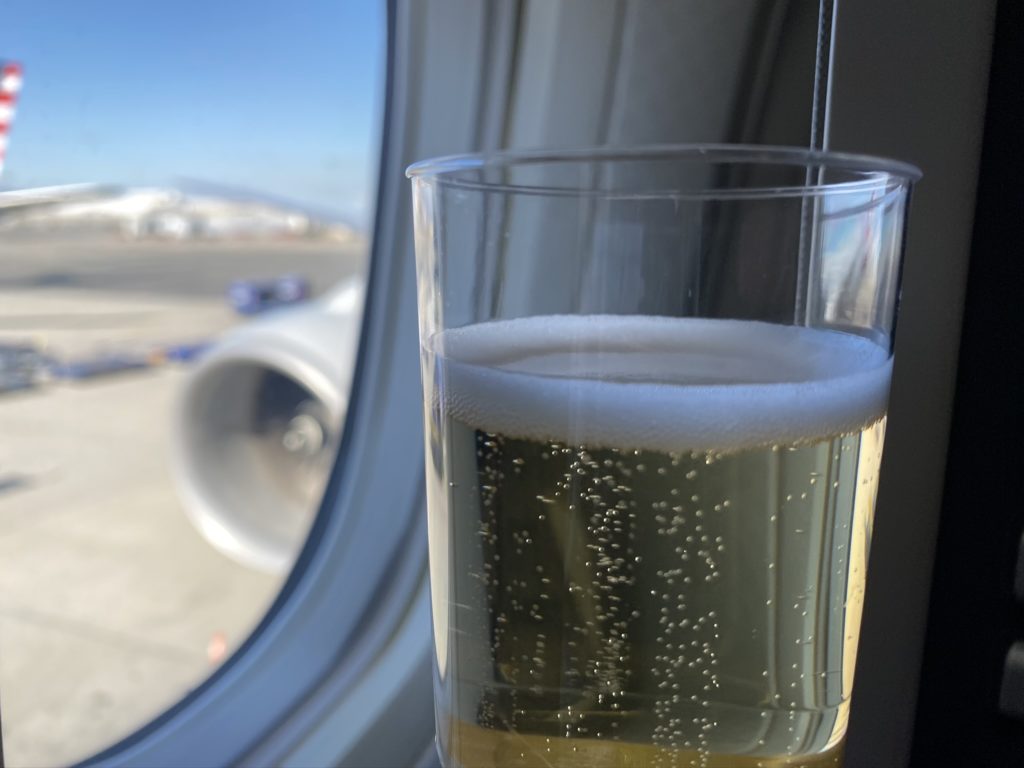 I popped out the entertainment screen and browsed American's extensive movie catalog, favoriting them for easy access later in the flight.
I'm not a big fan of the tethered remote control with touchscreen, as it doesn't provide quick access to playback functions at all times. I do appreciate being able to use it as a second screen to display the flight map, however.
Scrolling through the movie options on the main screen was a tad glitchy, as an attempt to make a slight scroll would sometimes lead to a massive jump.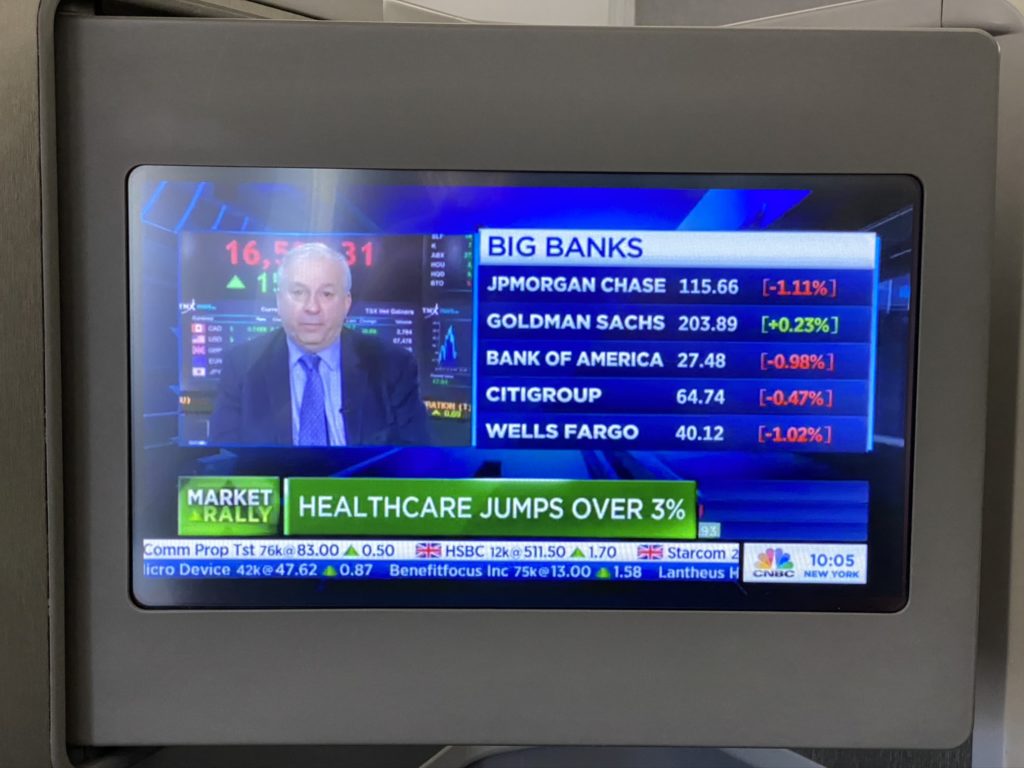 Soon after takeoff I fired up the Panasonic Avionics Ku-band satellite-powered inflight Internet for a $19 full-flight session. Maybe it was the somewhat light loads on the flight, or maybe it was the recent upgrades American says it made to the system, but I had no trouble browsing and tweeting photos all flight long. This helped the 7-plus hour flight go by rather quickly.
I usually pass on eating the inflight meal on shorter transatlantic redeye flights, but this daytime flight allowed me to partake in both meals.
The first meal service, lunch, offered a small sun-dried tomato tartar and salad starter, and for the main I pre-ordered the braised chicken cacciatore meal. American touts this dish as being "created and inspired" by its partnership with the James Beard foundation and Chef Sarah Grueneberg. I found the chicken and polenta to be decent enough, but I wasn't able to even identify some of the side veggies.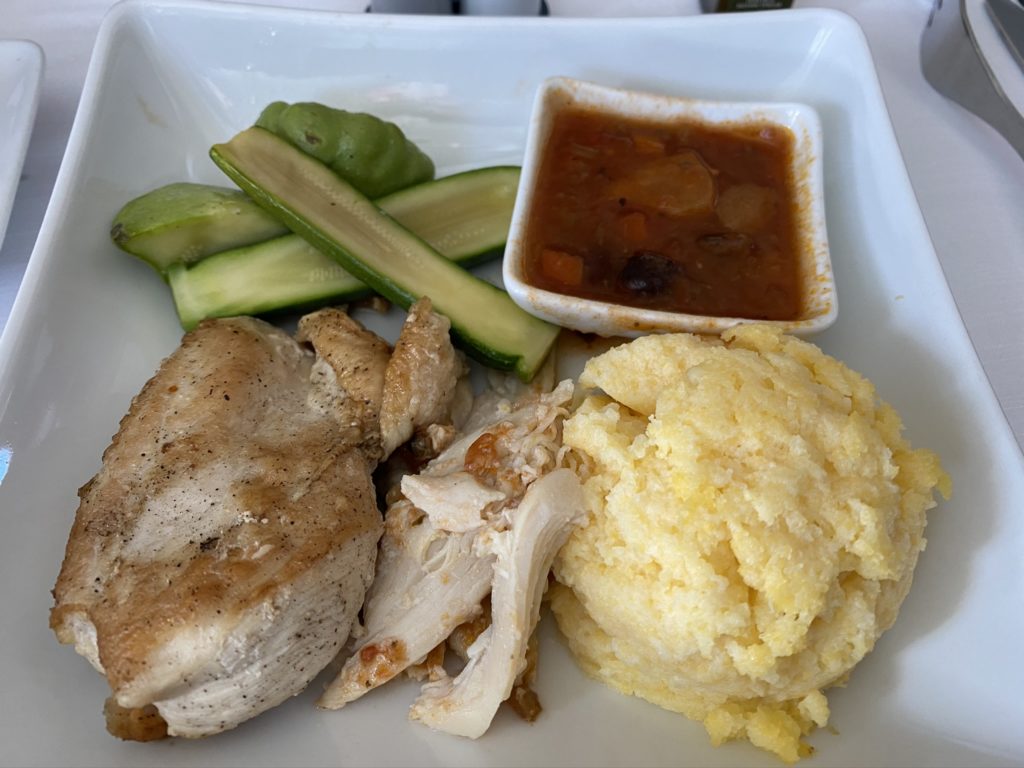 The best part of the meal was the ice cream dessert, which I ate in its entirety. Shortly before landing, I very much enjoyed the cuban sandwich with a side of tiramisu cake, both of which were unexpectedly delicious.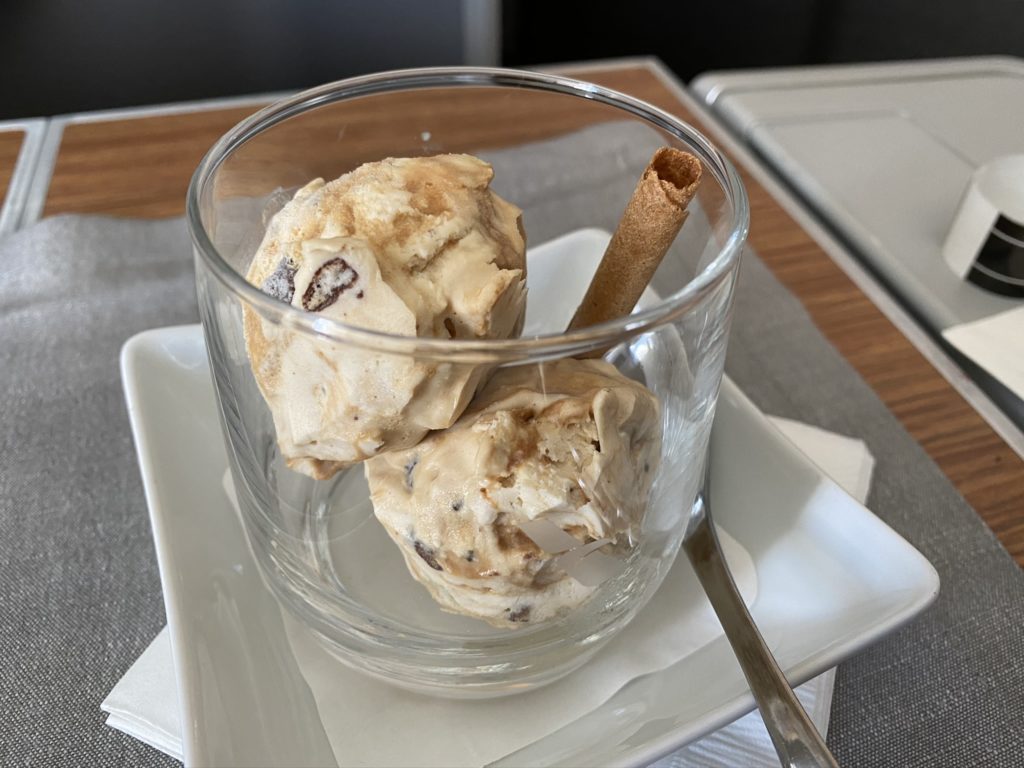 Snacks and bottled water were available in the galley between the two business class cabins.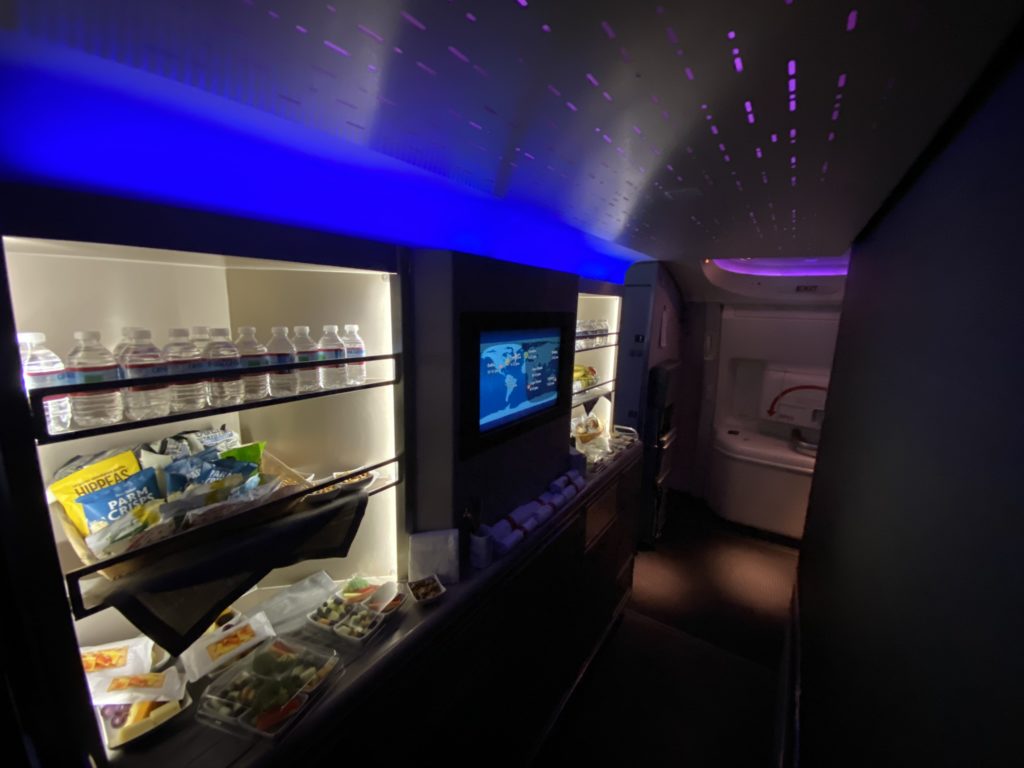 While this wasn't a nighttime flight and sleep wasn't a priority, it quickly became evident why American ditched the Concept D seat for something less custom. While the seat itself is plenty comfortable, any movement made by the passenger in the adjacent seat created a not so subtle rocking feeling. This would be extremely annoying when trying to sleep if the other passenger is a bit restless. But I'm glad I got to experience the seat's foibles first-hand.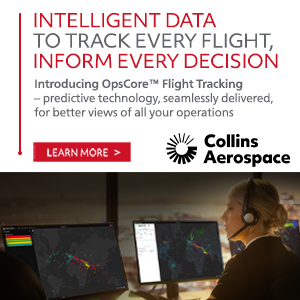 A full 40 minutes before landing, the flight attendants began collecting the Bang & Olufsen noise canceling headphones. I find this corporate policy extremely annoying and unnecessary, as it is a policy that seems to be unique to American.
Thankfully, passengers can plug their own headphones into a secondary 3.5mm headphone jack. Flight attendants also handed out immigration fast passes, but neglected to mention that US citizens can now use the much faster eGates on arrival into the UK.
This flight was about as close to ideal as a daytime flight on American is going to get. Despite its flaws, the Concept D seat was comfy and I was never left wanting for more movies to watch. The IFE content was superb.
While the lunch service could have been better, I've had worse meals in-flight. At the end of the day, the flight arrived early and without any hiccups, and that's what matters most.
If you're already missing the halcyon days of flying, like me, consider following the #AirplaneTime hashtag on Twitter, where me and my fellow #AvGeeks are sharing some of our favorite photos of aircraft and flying experiences.
All photos credited to Jason Rabinowitz
Related Articles: