Hughes Network Systems plans to provide OneWeb-powered low-latency service for mobility applications, including aviation connectivity.
The Germantown, Maryland-based communications company on 9 March announced it had become a worldwide distribution partner for OneWeb, saying in a statement that applications would include "enterprise and government networking, cellular backhaul and community Wi-Fi hotspots".
Mobility services are included, Hughes vice president Reza Rasoulian confirms to Runway Girl Network. "The global distribution agreement between Hughes and OneWeb includes mobility services, with more detail to follow at a later date."
An investor in OneWeb via parent EchoStar, Hughes is already contracted to provide the gateway sites for the Low Earth Orbit (LEO) constellation. And every OneWeb terminal, whether for fixed or mobile services, will incorporate a core module, including modem, developed and manufactured by Hughes.
But as a current provider of GEO satellite capacity, including for inflight connectivity, Hughes is positioned to support hybrid/shared satellite network scenarios.
"We view GEO and LEO constellations as complementary. OneWeb's LEO service as well as other NGSO [non-geostationary orbit] services are in the Hughes plan to enable aviation connectivity, especially to provide coverage in places where there is no GEO capacity," says Rasoulian.
"GEO satellite capacity provides significant density, which is occasionally required for aviation applications, whereas OneWeb's service provides broadband throughput coupled with the low latency need for connectivity to the cloud and applications popular with passengers, such as gaming and video streaming."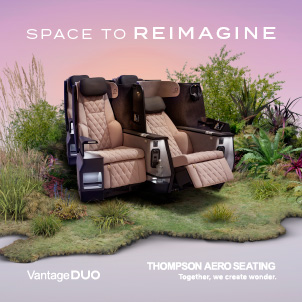 OneWeb is building its initial constellation of 650 LEO satellites. The London-headquartered company, which says it has a "mission to bring connectivity to everyone everywhere" on 21 March saw the successful launch of 34 more satellites aboard a Soyuz launch vehicle from the historic Baikonur Cosmodrome, Kazakhstan. This is the second of its 34-satellite launches in six weeks, and brings the total number of satellites in the constellation to 74.
The successful launch is a bright spark of news in an otherwise depressing time for industry, and OneWeb is all too aware of this fact. But the present coronavirus-based challenges underscore the need for a connected world.
"The crisis has demonstrated the imperative need for connectivity everywhere and has exposed urgent shortcomings in many organizations' connectivity capabilities. Our satellite network is poised to fill in many of these critical gaps in the global communications infrastructure," says OneWeb CEO Adrian Steckel in a statement.
Image at top credited to OneWeb
Related Articles: