Travelers flying between the two Southeast Asia megacities of Singapore and Kuala Lumpur have no shortage of options. Roughly ten airlines bridge the cities, everything from full service Malaysian and Singapore to low-cost carriers AirAsia and Scoot. Most carry multiple frequencies per day, often running hourly flights or more during peak times.
And then there's Air Mauritius. The Port Louis, Mauritius-headquartered airline flies a thrice-weekly circuit between Singapore and Kuala Lumpur. Finding myself with a free day in Singapore and a desire for adventure, I decided to try this little airline that I otherwise probably wouldn't have the occasion to fly.
The carrier operates service to a handful of destinations in Africa, Asia and Europe with a relatively new fleet of jets. It is the first in the region to fly both the Airbus A350 and the re-engined A330neo aircraft, though the southern Asia circuit is often served with a mix of A330neos, current-engine A330ceo aircraft, and an aging A340-300.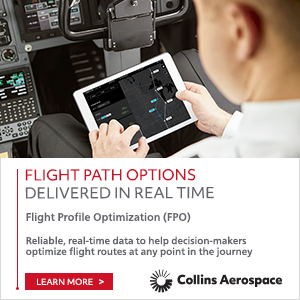 I booked the flight via the Air Mauritius website. It was a smooth, intuitive process except for seat selection. I really wanted a forward window seat with an engine view for photos. I was willing to pay extra, but was pleasantly surprised to see all economy seats listed as free to choose. The system would not allow me to save anything between rows 10-16, and emails to customer service simply said they couldn't do it. Further attempts to figure out why not and what I could do – pay extra, join their frequent flier club – went unanswered.
An email, received 24hrs before departure, offered online check-in. Curiously, despite completing the entire process, a boarding pass never appeared. It simply ended, with no further actions to be taken, nor error messages suggesting something had gone wrong.
Arriving at Singapore Changi Terminal 1 some 22 hours later, I checked-in via an agent. I inquired about a seat ahead of the wing, and they were able to move me up to 10H – exactly the seat I had wanted.
The inbound jet, a brand new A330-900neo this day, landed on time. Continuing passengers – as most were – had to exit the plane and reclear security at the gate, turning what could have been a very quick process into a 30-minute delay.
Once I boarded, I settled into 10H, a bulkhead row. The aircraft was configured in a 2-4-2 layout throughout economy. Being a bulkhead seat, a bit of the seat width was lost to the fixed armrests.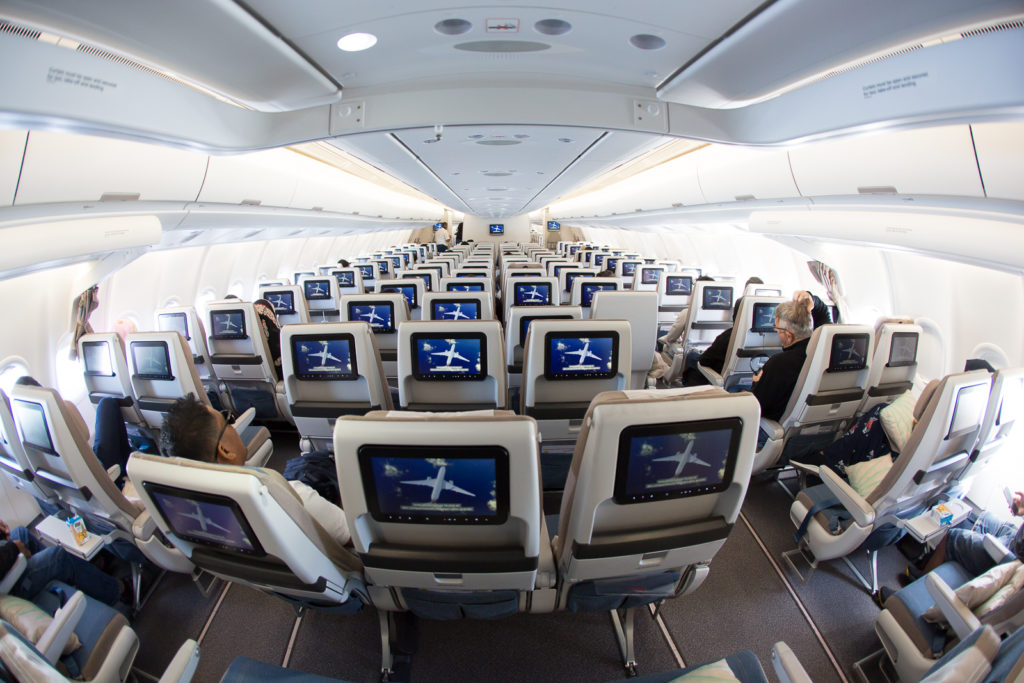 The jet departed ever so quietly nearly full, with a few open seats here or there in back. Flight crews began a drink service almost immediately, though the only option available was a single type of juice box. It was named "exotic juice". Whatever it was, it tasted pretty good.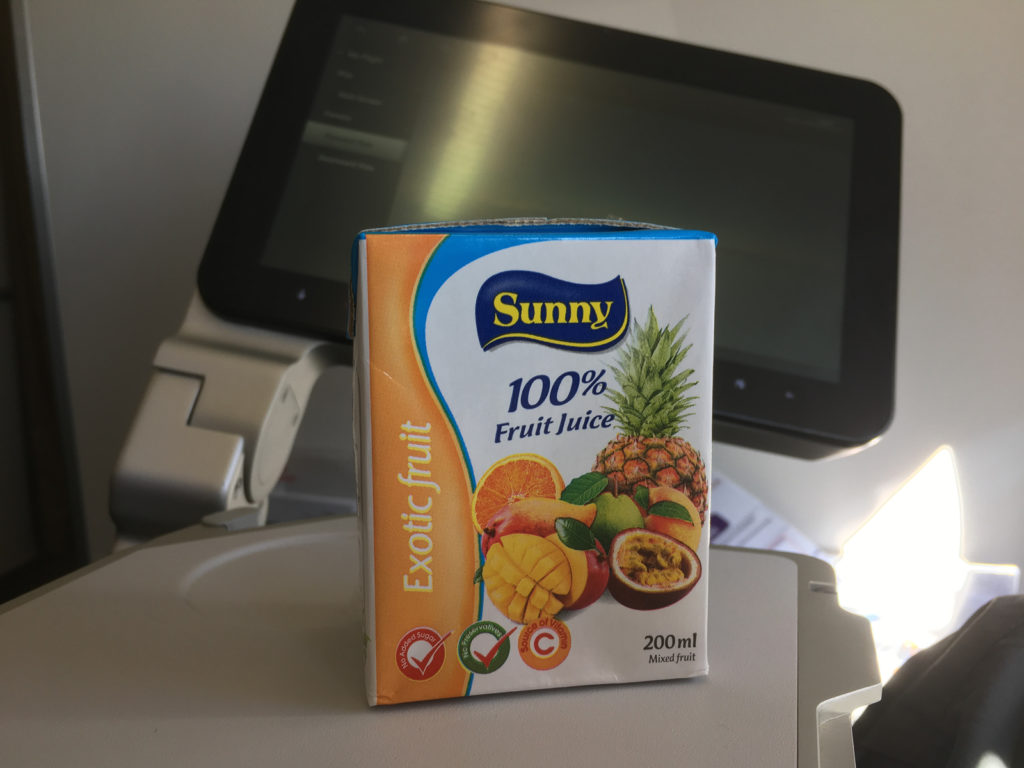 With only 40 minutes left in the flight, I dove into the Thales AVANT inflight entertainment system to have a look around. Being a virtually brand new airplane, the screen is predictably crisp and sharp. The operating system ran smoothly and without lag.
Screens are located in the seatbacks, except for bulkhead, where they swing down to stow away in the armrest. They aren't the largest out there, but that isn't a big deal. Personally I find the move toward ever larger screens tough on the eyes, at least when the pitch doesn't expand.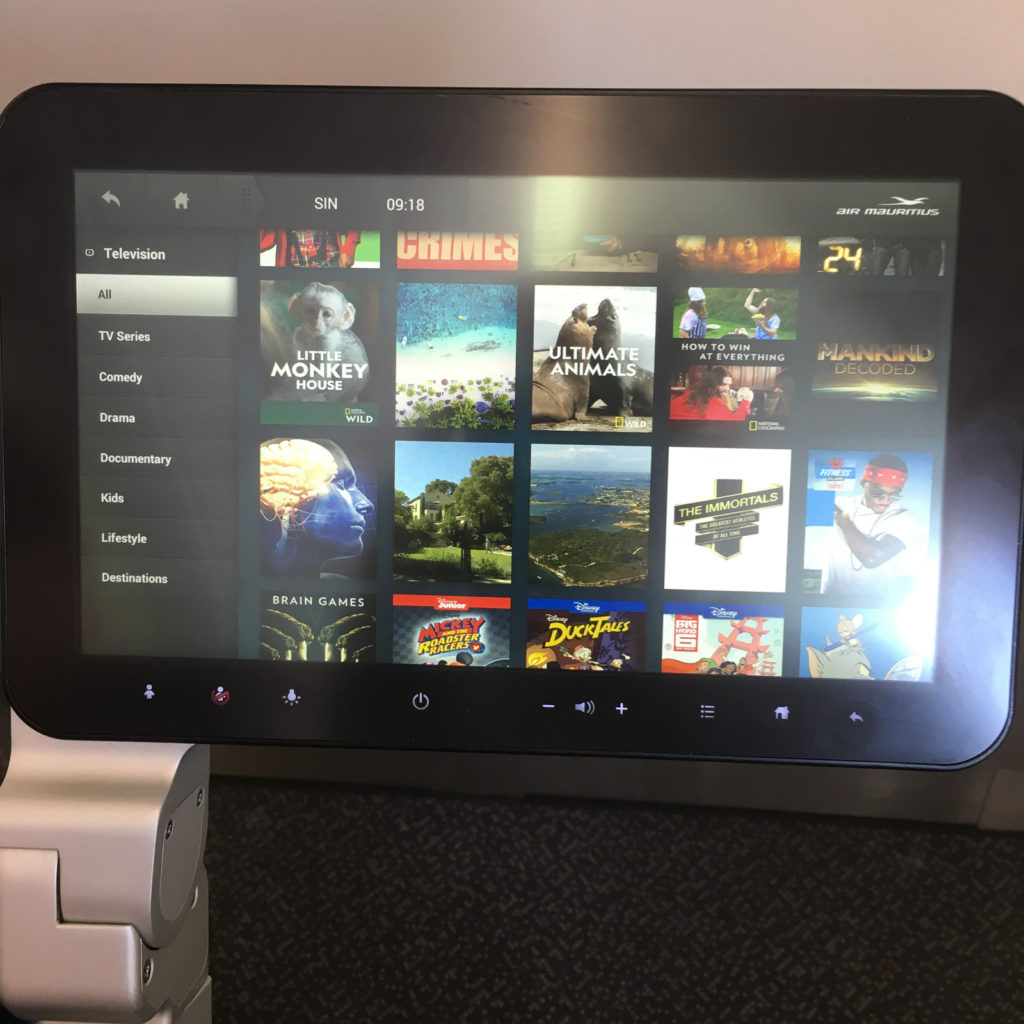 A remote control was affixed to the armrest, while an international power and USB port were located under the seat.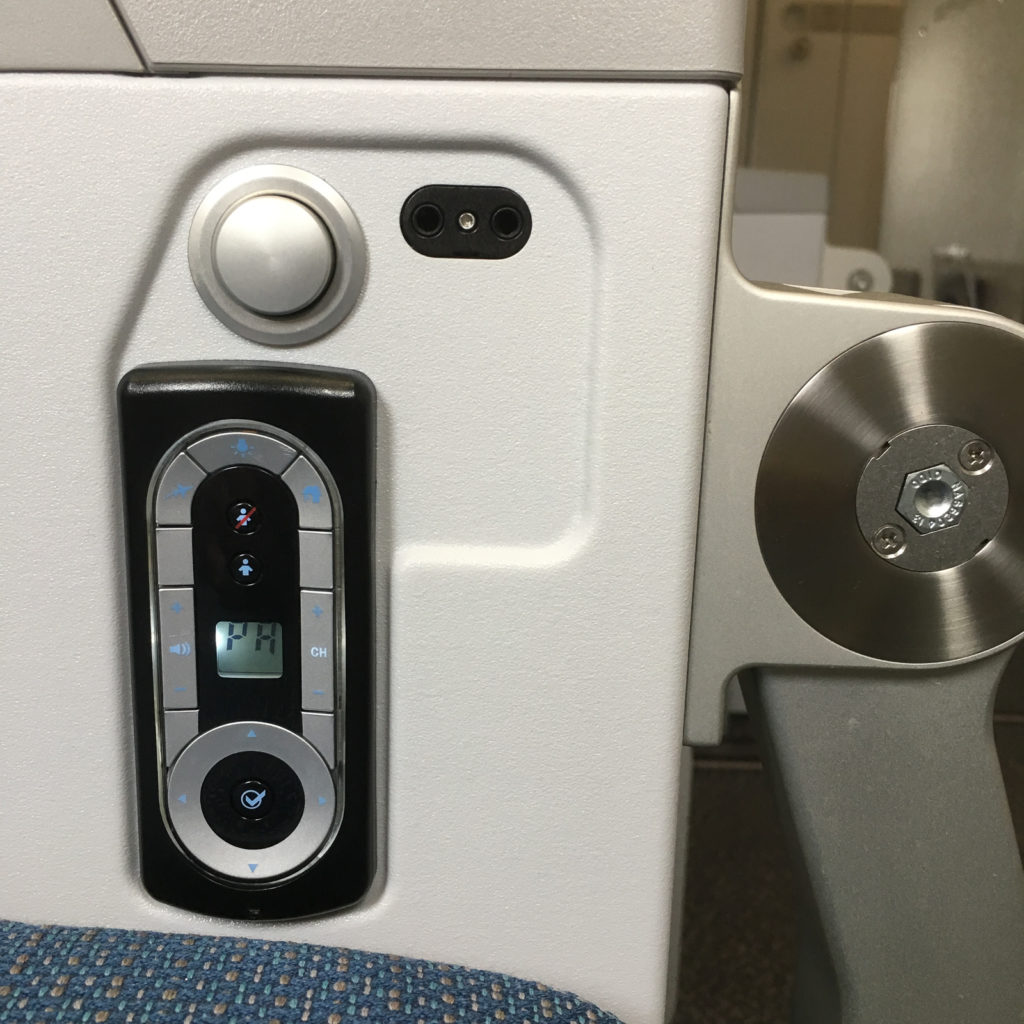 For a small carrier, Air Mauritius carries a respectable number of movies and TV shows. I'd wager the total number was near the 200 mark. The IFE system's best feature, and obviously I'm biased here, were the two live-view camera feeds – one straight down and the other from the nose looking forward – located in the maps section.
The airline offers WiFi via SITAONAIR (using an Inmarsat GX broadband link), and despite the short flight I went for it. I chose the cheapest option, a text plan, which cost me $4.95US for 15MB of data. Pricing scaled up to $19.95 for 300MB.
Once paid for, it worked flawlessly, and I had just enough time to text fellow RGN contributor Jason Rabinowitz before we descended below 10,000ft. Why such a capable system is utilizing a data-based approach is a bit beyond me, but to each their own.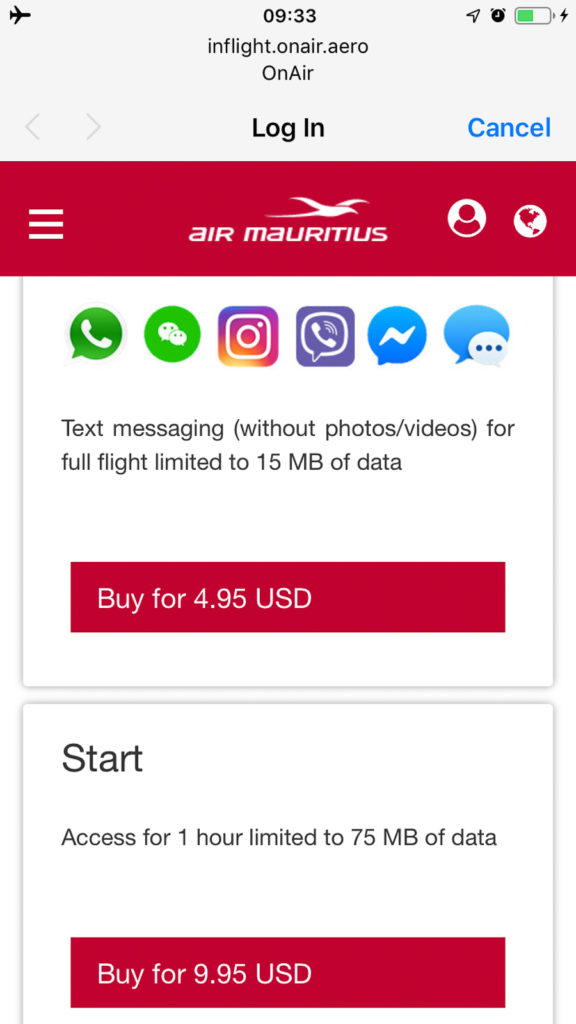 The crew were quite proud of their airplane, and generally happy to talk about it despite coming in off of a transoceanic red-eye. An invite to the flight deck after landing was a nice treat for this aviation geek.
An hour's time isn't enough to pass any meaningful judgment, after all there's barely enough time for things to go terribly wrong or right. Nevertheless, there's a lot of promise here. And the IFEC was on point. I hope to try Air Mauritius again, this time all the way to Mauritius, in the future.
All images are credited to the author, Jeremy Dwyer-Lindgren
Related Articles: