After one month on the road in Southeast Asia, it was finally time to come home. I stepped into Seoul-Incheon International Airport bleary eyed and tired, having flown in overnight from Kuala Lumpur. I was looking forward to something familiar, that something being my Delta Air Lines flight to Seattle.
Three bags had been checked back in Kuala Lumpur, and were checked through to the US despite the extremely long layover.
Korean maintains a handful of lounges in Terminal 2, and luckily at least one has a "quiet" room with some extra big recliner chairs. I put the word "quiet" in air quotes because they kept piping in flight announcements via the PA, which became absolutely infuriating. I slept for several hours nonetheless, took frequent walks, and entered the country to get the stamp only to discover that they stopped stamping. Sad.
Boarding began on time, and I boarded the Boeing 767-300 with Comfort+. The extra legroom seat was a free upgrade thanks to my Platinum status; it had cleared not long after booking the ticket. I settled into seat 17H, in a bulkhead row at the front of the small cabin. The seats have a pitch of 35" and a width of 17.9, though the bulkhead might have had a bit more legroom.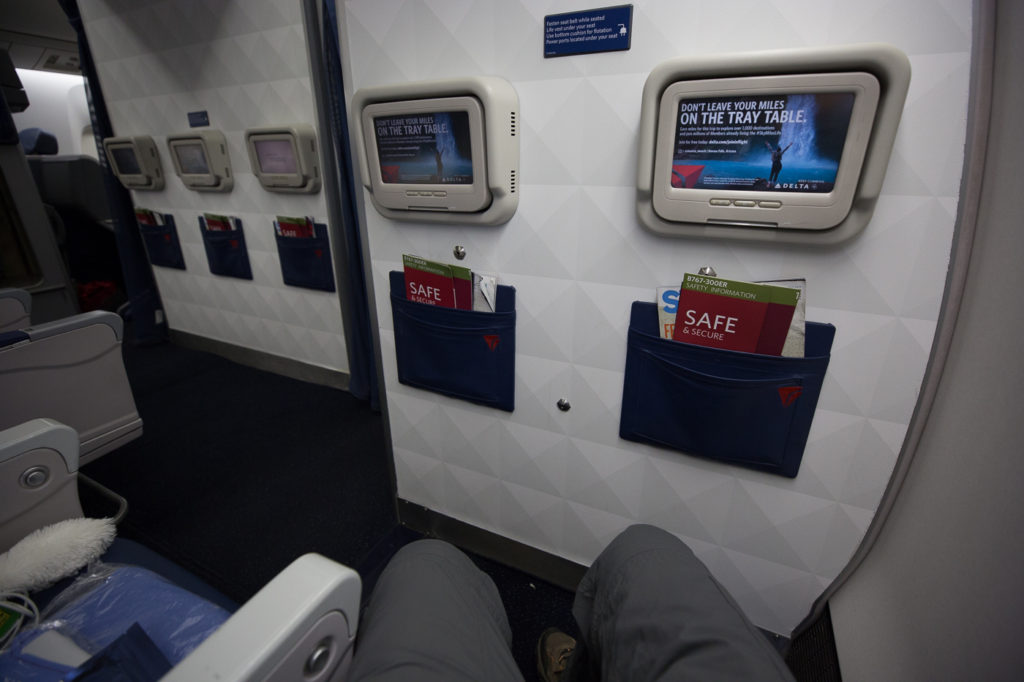 The meals, which were delivered in two services shortly after departure and ninety minutes prior to landing, were perfectly fine. A penne pasta entree with spinach, walnuts, and tomatoes in alfredo sauce stood out as the winner, with well-cooked pasta and veggies. The pre-landing meal, however, was entirely forgettable.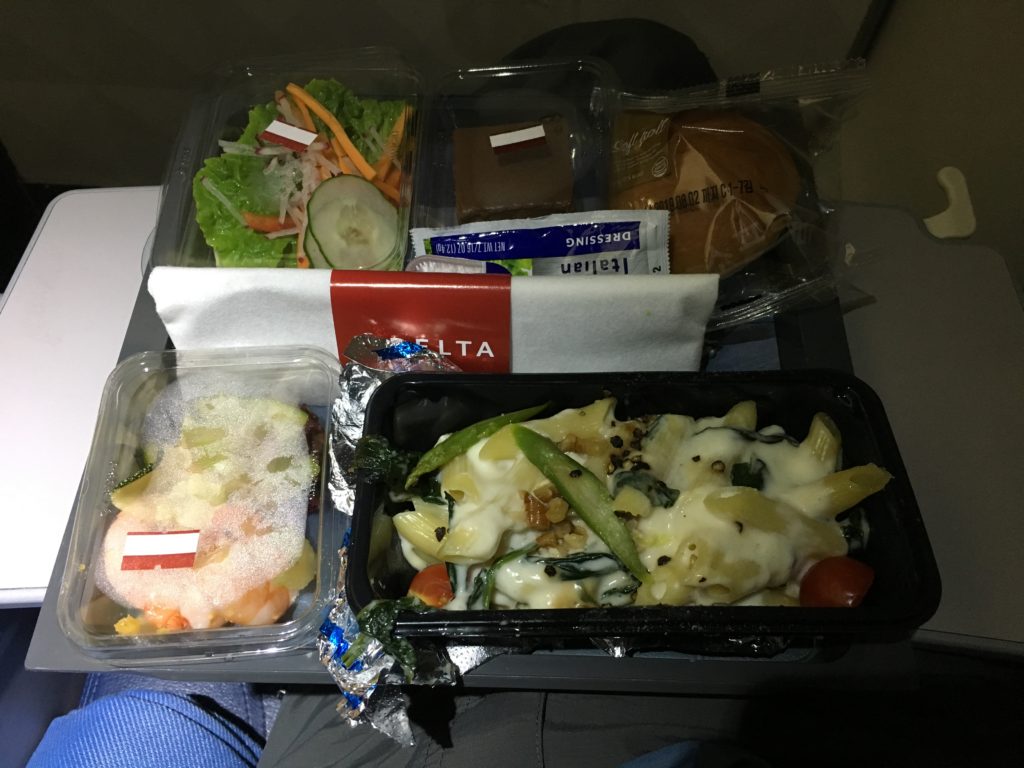 In a bizarre but definitely welcome twist, one of the crew members on the flight happened to have also worked my outbound flight to Seoul in Delta One a month earlier. Incredibly, she remembered that I liked a type of whiskey only served up front, and brought me a few bottles as a surprise.
Of course, meals only take up so much time. And without the benefit of a lie-flat seat, and a near militant enforcement of keeping the window shades down, there isn't much else to do but sleep badly (which I did) and watch TV. Neither was a rousing success.
The seatback, or in this case bulkhead-affixed, inflight entertainment was unfortunately rendered useless by an audio jack that did nothing but screech at an unbearably high pitch. A crew member attempted an operating system reset, which was well-intentioned but never going to work. Thankfully Delta Studio, the airline's streaming content delivery service to personal devices, saved the day. Exceptionally well stocked, I watched several TV shows and a movie from the palm of my hand until my phone ran out of battery. Which happened kind of often, since the international power plug, shared between my seatmate and I, only worked when it felt like it. And it often didn't feel like it.
The USB port, however, did not work at all, possibly/definitely because it was filled with crud that I wasn't willing to dig out.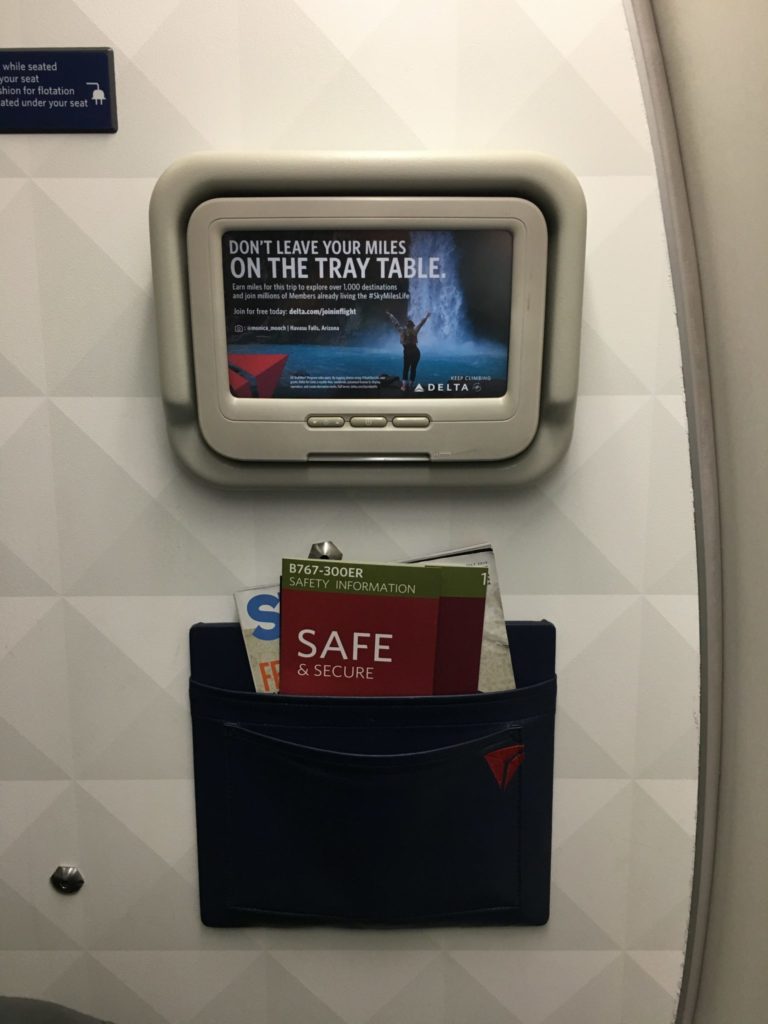 The flight landed on time some 11 hours later in a sunny Seattle, and dumped me into an immigration line that snaked through the entire building. I don't have Global Entry, but once again Mobile Passport came through for the win. Two of my three bags appeared quickly, while a third oversized bag took the better part of 35 minutes to arrive.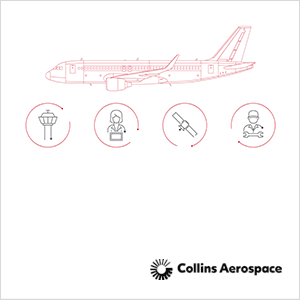 Part of me feels like the Boeing 767 doesn't get enough love. It's super capable operationally and has a great 2-3-2 economy layout that I've gone out of my way to fly three times this year alone. But then the love evaporates before we reach altitude.
The screens were small and low resolution. The audio jacks were broken in economy, and none of them was especially clean. The power outlets operated when they felt like it.
Delta crews shrugged when I mentioned the issues in the air, which are not exactly trivial on a 12-hour flight. It certainly left me wondering why I kept going out of my way to spend money – in some cases a lot – on a consistently underwhelming experience. At some point I guess that turns this into a screw me thrice, shame on me situation. Still, this isn't what I've come to expect of Delta.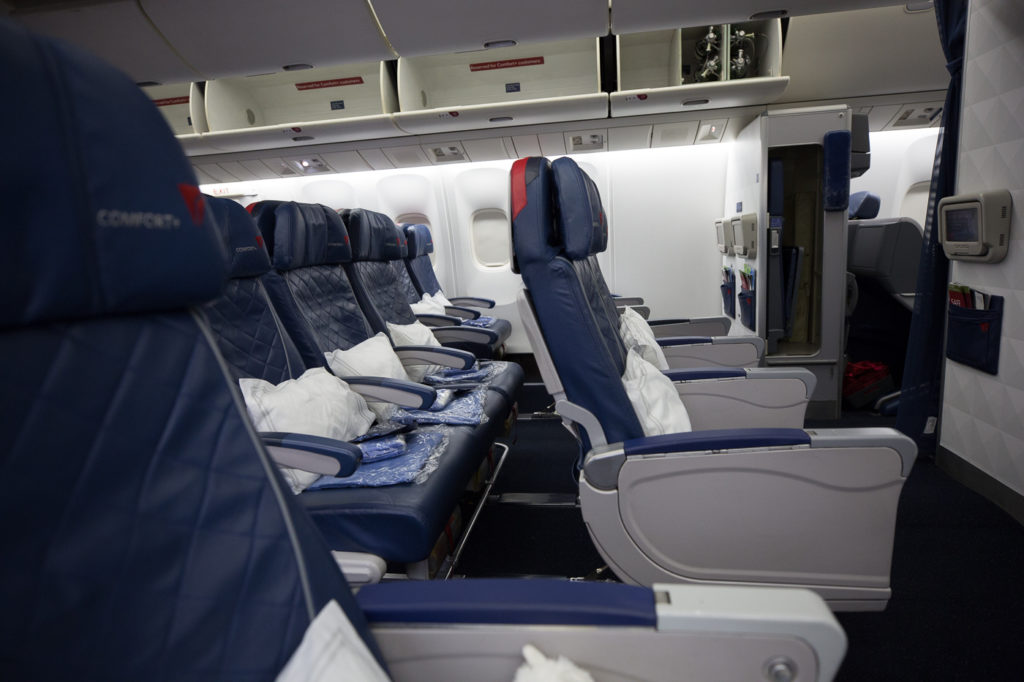 The saving grace here is that the 767 will be replaced by the end of the year by the brand new Airbus A330neo on most of Seattle's routes to Asia. I'm looking forward to bigger, better screens, new seats whose features actually work, and hopefully, functioning WiFi. It's a change that can't come soon enough.
All images are credited to the author, Jeremy Dwyer-Lindgren
Related Articles: