A historical provider of cockpit communications and safety services, SITAONAIR is urging industry stakeholders to exercise caution when using publicly available flight tracking information in the aftermath of an aircraft crash.
"I don't think the industry is short of data, when [an] accident comes forth. I think the challenge we have, us all, is to ensure that we control the source of information. And the risk, actually, I see with some of those data feeds that end up feeding some public application[s], is that there are misinterpretations, or conclusions that are being drawn too quickly," suggested SITAONAIR CEO David Lavorel.
He likened the situation to the difficulties airlines face when passengers are informed about flight delays faster than crew members. (Indeed, sometimes passengers in broadband-connected cabins have access to superior weather data than the pilots.)
Said Lavorel:
So, I think those are the same type of phenomena where [with] those public data feeds, we as industry representatives who support this framework of safety and so on, need to be very careful with the interpretations.
There is no shortage of publicly available flight tracking services. FlightRadar24, which has a network of terrestrial ADS-B receivers but whose goal is global ADS-B coverage, is heavily relied upon by myriad news outlets when an aircraft goes off radar. FlightAware is also popular, especially for its display of planned flight routes. It also happens to be a SITAONAIR partner, providing its Firehouse data feed to the firm's AIRCOM FlightTracker product for aircraft. Other tracking services include FlightStats, which is powered by Cirium (formerly the data and analytics side of Flightglobal); Plane Finder; and FlightView.
Recently, the Aireon joint venture between Iridium Communications and various air navigation service providers made news headlines for providing the FAA, Transport Canada and other aviation authorities with its space-based ADS-B data from Ethiopian Airlines Flight 302 following the 10 March crash of the Boeing 737 MAX 8. On 13 March, the FAA's then acting administrator Daniel Elwell said initial data provided by Aireon to the agency was "very raw and very hard to interpret. And there was not an obvious link between the track of the Ethiopian flight and the Lion Air flight initially." But Aireon, the NTSB and Boeing "were able to do some enhancements to that track return, and when they finished the enhancement, we were able to see that the full track of the flight, the Ethiopian flight, was very close to Lion Air", he said.
Before Elwell's announcement, news media had already analyzed the speed and altitude data of the Ethiopian flight and drawn conclusions that the crash bore similarities to the Lion Air crash, based on publicly available data from FlightRadar24. At least one major report was later corrected to reflect the correct altitude.
While Lavorel did not mention any specific public data source or news agency in his comments to RGN, he worried broadly that the eagerness to draw early conclusions can be "dangerous".
He noted that SITAONAIR "has stringent data policies" in place, as part of the environment that supports airlines and airframers in the event of aircraft accidents. Your author learned firsthand about SITAONAIR's stringency back in March 2014, when covering the disappearance of Malaysia Airlines flight MH370. The company, through parent SITA, was extremely cautious with its words, only confirming its role in supplying Malaysia Airlines with communications via VHF radio and Inmarsat satellites, and its assist to authorities in the probe. It stressed to RGN at the time that Malaysia Airlines' ACARS avionics communications via the SITA network was "proprietary to the airline".
Aireon grows in prominence
Heralded in the press as providing key data that helped convince the FAA to ground the MAX in March, Aireon is actively monitoring over 4,000 aircraft through partners "like FlightAware and Airbus" or through its direct tool, according to Aireon vice president of aviation services Cyriel Kronenburg. At the moment, however, Aireon is "really doing the flight tracking products with partners. It's such a specialized market, and most of our partners have such an embedded position in the market, so FlightAware and Airbus are two of our largest resellers and they have a lot of partners, SITA, ARINC, etc, resellers of our data and [they] sell directly to the airlines," he explained to RGN.
Aireon has "ongoing dialog with Boeing", said Kronenburg. "We had a very good relationship with Boeing as part of this [MAX] investigation" and believe that relationship with Boeing will build, and "time will tell what that will look like".
SITAONAIR is obviously very familiar with Aireon, and uses its data for the AIRCOM FlightTracker product through the FlightAware partnership. But while this data stream is working fairly well, according to Lavorel, airlines generally don't want to just rely on space-based ADS-B as the only source of flight tracking data. Rather, multiple feeds are advisable for redundancy.
He said:
Airlines tend to be reassured and willing that space-based ADS-B is not the only source of data, because they still feel that … I mean, they don't want to just rely on one source. So they like the proposition that we bring, which is a blend of basically, the aircraft giving its positions … the ability to give that position coupled with the space-based feed. The space-based feed is the most economically viable, and that's the primary feed. But they still like to have the resiliency. We are very much into the adoption side of things.
By the spring of this year, a majority of airlines flying internationally – though not all – had already taken steps to comply with the 15-minute position report requirement outlined in ICAO's Global Aeronautical Distress and Safety System (GADSS) recommendation, or were in the midst of rollout.
Airlines that had deployed SITAONAIR's AIRCOM FlightTracker could easily meet the 15-minute mandate because it gives them access to multiple sources of position data, including ADS-B, ACARS and FANS (including ADS-C, AFN and CPDLC). If one source of data is unavailable, FlightTracker will take automatic actions to generate another source. Going forward, Aireon's ability to provide data every minute – and indeed faster than that – means that Aireon, and ergo SITAONAIR's FlightTracker, is future proofed to meet the 2021 GADSS requirement for minute-by-minute distress tracking.
Commoditization of flight tracking?
Lavorel predicts that in the future "just displaying the tracking of an aircraft is going to commoditize and not bring a lot of value of your time. The value is more route deviation rerouting, integration with weather forecasts, or real-time weather forecast applications to enable rerouting of the aircraft for either a more fuel efficient route or a more comfortable route for the passengers, and so on."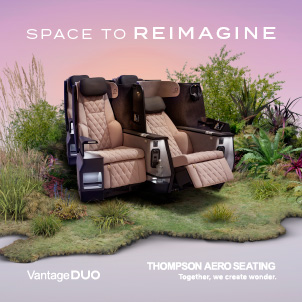 SITAONAIR regularly runs user forums, and has received "tons" of requests to build on the FlightTracker platform to enhance functionality, according to management. But real-time data transmissions are not always necessary to accomplish fuel and route optimization for airlines, noted SITAONAIR VP customer programs and cabin services Yann Cabaret, pointing to the firm's projects with the likes of engine-maker Rolls Royce, whose data can be offloaded at the gate.
"So actually, the flight tracking in Aireon is actually really about what's real time, right? So you don't have to have real time to do fuel optimization, but no, you do for diversions, and other things. So for us, there are two angles – aircraft data, and gathering aircraft data; and then flight tracking which are real-time and non-real time."
Related Articles: