In the context of Airbus' recent strategic shift towards arguing that ten-abreast seating on its A350 could deliver an acceptable level of comfort for any airline, Japan Airlines strode off in exactly the other direction with its first XWB — and, indeed, the first Airbus aircraft it has ever ordered.
JAL's first set of A350s are aimed at the domestic market, with all deliveries from now to 2023 offering a three-class layout including domestic first class, the business-class-lite Class J, and regular economy.
"We evaluated all options such as three-class, dual-class and mono-class with wider seat pitch and so on. After that, we concluded that [to] keep this three-class cabin is the best configuration for Japanese domestic market during this A350 era," JAL corporate news group public affairs spokesperson Okuno Masafumi tells Runway Girl Network.
In first class, JAL will offer a bespoke seat from Jamco, which was specially designed for the airline to its own specification and seat concept. It's something of an upgrade from the existing ZIM domestic widebody seats, which is already an impressive product.
Between first and economy sits a substantially expanded Class J, the business-lite product JAL offers domestically, which is often priced at an exceedingly reasonable upgrade rate. It continues as a relatively simple international premium economy seat, this time the Recaro PL3530.
Okuno cites the calf rest mechanism as particularly attractive for JAL, but declined to give details about the airline's decision to go for a 2-4-2 rather than 2-3-2 layout, calling it "the best fit for our Class J concept".
Interestingly, this is the same layout as the 777, despite the A350's narrower fuselage.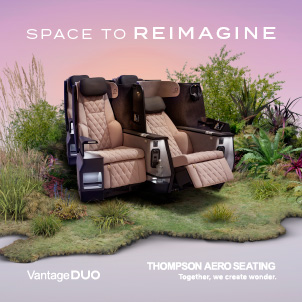 Class J's popularity reflects the popularity of premium class elsewhere, it seems. Okuno notes that the proportion of Class J "is greater than other" widebody aircraft in the domestic fleet "because Class J is the highest load factor class in [the] domestic three classes. We have a lot of customer feedback: 'it is difficult to reserve a seat in the class.' So, we increased seat number [and the] proportion of the class."
But it's in economy where the situation is most interesting for those of us following the twists and turns of the evolutions in Airbus' messaging around the A350's economy class passenger experience.
JAL is using the current darling of longhaul, the Recaro CL3710, a fully-featured seat with many of the space benefits of a modern slimline but additional functionality. This is truly an outstanding choice in economy — and it's in the 3-3-3 configuration too.
After hedging slightly on details in other classes, Okuno is remarkably forthright about JAL's opinions on the matter: the "A350 fuselage cross section width is less than 777's one, so seat width in 3-4-3 abreast in A350 is also less than 777's. We tried 3-4-3 abreast configuration demo seat during A350 seat selection, but we concluded the seat layout is not comfortable for our customer."
Panasonic Avionics inflight entertainment and connectivity will be offered throughout the A350.
Japan Airlines has 31 A350s on firm order and options for a further 25, splitting the order between domestic and international versions. The airline is mainly using them to replace older aircraft, and they will be replacing and flying alongside the Boeing 777.
These aircraft will be based in Tokyo, and will fly on routes to Fukuoka in the west, Sapporo to the north, Osaka in the central west of the country, and the island of Okinawa some two and a half hours southwest of Tokyo.
From 2023, the international part of the order will start being delivered, and the cabin configuration for this set of aircraft is as yet undecided, Okuno says.
Related Articles: