My 8-year old daughter's summer bucket list item was to see the ocean so I decided to take her on her very first flight. I live in Canada and over time, I've concluded that Canada must be one of the most expensive countries to fly within its own borders. Even so, I managed to secure roundtrip tickets for two between Ontario and Nova Scotia on ultra low-cost-carrier Swoop for a reasonable $500CAD and some change.
We would be flying out of the small John C. Munro Hamilton International Airport, which is about an hour's drive from Toronto. I figured it was best to keep things low-key for my daughter's first flight to Halifax Stanfield International Airport. 
Heading to the Swoop check-in counter at Hamilton, I confess I was nervous that our "personal item" backpacks would be deemed too large, and that I would have to pay the online advertised price of $46 per carryon item. But while each of our backpacks was perhaps on the larger side, Swoop staffers were content that the items would fit under the seat. So it was no big deal.
I should note, however, that the $46 fee was advertised online as the cheapest option and paying at the gate would have been considerably more. 
On the low-key front, Hamilton did not disappoint, as there are only four gates and one Tim Hortons to explore. My daughter is severely allergic to peanuts and tree nuts so Tim Hortons was off the table for us. With no real food or entertainment options in the small airport, she found excitement by watching all the activity on the apron as the sun rose. The kids' area at Hamilton was meek but nonetheless appreciated.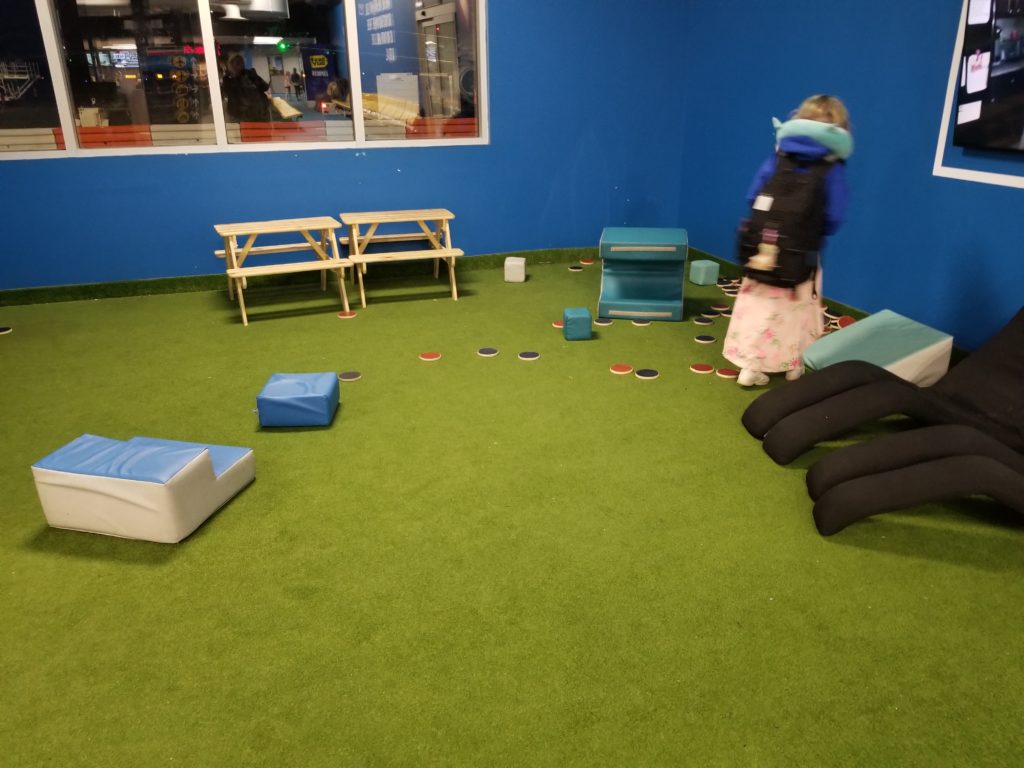 Prior to our departure date, Swoop, a Boeing 737 operator, had experienced some engine problems on an aircraft and had to cancel many flights throughout that week. 
According to the Globe and Mail, Swoop attributed its delays and cancellations to the 737 MAX grounding. Swoop does not fly the MAX – indeed, it even boldly highlights this fact on its web site – but it is affected by capacity constraints in the industry as a consequence of the protracted MAX grounding. Luckily our particular flight was not cancelled but it was delayed by two hours. I received a notification of the delay from the Swoop app.
In preparation for our flight, I informed Swoop of my daughter's allergies, via Facebook Messenger. The carrier took this information seriously, and once we were seated on board, a cabin crew member asked about her allergies and offered me wipes to clean the seat. An attendant also made an announcement, asking passengers to refrain from consuming nuts due to an allergic passenger. This is all I expect from an airline and it is enough. Even the passengers next to us thought it was great that the airline accommodated us in this fashion.
On a recent flight, aboard a WestJet Q400 turboprop, the seatbelt nearly didn't fit me, so I was naturally worried about Swoop's seatbelt size, as my girth has not changed. But I was pleasantly surprised at the ease at which the seatbelt closed. Seatbelts are clearly not standardized in aviation; more's the pity. The living space felt snug aboard Swoop, however.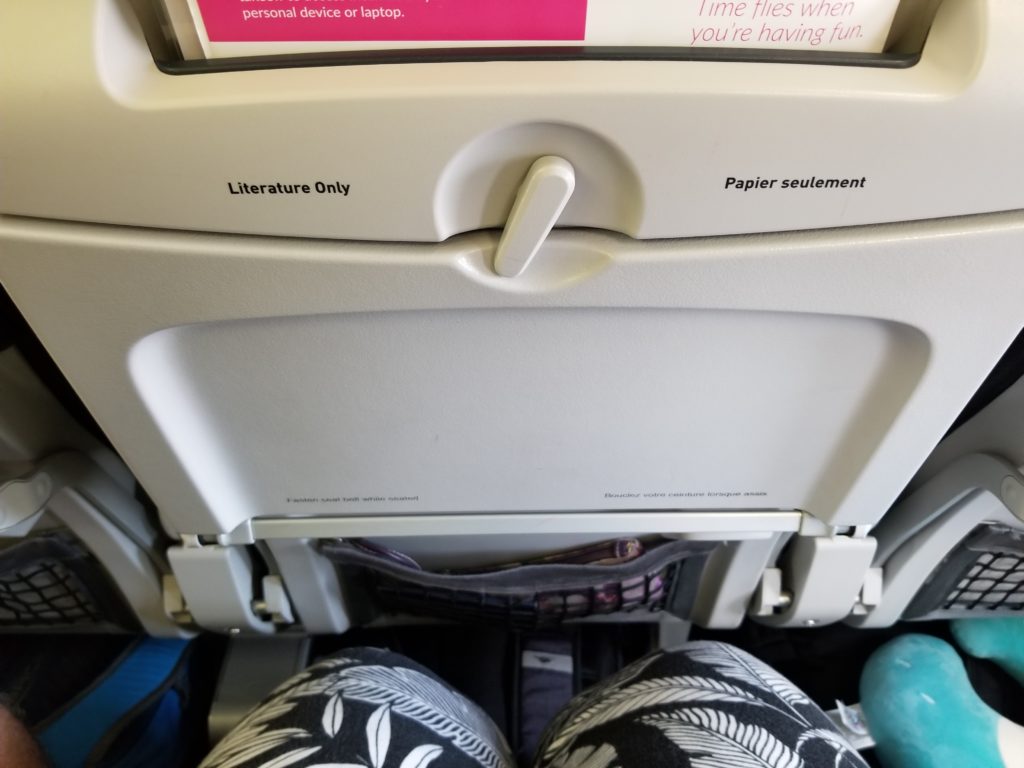 When it comes to inflight entertainment, Swoop is very clear about its no-frills approach. To wit, in pre-flight emails, the carrier proactively urges passengers to "bring your own" entertainment. But while streaming movies are not offered on board, Panasonic Avionics-supported inflight connectivity was available for purchase on my flight, though the prices seemed a bit steep.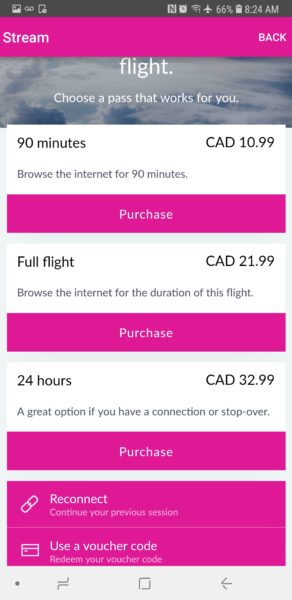 Given the roughly two-hour length of the flight, I knew a 90-minute session would do the trick. The connection allowed me to get some work done, while a USB port at the seat powered one of my devices.
Swoop's buy-on-board menu proved limited and I was disappointed to learn that the airline does not offer Made Good products like its parent WestJet, or really anything that is allergen friendly.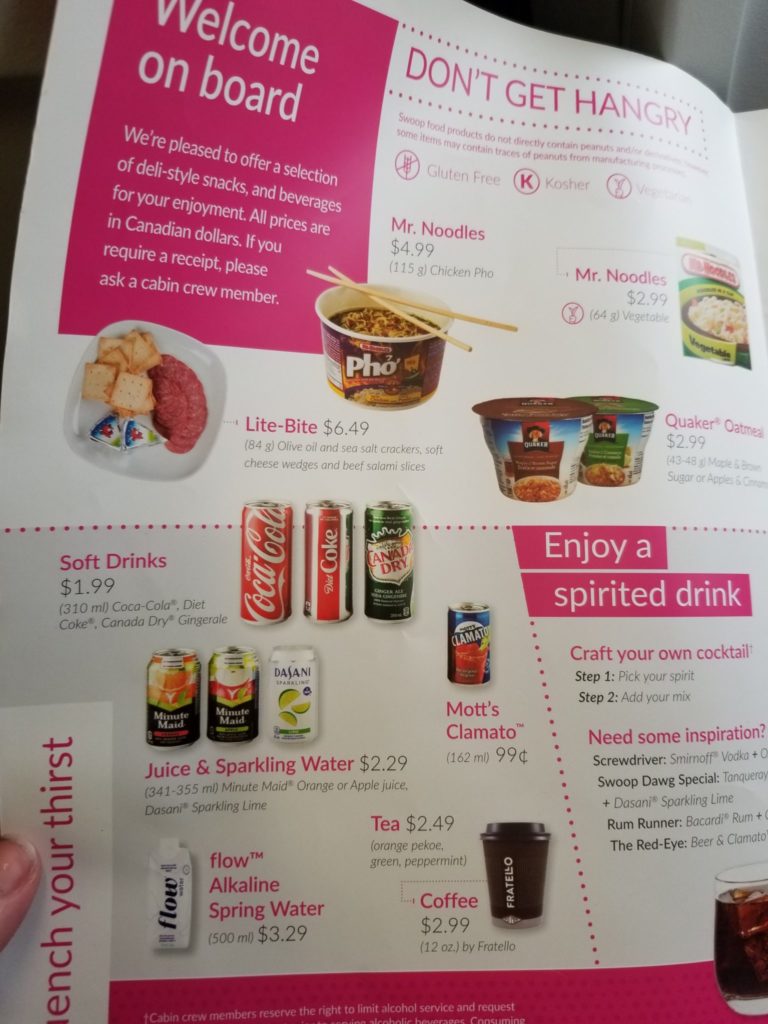 All in all, we had a good flight. Yes, the seats were tight, but I fit. There was no entertainment, but we had downloaded content in advance of our flight, as advised by the airline. Our backpacks passed muster, but we were only traveling for three days. The food was priced right, but it was very limited. Basically we got what we paid for. The staff was kind, the pilots were communicative and we got safely from A to B. We didn't need more, we didn't need less. It was a great first experience and left my daughter wanting more adventures in the air.

All images credited to the author, Becca Alkema and screenshot credited to Swoop.
Related Articles: