The discussion around breakfast tables at the home of Airbus on the morning of the big Air France deal for small aircraft is how the commitment for 60 A220s and the accelerated departure of the airline's A380s may be linked — and also how it may further be linked to new aircraft for the airline's longhaul fleet.
Air France says it has placed a "firm order for 60 A220-300s, with 30 options and 30 acquisition rights, which will gradually replace Air France's A318 and A319 fleet". The airline currently operates just 18 131-seater A318s and 33 142/143-seater A319s, so it would seem there is substantial growth possibility in addition to just the replacements.
At the same time, Air France is accelerating the retirement of its A380 fleet to 2022, including the remaining five company-owned superjumbos. In what may be a nod to a wider deal around their replacement, Air France stated that "the A380 consumes 20-25% more fuel per seat than new generation long-haul aircraft".
There was wide speculation around Blagnac last week that Air France was looking at a bigger deal for some of these "new generation long-haul aircraft" as part of an agreement in the round with Airbus. The airframer could buy back the A380s as part of a deal, sweetheart or otherwise, for a raft of new A350 and A330neo widebodies, as it did with Emirates. Airbus has recently been very clear that it intends to price the A330neo aggressively in its competition with the Boeing 787.
This also lies in the context of spotting Air France's first A350 hidden inside a hangar at Airbus' factory last week: this is an aircraft that was designated for the airline's much-ridiculed Joon operation. The decision on whether Air France accepts this ex-/never-Joon aircraft as intended, exchanges its cabin for a version suitable for its mainline operation, or takes an 'unloved stepchild' aircraft or subfleet may well also be part of this wider speculated Air France-Airbus deal.
That deal would be a particular benefit for Air France, which made serious passenger experience choice errors with its A380s, best exemplified in its uncomfortable angled lie-flat business class seats that were almost a decade old in style when they were installed in 2007. The aircraft have remained pointedly unimproved since, and is no surprise that the airline has not found success with an aircraft featuring ancient interiors.
The A220 side of the deal is also interesting from a wider narrowbody production squeeze, with a full backlog for Airbus and the problems with the Boeing 737 MAX. In its results, the airframer explained that the A320 family, primarily at this point the neo, is essentially sold out until 2024. Today, Reuters citing sources reports that Airbus is poised to open a new assembly line for the A321neo, and could use the halls which were used for the A380.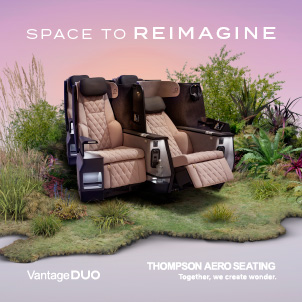 Air France, which has rather dithered about with the plans to replace its aging narrowbody fleet, and which comes under much pressure to order French, may well be relieved that Airbus is able to offer a secondary — if smaller — narrowbody, and that Airbus may well have more capacity to surge A220 production to deliver replacements more quickly.
Airbus, in context, is seeing its own problems in the A320 supply chain given higher demand for the stretched A321neo versions of the new generation narrowbody. The company admitted last week that it is still having issues with the Airbus Cabin-Flex door deactivation options and with securing a sufficient pipeline of parts from its suppliers for the larger A321 fuselage.
Increasing the rates of production of the wider family remains constrained, with executives citing engines from Pratt & Whitney and CFM International as a key brake, and having previously also naming interiors suppliers — particularly for the more complex cabins for longer-range versions of the aircraft — as a constraint.
The deal also strikes another nail in the coffin of the A319neo model of the A320neo family. Air France, one of the few operators of the double-shrunk A318, would have been one of the few airlines that might have been expected to be interested in the smaller A319neo given the size and scale of its A320 operations across both generations of the Airbus narrowbody family.
John Walton was in Toulouse for an unrelated Aircalin event as a guest of Airbus.
Related Articles: