Air France is to install fully flat seats without direct aisle access on its Airbus A330 fleet, with the first of the refurbished 36-passenger cabins in a 2-2-2 configuration now flying and more on the way through the end of next year.
The seat, confirms vice president of customer experience Carole Peytavin to Runway Girl Network, is Stelia Aerospace's Equinox 2D, a surprising choice for a wide variety of destinations, including some premium-heavy markets. Air France operates the A330 to several African destinations (Accra, Ouagadougou, Cotonou, Lagos, and Niamey), Bengaluru and Delhi, plus Chicago, Dallas, Houston and Seattle.
Yet this is not the 3D version of Equinox, where the aisle-side passenger's seat reclines to a lower level than the window-side passenger, Peytavin tells RGN. "After numerous tests and evaluations, both in-house and with our customers, Stelia [Equinox] 2D seemed to us to be more relevant in terms of comfort, ergonomics and accessibility."
Air France and its design partners, says Peytavin, "have indeed worked a lot on the modularity of this seat. A sliding partition allows customers to isolate themselves and fully enjoy their privacy. On the other hand, for passengers traveling together, when the partition is open there is a real feeling of conviviality and sharing."
Conviviality and sharing is not, however, a priority for most business travelers, who will be unimpressed by this seat and in particular the complexity of the maneuver required to climb from the window seat across the aisle passenger. The depth of Equinox's large footwell space indeed makes this more difficult than some competing products.
Responding to questions from RGN about aisle access, Peytavin explains that "the ergonomics and in particular accessibility have been permanent optimization criteria taken into account in the development of this seat. Aisle access is made easier by a relatively low seat, which is easy to 'step over' even when in the full-flat position."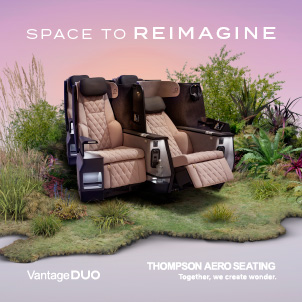 Previous non-aisle-access seats on the Air France fleet have been angled lie-flat sloping sleepers, which have few benefits, but one is that feet close to the ground are easier to step over.
Straddling a sleeping neighbor at mid-thigh is likely to prove less than satisfactory.
Air France worked with Mark Collins at the Swiss design consultancy Design Investment on the seat, as part of its ongoing decade-long partnership with the company across business, premium economy and economy.
The aesthetic of the cabin is a positive evolutionary update of previous generations, with grey fabric seat moquette, a fully dark blue seatback containing the inflight entertainment system (confirmed to be the RAVE system from Safran, formerly Zodiac) in front, and touches of a light beige in leather that brings a touch of warmth to what might otherwise feel somewhat sterile.
With key cabin refurbishments looming for a large part of the Air France fleet, Peytavin confirms that the airline has no plans to refine the existing Zodiac Cirrus seating on its 787 and 777 aircraft, declining to discuss either the A380 refurbishment that is scheduled for a 2020-2022 time window or the remaining aircraft in the longhaul fleet.
However, alongside the Boeing 777 subfleet for the Caribbean and Indian Ocean routes the airline refers to as "14J" and uses primarily on leisure routes, "the 350 will be equipped with Safran's Optima seat and we maintain the highest standards of quality and comfort," Peytavin says, confirming to RGN that the 14J retrofit will take place this year and next.
On balance, however, it seems surprising that the airline's leisure and visiting-friends-and-relatives routes on the 777 14J fleet would be offered direct aisle access while the destinations served by the A330 — which are in some cases major business routes — sees a product that many business travelers will find sub-par.
Related Articles: