It's well known that the cabin altitude and humidity of an airliner affects the way food tastes. But, research used by Finnair has shown, so does noise level: and as diners in trendy restaurants know, the trend is for loud. Yet the louder the background, the more it affects the different way our mouths, brains and bodies perceive taste.
"The background noise on an airplane has an impact on the flavors of the food served on board," Maarit Keränen, Finnairs's head of category, longhaul food concepts and service onboard, tells Runway Girl Network. "For example, the low background noise decreases sweet and salty flavors, whereas bitter and umami flavors are enhanced by it."
Yet inflight entertainment remains dominated by Hollywood blockbusters. Do explosions and car chases make for good eating? Perhaps not, especially on a flight where the aim is a good meal and a good sleep. To change the game, Finnair is working with Per Gessle from Swedish pop rock band Roxette to create soundscapes for its meals by Swedish Signature chef, Tommy Myllymäki. Cue the jokes: 'It must have been lunch, but it's over now"?
"The sounds from their hit song 'The Look' have been utilized in creating specific soundscapes for the soup, the fish dish and the meat dish that are served on Finnair longhaul flights departing from Helsinki," Keränen explains.
"For meals by our Chinese Signature chef Steven Liu, whose meals are served on flights departing from China, we created soundscapes based on the Finnish nature," Keränen explains. "This is about helping customers to stop and enjoy the meal. It does have a bit of meditative impact, and the pleasant, somewhat ambient soundscapes encourage one to focus on the meal and really enjoying the flavors and paying attention to the food, as opposed just eating while watching a movie – which of course is also quite ok."
RGN had the chance to listen to the three Roxette-partnership tracks on a recent flight from Tokyo Narita to Helsinki — which, full disclosure, did not have the Myllymäki dishes, and where this journalist was hosted by the airline. They comprised three tracks of roughly two and a half minutes each, and the sounds were crisp and clear on the Bose noise-cancelling headphones the airline provided as part of the business class soft product.
The sounds felt similar to ASMR — autonomous sensory meridian response, the skin-shivering trend that's big on YouTube — and were sensitively recorded and lovingly replicated sounds. Quite a lot of the sounds were difficult to identify, either sampled or generated, although it is possible to confirm a significant sprinkling of tinkling wind chimes.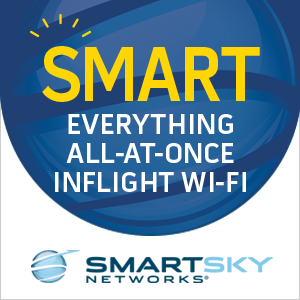 The first track was chilled and ambient, as Keränen promised, rather reminiscent of the intro to Massive Attack's song Teardrop. The wet ambient sounds verged on white or grey noise: not raindrops, not claps, but something in-between. On the second track, the sound was deeper, more of thrumming, around 100 beats per minute if back-of-an-envelope calculations were correct, and featured wave sounds. The third was similar, but included more piano.
It was certainly interesting to munch away on the Rica Maezawa-designed menu from Tokyo while listening to these tracks, but it's hard to say that it was any more so than picking up an ambient playlist on Spotify.
"We are also looking at creating soundscapes for the economy class, for example our blueberry juice and Fazer chocolate," Keränen tells RGN. It will be interesting to see whether the airline adds more of a multimedia feel here. It strikes your author that the "slow IFE" trend of a few years back could be usefully worked in to lovingly shot video along the lines of Netflix's Chef's Table or Salt Fat Acid Heat, but less dramatic, more meditative, and more Finnish.
Finnair is certainly thinking about it. "We are looking at also video materials with sound to support a multisensory dining experience on board," Keränen says, and while the soundscapes lacked a little in the diversion stakes, it feels like there's something in this idea, especially for Finnair's eastbound overnight flights to Asia, where the airline's northerly position means .
Related Articles: