Only a decade since the first double beds in first class appeared in our skies aboard Singapore Airlines' first Airbus A380, innovation by seatmakers and cabin designers is well and truly trickling backwards to business class. That, as Martha Stewart would say, is a good thing – and, indeed, double beds in the class that was once the domain of road warriors shows a sign that airlines are acknowledging the importance of upmarket leisure travellers whose families embody that kind of Martha Stewart demographic.
Sometimes this trickle-back to business is opportunistic, like the Virgin Atlantic Love Suite using the old ex-Airberlin Stelia Solstys staggered product already installed on the Airbus A330-200 aircraft the airline acquired as part of its response to the Rolls-Royce engine issues grounding its Boeing 787-9 fleet. That's some Martha-level making lemons out of lemonade right there.
Sometimes, though, the compromises stick out. First up: double beds that aren't entirely double beds for their entire length. In first class, Etihad's Apartment double beds are a good example of this compromise: the wall slides down about halfway, so you can hold hands with your honey but not tangle your toes together. This is magnified with the staggered seat products that currently make up airlines' early implementations of business class double beds in the skies.
Qatar Airways' Crystal Cabin Award-winning Qsuite design from Rockwell Collins, which débuted the concept in business class, shows something similar. The way the footwells are constructed means that you and your sleeping partner are separated at foot level, even though at head, arm and waist level the beds are level.
Singapore Airlines' A380 beds, designed with JPA and manufactured by Jamco, are even more pronounced in the lower limb separation department, from the looks of early reviews.
Speaking of Jamco, its Spread Your Wings concept brings back the first generation of inward-facing herringbone seats in the centre sections, but that means a tradeoff of being able to canoodle at chest height yet having your feet far apart – and also having your airplane morning-breath heads right next to each other all night.
On the other side of the herringbone divide, double beds may well also spell a decline in the popularity of inward-facing herringbones like Zodiac's Cirrus and Rockwell Collins' Super Diamond. Since the footwells of the passengers behind lie between the heads of the passengers in front, double beds are precluded, or at least have a substantial hurdle to overcome.
But with a bit of thought and some careful design, there are opportunities here too for canny seatmakers and airlines. With Rockwell Collins in particular looking at how the front row of a business class cabin can be turned into a better-than-average product with its Elements evolution of Super Diamond, could the last row of the cabin also be upgraded, but for double beds?
The footwell space isn't needed behind those seats, so could this be an extra-wide, extra-space seat that also converts to a double bed?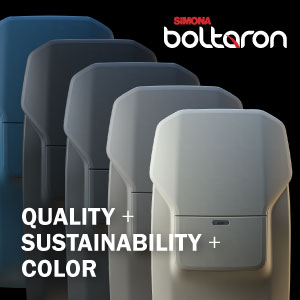 This solution might only really work for airlines with a low leisure load factor, since only one pair of seats per section of cabin could be arranged that way.
But those kinds of airlines exist, and the halo factor argument means that carriers could capitalise on a relatively small investment of time and space (although, of course, requiring a modest increase in part numbers).
At this point, there seems little technical challenge in at least turning some of the rows in any staggered or inward-facing herringbone business class seat into a fully flat bed.
The question is, though, whether the market for that kind of product is there — and whether, once double beds become a must-have rather than a newsworthy innovation, whether the investment into designing them has a return.
Related Articles: