A warm and sunny day in Copenhagen was a welcome backdrop for the first press trials of SAS's new Ka-band satellite-based high-speed inflight connectivity, which is supported by US firm Viasat and uses 82 spotbeams across Europe.
Installation has been completed on the first seven SAS aircraft and will continue through 2020. When fully installed, the service is expected to cover 97% of the airline's regional flights.
The wifi system performed to the best expectations of the carrier, fulfilling the SAS promise that flyers will be able to keep up with work and play in speeds equal to the ones they enjoy at home.
The connection allowed this writer – who resides in Denmark – to simultaneously connect with two devices, a smart phone and a tablet. I uploaded and shared short videos via Twitter while running other apps in the background on the smart phone; and watched an episode of the Norwegian and English cross-over comedy Norsemen on Netflix on the tablet, with responsiveness and picture quality superior to watching Netflix programming on a 4G mobile connection on the train.
I did not even encounter the program-loading delay I experience at home at times.
For travelers in the US, who may have become accustomed to the availability of high-speed Internet on certain domestic flights including on Viasat customer JetBlue, this may all seem ho-hum.
But, in Europe, the SAS launch heralds the dawn of a new age in air travel – one which is fittingly taking off in the Nordics.
Nordic countries lead the way in the future of digital. Stockholm, the base of SAS's headquarters, is considered the Silicon Valley of Europe, and is home to startups like Spotify. Consumers in this region – which has moved to a paperless and virtually cashless society – rely on the Internet to get almost everything done.
In orbit, a high-capacity KA-SAT satellite – operated as a joint venture between Europe's Eutelsat and Viasat – ensures SAS, Finnair and others can offer to passengers the kind of high-speed Internet available on JetBlue.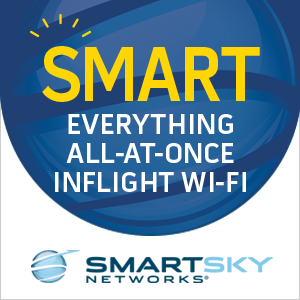 As Theresa Lorenius, VP product & services at SAS said, "What [our flyers] have in common is that they want to be always online, to support their modern lifestyle. Our customers are frequent travellers and they spend a lot of time with us on board. Now we believe that their time can be more productive and more joyful."
Lorenius also said that the system would have to suit the connectivity needs of passengers who travel with multiple devices, and a variety of them. "One of the things that we experienced throughout the installation was the amount of different devices people bring to the plane – smartphones, laptops, tablets,  smart watches, even smart glasses," she said.
An SAS study of passenger digital habits confirmed that travellers in the Nordic region multi-screen and rely heavily on mobile devices; around 90% of users connect on smart phones, 80% connect on tablets and 70% connect on laptops.
SAS ultimately selected Viasat because it was likely to deliver to and beyond customer expectations into the future, SAS entertainment and connectivity manager, Gunilla Ait El Mekki told RGN.
"That's always the challenge when you put something into a plane. You know that you have to drill holes in the fuselage and so on and you have to be a little bit conscious about what you do. So you have to choose something that will hold for a few years forward," El Mekki said.
"Our challenge is always to keep up with what people do on the ground. We needed someone who really saw Internet as a product, not from an industrial standpoint but more what people can do with it. For sure, [Viasat] have this experience with other airlines, but also by giving Internet for residential customers. We knew that they were really into connectivity in that sense. That was very important for us. Then, of course, the speed that we could have, and the gate-to-gate [availability], so that you really can start surfing as soon as possible."
El Mekki added that the SAS team just 'clicked' with the Viasat team in terms of priorities. "I think you have to have a certain will from both sides to work together and make this happen for our passengers," she said. "So you have to have all of these components – the parts and adaptors – you need to have that, but [you need to] see that the objective is to give this [experience] to the passengers."
SAS will offer connections free of charge to frequent flyers – Gold and Diamond EuroBonus members – and passengers who buy Plus regional business tickets. Economy passengers pay a fee of $7 US, 49 SEK, 39 DKK, or 4.90 Euros.
This price is just right for your author. On a hot afternoon, thoughts turn to ice cream. Half a litre of Ben & Jerry's Chunky Monkey retails for 70 DKK. Enjoying wifi in the skies over Sweden and Denmark was much cooler.
Related Articles: