You might think that all the innovative design work in commercial aviation takes place in the expansive, spacious widebody arena, with twenty-feet-wide cabins, suites galore, two decks of possibilities, and space for designers to truly express their — and their client's — aesthetics.
But flydubai is aiming to change that with its new Boeing 737 MAX 8, featuring Thompson Vantage flatbeds in business class and fully featured Recaro CL3710 seats in economy, as John Tighe, design director at JPA Design, tells Runway Girl Network.
As a pathfinder in the world of long-haul narrowbodies, with flydubai flights from Dubai to Prague (six hours, fifty minutes) and Bangkok (six hours, twenty minutes), the 737 MAX 8 flies alongside Emirates' Airbus A380s in regular service.
So it needs to stand out.
For an airline like flydubai with ambitions to signal value and quality in addition to low prices, developing new proper longhaul cabins is key.
"The introduction of lie-flat business seating in a narrowbody exemplifies the capabilities of these aircraft," Tighe says. "JPA and flydubai extended the PaxEx proposition beyond the products, curating lighting scenarios and upgrading all the serviceware and soft-goods – tasks previously reserved solely for the long-haul flagship aircraft."
The Boeing Sky Interior inside the 737 MAX, says Tighe, is "a fresh modern interior space, and works best with seats and interiors designed with the same mind-set. The overhead bins offer loads of space which helps keep the underseat area free for foot space where possible."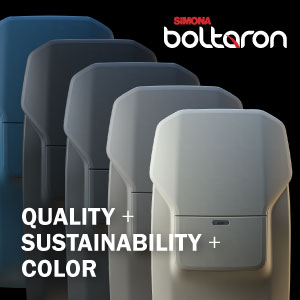 While Flydubai has nearly five dozen 737-800 aircraft, JPA wasn't involved with the previous generation of cabin interiors. However, Tighe confirms that for the new MAX cabins JPA "checked they aligned" with the existing fleet, although the new cabin was indeed entirely new. "In reality there is nothing carried over from other similar aircraft."
That poses some problems for designers.
The shape of the aircraft, particularly at the proverbial and literal pointy end, is also a challenge, but one that a staggered layout like the Vantage is well equipped to meet. "The biggest challenge for us and for the seat vendor, Thompson Aero, is the tapered section of the aircraft, and the positioning of the seat tracks, which also taper on the 737. This required additional testing," Tighe notes.
When compared with a Vantage installation on an A330 or 787, Tighe says, "much of the detail is different, but the end result is a user experience which is similar. More and more airlines are seeing the light – a narrowbody experience can be, and arguably should be, as good as a widebody experience."
JPA can build on existing work with widebodies, but Tighe highlights that each aircraft has its own challenges to overcome and its own environment to design, with each requiring details that are often different.
When it comes to the details, Tighe praises a positive working relationship with Thompson and the airline as part of the product's success, citing the example of the front row of monitors in the rear cabin as an example.
"Usually the IFE monitors, literature pockets and such details are just bolted onto the bulkhead, which looks quite messy and is difficult to clean," Tighe explains. "Flydubai has a neatly integrated solution which is far more pleasing to the eye, and easier to maintain." Zodiac's RAVE IFE hardware was selected.
Delving into the details, Tighe highlights that the fully featured seats chosen by Flydubai give designers a much wider canvas than more basic models, enabling choices around the colour material finish schemes, fabric, additional areas of customisation, and passenger facing features like the literature pocket.
Further forwards, RGN asked Tighe whether there was a 'natural' number of business class seats, defined by the location of the two overwing exits, as there is on many widebody aircraft between doors 1 and 2. "Not so much on the 737, but with the staggered type layouts, it makes sense to have 3 rows or more to take advantage of the overlapping nature of the layout," Tighe muses. "For each aircraft, particularly widebodies, there are certain LOPA (layouts of passenger accommodations) which work best, but there are so many variables that it's a big job to select the right balance."
And that balance is crucial. For passengers familiar with the airline — and that number will grow as the range profile of the 737 MAX 8 is applied to flydubai's network ambitions — "it's unmistakably flydubai, and is on-brand without falling into the common trap of being too rigidly driven by the brand guidelines," Tighe says.
"Flydubai and JPA both believe that a space in which you're spending several hours needs to have depth and warmth, and that requires flexibility with the colours & materials," Tighe highlights. "Other airlines apply their brand into the cabin as if it was a check-in station, which results in an unsubtle user experience. No one wants to travel within a flying advert!"
Flying advert it is not: rather, an elegant, groundbreaking pair of cabins with an impressive set of options, often at a price point that will enable this narrowbody carrier to punch well above its weight when attracting passengers.
Related Articles: