If you walked around the stands at the colocated APEX and Aircraft Interiors Americas expos last fall in Long Beach, California, you could be forgiven for thinking that premium economy hasn't much changed in the two and a half decades since its introduction. Seats are still around 19-20" wide, with around 38" pitch, and are mostly indistinguishable from domestic first in the US or regional business elsewhere.
That hasn't stopped it from selling like hotcakes, particularly in recent years as airlines try to span what Airbus' cabin supremo Ingo Wuggetzer calls the "comfort canyon" between ever-more-densified economy and the increasingly spacious and feature-filled business class cabins.
Yet seatmakers and other stakeholders suggested there exists a significant bottleneck in production capacity, especially for airlines not already well advanced in their considerations for premium economy. An order glut, including shipsets for Emirates, means that seatmakers are reaching capacity constraints in taking on new orders. The second-hand market, too, seems unable to provide what airlines need.
(The second-hand market, of course, is currently flooded with last-generation business class seats, including a wide variety of angled lie-flat products that may well be available in large enough quantities to interest smaller airlines in taking the leap and installing sloping sleepers as a premium economy product alongside AirAsia X's Premium Flatbed seats and Eurowings' new fully flat beds.)
In terms of the production bottleneck, as Acro VP of sales Alan McInnes pointed out at the time, "it's back to the old thing: it takes two years to get a seat to market. But there are a number of major RFIs out there for major airlines who are looking at doing something different for premium economy."
McInnes noted that the size of market Acro sees for premium economy is roughly equal between widebody premium economy and narrowbody business-first, particularly as the new generation of larger, longer-range Airbus A320neo and Boeing 737 MAX aircraft starts ramping up production — and since the same facilities will be used to produce both, the supply chain is even more constricted.
HAECO, the former Timco, is in a particularly useful position with its existing (and commonly found) widebody catalogue premium economy seat now joined by Vector Premium, the latest in its platform of economy and premium economy seats.
Paraphrasing senior vice president of engineering José Pevida, HAECO wants to move customers to Vector Premium because of the variety of new-generation benefits it brings (particularly around customisation options) but it remains open to cross-production of both seats.
That customisation is a critical part of the premium economy question. All airlines want to customise their cabins to the maximum extent possible — yet this is directly at loggerheads with fast design, certification and production of seats. Seatmakers are trying to walk the line between the two, Zodiac Aerospace's EVP for the ZEO design lab Scott Savian emphasised to RGN.
New premium economy LOPAs [layout of passenger accommodations, often referred to as seatmaps] are being shopped around, though, with the Americas retrofit market seen as particularly ripe by the smaller seatmakers. US airlines are continuing to extend the life of their aircraft, while Latin American carriers have largely yet to jump on the premium economy bandwagon.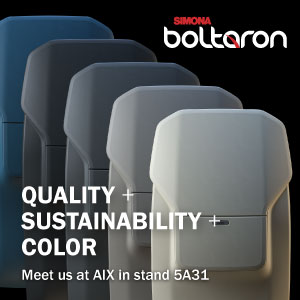 But change is afoot, with multiple seatmakers ready to bridge the "comfort canyon". Much of the innovation revolves around the shoulder stagger, where designers have long recognised the benefits of changing row positioning.
There is also a variety of additions of angle positioning being shown, which adds to privacy and space but may raise certification stakes, particularly around the head injury criterion requirements.
Numerous business class seats have suffered delays in certification and production as a result of the angle requirements, and it will be notable which way premium economy seatmakers and their airline customers jump: seatbelt airbags, sidewall airbags, or the shoulder strap.
RGN expects many of these next-generation premium economy products to be launched at the Aircraft Interiors Expo in Hamburg in April of this year. We'll continue to keep you updated on developments in the months until then.
Related Articles: