Boeing and automotive seatmaker Adient are creating a new joint venture airline seatmaker, Adient Aerospace, in which Adient is the 50.01 percent majority stakeholder.
The new joint venture will "develop, manufacture and sell a portfolio of seating products to airlines and aircraft leasing companies. The seats will be available for installation on new airplanes and as retrofit configurations for aircraft produced by Boeing and other commercial airplane manufacturers," the companies said in a joint statement.
The hookup comes amid continuing concerns from both Boeing and Airbus about the production capabilities of existing airline seat suppliers, a series of moves towards involving automotive experience more closely in the aviation industry, and a wider trend towards airframers wanting to take more of the nose-to-tail pie from large, strategic suppliers such as United Technologies Corporation.
UTC's takeover of Rockwell Collins was overwhelmingly approved by the latter's shareholders this week, and is intended to be combined with UTC's Aerospace Systems unit as Collins Aerospace Systems. Airbus already owns Stelia Aerospace, which includes a seating unit previously known as Sogerma that focusses on premium seating.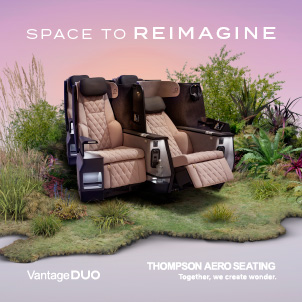 "Seats have been a persistent challenge for our customers, the industry and Boeing, and we are taking action to help address constraints in the market. Adient Aerospace will leverage Boeing's industry leadership and deep understanding of customer needs and technical requirements, to provide a superior seating product for airlines and passengers around the world," said Kevin Schemm, senior vice president of supply chain management, finance & business operations and chief financial officer for Boeing Commercial Airplanes.
"This joint venture supports Boeing's vertical integration strategy to develop in-house capabilities and depth in key areas to offer better products, grow services and generate higher lifecycle value."
Adient itself was spun off in 2016 as the automotive seating and interiors business of Johnson Controls, and is by no means the first automotive seatmaker to set its sights on aviation. Recaro has long had an airline business, while following the demise of Koito's seating products Toyota has been producing economy class seats for ANA. The UK's Mirus, best known for its AirAsia seating, has an automotive pedigree as well, while Chinese automotive seatmaker ZTC bought Acro Seating less than four months ago.
Despite Boeing's all-American credentials and brand positioning, "Adient Aerospace's operational headquarters, technology center and initial production plant will be located in Kaiserslautern, Germany, near Frankfurt," the companies said in a statement.
The joint venture with Adient is remarkable in the context of Boeing's close working with two smaller companies for both economy and premium seating products.
On the premium side, last April Boeing essentially replaced two key catalogue seating products from Zodiac Aerospace with doppelgangers from Japanese seatmaker Jamco.
In economy, Boeing has been working closely with LIFT by EnCore for seating for its 787 and 737 family of aircraft, for which RGN understands Boeing is the only customer.
Boeing and Adient did not immediately respond to a request for comment.
Related Articles: