An apparent mission failure of a classified satellite that was launched by the SpaceX Falcon 9 last week has not dampened Iridium's confidence in the planned launch later this quarter of 10 additional NEXT satellites on the same rocket type.
An Iridium spokesman said the satellite company has "had conversations with SpaceX" and is "not concerned with moving forward for our next launch".
The launch of 10 more Iridium NEXT satellites is expected to happen in the first quarter of 2018. "We're planning to announce our next launch date in the near future," said the Iridium spokesman today.
The Falcon 9 was involved in a mission to launch a classified, Northrop Grumman-built satellite into orbit on Sunday, 7 January but the satellite, code-named Zuma, apparently failed to reach its intended destination.
What ensued is a "he said-she said dispute between SpaceX and Northrop Grumman over who is to blame for the mission failure", noted Chris Quilty of satellite and space industry consultancy Quilty Analytics.
If the problem is found to be with the Falcon 9, then SpaceX would have to go into a stand-down to determine the root cause. "In the past, these stand-downs have taken four to six months, which is a huge inconvenience to SpaceX and its customers," Quilty told Runway Girl Network.
However, if it turns out that Northrop Grumman's equipment was to blame then SpaceX "can go to its customers and insurers and say 'it's not us', and continue with other launches", including the Iridium mission, said Quilty.
"The complication is that this was a classified mission and there are only two guys in the entire global insurance industry who can go in and assess these top-secret satellites," said Quilty, adding that "we may never see a detailed announcement" on the results of the investigation. Northrop Grumman has not commented due to the classified nature of the mission.
It will instead be a case of watching and waiting to see whether SpaceX's next rocket – the heavy-lift derivative of Falcon 9 known as the Falcon Heavy – "fires up its engines and launches with the same fairing".
SpaceX has been pushing back the Falcon Heavy static fire test, though it might take place this week, reports CNET.
In a strongly-worded statement last week, SpaceX president and chief operating officer Gwynne Shotwell appeared confident that the Falcon 9 was not to blame for the failed Zuma mission.
After review of all data to date, Falcon 9 did everything correctly on Sunday night. If we or others find otherwise based on further review, we will report it immediately. Information published that is contrary to this statement is categorically false.

Since the data reviewed so far indicates that no design, operational or other changes are needed, we do not anticipate any impact on the upcoming launch schedule. Falcon Heavy has been rolled out to launchpad LC-39A for a static fire later this week, to be followed shortly thereafter by its maiden flight.

We are also preparing for an F9 launch for SES and the Luxembourg Government from SLC-40 in three weeks.
Iridium NEXT satellites will support cockpit communications, including safety services; as well as light cabin connectivity for small jets and helicopters, among many other non-aero applications.
For airlines, Quilty said that even if there is a delay there will be little impact because "all safety services are done using legacy Iridium services" and the cross-over to the NEXT network, as it happens, "should be nearly seamless".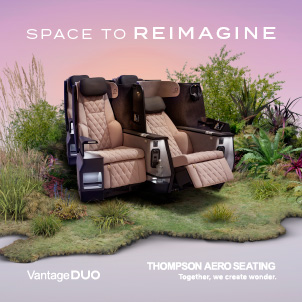 It's true that as NEXT satellites replace the legacy satellites, aircraft fitted with prior-generation hardware to support the legacy network don't know if they are talking to the new or old satellites overhead. "None of them [the operators] are required to change out their equipment. That is a different strategy than others, who force upgrades which creates opportunity for us," noted Iridium CEO Matt Desch in an interview with RGN last summer.
But extensive performance testing is required for a FANS data communications system, and so new hardware to fully exploit Iridium NEXT will need to be gathered for FANS review and acceptance by the FAA.
NEXT satellites are also carrying the payload for Aireon's space-based ADS-B air traffic management surveillance system. Aireon will doubtlessly be hoping that SpaceX's assertion is correct and the Iridium NEXT launch schedule remains on track, as it is targeting global service launch this year.
All eyes will now be on SpaceX to see whether the Falcon Heavy maiden flight and the upcoming SES launch on the Falcon 9 go ahead as planned.
Related Articles: