Airlines are the world's biggest Champagne buyers, and Emirates is no exception: every year, the seven lounges in Dubai International Airport alone go through some 150,000 bottles of Moët & Chandon, a maison de Champagne that dates back to the year 1743. Think of that the next time you hear a cork pop — or, rather, that you strain your ears to hear the puff of air that's rather more de rigeur.
But now some of those 150,000 bottles will be enjoyed in a newly designed, co-branded Champagne lounge within Emirates' colossal Concourse B business class lounge.
"We have seven lounges in Dubai all serving Moët & Chandon Champagne," Emirates' vice president product development and operations improvement Tony Chandler says, explaining that the airline is developing this branding and design partnership with "a dedicated Moët & Chandon champagne lounge located within the Emirates Business Class lounge at Concourse B. While the business class lounge measures close to 10,000 square feet to accommodate over 1,500 customers, the Moët & Chandon Champagne lounge itself can seat 120 customers."
Separating the massive lounge into branded areas is smart, both because it breaks the space up and because it lets Emirates associate itself with a premium brand.
"The Moët & Chandon champagne lounge was created exclusively for Emirates," Chandler says. "The first-of-its-kind lounge to be located in an airport reinforces Emirates and Moët Hennessy's longstanding partnership of over twenty-five years. We take our champagnes and wine very seriously as we have a global customer base who, rightly, expect food and drink of a quality level that you find in a top class restaurant. Emirates has carefully built up relationships with some of the best wine producers in the world which gives its customers the chance to sample the world's best wines and champagnes."
The 'golden wave' design of the bar includes 2400 hand-applied gold leaves, and Demetrio Mapalo, Emirates Flight Catering Supervisor explains that "customers who visit Moet & Chandon lounge are very intrigued about the design of the bar counter, so we get a lot of questions about the golden wall — whether it is made from real gold — and the difference between each selection of the Champagnes."
Indeed, Emirates is offering four types of Moët (pronounced mwet, not moway) champers, including the standard non-vintage Brut, its pink non-vintage Rosé cousin, the sweeter demi-sec Nectar Impérial, and the 2016-released Grand Vintage 2008. It's unusual for airlines to offer this kind of mid-range vintage in their business class lounges, and many don't even offer anything to that quality in their first class lounges.
If you're keen to taste the 2008 (Moët & Chandon's 72nd-ever release, which the house calls "vivacious and lively") in the lounge, though, you'd better be quick: Emirates' Tony Chandler notes that "Grand Vintage 2009 will succeed Grand Vintage 2008 later this year."
The demi-sec is a smart move too, especially since there are regions of the world where palates have tended to prefer a sweeter option, including Asia and Russia, where Veuve Clicquot calls its demi-sec "cuvée Saint-Petersbourg". It's not just a regional thing, though: regular Champagne wasn't always as dry as it is now, so a taste of demi-sec is also a taste of history.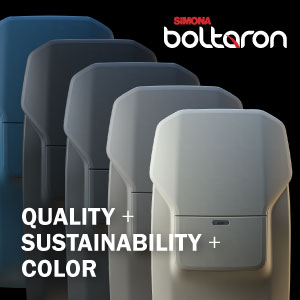 The bubbles will go down nicely, Emirates expects, with one of its specially designed nibbles. "To complement each champagne," Chandler explains, "chefs from Emirates Flight Catering and the in-house lounge teams collaborated with Moët & Chandon's Executive Chef Marco Fadiga to create a unique selection of canapés, ranging from sweet to savoury. The canapé menus are changed monthly."
Some of the canapés are more inspired than others in their design: "prawn cocktail" or "cream cheese and grapes salad" might feel a little humdrum with the "tomato marmalade with bocconcini cheese, spinach & rocket oil", "scallop tartare with crispy capers", or "quinoa salad with bresaola and parmesan chips".
But with a wide variety of other options in the redesigned lounge, customers will have the opportunity to design their own DIY pairings to go with the Moët & Chandon of their choice. Cheers to that!
Related Articles: