A temporary banner tacked to the front of the building announced B/E Aerospace has a new name. It was a modest indicator of more monumental changes now that Rockwell Collins has acquired the 30-year-old airplane interiors manufacturer and redubbed it Rockwell Collins Interior Systems.
That the doors of the company's Winston Salem, North Carolina plants were open to journalists was in itself an "are you sitting down" kinda moment as the old B/E Aerospace was reticent with the press. Rockwell Collins, not so much.
"I hope you understand why Rockwell Collins thought it was a good idea to buy B/E Aerospace," Kelly Ortberg, Rockwell's President and CEO said after a day of showing off the place and explaining in detail how the airline-centric products could expand into other areas of the industry occupied by Rockwell Collins. Ortberg talked about three areas of synergy in detail.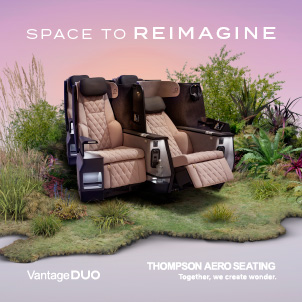 Lie-flat seats and  Nespresso coffee machines may not wind up on too many Department of Defense airplanes, but Ortberg suggested that the company could sell to the military, be it racks and monuments for holding and cooling communication equipment or consoles for the monitors used to observe air-to-air refueling operations.
"They need lighting changes, seating changes, interiors, galleys and oxygen systems," Ortberg added about military customers. "Those are markets we haven't been pursuing."
On the commercial side, Rockwell Collins can demonstrate cabin products to airline customers that have previously confined their purchases to the flight deck.
"They've always bought Collins avionics, but not our interiors so B/E Aerospace can come with those relationships and we can bring them together," Ortberg said.
With the theme, "Seeing the future from here," Rockwell will use the Paris Air Show to explain its plan to create an internet-of-things environment on the modern airliner. Imagine sensors embedded in seats, monitors and tray tables that transmit status reports so that a flight attendant can know when a dinner plate is empty. An alert sent from seat component to a maintenance desk could warn of an impending failure.
"We have a vision about where we're going with cockpit, cabin, communication and connectivity," Ortberg said.
Rockwell Collins Interior Systems remains the largest manufacturer of commercial aircraft interiors – a powerhouse in a market that is both capital intensive and constantly evolving.
During our tour of the Oak Plaza Engineering Development Lab, we saw seat designers tinkering with one-of-a-kind prototypes. Nearby, machines dragged heavy bags across fabric swatches and weights were repeatedly pressed into the top of tray tables to see just how much passenger-like abuse they could withstand.
The tray table was turned, so to speak, at the $15 million crash test sled where a high visibility-clad dummy took a fast ride to a sudden stop to test seat safety.
Werner Lieberherr, who has led the company since 2006, explained that ten percent of company revenues are set aside for this kind of engineering, research and development.
For all the products produced by Rockwell Collins Interior Systems, whether it's the brand-new waterproof, fireproof, fully-encapsulated, flexible, variable-colored light strands, or one of its 300,000 Meridian seats, nothing gets the attention of airline customers like the premium products.
It is the image differentiator, Lieberherr said, the product of C-Suite level decision makers. And for all the time and money it takes to create them, these precious products have a relatively short time in the air.
The typical in-service life of a business or first class seat is between five and seven years, Leiberherr said. It's a schedule that assures a steady stream of business to be sure, but like the weights on the mechanized test trays, it puts relentless pressure on the company to keep pushing its creativity ever farther.
Related Articles: