Bluetooth beacons in airports and on aircraft are slowly starting to become a more mainstream concept, with several airports already implementing the technology. But there are still issues to overcome on the path to them becoming widespread — and at their most useful.
At the recent APEX Expo in Portland, SITA OnAir staffers Aurélie Branchereau-Giles and François Rodriguez demonstrated the current thinking around beacon technology on board the aircraft to Runway Girl Network, and the company's technology worked seamlessly. That's certainly a useful first step along the path.
But the problem with it — and with much of the passenger experience-related beacon technology that's being suggested — is that the #PaxEx benefits haven't been enumerated sufficiently to overcome the instinctive passenger recoil at the idea of mobile phones tracking them, and the very reasonable concerns about data security that people hold.
Do passengers really want to give location data to airports?
Privacy and security, especially around mobile devices, are not going to become less important or less discussed. People are understandably concerned about the idea of their phone leaking their personal data to companies with which they thought there was only a simple business transaction relationship (the "all I need is some steps up to the plane — why are you sending me emails" argument).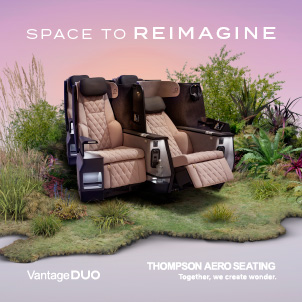 The gut response from some passengers to location-based technology is often "wait, that sounds terribly invasive; how do I opt out?", and beacons are no exception. It will be important to ensure that isn't the first reaction.
The wider problem with airlines and the amount of personal data they hold is that there are often data security concerns that work against the interest airlines have in a swift and simple airport journey: just look at the plaintext information that is encoded in a boarding pass barcode, with which anyone with ill intentions can likely access a reservation and potentially a frequent flyer account.
This general skepticism is combined with the perception of most large airports as glorified shopping malls that are out to make money off passengers. An example: London Heathrow. Being subjected to twenty minutes of incessant advertising on the airport train before going through a branded security screening only to have to dodge through a mandatory duty free maze before queueing on a bank-branded jetway is an experience that makes flyers entirely understandably wonder whether they are going to be receiving useful messages or the push notification equivalent of spam email if they use beacon technology.
The industry needs to show benefits to become convincing
A big part of the problem with the technology is that we have yet to really see the benefits, which means that the industry needs to step up a notch in showing them off. To start, that means thinking about what the airline and airport want to communicate to each individual passenger, including personalisation based on their profile and their use of a partner airline app. These are particularly useful for high-value customers, but also bring benefits for less frequent economy travellers.
After clearing security, for example, a message for a frequent flyer might read:
"Miss White, flight BR32 to New York JFK will board at 9:54 pm. As a valued Diamond Infinity MileageLands member, you are welcome to our lounges, which are located to the right of security."
An economy passenger without status might be sent something like this:
"Mr Carter, flight NZ2 for LAX boards at 10:25 pm at gate 53, which requires additional security and is a ten minute walk from security. And a little something from us during the Rugby World Cup: your Air NZ boarding pass entitles you to a ten percent discount on all rugby merchandise in duty free!"
Individualised boarding notifications would allow airlines to maximise the benefits of announcement-free lounges, while still driving on-time departures.
"Lord Grantham, boarding for flight BA186 to London Heathrow is now starting at gate 12, a five minute walk from the lounge. Please ensure you have boarded by 7:30 pm, when the gate will close."
Rather than just a simple "welcome aboard" notification, which is entirely useless, perhaps it's time to demonstrate one that reads (for a high-value customer in economy):
"Thank you for your loyalty to Oceanic, Mr Abrams. We are delighted to have you flying with us again, and please enjoy a delicious cocktail — or whatever beverage you would prefer — on us this time. Just ask your friendly flight attendant."
Connected aircraft would even allow passengers to be offered class-specific options, all within the airline's brand and tone.
"Good morning, Mr Fry. There's an hour left before we start our descent to London. Feel free to keep getting your beauty sleep, or let our lovely crew treat you to a proper brekkie before we land."
Integration with the passenger manifest and on-board beacons would allow messages that feel individual but are sent together.
"Dr Watson, we are very sorry but the lavatory at the rear of your business class cabin is not working. Please feel free to use the one at the front of the cabin instead."
Important safety messages — which may not be seen by passengers using PEDs — could also be delivered via the beacon technology.
"Mrs Stately-Home, the safety briefing is now starting. Please take out any headphones and give your full attention to the crew."
"Dr Scott, if you happen to drop your personal electronic device behind or beside the seat, please don't move the seat, but call a flight attendant immediately."
"Mr Zuckerburg, we're ready to depart, so please ensure that your device is turned to flight mode."
On the arrivals side, too, important information could be customised, with action options enabled as far as allowed by OS designers.
"Welcome to Delhi, Ms Chopra. The local time is 10:10 am. Your connection to Agra on flight 302 departs at 12:09 pm from gate 45. Follow signs to immigration and take the shuttle train. [Dismiss] [SMS this to me] [Email this to me]."
From the airport side, information currently blared over the public address system could be tailored to individual needs and other information.
"Good morning, M. Pamplemousse, and welcome home. Traffic on the Van Wyck is currently clear, and Google Maps data suggests a taxi would take 35 minutes to your office on 42nd Street. Alternatively, the AirTrain is running normally to Howard Beach and Jamaica."
"We're sorry, Mr Sinatra, but AirRail is experiencing disruption. You can take Metro line 4 towards Millennial Park to transfer to other lines, or taxis are located on the arrivals level by door 6."
These are just some of the useful information flow options that are available now or in the near future. If the airline and passenger experience industries are serious about making the most of technology like beacons, they need to start significant discussions about the possibilities — and the benefits — that are included with the inevitable tradeoffs.