Shanghai-based China Eastern Airlines is the first Chinese airline to launch international inflight connectivity, using Panasonic Avionics' eXConnect Ku-band system on the airline's newest Boeing 777-300ER aircraft. A high-speed rollout will start between Shanghai, New York and Toronto, and will reach San Francisco and Vancouver in December, for a total of 20 outfitted aircraft in just six weeks. Domestic services from Shanghai to Beijing, Guangzhou, Kunming, and Chongqing will also be served. The airline has significant operations from its Shanghai Pudong and Hongqiao hubs, including US and EU destinations.
Clearly, China Eastern has been taking delivery of aircraft with eXConnect for some time, including some of its Airbus A330 fleet. It is unconfirmed why the carrier's expectation for a July launch has now slipped to November, although the airline did cite government issues as a reason for prior delays.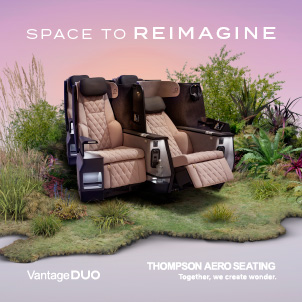 "For China Eastern Airlines, inflight connectivity and Wi-Fi go beyond allowing passengers to be connected to Internet; it also dramatically improves our service model. With a connected aircraft, all of our the service support systems will be linked and available to the passengers in real-time, which will allow us to curate an even better experience for our guests," said Zhang Chi, deputy director of China Eastern Airlines' Transformation Office.
The proof will be in the pudding about whether China Eastern — with its notoriously terrible website — can offer useful services that actually work. There's no reasonable explanation for why it doesn't already, given the airline's size and scale.
China Eastern is the country's (and Asia's) second largest carrier by passengers carried, smaller than China Southern and slightly larger than Air China, which sit in first and third place respectively. Globally, it is the eighth largest carrier in the world by passengers carried, sitting between LATAM in seventh place and easyJet in ninth.
In July, Delta agreed to purchase a 3.55% share in China Eastern for $450 million, becoming the first US carrier making an equity investment in a Chinese airline. The deal would value the airline at 43.4 billion US dollars, making it roughly the same value as Delta itself. The move was swiftly followed by a September announcement of an extension of code-sharing between the two SkyTeam carriers, including on Delta's Shanghai flight, which also launched in July.
Can Panasonic live up to its Great Firewall-side email and social media promises?
A thorny issue in the side of the airline and its connectivity provider is one of content and the list of banned sites from China's Internet under the Great Firewall of China (known within the country as the Golden Shield project) .
"This Wi-Fi connectivity service enables passengers to access a wide range of services including the internet, email, and their favorite social media sites," Panasonic's statement promises.
Yet the Great Firewall largely bans Western Internet services like Gmail, Twitter, Facebook, Instagram, Snapchat, together with an ever-evolving list of certain media organizations, although some Western-oriented hotels in some major cities are granted exemptions for some common Western email and social network providers.
Whether China Eastern and Panasonic Avionics are able to negotiate a similar exemption will be a sign of how great the influence of the airline is with Internet regulators. In the context of ongoing and historical tensions between Japan and China, one wonders if working with a Japanese company is the most advantageous political move when courting an exemption.
With a requirement for user identification a strong possibility, there are of course opportunities to both maintain the Great Firewall for Chinese passengers (who can be grouped by their identification documents) while enabling the Internet that is useful for non-Chinese passengers, including VPN usage.
VPNs are commonly used by both expatriates and Chinese citizens in China to evade some of the restrictions of the Great Firewall in order to access the services they are used to. Whether VPNs work depends on a number of factors, and the tacit cat and mouse game of finding a working connection is a fact of life in modern China for international visitors and businesspeople. Access to VPNs is restricted by a tightening of the Great Firewall at noteworthy or sensitive times, including annual political meetings and the anniversaries of certain controversial events.
Panasonic confirmed to Runway Girl Network that China Telecom Satellite (CTS) is the Internet service provider for the China Eastern aircraft. Interestingly, "Panasonic Avionics both designed and installed the ground station in China," a company spokesperson told RGN, highlighting that "it is operated by CTS. The China-specific ground station is designed per regulatory requirements in China. Chinese-registered aircraft are considered, by the Chinese Government, to be a territory of China. They are subject to the same regulations in the air as that they have on the ground."