LE BOURGET — Bombardier couldn't have been more effusive about its CSeries mid-size narrowbody airliner launch partner Swiss at today's Le Bourget centrepiece, and most of the discussion in the room (and indeed the questions from the world's assembled media) around the CSeries was about Swiss' operation plans rather than Bombardier's impressive better-than-the-brochure performance.
Better aerodynamics, better fuel burn, better payload range, better field performance…finally, there is some really good news coming out of the CSeries programme. Thirty years after the last all-new narrowbody airliner, and after significant delays, there were happy faces (together with upbeat videos and a veritable Matterhorn of celebratory macaroons) in the Swiss-themed Bombardier chalet.
"That is engagement!" said Isabelle Gaulthier, Bombardier head of communications, as Swiss executives presented a slick video of its plans with smiling Swiss flight and cabin crew to one side and a bevy of Swiss (and other airline) executives in the front rows. After its demonstration flight this week at Le Bourget, the CSeries' first stop outside Canada will be Zurich.
Swiss and Bombardier also announced that the airline has converted the second ten of its initial CSeries order of 30 aircraft to CS300 examples, to be delivered in 2017. The first ten, which are due to be delivered in the second half of 2016, will still be CS100 aircraft.
With the better-than-the-brochure performance by the CS100 and its Pratt & Whitney PW1000G (previously the GTF Geared Turbofan), and slimline seats from the German seatmaker ZIM, Swiss will be able to transport an extra 8 passengers on its CS100 aircraft and an extra 15 — which is an impressive three rows of seats — on the CS300.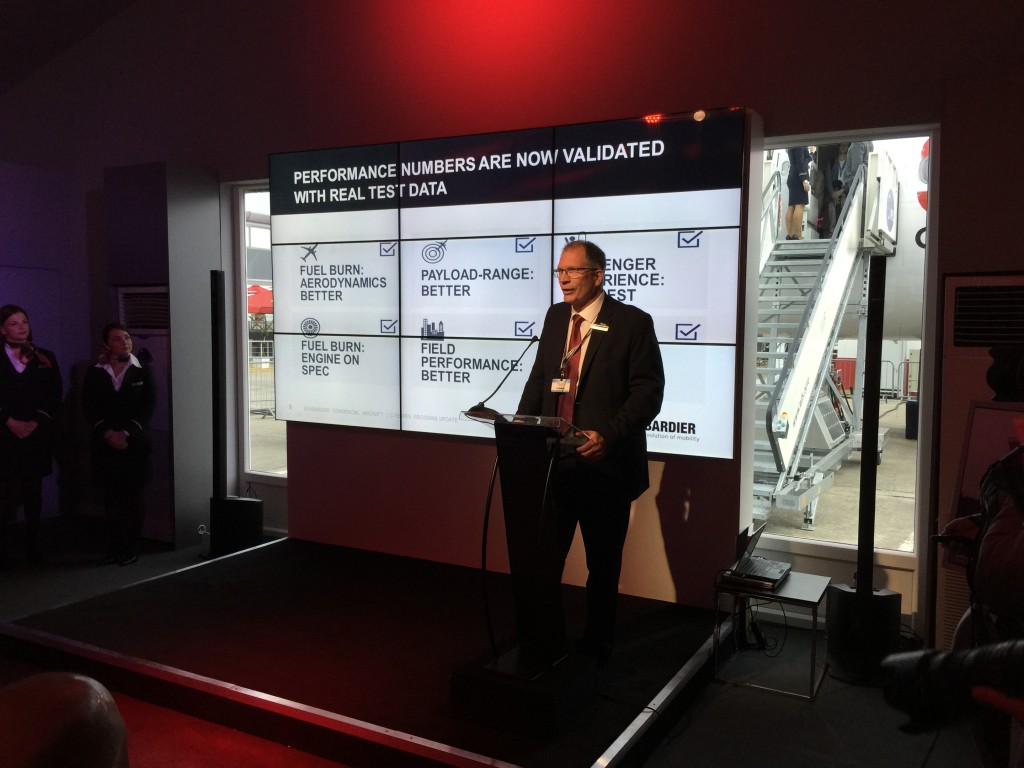 Runway Girl Network asked Swiss' Hohmeister for details of the CSeries' up front layout. Hohmeister confirmed that, with the variety of European routes that the CSeries is expected to operated — Hohmeister quoted both Hamburg and Spanish leisure routes — the airline will continue its Eurobusiness configuration, with a five-abreast seating layout.
Hohmeister did confirm to RGN, however, that Swiss intends to pitch the front end — likely, he said, the first six to seven rows — at 32", which is a significant improvement on British Airways' and Air France's latest cabins at 30" [Editor's note: Swiss later changed its mind on the configuration up front and opted to pitch the entire aircraft at 30″]
The Eurobusiness pattern will also be 1-2, with one seat on the left hand pair and the middle seat of the right hand trio left empty. With 18.5" wide seats in a 2-3 layout and 19" wide aisles, the CSeries looks to be one of the most comfortable ways to fly on regional routes, with Hohmeister calling it "a game changer in its class".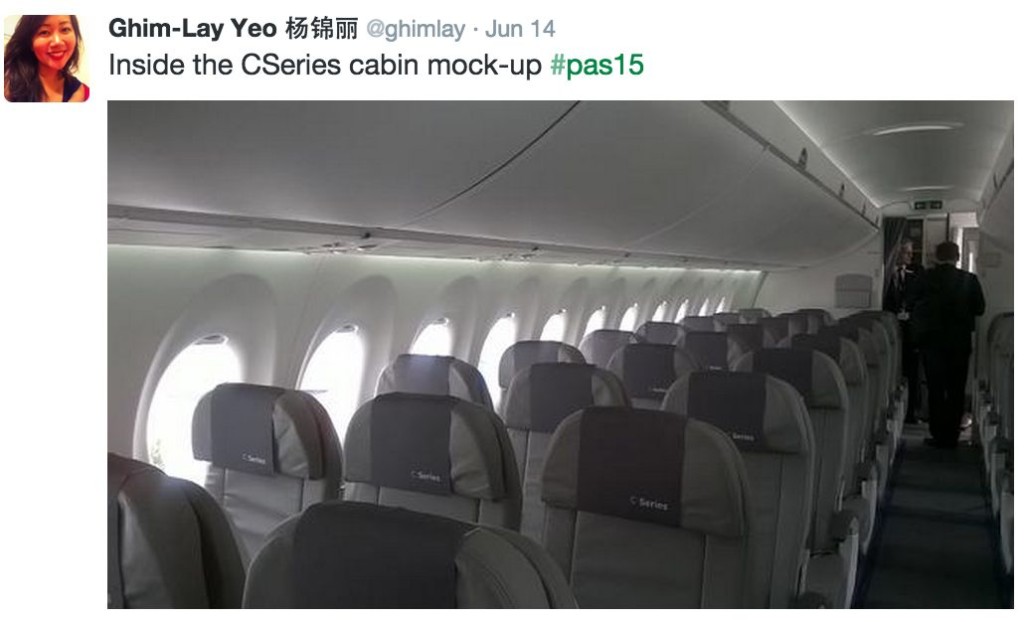 In terms of routes, Hohmeister explained that the first tranche of ten CS100 aircraft will directly replace Swiss' existing Avro RJ fleet (the four-engined aircraft previously known as the BAe 146). A key requirement from Swiss for the CSeries was matching the short field and acute angle requirements for Swiss' operations at London City Airport in particular, where Swiss is one of the larger operators.
Bombardier expects to gain an extra four percent of efficiency over the latter half of this decade with aerodynamic improvements and engine PIPs for the PW1000G, and as it looks to the future the impressive wing-snap tests (which didn't, well, snap, which is a serious coup for the Canadian engineers) and the impressive economics lay the path towards a double-stretched CS500 model.
After that first tranche of CS100s are delivered in 2016, ten CS300s will arrive in 2017 and ten further aircraft (yet to be decided in terms of model) will be delivered in 2018. Hohmeister wouldn't entirely be drawn on the amount Swiss paid for converting CS100 orders to CS300 models, but he did mention that the price was keen within the $2 billion framework order for the CSeries.
Given the delays, it's unsurprising that Bombardier kicked off Le Bourget with a big up to its launch customer, but Swiss was clearly pleased by the amount of Swiss focus within Bombardier's chalet and what must have been a sweetheart deal on a fleet of 125-seater jets. Now that is engagement.