Traveling home from last week's IATA Annual General Meeting in Miami, CNN business journalist Richard Quest couldn't contain his frustration at the lack of free, unrestricted Wi-Fi at Miami International Airport. And so he tweeted the following: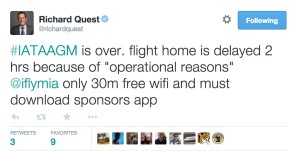 Boingo Wireless, which provides the Wi-Fi service at MIA, was quick to respond to Quest's lament, urging him to "DM us if you need more time online and we can help". Realizing, no doubt, that public complaints on social media from one of the world's most prominent travel correspondents isn't exactly good for business, the airport's Twitter handle chimed in, and promised Quest that it intends to offer free Wi-Fi by the end of this year or early next year.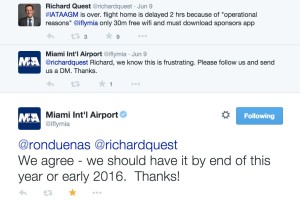 In light of MIA's revelation, RGN reached out to Boingo Wireless to learn more about the plans for meeting the needs of today's tech-savvy, tech-needy travelers at the airport. A company spokeswoman said only that the firm hopes to continue its long-term partnership with MIA into the future "and hope[s] to bring a S.M.A.R.T. upgrade soon, but don't yet have a timeline".
S.M.A.R.T. you say, what's that?
S.M.A.R.T. stands for secure, multi-platform, analytics-driven, responsive and tiered, explains Marc Patterson, VP of product management at Boingo Wireless, and it aims to meet the needs of today's traveling public by offering a wide range of services all on the same network.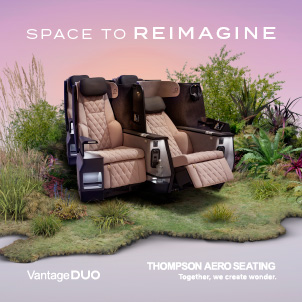 "With network infrastructure that intelligently manages various types of usage across a public Wi-Fi network, a typical S.M.A.R.T. network offers multiple levels of service including: complimentary, at no cost to the traveler; transactional, offering a faster service at a small fee for travelers occasionally needing more performance; and subscription, offering the highest speeds and unlimited access for power users who demand the best user experience," explains Patterson.
To be clear, complimentary Wi-Fi enables basic connectivity requirements, such as e-mail and social media browsing, and can be supported by advertising. That's fine, but as Quest's Wi-Fi quest at MIA indicates, passengers need access to a reasonable amount of free Wi-Fi or else complaints will ensue.
The transaction level of S.M.A.R.T. provides a premium tier of service for "power users" – a segment of travelers that's clearly growing – while the subscription class operates at an enterprise level for frequent business travelers.
"Connectivity demands contrasts widely from leisure passengers seeking access to web browsing, to business travelers that need airport Wi-Fi to serve as an extension of their office. This required a reimagining of wireless networks from the ground up to accommodate various application and usage profiles within airport Wi-Fi environment. S.M.A.R.T. networks do this and increase customer satisfaction while empowering operational efficiency, cost management and monetization opportunities for airports," says Patterson.
Moreover, to keep travelers protected, all S.M.A.R.T. networks are enabled with the new wireless industry standard referred to as "Passpoint" that makes connecting to Wi-Fi secure and seamless through encrypted connections.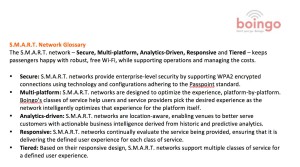 Responsive and flexible Wi-Fi is a prerequisite for the connected traveler. And MIA is certainly not the only airport poised to embrace – or in the process of implementing – S.M.A.R.T. The Los Angeles Board of Airport Commissioners recently awarded a seven-year, $5.9-million concession agreement to Boingo Wireless to upgrade, manage, operate and market the Wi-Fi network at Los Angeles International Airport (LAX), and this too will be based on S.M.A.R.T., confirms Boingo Wireless.
Over 30 percent of LAX's 35.3 million explaining passengers access the current free Wi-Fi service while waiting for their flights. Additional users include meeters-and-greeters waiting for arriving passengers and other airport visitors. In addition to receiving 45 minutes of free Wi-Fi provided at a minimum speed of 5 Mbps, travelers at LAX can also choose to access Boingo's unlimited, premium tiers of for-pay service at 10 Mbps and 20 Mbps under the newly announced arrangement. Boingo subscription account holders will receive automatic access to the premium service without having to view any advertisements.
The goal is to keep the network "among the fastest in the nation", says LAX . Subject to approval by the Los Angeles City Council, the new concession agreement is scheduled to take effect on 26 June 2015.
It's exciting to observe that airports are now competing for the distinction of offering the best, free fast Internet for travelers. An assessment of more than 75 of the world's most highly trafficked airport from LAX and Chicago O'Hare International to New York's John F. Kennedy – where Boingo Wireless manages Wi-Fi services – illustrated the unprecedented device usage and data demand within airports. And travelers "are consuming more data than ever and airport passengers expect strong wireless network connections", notes Patterson.
"Airports are inundated with travelers using multiple devices as over 30 percent of patrons carry at least two (source: MMGY Global). Airports need to provide travelers with the level of connectivity they expect in a smarter way."