Brazilian airline GOL is the first South American airline to sign for Gogo inflight connectivity, as reported in RGN Premium last week, with a new fleetwide deal for Gogo's 2Ku product, which is expected to start offering inflight wifi from "towards the middle of 2016", according to Gogo.
Low-cost carrier GOL is a huge presence in Brazil, and operates an all-Boeing 737 fleet of just under 140 aircraft, mostly the now-standard 737-800 model but roughly a quarter the shorter 737-700 jets, plus an order for sixty next-generation 737 MAX 8 aircraft. It's the second largest airline in Brazil, the inheritor of the legacy of now-defunct VARIG, and the contract is a major coup for the connectivity provider, as Gogo CEO Michael Small says.
"This is a major win for Gogo and represents a number of firsts for Gogo. GOL is Gogo's first partner in South America and the first airline to commit to Gogo's television product. It also represents the largest aircraft commitment to our 2Ku technology outside of North America.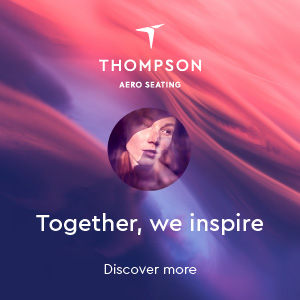 Gogo's 2Ku will be familiar to regular Runway Girl Network readers, utilising a pair of Thinkom rotating disc antennas in a low-profile radome to overcome speed, capacity and other issues with current-generation Ku-band services. Unveiled at the Aircraft Interiors Expo in 2014, and expected to enter into service in 2016, 2Ku's dual-antenna solution (one downstream, one mixing upstream and downstream) "is expected to deliver peak speeds of more than 70 Mbps to the aircraft," Gogo says, which is a significant improvement on the theoretical 50 Mbps where regular Ku-band maxes out.
Of course, real-world conditions are not theoretical maxima, so Gogo and its airline customers will need to ensure that the #paxex reality lives up to the #PAS15 promise. One of the difficulties of comparing yet-to-launch systems is that so much of the service depends on how much capacity is purchased by the service provider (on behalf of the airline), as users of Southwest's and Norwegian's Ku-band solutions have found.
Physics and technology issues can also be stumbling blocks. Particularly relevant for GOL, equatorial operations for inflight connectivity have historically been problematic, given the skew angle issues of current generations of satellite antennae. As an example: on a recent flight from the Middle East to Australia, an existing Ku-band product was almost entirely unusable for approximately two hours either side of the equator, even while providing respectable speeds and functionality for the rest of the flight.
Gogo is confident that its 2Ku technology can overcome the majority of these issues. "We believe that 2Ku will be the best performing technology in the global aero market. This performance is expected to be even better near the equator, where a large percentage of GOL's aircraft operate," Small notes.
RGN also understands that another airline with a significant Boeing 737 MAX order and an unusual set of geographic circumstances, which also has a currently connectivity-less longhaul fleet to consider in the mix, is keeping tabs on how 2Ku progresses, with a view potentially to changing its future plans from another provider. Yet as risky as being an airline without connectivity in the face of hungry and moneyed competition is, picking the wrong horse if a technology doesn't deliver might be worse than waiting too long to decide.
While ever-bullish-on-inflight-connectivity RGN — and the Wall Street analysts who were eyeing the 2Ku order book — are pleased to see connectivity expanding into new markets, the trick will be delivering on the promise of a new system.