Air Canada has contracted its stalwart inflight connectivity provider, Intelsat, to provide satellite-based onboard Internet for a further 95 aircraft in its fleet.
The carrier currently offers Intelsat inflight Internet on 240 aircraft spanning Air Canada, Rouge and Air Canada Express. Under a follow-on deal announced on 5 September, Air Canada said it will bring Intelsat's 2Ku solution to its 40 Boeing 737 MAX aircraft and upgrade a total 55 regional jets with the firm's new multi-orbit electronically steered antenna (ESA). The RJs, a mixture of ERJ175 and CRJ900 regional jets, are currently fitted with Intelsat's (formerly Gogo's) air-to-ground IFC solution.
Air Canada's decision to adopt 2Ku for the MAX twinjets means that a Thales IFC solution — fitted to some of the birds, though not activated — will be replaced. Asked by RGN about the driver behind its decision to switch from Thales to Intelsat for IFC on the MAXs, an Air Canada spokesperson said Air Canada and Thales are focusing on "Thales' great IFE offering on the MAX".
It is not immediately clear if the MAX aircraft will need to be brought back to original spec or if parts of the current package, including the adapter plate, will be retained.
Thales Inflyt Experience CEO TK Kallenbach said: "We have no comments on Air Canada's connectivity approach or digital strategy."
The news that onboard Internet is coming to the MAXs will be welcomed by Air Canada's passengers. Some of the MAXs are flying key routes including linking tech-heavy San Francisco with Vancouver, and San Diego-Toronto for instance. And passengers have long complained about the lack of Wi-Fi activation. As such, Air Canada is incentivized to support a fairly rapid equipage program for its -8 and -9 MAXs, one that might not necessarily be tied to C & D checks.
Intelsat senior vice president commercial Dave Bijur told Runway Girl Network that the first MAX installation is starting this week. Air Canada's spokesperson noted that the carrier is "prioritizing MAX with a forecasted completion date of 2025".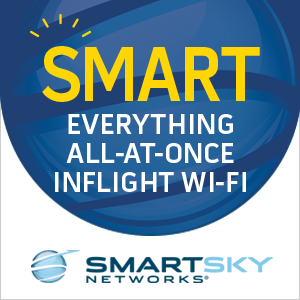 "The efforts and the commitment of Intelsat's team and their service partners made the difference for us. We're confident Intelsat provides proven technology, an extensible platform and network, and the right vision for the future of in-flight connectivity," Air Canada executive vice president, marketing and digital Mark Nasr said in a statement.
Bijur added: "Intelsat has been delivering reliable inflight connectivity to Air Canada and its passengers for 14 years. Air Canada's leadership will continue for decades to come thanks to this investment in 2Ku connectivity for the 737 MAX fleet and the decision to install Intelsat's innovative multi-orbit service across their regional jet operation."
The multi-orbit ESA solution being brought to Air Canada's regional jets can talk to Intelsat GEO satellites and OneWeb's Low Earth Orbit (LEO) satellites, as Intelsat is a distribution partner for OneWeb in the aero market and its ESA hardware has been approved by OneWeb. The terminal, which has already been selected by Alaska Airlines for its E175s, is based on Stellar Blu Solutions' design and integration, plus Ball Aerospace's modular scalable subarrays.
Supplemental type certifications for the requisite aircraft types are expected next year, with equipage beginning at that time. The RJ installs are expected to be completed in 2026.
Air Canada offers free inflight texting, as sponsored by its telco partner Bell. Wi-Fi passes start from $6.50.
Related Articles:
Featured image credited to Air Canada