With the aim of visiting family in Vancouver last month, I began searching travel options from my home base of New York City. Roundtrip fares were as high as $700, but a flight from Montréal to Vancouver was selling for $305 with a checked bag included. Therefore, I decided to drive to Montréal and fly westward. This meant crossing the land border in New York where Interstate 87 meets Autoroute 15.
Anyone entering Canada must use the ArriveCAN app, which collects COVID-19 vaccination information and produces a QR code for use at the border. The app boasts a smart design and is extremely easy to use. Travelers must also show a negative COVID-19 test result of the PCR variety, taken less than 72 hours before arrival at the border. This required minimal effort on my part as New York City has plenty of test centers.
The drive to Montréal on a Sunday afternoon in late October was uneventful. At the border, I was greeted by six empty lanes, two of which were staffed. My immigration officer was friendly and fast, and in about 30 seconds I was in Canada without my ArriveCAN app being scanned. I suspect my information was already in the system as the officer checked my vaccine card against her screen.
A few days later, I made my way to Montréal–Trudeau International Airport for my Air Canada flight on a Boeing 737 MAX 8 (C-GEHV). I checked in via kiosk and delivered my tagged luggage to the unmanned bag drop.
Security was busy on this Friday evening with a few European-bound redeyes departing at a similar time. After security, it dawned on me that I had not been asked for any identification or COVID-related documents (Canada's vaccine requirement didn't go into effect until a day later). But in my decades of flying, I have never made it to a gate area without showing ID. I was asked to show ID at boarding, as was everyone else.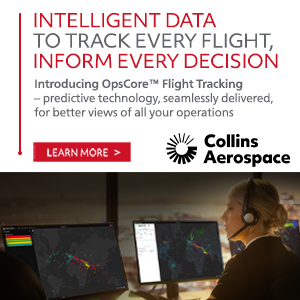 I knew there would be no complimentary food during the five-hour flight. And so, I consumed a brisket sandwich at Pork and Pickle, one of the few restaurants open in the terminal. Courtesy of my Priority Pass membership, I was not charged as the bill fell below the C$37 value offered to cardholders. However, I did have to show proof of my vaccinated status to enter the restaurant.
I then boarded the relatively new Air Canada 737 MAX, which includes 16 business class recliner seats and 153 economy seats.
From nose to tail, the aircraft features in-seat IFE and the signature cool blue LED lighting and large overhead bins of the Boeing Sky Interior. On our full flight, there was still a bit of overhead bin space available.
The lavatories are the opposite of spacious, however. They are truly tiny and required a bit of yoga to get situated correctly.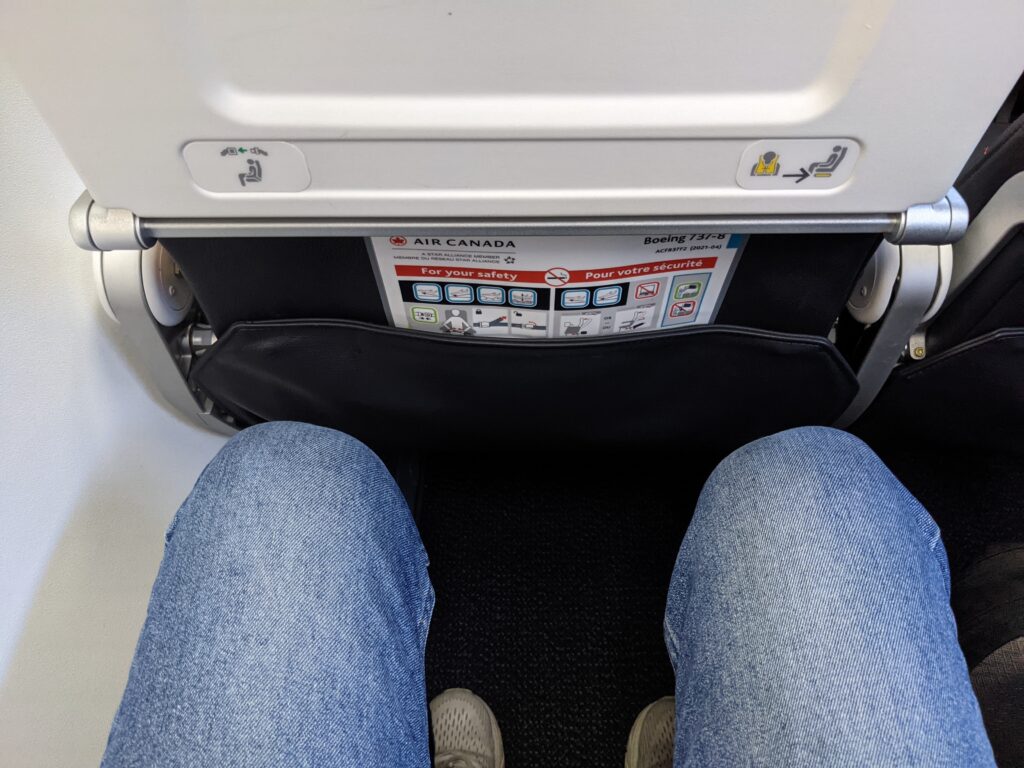 The large-screen Thales IFE system, which has a crisp user interface, snappy response and excellent options, featured an impressive fifteen language options. It also allowed me to pin a small map to my screen while watching other content.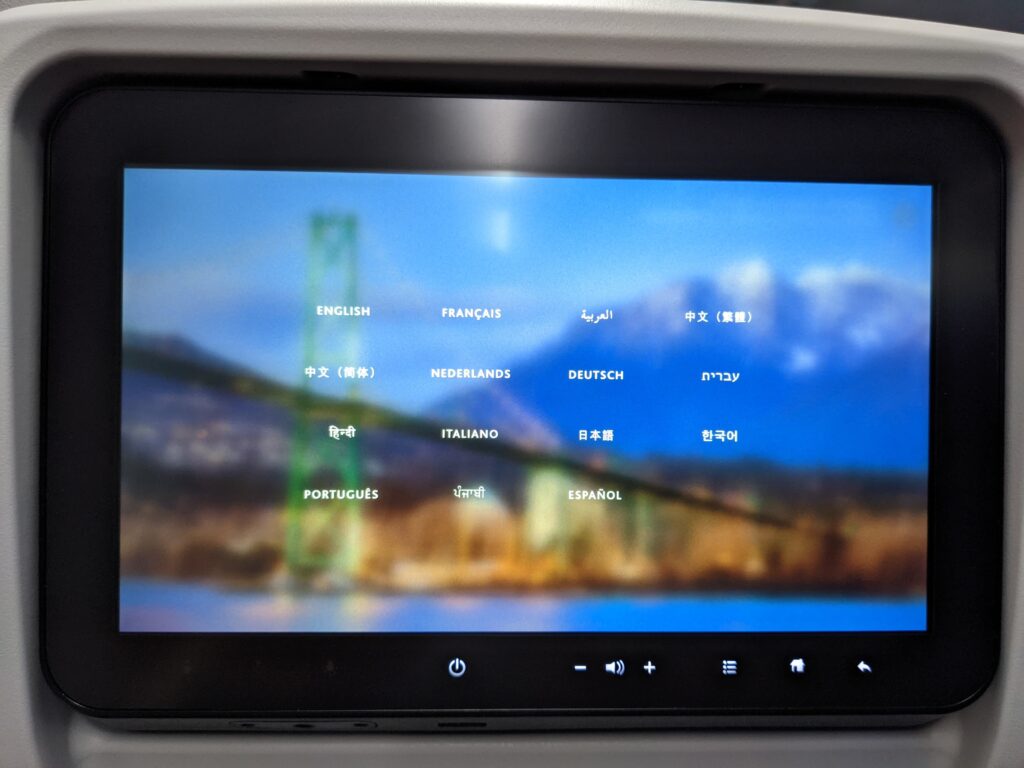 Unfortunately, at the end of the second movie, the system would not work for the remaining hour and forty-five minutes of the flight.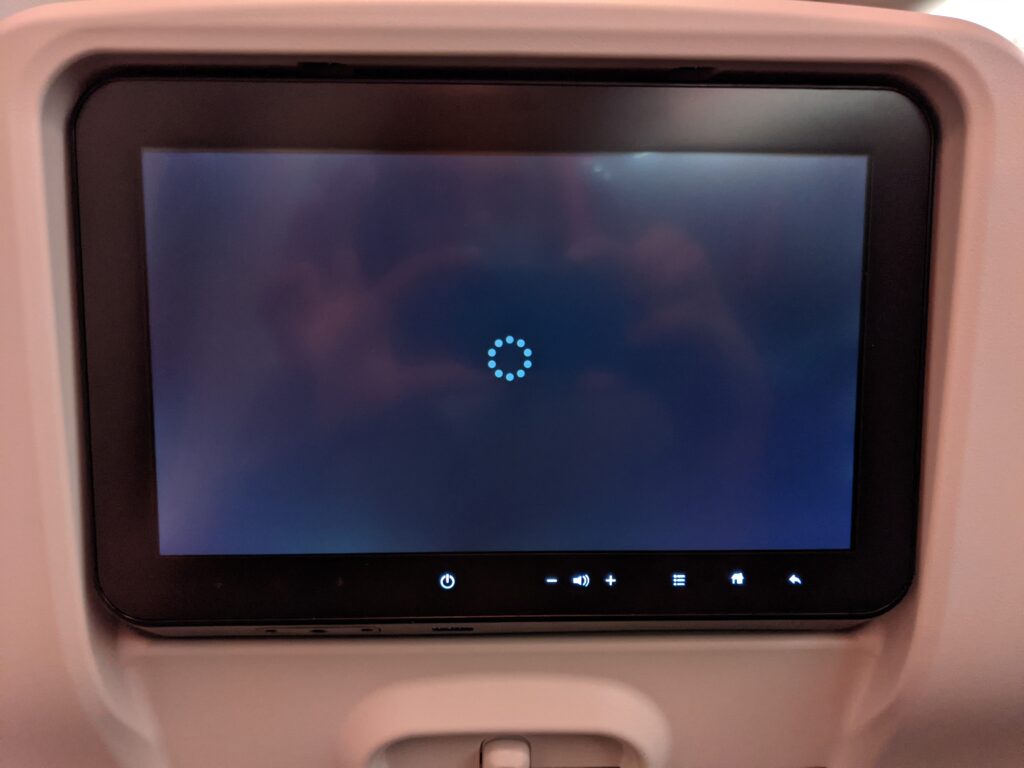 With a 30" pitch and what is billed by SeatGuru as an 18″ width (surprising for the type), the seat itself was simply not comfortable for me on such a long route. The tray table was tiny and not sufficient as a working surface.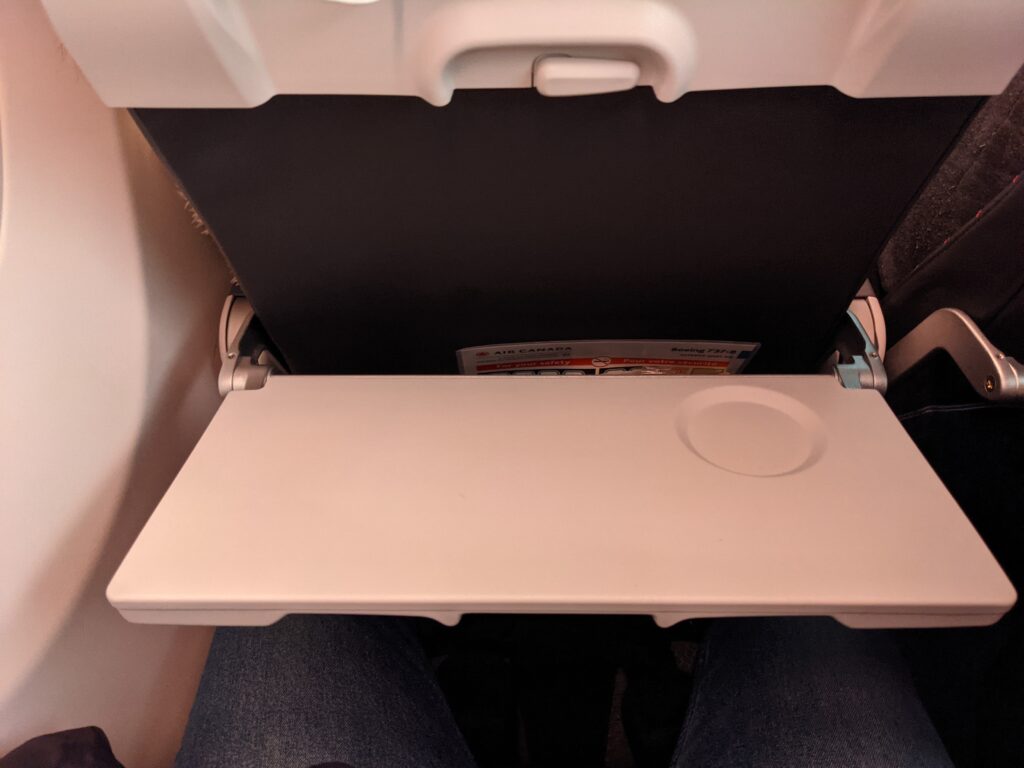 While each seat triple shared two power outlets — and each IFE screen has a USB port — Air Canada does not yet offer inflight Internet on its MAX twinjets, despite the presence of a radome atop the fuselage.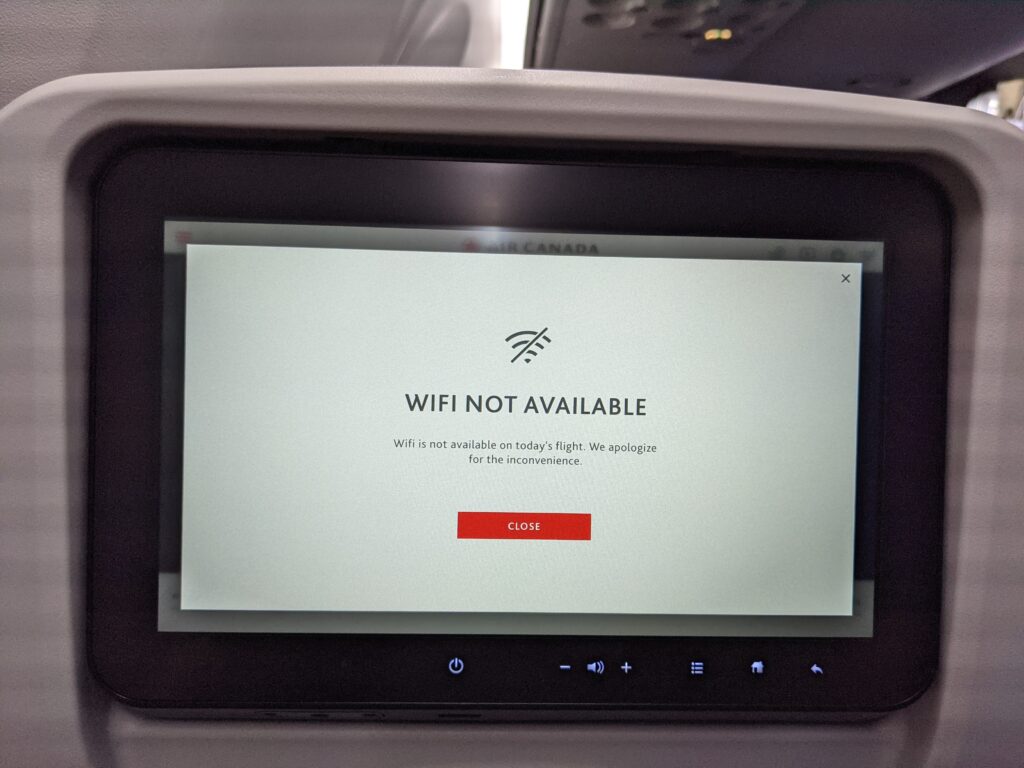 For its part, Air Canada years ago promised that the MAX would offer "faster Wi-Fi due to antennas with the highest bandwidth available in the industry, available starting in early 2018".
Non-alcoholic drinks were complimentary onboard. But all food items — as listed on the IFE's menu screen — required payment in economy. I found this to be a major negative considering that flights of a much shorter duration in the US include a few biscuits or snacks. The staff wore protective clothing and gloves while serving us.
The one area of excellence was Air Canada's adherence to COVID-19 safety measures. These were announced at the start of the flight, and cabin attendants regularly reminded passengers to keep their masks on. A couple in the row ahead had to be reminded several times and were ultimately warned that they could be reported. The airline also distributed a safety kit with wet wipes, hand sanitizer and a spare mask.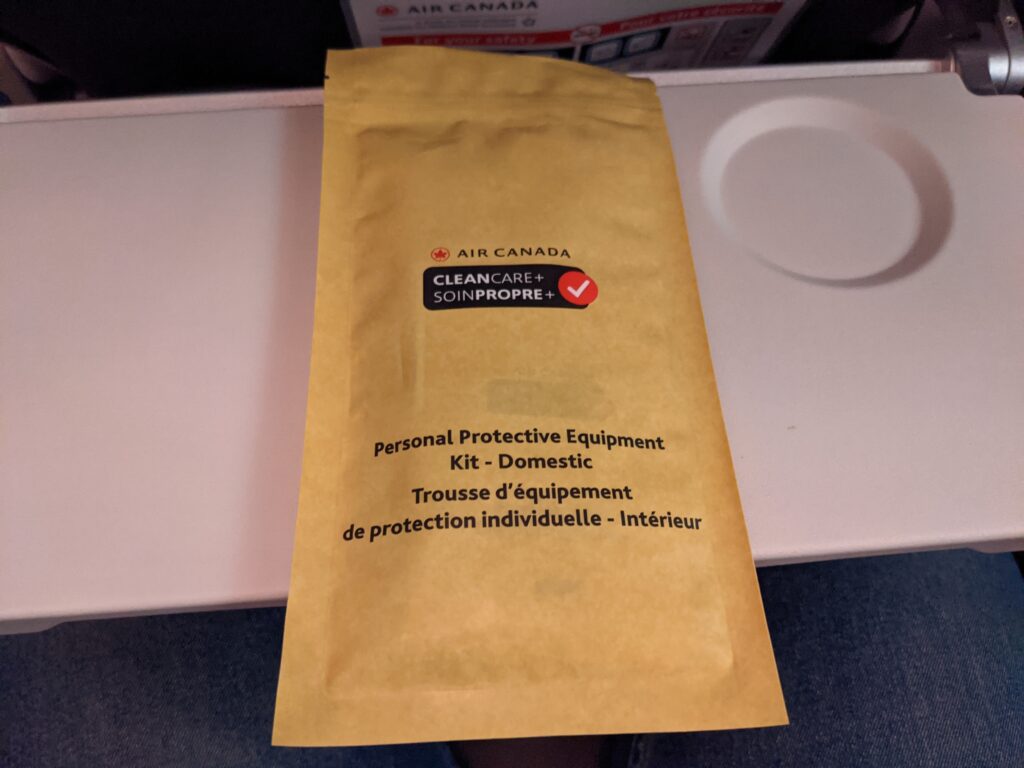 All in all, this was a confusing experience. While the free checked bag and COVID-19 measures were confidence inducing, the lack of snacks or Wi-Fi, a buggy entertainment system and cramped interior left me tired and hungry.
(A note to AvGeeks: during my three weeks in Vancouver, I noticed that Air Canada's roughly four daily flights on this route were operated by A223, A321s, A333, 789, 737 MAX and 77W aircraft during different times of the week. This route is like a showcase of the Air Canada fleet.)
All images credited to the author, Karun Mukhi