A decision by Dish Network Corporation and EchoStar Corporation to combine operations in an all-stock merger may in time have implications for inflight entertainment and connectivity. After all, American television provider Dish already supplies inflight live TV to the airline market, whilst EchoStar subsidiary Hughes Network Systems is now a OneWeb distribution partner in aero and, together with its JUPITER Ka-band satellites and partner satellites, can supply capacity for onboard Internet as well as serve the market directly with its own new IFC solutions.
To perhaps state the obvious, inflight entertainment and connectivity (IFEC) isn't driving this Dish-EchoStar combination. "One of the reasons this transaction makes sense is to ensure we are better positioned to meet the needs of consumers in a connectivity landscape that is rapidly changing. From unconnected individuals in the most rural and remote regions in the world to the constantly evolving networks of private enterprises and government institutions, things are shifting quickly," EchoStar president and CEO Hamid Akhavan explained during an investor call last week. The consumer connectivity businesses of both companies together will serve roughly 18 million subscribers. And Dish's 5G wireless network alone now covers more than 70 percent of the United States
That said, two days after the Dish-EchoStar announcement dropped, the Airline Passenger Experience Association (APEX) revealed that Dish has just joined the group, which sets standards for inflight entertainment. APEX membership is a key indicator that a company is serious about IFEC. EchoStar's Hughes unit, meanwhile, is a longtime member of APEX, having joined in 2011.
And so, Runway Girl Network put the question to Hughes vice president Reza Rasoulian: are there fresh IFEC opportunities to be explored given that Dish's inflight live television service has placement on aircraft and Hughes is offering inflight connectivity?
"I think that we're obviously thrilled with the news of EchoStar entering into a definitive agreement to combine with Dish," said Rasoulian. "Obviously, Dish brings a lot of great solutions and services to the breath of the collective company." But he demurred in talking specifics about future IFEC plans.
It seems logical to surmise that the merged company could in time seek to provide compelling combined inflight live TV and connectivity packages to airlines. And given that the Bring Your Own License (BYOL) streaming inflight entertainment model — also known in some circles as connected direct-to-consumer IFE or "D2C/IFE" — is gaining traction in industry, passengers will avail of the combined company's content via their own devices, either by downloading it in advance of their flight or accessing it via high-speed Internet, as more airlines offer a streaming class of Internet service on board their aircraft.
The recent successful launch of EchoStar's JUPITER 3 satellite further positions a merged EchoStar/Dish to contribute to the airline market, as it provides significant available capacity for converged terrestrial and non-terrestrial services.
Rasoulian told RGN that Hughes is presently going through the process of in-orbit testing of JUPITER 3, with the satellite scheduled to enter service in the fourth quarter of this year. Aero service — which is currently operational on both the Hughes JUPITER 1 and 2 satellites, as well as via partner satellites — "likely will be activated for aero" on JUPITER 3 "at some point in 2024 so it's right around the corner. Nothing prevents us from using the satellite for aviation."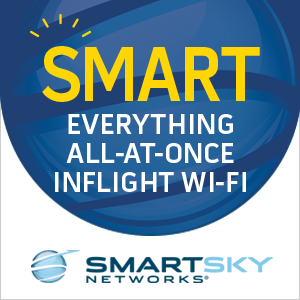 Hughes is also progressing in its talks with airlines and other satellite operators about its three new IFC solutions: Hughes LEO-only, Jupiter In-Flight, and Hughes Jupiter Fusion. "I think we've been pleasantly surprised," by the interest shown in Hughes' passenger-focused solutions, said Rasoulian, noting that the recent Aircraft Interiors Expo (AIX) in Hamburg "was fantastic".
"Since AIX, we've been thrilled we've been having a lot of great discussions across the ecosystem with customers and potential customers," he said, adding that Hughes has a few announcements in the pipeline but is not yet able to talk about them.
Asked by RGN if Hughes have a regional jet IFC program in play, the Hughes executive said: "I'm not able to specifically talk about programs that are underway but what I can say is we've extensively tested the [ThinKom Solutions] Ka1717 [for RJs]. We have a fantastic solution for regional jets that's second to none, I'd say. Coupling Ka1717 with JUPITER capacity and our other solutions enables an amazing passenger experience, so we've proven it, we've tested it, we've put it though the ringer [and] we've been very pleased with the results."
He teased: "We did exhibit the Ka1717 at AIX, but you know there will be more news to come here hopefully in the near-term."
Meanwhile, the Dish/EchoStar transaction, which is also subject to regulatory approvals and customary closing conditions, is expected to be completed by year-end.
Related Articles:
Featured image credited to istock.com/Jovan Geber