British satellite operator Inmarsat has successfully launched its first dual-payload satellite into orbit. The hybrid L- and Ka-band satellite — a double-decker bus-sized system known as I-6 F1 — will ensure the continuation of Inmarsat's critical L-band-supported aviation and maritime safety services, while providing targeted capacity to its high-speed Global Xpress (GX) network. I-6 F1 is also expected to help Inmarsat unlock a new generation of capabilities for customers, including a raft of Internet of Things (IoT) applications.
Manufactured by Airbus, the I-6 F1 satellite on 22 December was ferried into space by a Mitsubishi Heavy Industries H-IIA rocket, which lifted off from the JAXA Tanegashima Space Center in Japan. I-6 F1 adds to Inmarsat's existing global fleet of 14 geostationary satellites.
A second L-/Ka-band hybrid satellite, known as I-6 F2, is expected to round out the I-6 constellation next year. Together, they represent a step change in the capacity of Inmarsat's L-band satellite services.
The London-headquartered firm's current L-band network — recently branded Elera — has long supported crew communications and safety services for aviation and maritime customers, including secure voice and data. Indeed, when industry is not grappling with a global pandemic, over 12,000 aircraft use Inmarsat's Classic Aero service, which is accessible over its prior-generation Inmarsat I-3 and I-4 satellite systems. And Inmarsat's advanced SwiftBroadband-Safety service is provided over its I-4 constellation. (Inmarsat's I-5 series of broadband satellites comprise its current Global Xpress constellation.)
According to Inmarsat, the I-6 F1 satellite alone "will provide 50% more capacity than the entire I-4 generation of Elera satellites".
In addition to providing redundancy and ultimately a replacement path for prior gen L-band satellites, the two I-6s will support new capabilities including advanced safety services for airlines and maritime customers, as well as new IoT applications emerging from Elera including in agritech, transportation and utilities.
With Elera, as underpinned by the I-6s, Inmarsat vows it will offer "the fastest L-band speeds available to customers, the smallest low-cost terminals and a more connected, sustainable and safer world". In terms of new applications, Inmarsat urges us to:
Think commercial UAVs for disaster response and medical deliveries; autonomous transport; monitoring of the oceans and supporting greener energy solutions; intelligence, surveillance and reconnaissance (ISR); and industrial and agricultural IoT connecting billions of machines and devices.
Meanwhile, the Ka-band payload on each I-6 satellite will add further depth of capacity to Inmarsat's current five-satellite Global Xpress constellation, which supports broadband cabin connectivity for a growing list of airlines (Lufthansa, Qatar Airways and Singapore Airlines to name a few), in addition to providing mobile connectivity to maritime and government customers.
Inmarsat CEO Rajeev Suri notes in a statement that the Indo Pacific region will especially benefit from the targeted capacity provided by the launch of I-6 F1. Ground stations in Western Australia will support the satellite, which is expected to formally enter service in 2023.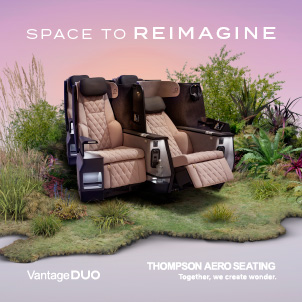 Notably, the I-6s are backwards-compatible with existing Elera and Global Xpress terminals, enabling current and future customers to benefit from new and enhanced service capabilities, says Inmarsat.
The successful I-6 F1 satellite launch marks the start of what Inmarsat assures is a fully funded technology roadmap that will see the launch of a further six satellites by 2024.
US satellite operator Viasat will be able to tap into this remarkable satellite capacity — and indeed placement on aircraft and ships worldwide — when it completes its planned $7.3 billion acquisition of Inmarsat in the second half of 2022.
Viasat, meanwhile, is readying to launch the first of a three-satellite ViaSat-3 constellation in 2022.
Related Articles:
Featured image credited to Mitsubishi Heavy Industries (MHI) Group