Seeking to address one of the most significant challenges faced by disabled passengers, the US Department of Transportation (DOT) on 26 July announced a new rule that will require airline lavatories on narrowbody aircraft to be more accessible to wheelchair users.
But while certain lavatory design provisions in the rule must be implemented in the relatively near-term, such as the installation of accessible grab bars, faucets, door locks and a visual privacy barrier aboard new single-aisle aircraft with 125 seats or more delivered three years after the effective date, the most impactful requirement — that airlines offer a fully accessible lavatory of expanded size — will not be enforced for a decade, and even then, will be applicable to new aircraft deliveries.
Notably, the DOT has not established a requirement that today's in-service aircraft must be retrofitted with a fully accessible lavatory, or indeed retrofitted with the new lavatory interiors unless, in the latter instance, the lavatory is replaced three years or more after the effective date of the rule.
Let's look at the details of the 'expanded lavatory size' requirement, which arrives roughly seven years after the DOT convened a negotiated rulemaking process for this and other passenger accessibility issues:
The rule provides that, for new single-aisle aircraft with 125 or more seats that are ordered 10 years after the effective date or delivered 12 years after the effective date — or on new type-certificated aircraft designs filed 1 year after the effective date — carriers must "include at least one lavatory of sufficient size" to permit an individual with a disability and an assistant, equivalent in size to a 95th percentile male [roughly 225 lbs], to maneuver within as necessary for the individual with a disability to use all lavatory facilities in a closed space that affords privacy equivalent to that afforded to ambulatory users.

The lavatory must also be large enough for an individual with a disability to approach, enter and leave the lavatory using the aircraft's onboard wheelchair.
Accessible lavatories have been required on twin-aisle aircraft for decades. But until now, there has been no requirement that airlines provide accessible lavatories on single-aisle aircraft, even though these aircraft types are increasingly being used by airlines to operate long-haul flights due to their fuel efficiency and range.
Regrettably, there is also no shortage of horror stories about the indignities faced by passengers with disabilities who, in the DOT's own words, "may dehydrate themselves or even withhold bodily functions so that they do not need to urinate" or "use adult diapers or catheters". Some wheelchair users avoid flying altogether.
"Legislation has not kept pace with innovation and change in aircraft type, moreover, the distance the narrowbody aircraft can now achieve," aviation accessibility consultant Chris Wood noted to Runway Girl Network. "The Airbus A321neo can fly to up to nine hours non-stop, yet it is not mandatory to have an accessible lavatory; for its wide-bodied friend, [it] is a must. This is a long time to 'hold it in', and hardly safe as passengers now dehydrate. So, we have to wait 10 years; looking at some of the NPRM [notice of proposed rulemaking] aviation replies, it could have been worse."
While the final rule concerning the addition of "at least one lavatory of sufficient size" will not be enforced in our decade, the Paralyzed Veterans of America, a nonprofit organization, nonetheless sees the rule as a clear win for passengers with disabilities. Heather Ansley, chief policy officer for PVA, explained to RGN:
For the first time, we have a date certain for when a wheelchair accessible lavatory will be available on larger single-aisle aircraft. We have been fighting for decades for such access. The agreement reached with industry during the 2016 negotiated rulemaking paved the way for the final rule. We advocated for the Department to decrease the compliance date in the final rule based on the extreme deadlines in finalizing it. So, although it is still 10-12 years, we finally have an end in sight to this injustice.
Ansley added that the group is "very pleased that the lavatory requirements will allow for a passenger with a disability, the onboard wheelchair, and a caregiver to go into the lavatory and close the door. This will allow passengers who need assistance in the lavatory and those who have mobility disabilities to address their basic bodily needs with dignity. It will also mean that they will not have to dehydrate themselves and fast before a flight to decrease the possibility of needing to use the lavatory. This is a huge victory for passengers with disabilities."
Aircraft interiors firms have already developed a variety of different lavatory solutions for airlines to consider. In addition to the larger-footprint lavs either available or coming soon to airframer catalogues, some designs combine two small side-by-side aft lavs to create a larger lav (such as found on certain Spirit Airlines Airbus A320 family aircraft today), or extend a classic D-shaped aft lav into the galley (making the lav accessible when needed).
The PVA told RGN that it does not have a preference on the design of the expanded accessible lavatory, with Ansley stipulating "as long as it fully complies with the requirements of the law". But some disabled passengers worry that lav designs positioned in the back of the aircraft will still prove difficult to access.
David Dauber is a lifelong accessibility advocate, who defies obstacles as a person with Cerebral Palsy, using a wheelchair since childhood. Speaking to RGN after the DOT's 26 July announcement, Dauber confided: "Using an aisle chair is extremely challenging, especially navigating all of the rows in the aircraft. Airlines pre-board passengers with physical limitations to seat them at the front, avoiding the ordeal of being wheeled to the back. I can't fathom the discomfort of being taken to the back in an aisle chair. It's just a small seat with two small wheels in the back, and some airlines don't even carry aisle chairs during the flight."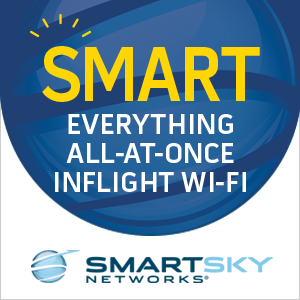 Dauber, who co-produces and co-hosts an online TV program promoting an active lifestyle for people with disabilities, also suggested that the impact on elderly individuals with ambulatory issues should not be overlooked. "Reaching the 'accessible' lavatory at the back of the aircraft can pose significant challenges and may lead to all sorts of accidents. Just like disabled parking spaces are close to stores for a reason, accessible lavatories should prioritize proximity for everyone's comfort and dignity." Interestingly, Airbus has suggested that its forward A320 lavatory with tip-up seat is a "designated" lav for persons with reduced mobility, though some disability advocates have also questioned whether that standard is too low.
Regarding concerns about the lack of narrowbody aisle chairs on current, in-service aircraft, the DOT's new rule will require that, three years after the effective date, operators of single-aisle aircraft with more than 125 seats must ensure that onboard wheelchairs not only facilitate the safe transfer to and from the aircraft seat but also permit partial entry into the lavatory in the forward position to permit transfer from the onboard wheelchair to the toilet. Moreover, according to the DOT, the onboard wheelchair must be maneuverable into the lavatory "so as to completely close the lavatory door" and, if this is not possible in the short term — when lavatories are not required to be expanded beyond current measures — "airlines must provide visual barrier on request".
But the Department will leave the forward-versus-aft and other expanded lavatory design specifics to the airlines. Asked by Runway Girl Network if it will accept the accessible lavatory designs currently on the market as meeting the requirements of its new rule, a DOT spokesperson stated:
The Department does not mandate a particular design for lavatories but rather provides performance standards that must be met. However, the Department has specified that visual barriers like curtains would not be appropriate means of providing privacy for larger lavatories.
Its final rule comes nearly seven years after the ACCESS Advisory Committee — established by the Department with industry stakeholders including airlines, airframers, trade groups, unions plus disability advocates — drafted a proposed rule outlining accommodations for air travelers with disabilities that envisaged longer implementation timelines for accessible lavs. But given that the effective date of the DOT's new rule is 60 days after publication in the Federal Register (i.e. this year), and has been announced seven years after the committee's proposal, one might argue that the DOT's 10-12 year timeline in the rule nearly meshes with the committee's original vision.
Some airlines may nevertheless see the opportunity to differentiate by adopting accessible lavatories of their own volition.
Featured image of ST Engineering's ACCESS lavatory credited to Mary Kirby