Air Transat has a large presence in eastern Canada, focusing almost exclusively on shuttling folks from Montreal and Toronto to the Caribbean and Europe. On the west coast, the leisure airline has a meager presence, serving Calgary and Vancouver, but only linking the latter with Montreal twice-weekly, on Saturday and Sunday.
Conveniently for me, Vancouver-Montreal was exactly the route that I needed to take on a recent Canadian adventure. Well that, and an onward connection to Toronto, which Air Transat also offers.
The itinerary was booked on Air Transat's website with a base fare of $216.30US after taxes and fees.
Air Transat offers a handful of bundled fare classes, from a basic 'Eco Budget' bundle that includes nothing but a carryon to an 'Eco Standard' bundle with seat selection and one checked bag, to a fully refundable 'Eco Flex' tier with a checked bag, "preferred seat selection" and priority services. The airline also offers a premium product, dubbed Club Class, but it was not offered on either flight.
Requiring only a backpack on this trip, I booked the basic economy fare. Paid seat choices ranged from $45 for extra legroom seats to $27 for everything else. I chose the latter on both, which added $54 to the tally. Air Transat also offers a handful of meal combos, which start at $11 and scale up to $15. I chose a turkey sandwich combo for $14 on the first leg.
Had I needed to check a bag, the first would have cost $36.75, while a second would have set me back an eye-watering $57.75 (a single checked bag is included in non-basic fares).
The seat, meal, and base fare together penciled out to $284.29, which was slightly cheaper than what the Eco-Standard fare would have been after also adding a meal. Though the difference was only a few dollars, it served as yet another reminder to always run the 'a la carte' numbers before selecting a bundled fare.
Checkin came several weeks later, and it proved to be a seamless experience on the carrier's website, offering several delivery methods, including print-at-home, pick up at the airport, mobile delivery, and email. Both digital options worked without issue.
Showing up early the next morning, the digital pass enabled me to skip the long counter line and head straight through security. Pro-tip: Canadian airports will often let US travelers with Global Entry or NEXUS use the fast-track security line, but only if you have the physical card. If you have either, I highly recommend taking it with you. It can save you a lot of time.
Boarding began twenty minutes behind schedule, and followed a lengthy nine-group procedure. Having been greeted by a pleasant crew member at the boarding door, I settled into seat 7F on the Airbus A321(ceo) narrowbody jet.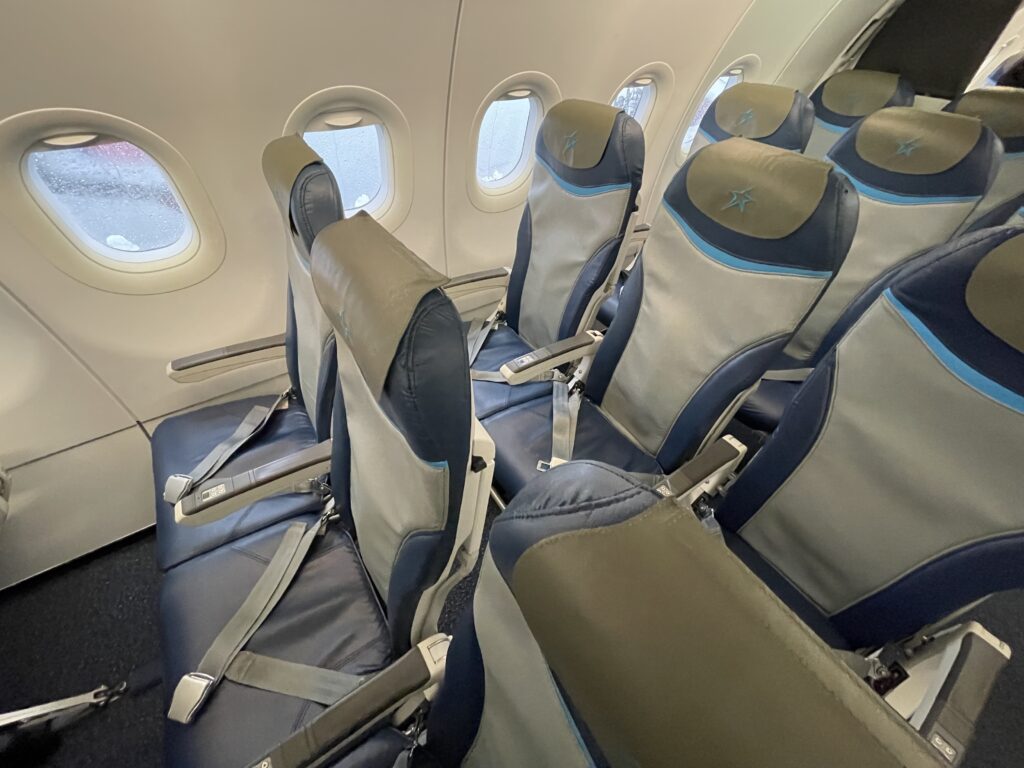 Despite being in Group 8 of nine there was still room left for my backpack in the overhead bins.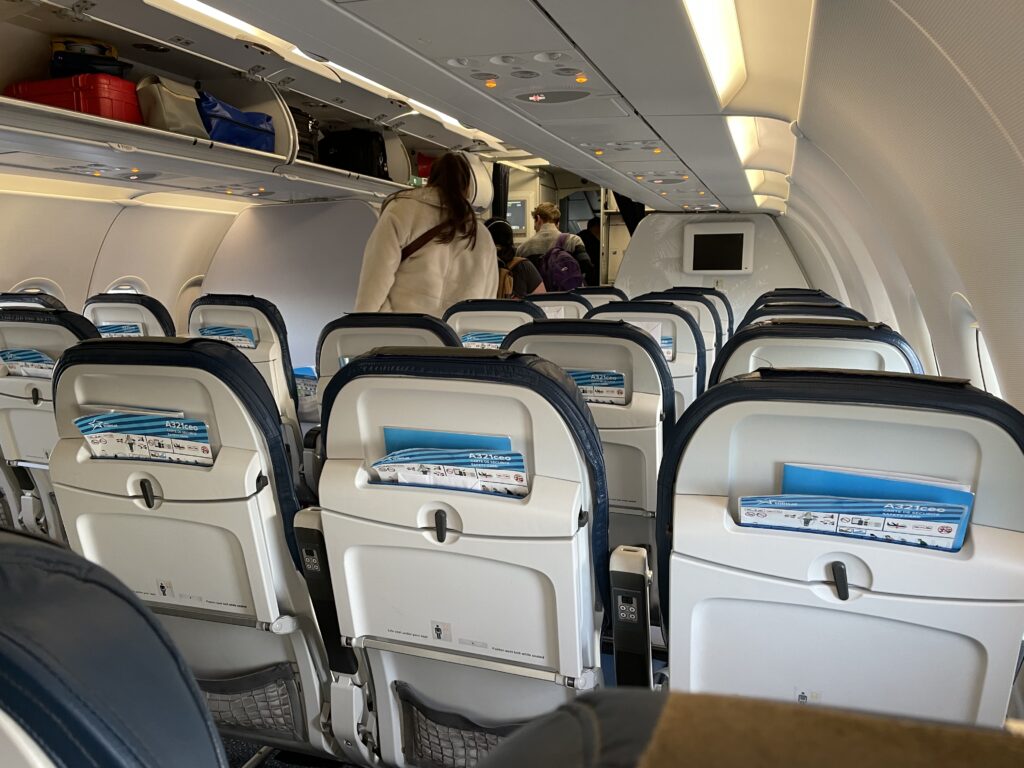 The cabin is configured in a 3-3, nearly all-economy layout. In a weird twist, there are two (and only two) Club Class recliner seats in the left-hand side of the first row. This is apparently for crew-rest requirements on longer flights, and it wasn't clear if they were bookable.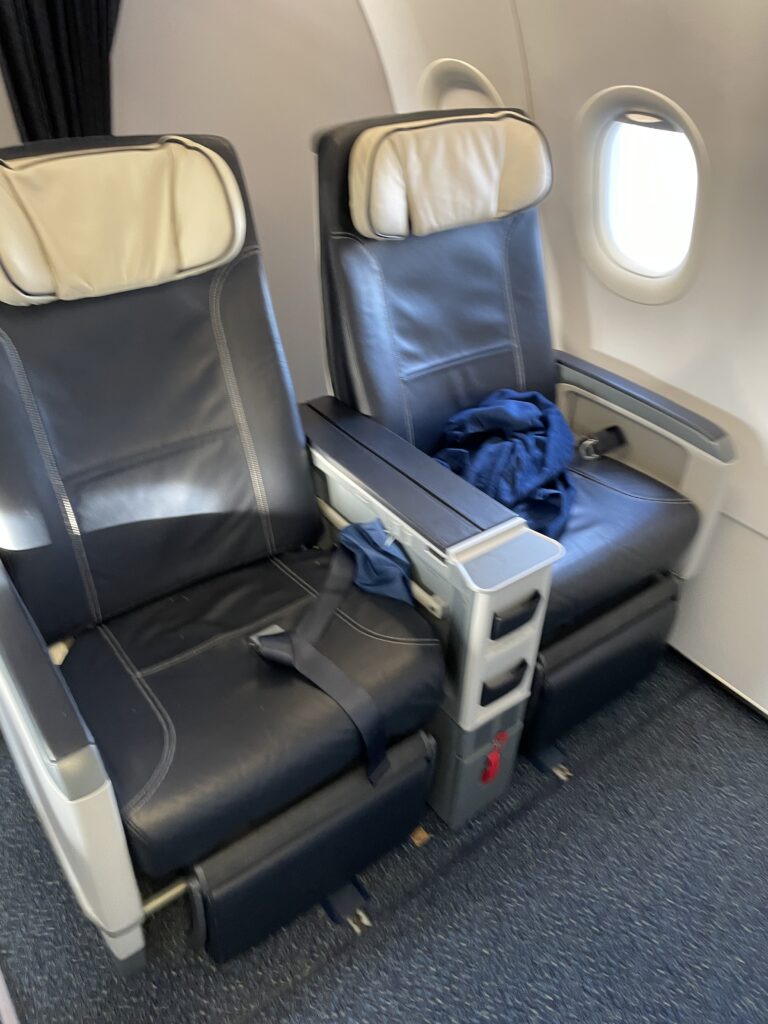 Back in 7F, pitch on the Recaro-made slimline seat measured 31 inches. There was a modest recline of two or three inches — certainly enough to take the edge off. A small literature pocket held a safety card, barf bag, and the airline's Bistro buy-on-board menu.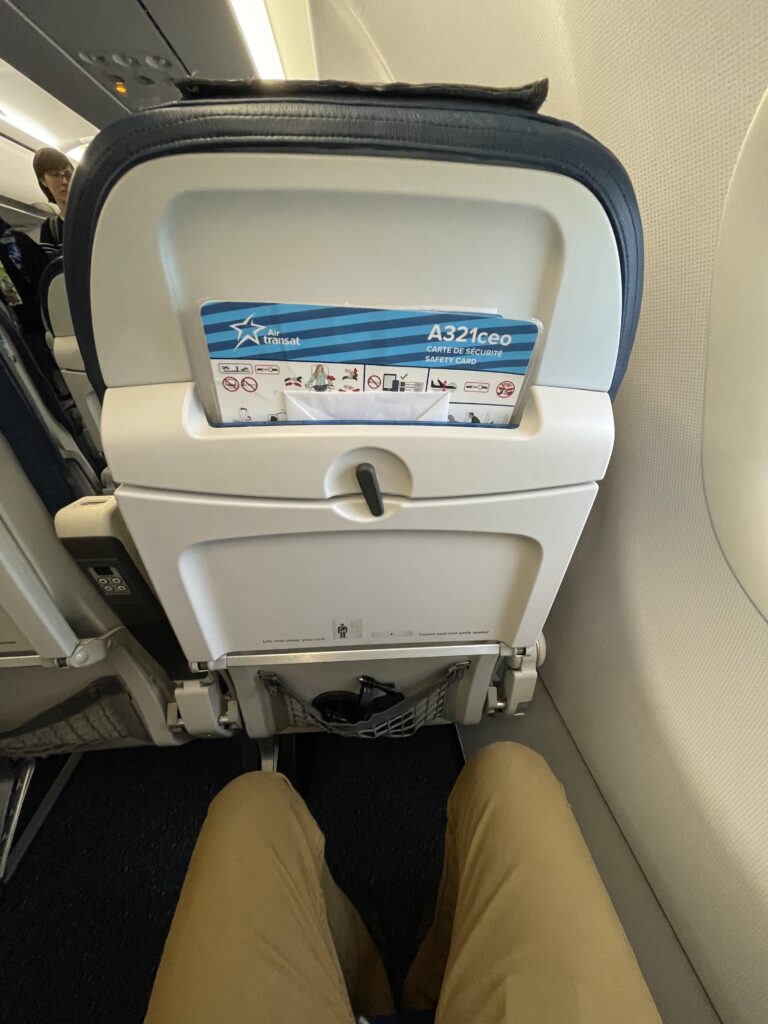 A full-size tray table was tucked neatly into the seatback. An old-school channel selection remote was embedded in the armrest, along with an audio jack. I'm not sure why it was there, however, since the jet does not offer inflight entertainment (IFE) monitors. Perhaps it existed in a prior life for the airplane.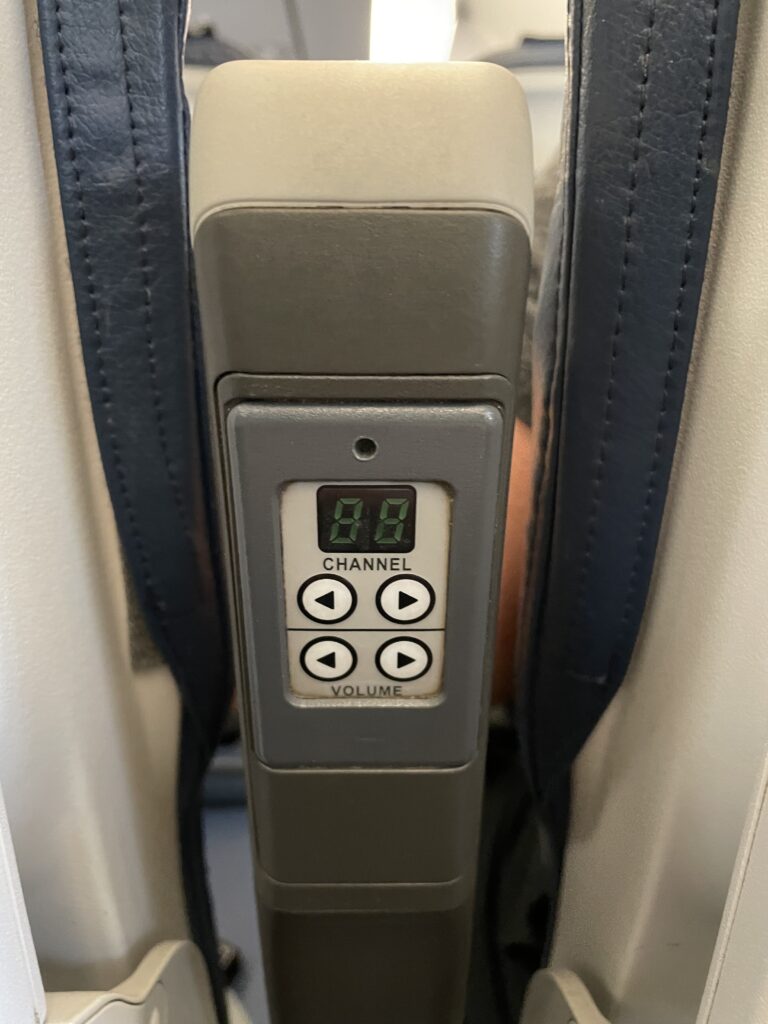 The flight took off a bit behind schedule into a dreary Vancouver sky.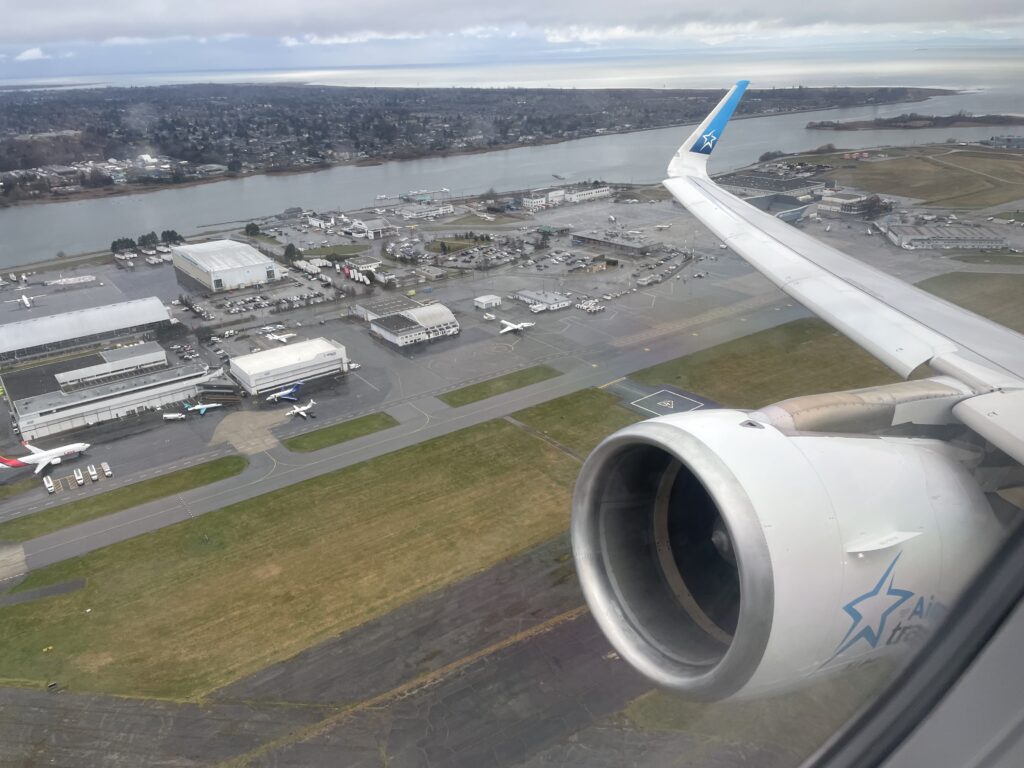 Almost immediately, a crew member announced over the PA that the airline's stream-to-device wireless IFE solution was already up and running.
Except that it wasn't. Or at least, not for me or any of my travel mates. For the first ninety minutes of the 4hr, 30-minute flight it would appear on Wi-Fi as having no connection.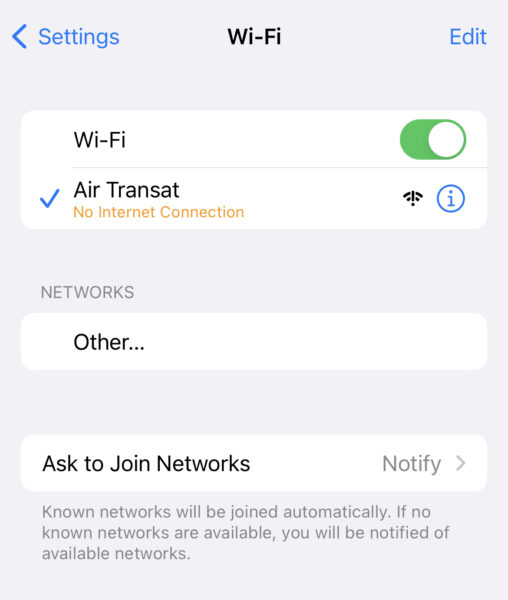 Eventually a connection did appear, but nothing loaded: no log-in screen or browser. Apparently the trick was to enter the URL airtransatIFE.com into a browser. This was not shared on any of the printed material in the seat, and I only discovered it when a nearby passenger asked a passing crew member.
Once up and running, however, it was a mostly pleasant addition to pass the time. I played several of the games, and attempted to use a buggy moving map that never did show us where we were.
Content-wise, the system held several dozen TV shows and around 70 movies. The selection had decent depth, though not necessarily all the latest and greatest Hollywood hits. I watched two TV shows and half of a movie without any issue.
Be forewarned: the airline's Airbus A321ceo fleet have neither standard power outlets nor USB. This does not appear to be an issue on the rest of the carrier's aircraft, which do feature either USB, standard, or both. Luckily the booking process should clearly indicate which aircraft is slated to operate your flight, giving folks an opportunity to plan in advance.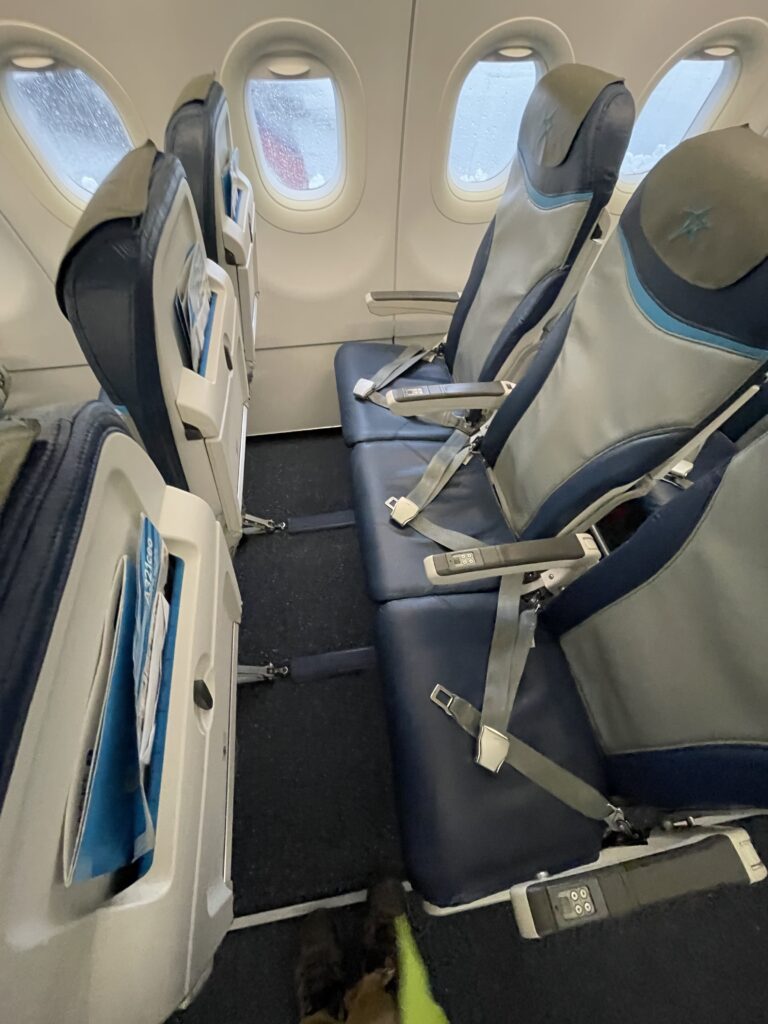 This Vancouver-Montreal flight had only one meal and beverage service, which began an hour into the journey. A very friendly crew member dropped off my turkey sandwich and offered me theatre-style boxed candy. The sandwich was bread-heavy and meat light, though I suppose it was nonetheless filling (low bar). At $14, I felt that the sandwich was badly overpriced.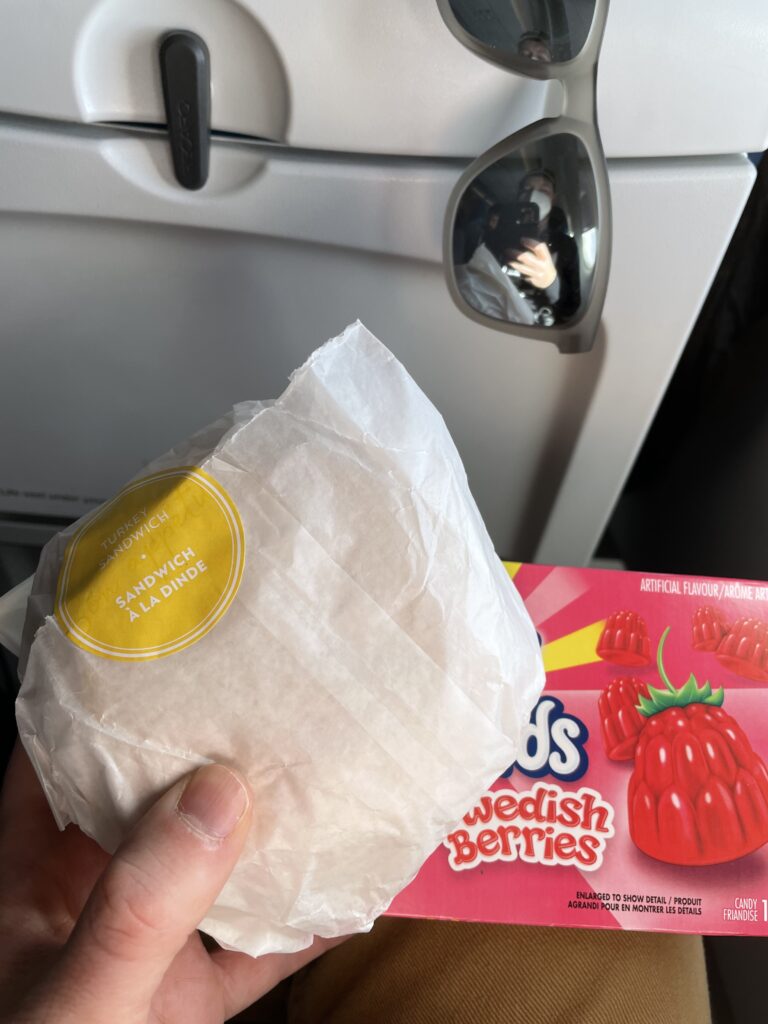 If you didn't pre-book a meal online, the Bistro menu in the seatback pocket reveals more options, but at a significantly higher cost. For instance, my sandwich combo would have cost 43% more — an outrageous $19.99 — if bought on board. So too do the other combos.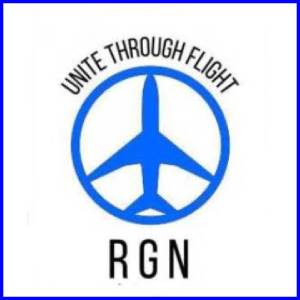 The Bistro menu also offers a handful of snack options for $4, and even a few hot options like a noodle bowl or pasta for $6.29. These are also the only vegan or vegetarian options. Alcohol is available at a flat-rate of $8.49 a drink. I appreciated seeing a mocktail option, which I would have tried if it wasn't also $8.49.
For what it's worth, full service competitor Air Canada's buy-on-board products are priced similarly, so it isn't like Air Transat is way off here on pricing. To me, though, it just feels like they're both gouging.
The flight touched down in a sunny, but cold Montreal, and I was in the terminal shortly thereafter.
Overpriced catering, light service, and a glitchy IFE system made for a less than strong first impression. But the Air Transat A321 got me safely from Vancouver to Montreal for a mere $284.29. And in the often-pricy Canadian aviation market, that's a bit of a bargain. So there's that!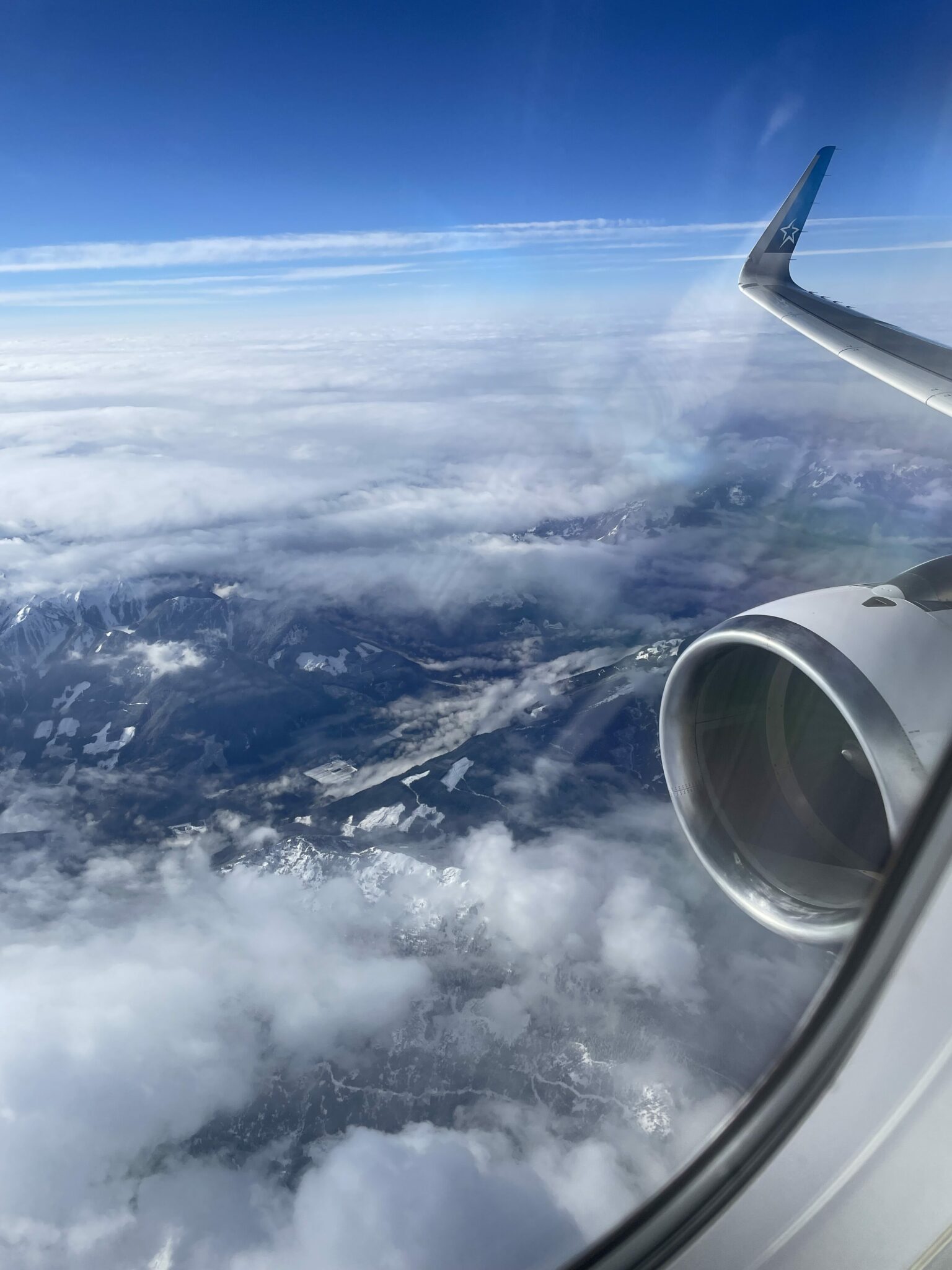 Related Articles:
All images credited to the author, Jeremy Dwyer-Lindgren