With a recent partner-travel holiday all but wrapped up, it was time to fly from Bangkok down to Singapore to connect to our flight home to Seattle.
Fifth freedom routes — whereby the airline carries revenue traffic between foreign countries as part of services connecting its own country — have been good to me in this region of the world. And in the past, they've enabled me to knock two intriguing carriers off of my AvGeek wishlist: Air Mauritius and Royal Jordanian. This time, I managed to stumble across Bahrain's flag carrier Gulf Air.
As far as I'm concerned, Gulf Air's business class hard product is one of the best out there, utilizing luxe Apex Suites. While the flight is short, at just over two hours, this is a great way to try a stellar product on a budget.
I booked the ticket a few months back via the carrier's website. Gulf Air offers two options: economy and business class, which is branded as Falcon Gold. Both come with a basic, no frills option as well as a fully refundable option. Given that the only meaningful difference was a $50US date-change fee and a $70 cancellation fee, the significantly less expensive basic business fare was a no-brainer. I booked it for $330.
Yes, it's a bit pricey, but this was more about the experience than it was about the cheapest ticket. If cost is a factor, budget carriers like Scoot and AirAsia connect the two cities for a fraction of the price, while economy class on Gulf Air is about a third of the cost of business.
As an unexpected bonus, Gulf Air has a partnership with Air Canada, allowing me to earn points on my Aeroplan account.
A travel reminder email showed up 72 hours in advance, and I logged into the airline's app to double-check that my information was correct. I noticed that my seat assignments were wrong, with different rows and different numbers. Worse, the app locked me out of re-selecting my original choices, or any new ones for that matter. 
I reached out to Gulf Air to restore them but was simply told they were changed due to "operational reasons". They wouldn't be changed back.
An email appeared the night before the flight announcing an hour's delay, no reason cited. This isn't uncommon, and a browse through Flightradar24 data reveals that the flight is chronically late, usually 30-45 minutes, but sometimes hours.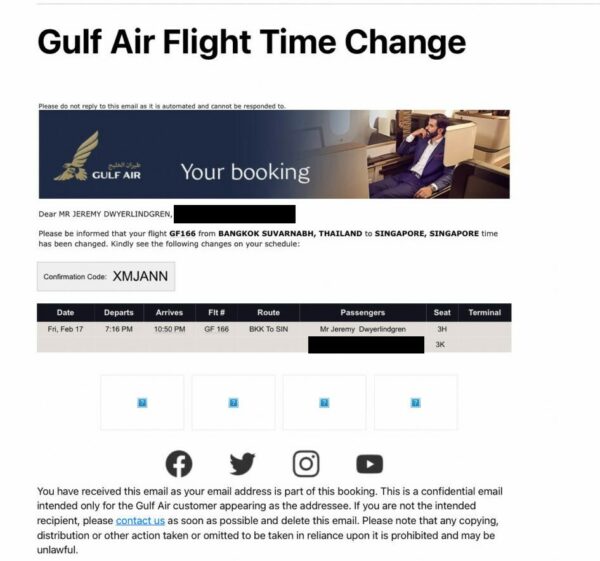 Another email appeared the next morning, tacking another hour on. I tried to check-in via the app, but it did not work. Incredibly it instructed us to show up *four hours* early instead. We negotiated a later check-out from the hotel instead and enjoyed the city a bit longer.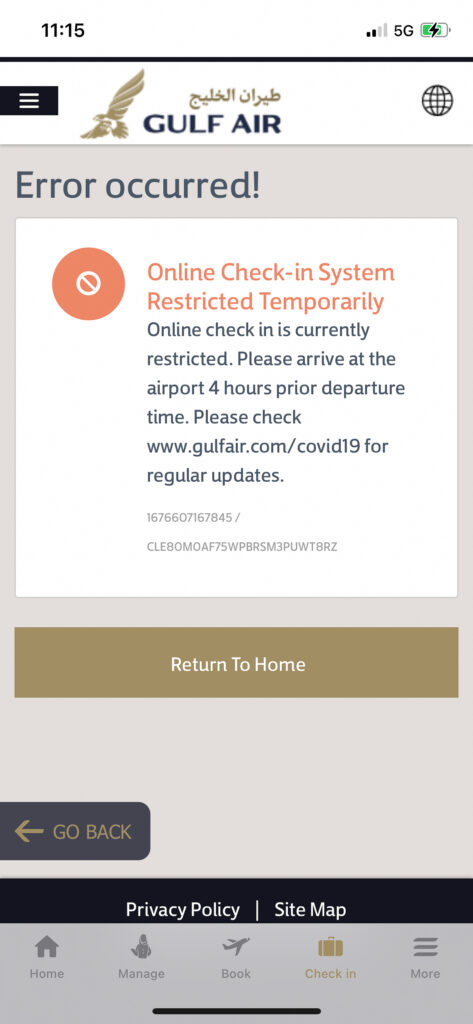 We arrived at the chaotic splendor of Bangkok Suvarnabhumi Airport with a few hours to go. The checkin experience was short, with no line for business class passengers. We declined to check a bag, though two are included. 
Gulf Air contracts with the Miracle Lounge in the sprawling airport. It is decent, but not amazing. It boasts a modest selection of food and beverages and comfortable seating with free Wi-Fi. We waited out most of the delay there.
The gate opened for the new boarding time with no inbound aircraft to be seen. By the time it appeared, offloaded, and was ready for boarding we had already slipped past our new departure time. It would be another 90 minutes before we were wheels up, but at least the airline sent out another notification email announcing the last and final delay.
Business class boarded first, and I grumpily settled into seat 3J, a window on the right hand side of the Boeing 787-9 widebody jet. A pillow and headphones were ready on the seat; no amenity kit is distributed on this short two-hour flight.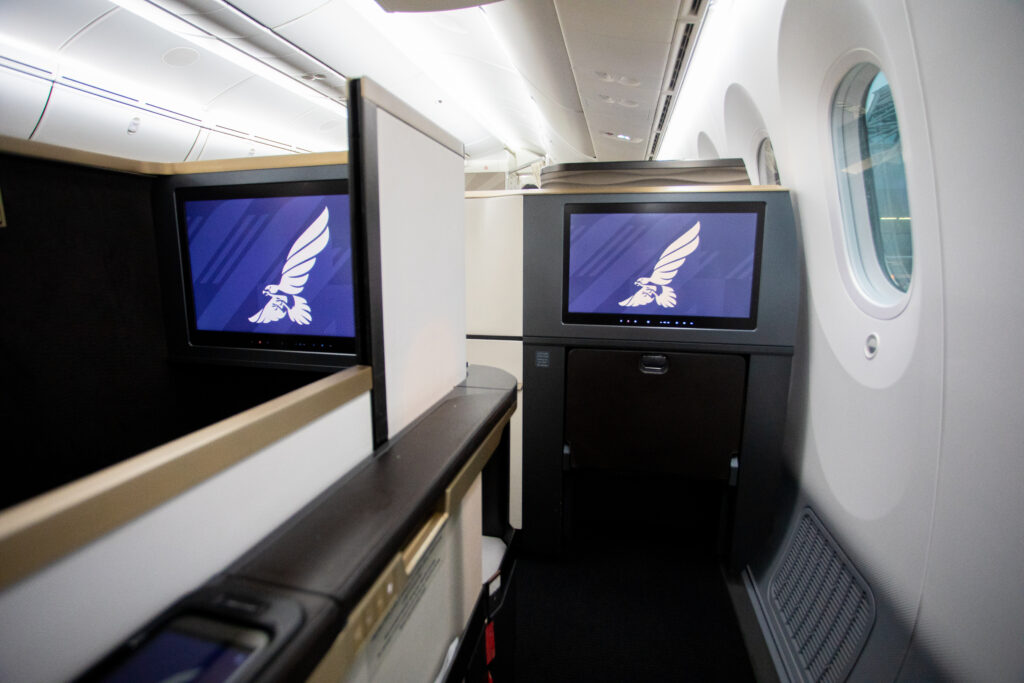 The cabin is densely configured with four rows in a staggered 2-2-2 configuration. Yet the density does not translate into a sense of claustrophobia. For one, the airline dropped the center overhead bins to achieve an airy, high-ceiling feel. Secondly, the rear of the cabin is underutilized, with a massively wide cross-cabin aisle.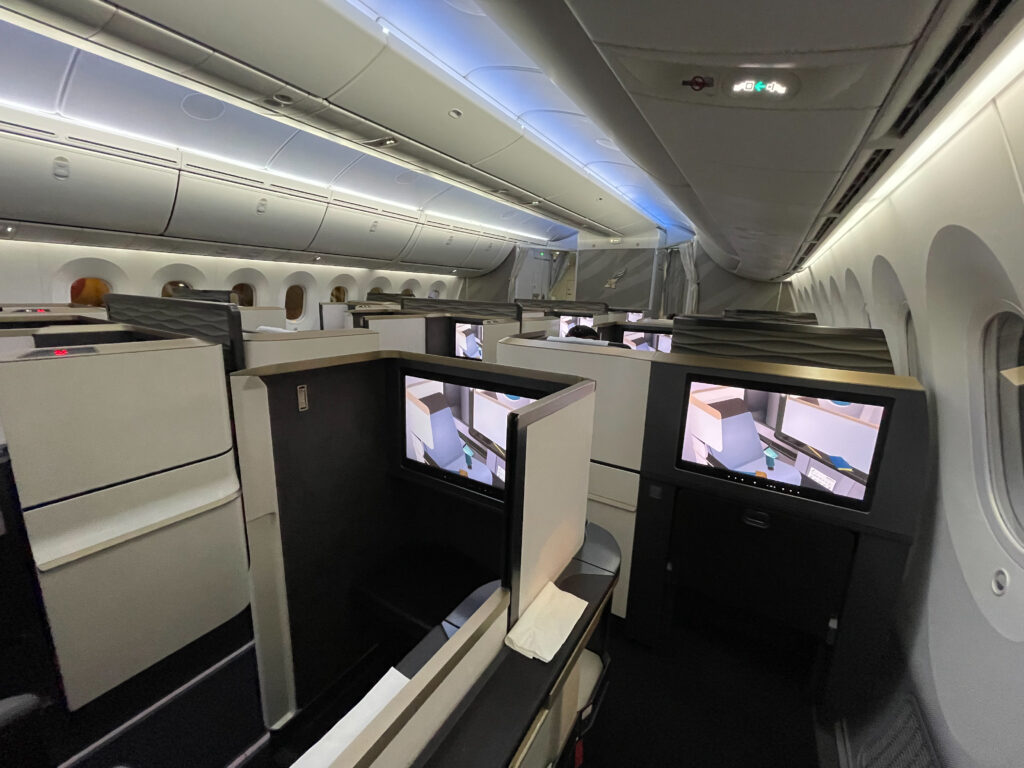 Finally, the airline utilizes the aforementioned Apex Suites product. Due to the lateral density of Gulf Air's layout, it is not the widest, but with an 83-inch pitch, the seat feels downright palatial. An ottoman way down on the other end folds down to complete the seat in bed mode, which can be reclined into a comfortable full lie flat.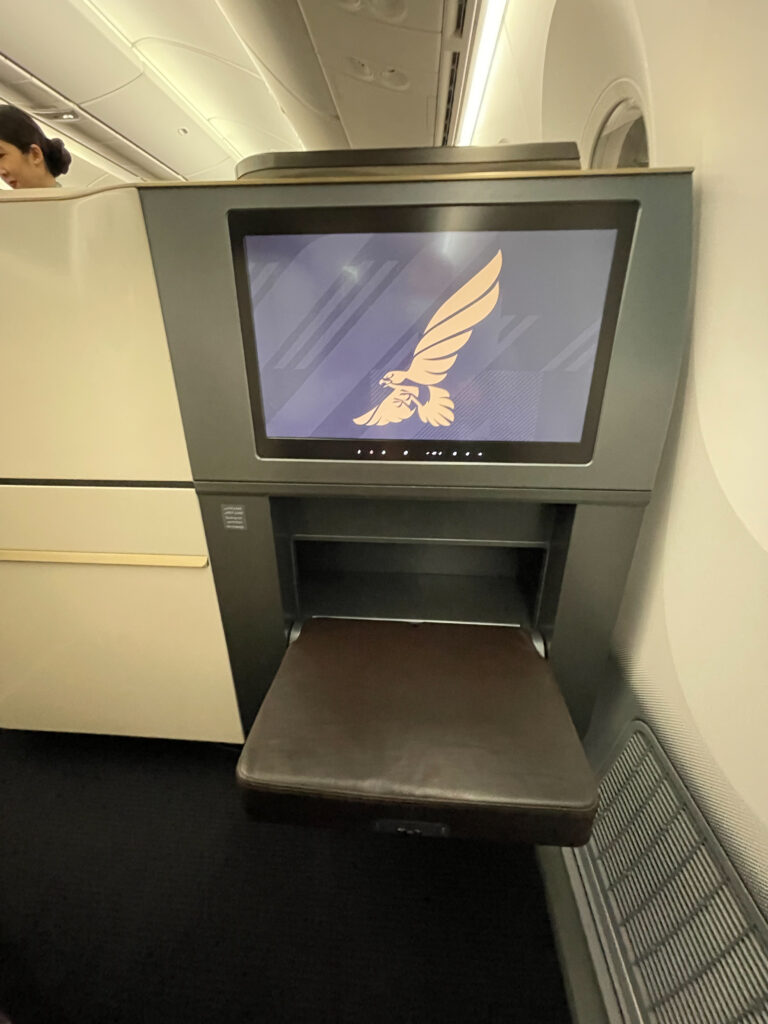 A privacy partition can be raised between you and your seatmate, making window seats about as private as you can get, short of adding a door. Each seat also has direct aisle access, as interior windows have their own entryway (this is also why the ottoman folds up, to allow for emergency egress).
The seat can be controlled via a series of buttons on the armrest, while a panel of light and privacy options (including my favorite 'do not disturb') are available on the opposing armrest.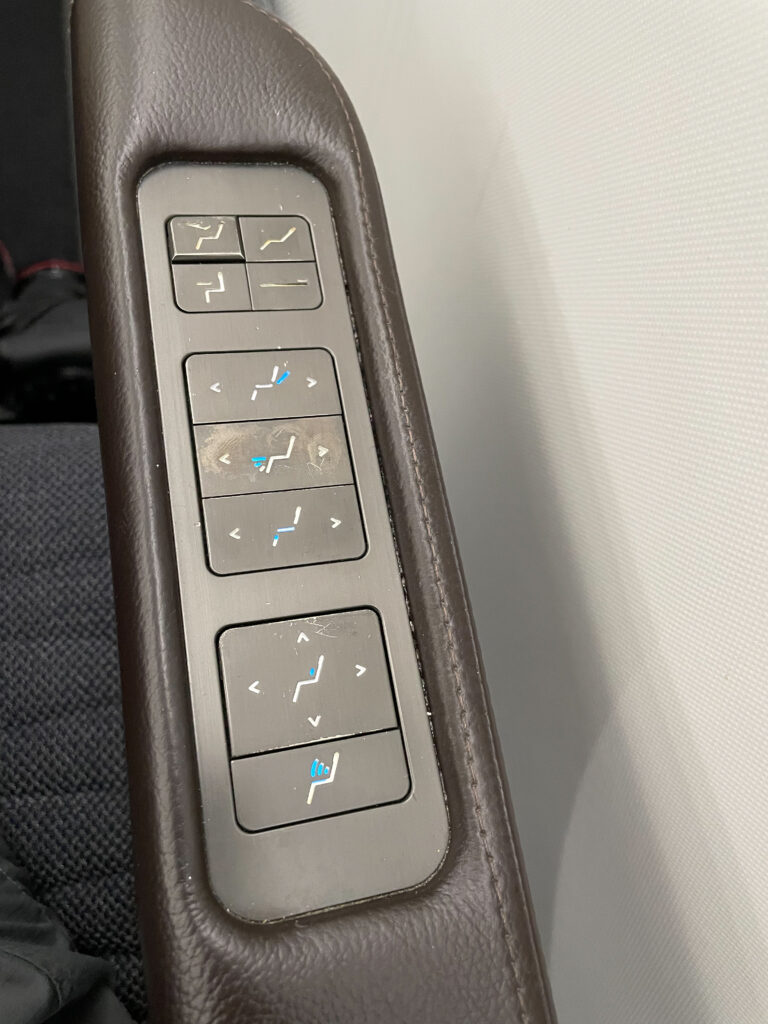 A power outlet, headphone jack, and USB ports are located under the armrest, next to the seat cushion.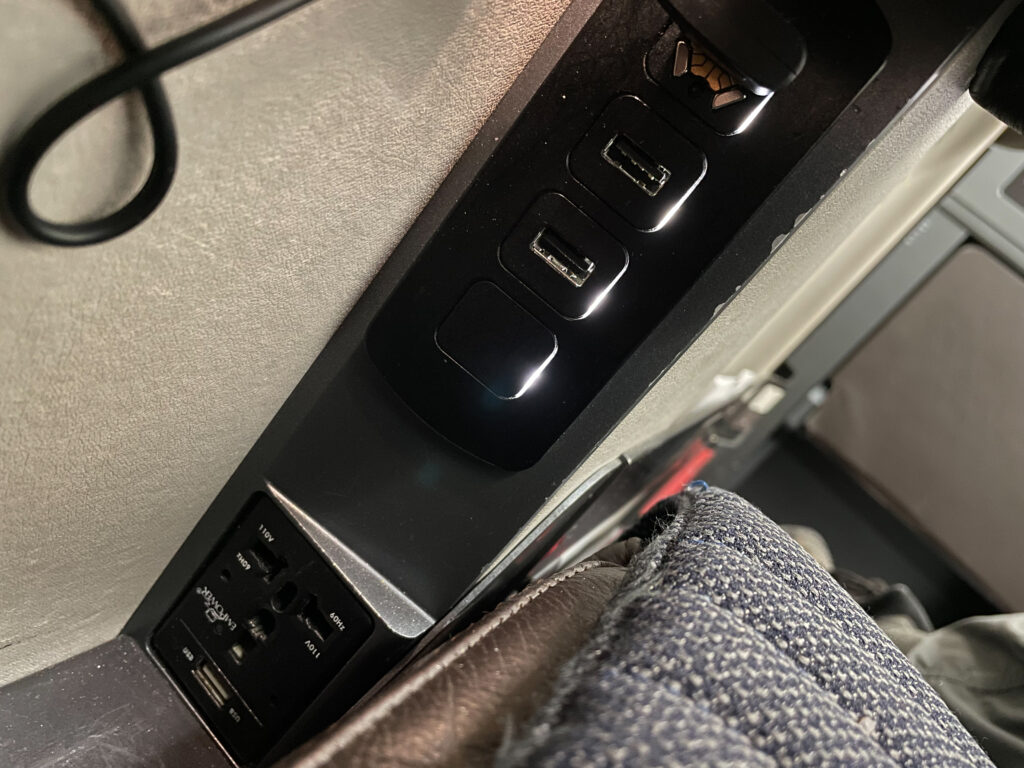 I also enjoyed many of the luxe finishes, from the sidewall paneling to the use of metal in the control panels.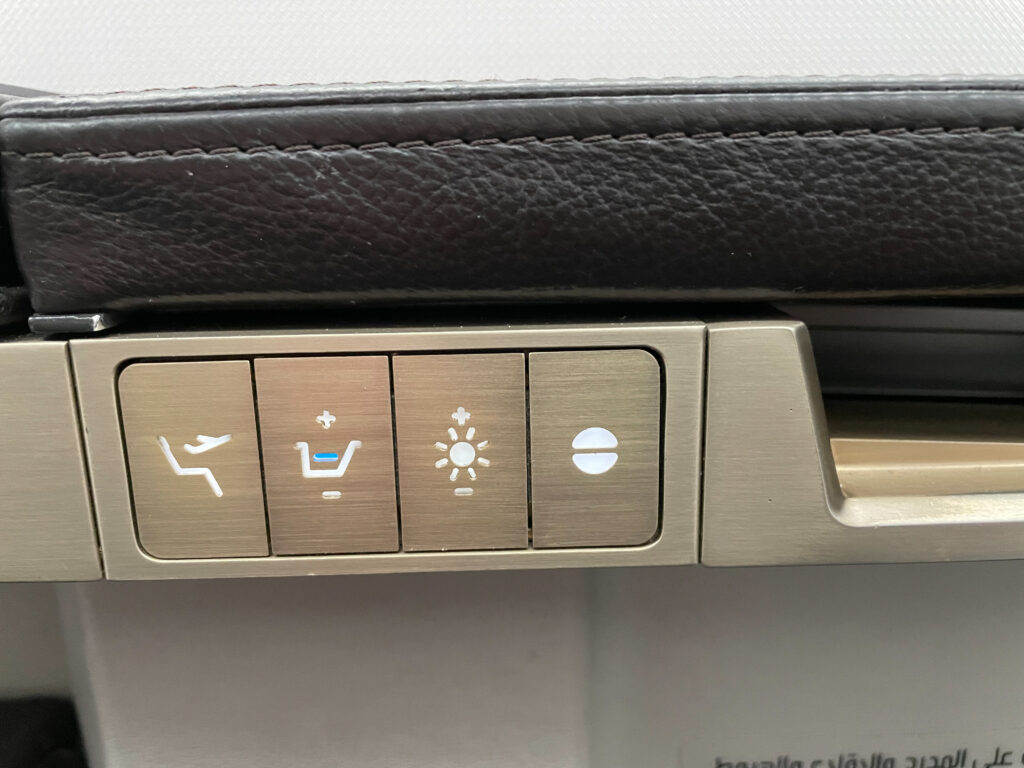 That thinner lateral width also means that there's virtually no meaningful storage space. And some features, namely the power outlet, are buried in hard-to-reach locations. The seat is also aging a bit, and could probably benefit from a deep clean in the near future. These are minor drawbacks on a hard product that is otherwise incredible.
The service was, well, not as incredible. And it began with such promise on the ground. Ahem.
The preflight service included the usual juice and champagne, but swapped out nuts for dates (delicious) and added a traditional Arabic coffee service. A crew member took dinner orders before takeoff too, noting that it would be a small sandwich. As fellow RGN contributor Jason Rabinowitz pointed out after the flight, it is technically coded to have a "light meal".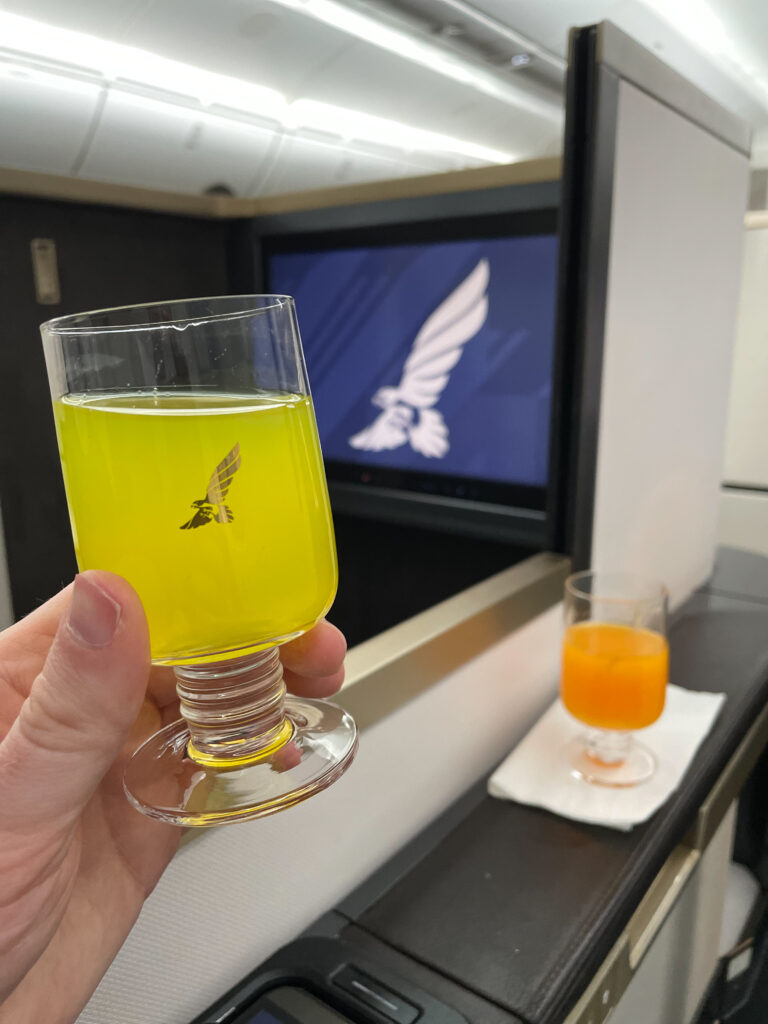 Having finally departed 3.5 hours behind schedule, I was really looking forward to this sandwich/light meal. Our original departure was set for 1630 local, classic dinner time hours. And other flights of similar length in the region, both in economy and business class, have provided something of a meal.
Yet what appeared twenty minutes after departure could barely qualify as a snack, let alone a meal. I'll let the photo, which includes my thumb for scale, do most of the talking. I figured it was a warm up before something a little bigger arrived, but that was it. Not only did a larger 'meal' not appear, the crew never took a drink order nor did a drink service in-flight. It was baffling.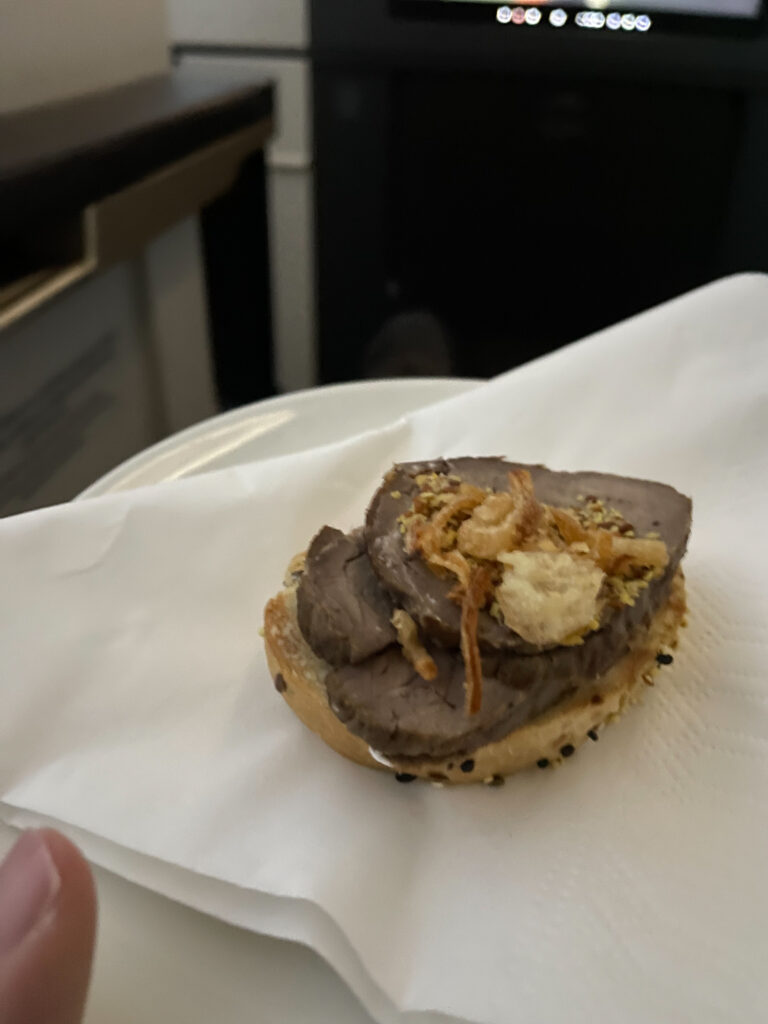 Hungry and tired, I decided to explore the carrier's inflight entertainment, run by Thales' AVANT solution. It is intuitive and responsive, with all of the usual whiz-bangs from movies to games to the moving map.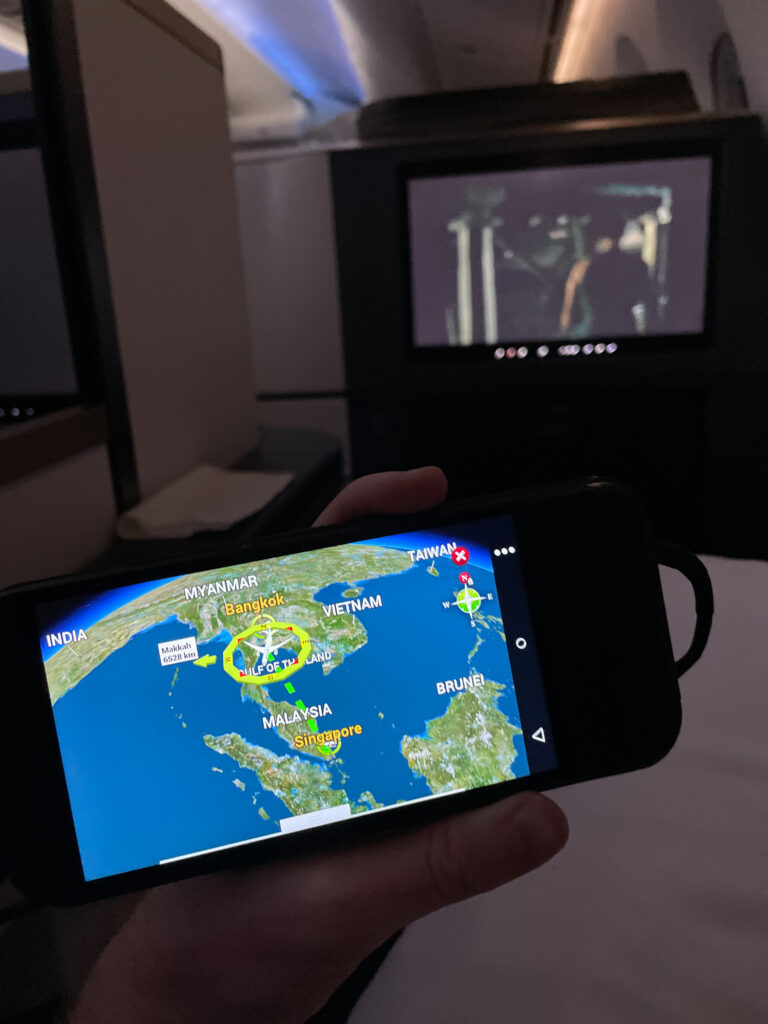 It is not, however, especially well stocked with content. There were 158 movies, with selections understandably leaning heavily toward regionally produced content. I can't speak for the non-Western content, but many of the Western movies were aging. If you're looking for all the latest and greatest Hollywood blockbusters, you're not likely to find them here. There were so few TV content options that I don't know why they bothered to have the option at all.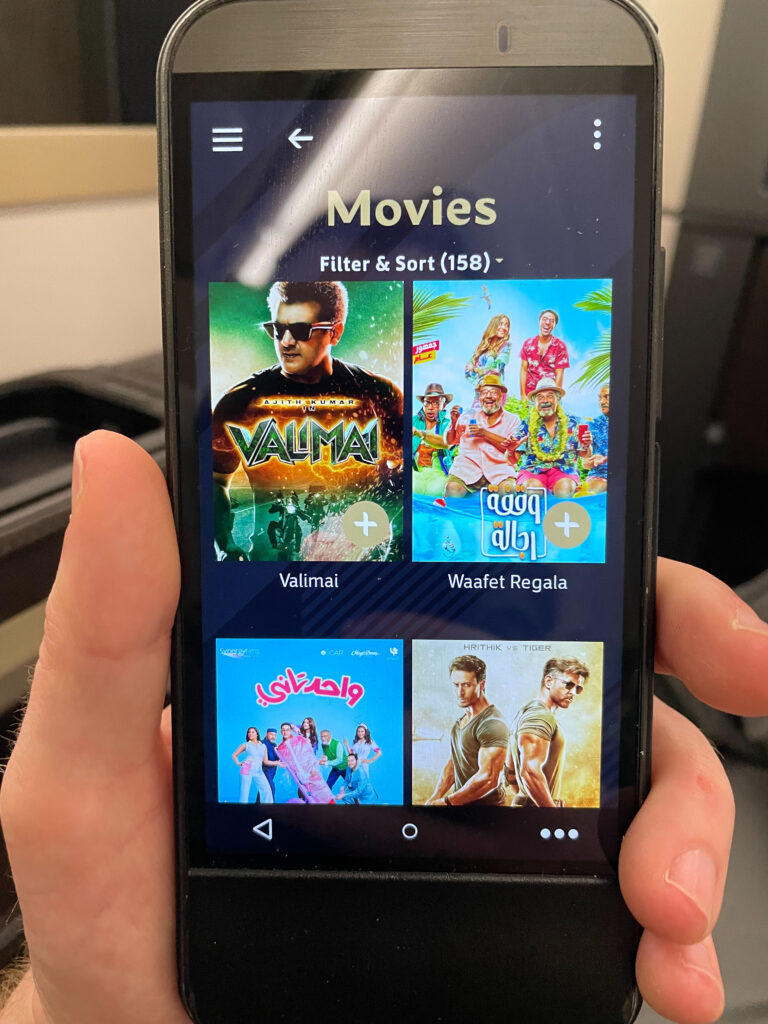 The screen, some six-plus feet away, was crisp and sharp. It is controlled exclusively by a tethered handset that tucks into an armrest. Like many such systems, it can play content on both the main screen and on the inset screen in the handset itself. I watched a movie while keeping the moving map on the handset.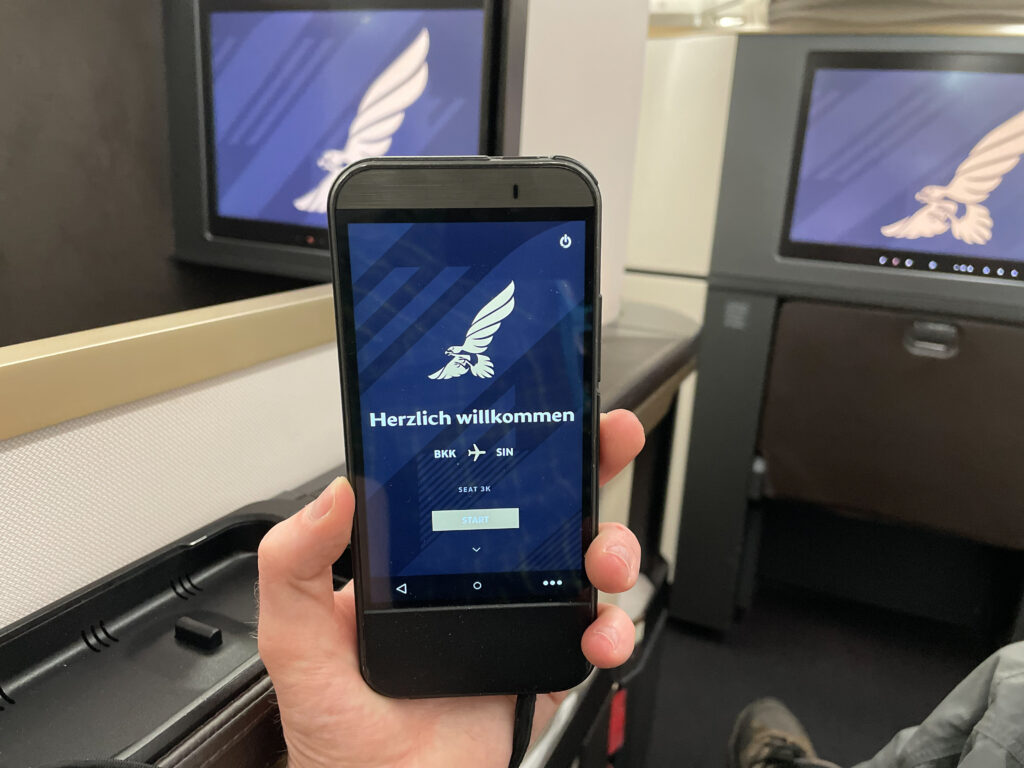 Wi-Fi is on offer, starting at $10US for messaging and $15 for "additional data allowance", whatever that means. There were no published data caps or speed limits. Both price points seemed way too high for a two-hour flight, and I declined.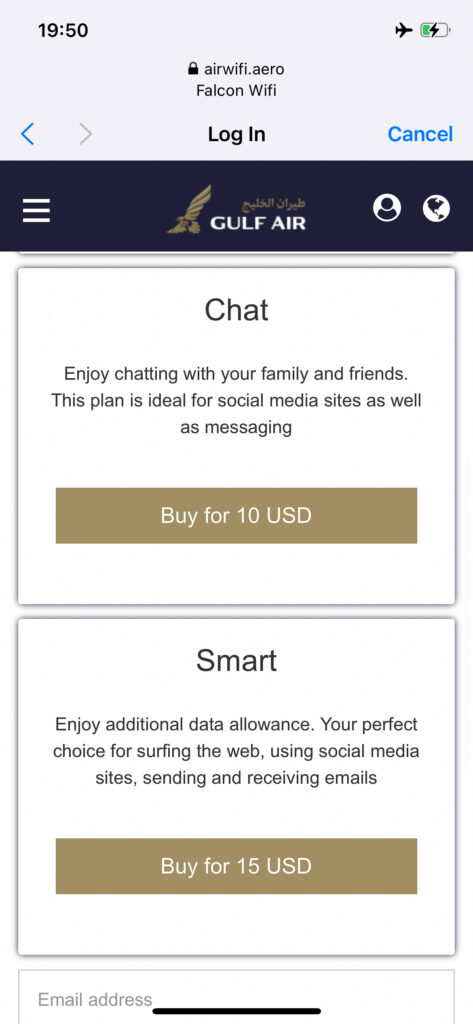 The flight landed just after 2300 in Singapore, 3.5hrs behind schedule.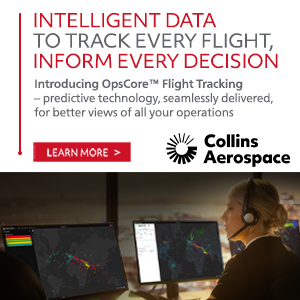 Hangry and disappointed, this was not the experience I had hoped for from Gulf Air.
That doesn't mean Gulf Air didn't do some things right.
Gulf Air's hard product is exceptional. The crew were pleasant, and the carrier's mostly proactive delay communications were helpful.
Nevertheless, the delay ruined our evening in Singapore, and the meal service was not becoming of a serious business class product. Either one of these on their own may have been enough to let it go.
Combine the two together though, and I felt like Gulf Air wound up wasting a lot of my time and a good chunk of my money.
Related Articles:
All images credited to the author, Jeremy Dwyer-Lindgren