In addition to a cluster of Airbus narrowbodies and Embraer regional jets, Royal Jordanian Airlines operates a small longhaul fleet of seven Boeing 787 twinjets, so flying this carrier often requires a bit of intention while travel planning.
Outside of its core network in the Middle East and Europe, the flag carrier of Jordan serves a handful of cities in North America and three in Asia; half of these are tag-on, fifth freedom flights, whereby the airline carries revenue traffic between foreign countries as part of services connecting its own country.
One of Royal Jordanian's fifth freedom flights connects Bangkok with Kuala Lumpur, which conveniently was a route I needed to fly in July. So, I jumped at the chance to try Royal Jordanian, and booked the ticket for $163US.
A week before departure, the airline emailed me an offer to bid on a business class upgrade. While tempting, I decided that the $100 minimum bid wasn't worth it, as it would have almost doubled the cost of the entire ticket.
I checked in without incident at Bangkok's sprawling Suvarnabhumi Airport right as the counter opened. With no bags to check, the ticket was printed and off I went, spending an hour crawling through immigration and security.
The gate opened 45 minutes prior to departure, and so I sat down for what should have been a 10- or 15-minute wait to board. But the boarding time on the ticket came and went with no announcement. Staffers closed the gate, and then sat around talking amongst themselves.
Ten minutes before departure, the door to the jetway opened suddenly, and folks scrambled to board.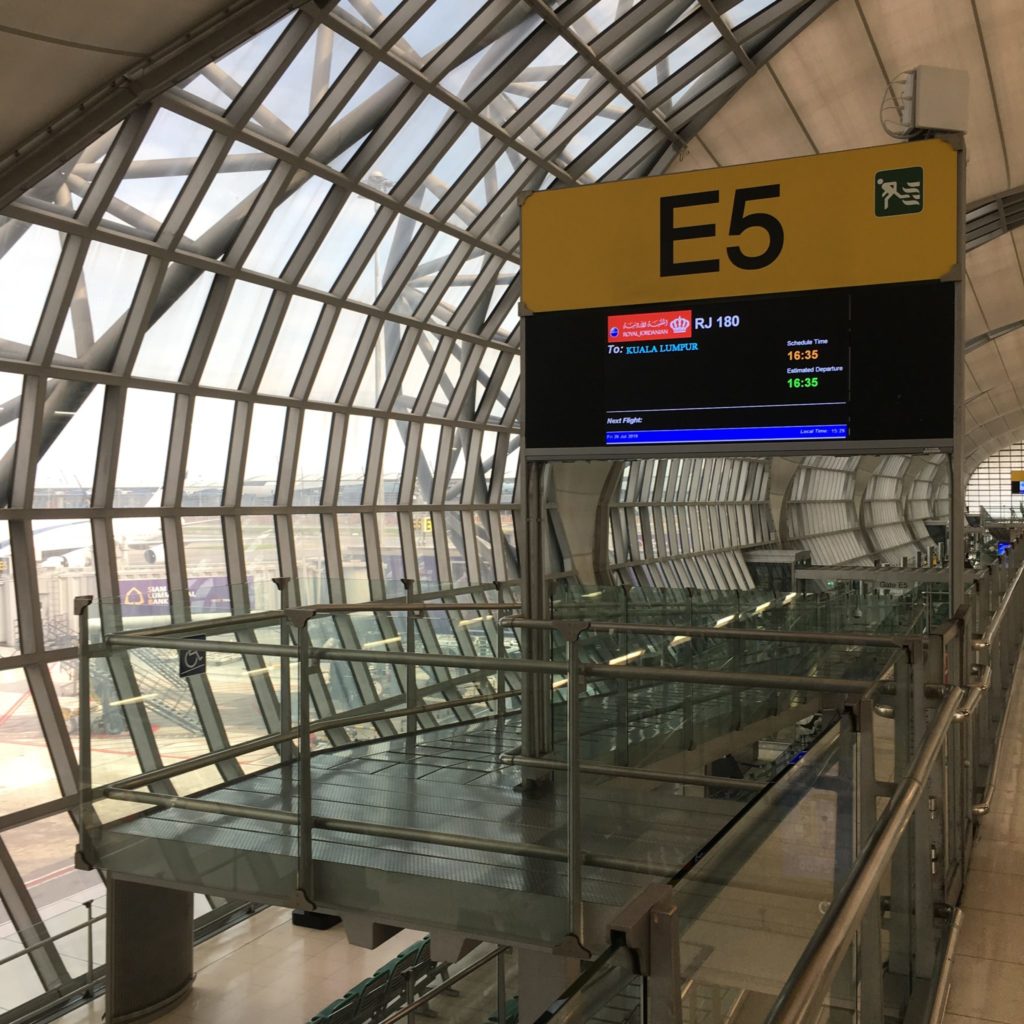 While Royal Jordanian's livery is often considered harsh, the interior is soft and light. I settled into seat 20F, at the very rear of the first of two economy cabins. Both are configured in a 3-3-3 layout, with 32 inches of pitch and 17 inches of width.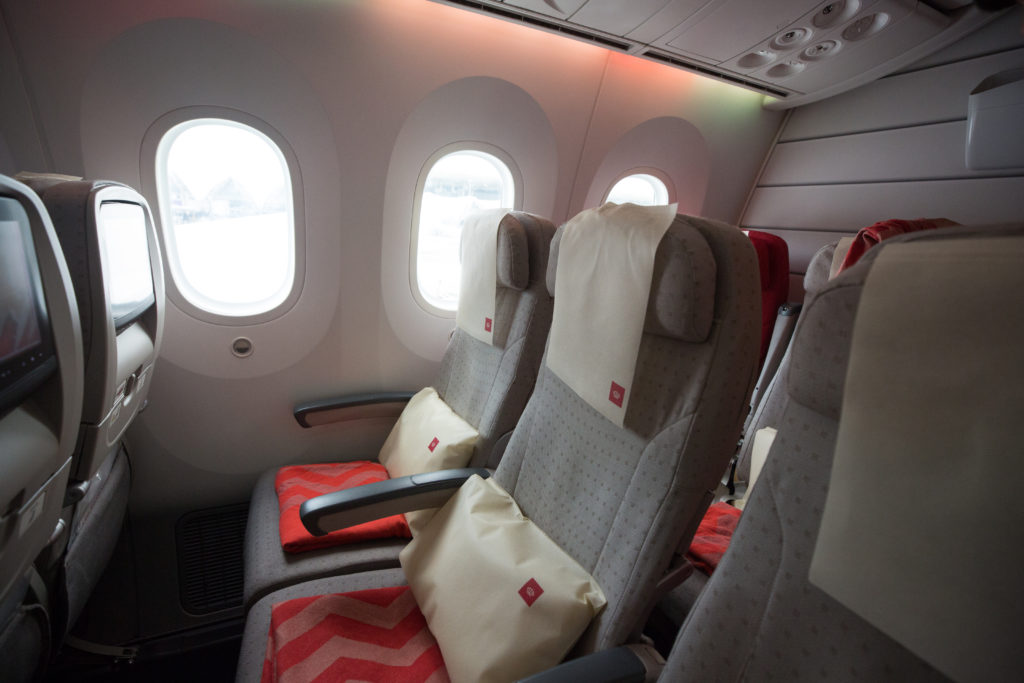 Most of the passengers appeared to have gotten off in Bangkok, leaving the aircraft well under half full. The addition of 30 newcomers headed to Malaysia didn't make much of a dent in the load factor, and most passengers had a row to themselves, myself included.
Despite the late start, the flight took off only a few minutes behind schedule.
A meal service began not long after departure. An average assortment of beverages – minus alcohol – were available. A crew member handed me a tin-foil wrapped meal, which I was looking forward to. After all, on short-hop flights, catering is one of the few meaningful differentiators a carrier can adopt.
A trio of fresh fruit was nice, and the dinner roll was average. Unfortunately the entree was shrimp, which I don't eat. I didn't see the crew again to ask if they had anything else, and the flight was short enough that I didn't bother to get up to search for them.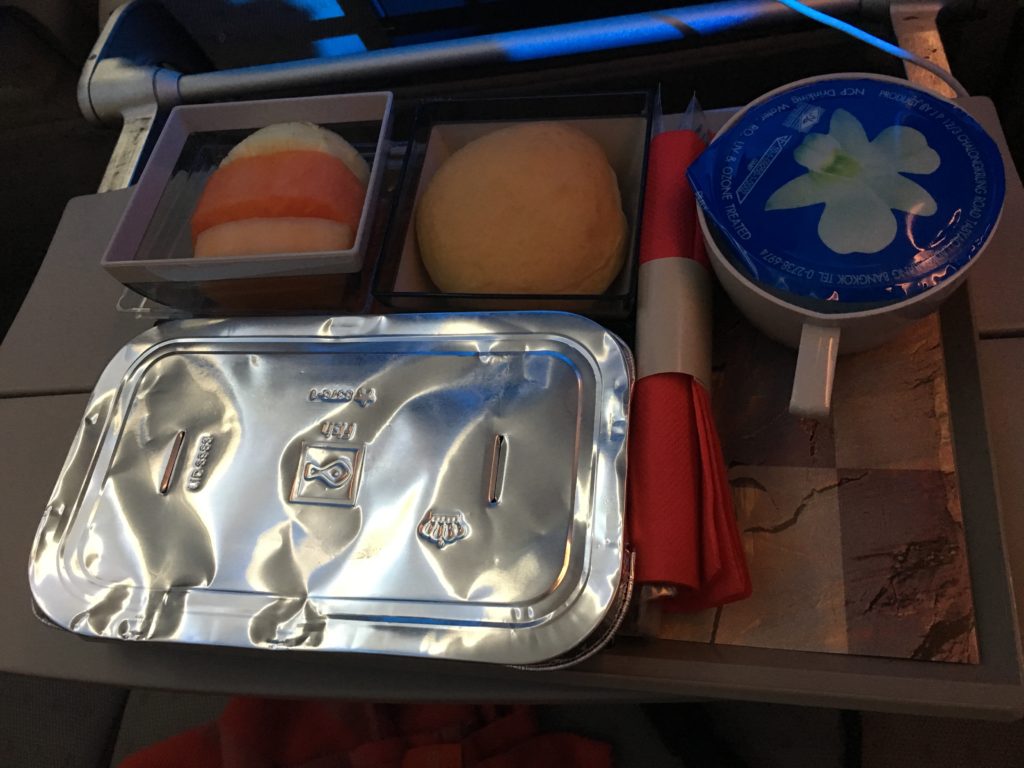 I took a brief excursion through the inflight entertainment, which had an average selection of movies and television programming. The touchscreen's clarity, size, and sharpness were impressive, though it kept referring to a tethered remote that I could never find. The system comes with a USB power port/charger.
The aircraft was not outfitted with inflight Internet.
The best entertainment on this flight, however, could be found outside the window, as the pilots maneuvered around giant thunderheads on approach to Kuala Lumpur.
The large, puffy white clouds combined with a setting sun made for a scene that no movie or TV show could compare to, in your writer's opinion.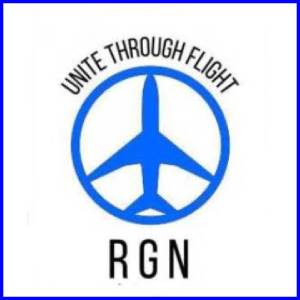 Passengers began collecting bags out of the overhead bins as soon as the plane was in sight of the terminal, prompting repeated – and repeatedly ignored – announcements from the crew members to stop and sit. The nice (albeit surprising) part was that by the time we parked, my bin was already open and ready to go.
It is always fun to try new airlines and new products, and fifth freedom flights like this one are an easy and comparatively inexpensive way to do it.
Would I fly Royal Jordanian again on this route? Maybe once for business class, but otherwise probably not: low-cost carriers connect the two cities for far less. Still, it was worth doing once, and if I ever need to get to Amman, I'd at least consider it.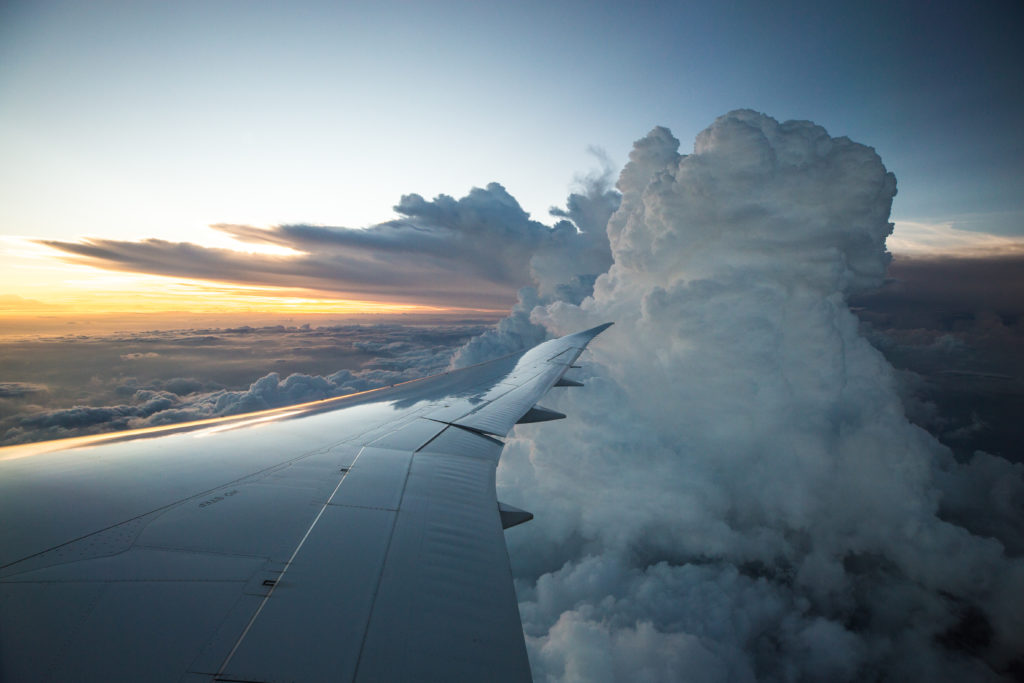 All images are credited to the author, Jeremy Dwyer-Lindgren
Related Articles: