With a stash of rapidly expiring credits I decided to do a triangle routing on Alaska Airlines' various mainline jets to get a feel for how the product and service varies across types. I booked New York JFK to Portland on Alaska's latest Boeing 737 MAX 9 twinjet, a Portland-Los Angeles leg on the carrier's oldest 737-800 product, and Los Angeles to Newark on its outgoing Airbus A321neo. These three aircraft represent entirely different phases of Alaska's passenger experience (PaxEx) history.
Most airlines operating between the New York area and the US west coast offer an elevated level of service or even a premium-heavy aircraft configuration dedicated specifically to the task. However, Alaska no longer competes on premium product offerings. In terms of hard product, what you get on a near six-hour transcon is akin to what's on offer on a shorter haul mainline flight.
The booking process for a multi-city search is pretty straightforward. A few months after I booked my flights, however, the fares dropped quite significantly. Alaska allows free changes and issues full credit for cancellation on Main Cabin fares. But I had to fully cancel and rebook my itinerary to receive a credit for the new lower fare. Other airlines let passengers rebook onto the same flights and simply receive a credit for the difference.
Checkin for all three flights went without issue; all were handled through Alaska's iOS app. A few days before each departure I received a push notification to pre-order food, something I was excited and delighted to see.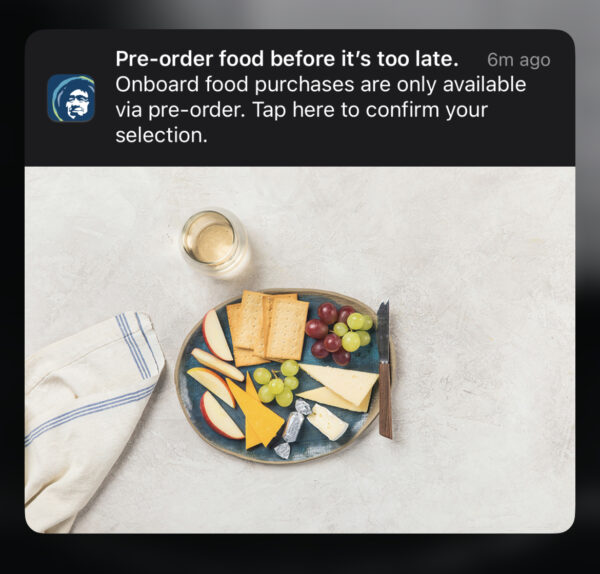 The interior of the 737 MAX 9 (737-9), Alaska Airlines' newest aircraft type, was almost indistinguishable from the older Airbus A321neo it refurbished after acquiring the fleet from Virgin America.
In contrast, the aged Boeing 737-800 sported a noticeably worn pre-Sky Interior cabin.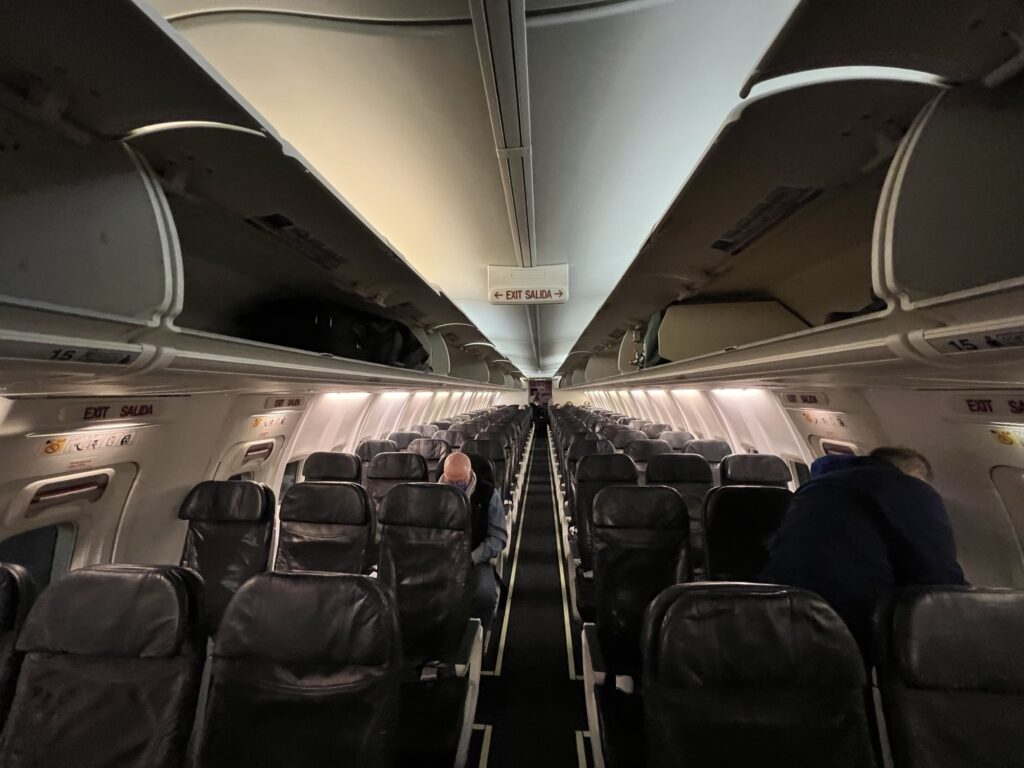 All three aircraft featured very similar Recaro slimline seats, though the older 737-800 was lacking the personal device holder that can be found on both the A321neo and the 737-9. The 737-800 fleet is currently receiving a minor refresh to address this PaxEx gap.
Seated in an exit row on the A321neo, I availed of the device holder attached to the in-arm tray table.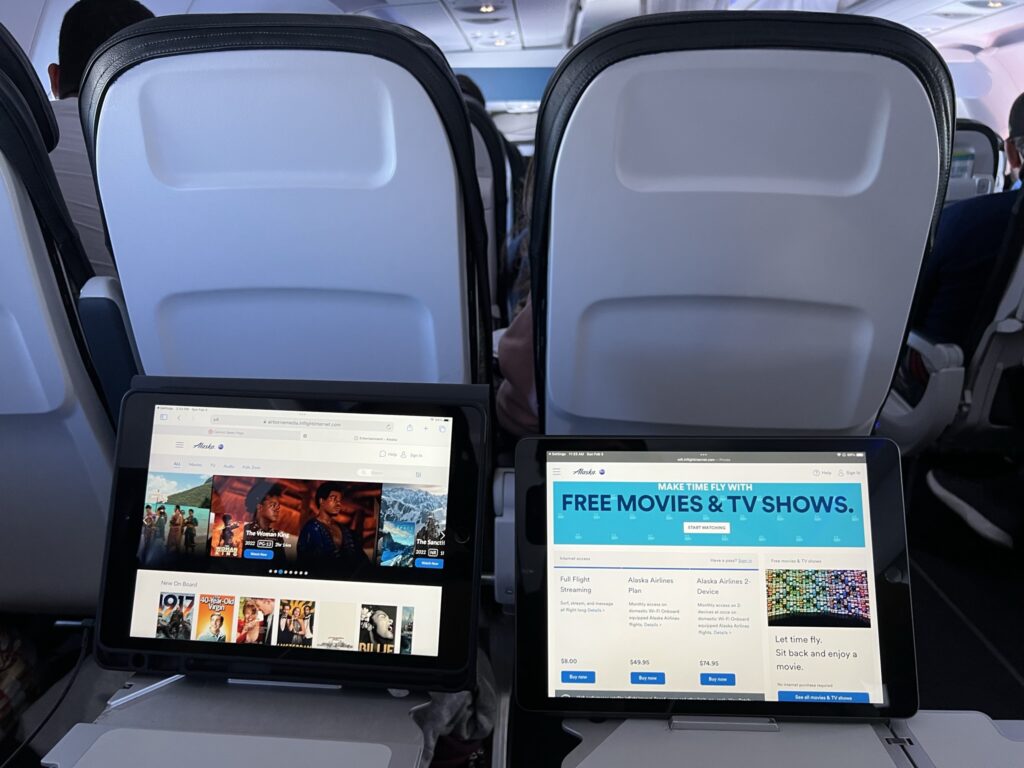 All three aircraft types offered AC power outlets and USB ports at every seat, though the older 737-800 had a large, cumbersome equipment box under the middle seat that the newer aircraft did not.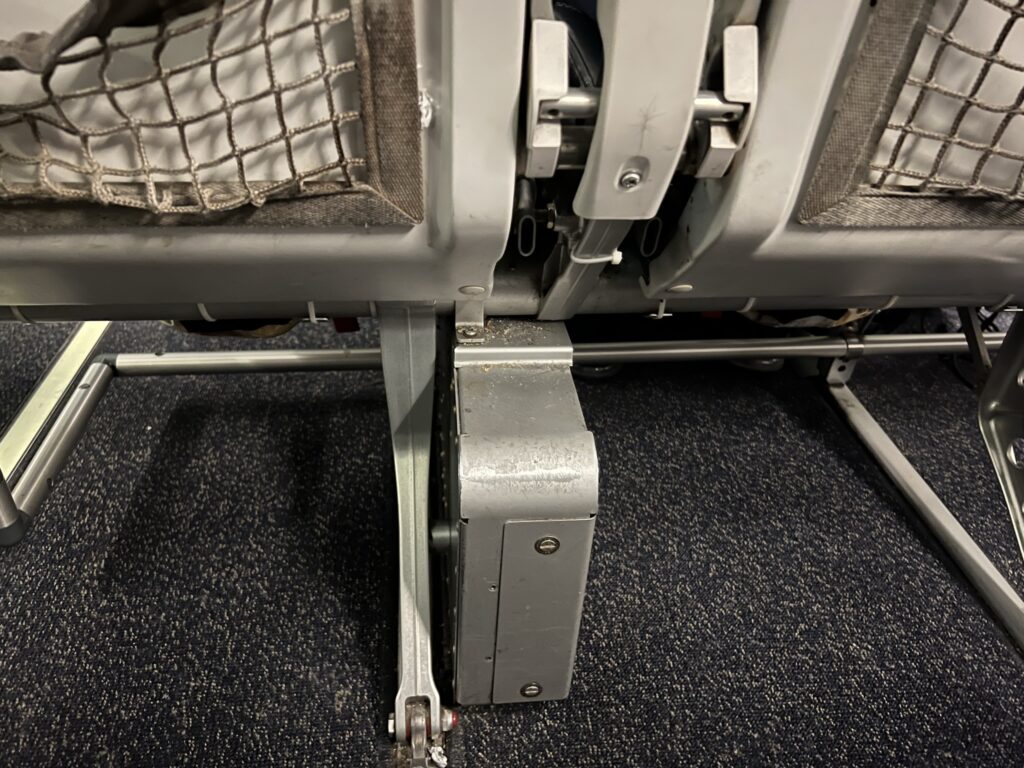 Alaska has nearly completed the rollout of satellite operator and aero ISP Intelsat's 2Ku connectivity system across its fleet, and all three of these aircraft were connected.
Onboard Internet was offered for a flat fee of $8 across all three flights, with options for free messaging or free connectivity for select T-Mobile customers.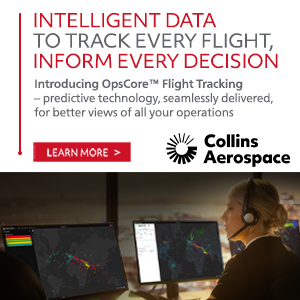 I confess I have had mixed experiences with 2Ku in the past so I wasn't sure what to expect. But this time, I enjoyed excellent connection speeds and latency across all three of these Alaska Airlines flights (even clocking a 3.5 Mbps upload speed). YouTube videos streamed in high resolution with minimal buffering.
While the inflight Internet on Alaska Airlines may not be free like on Delta and JetBlue, it worked well on this trio of flights.
On the IFE front, Alaska doesn't offer seatback screens on any aircraft. But it makes up for it by consistently offering what is likely one of the largest movie selections in the industry, streamed to passengers' own devices. It's difficult to gauge exactly how many titles are offered, but it's a lot!
The ability to favorite movie selections to return to them later would be a welcome addition to the wireless IFE, though the system seems to try to remember what you've already watched and mark it with a progress bar.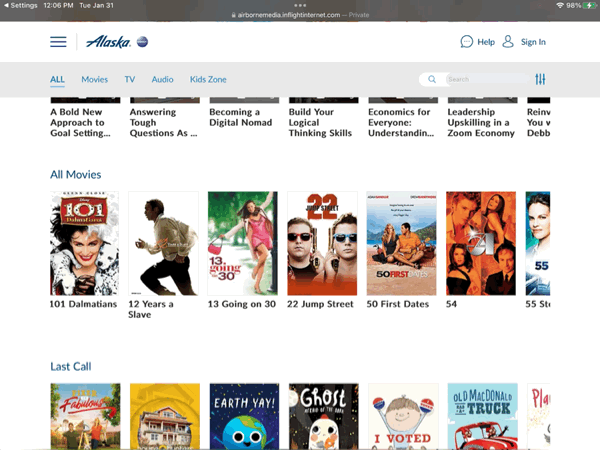 Inflight catering took a big hit during the Covid crisis, and many airlines have not fully resumed their pre-pandemic service, or have such limited stock that they may as well not even offer them at all.
Alaska's menu of fresh items wasn't particularly long for either of my transcon flights, but I was happy to see a ham and cheese sandwich on the westbound flight.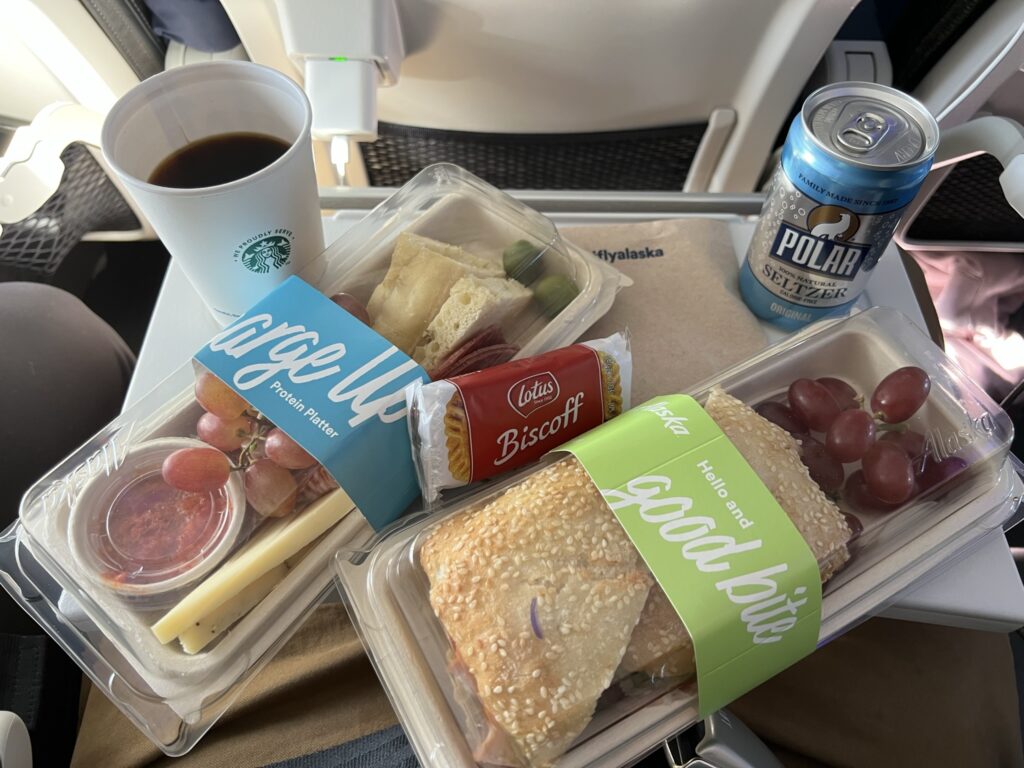 On the return, a high quality ginger garlic beef wrap was on offer. It complemented the "Signature Fruit & Cheese Platter" well. And I'd happily order this wrap on my next flight.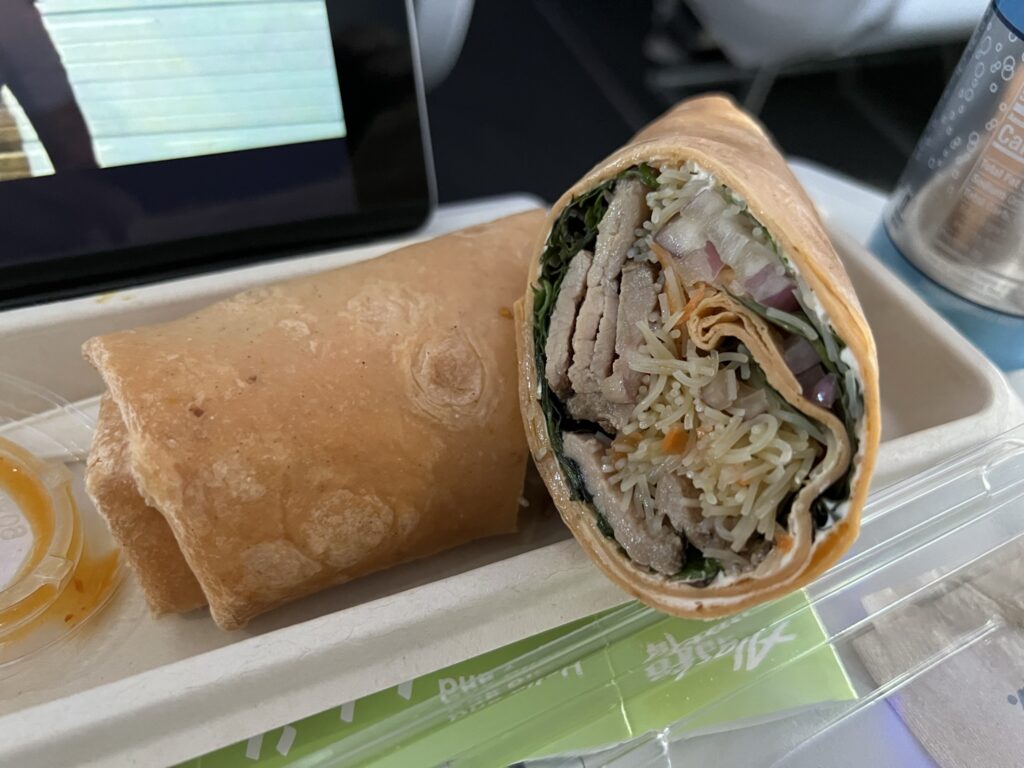 At $10.50 a pop for each sandwich and wrap, the value is not great but this lineup sure beats many options available in airport terminals these days. (The two hour Portland-Los Angeles 737-800 west coast hop offered only pre-packaged "Picnic Pack" boxes.)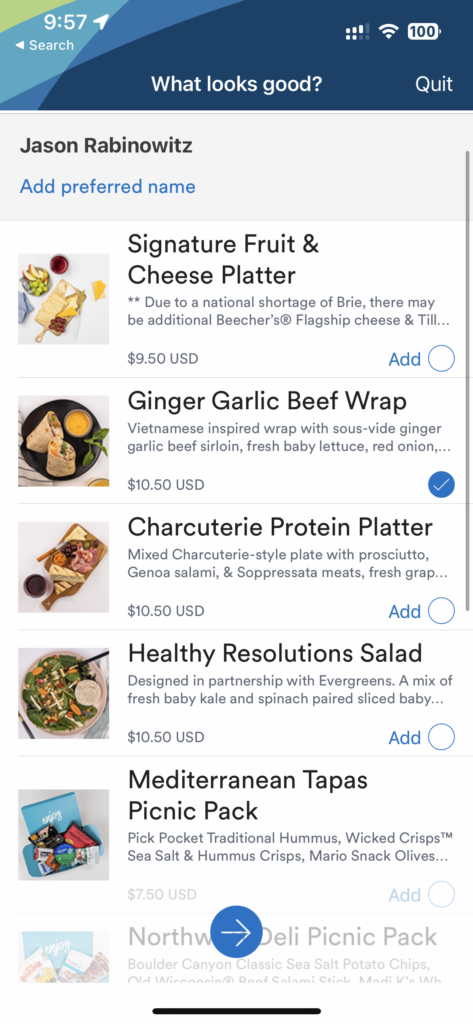 While the three aircraft types on this triangle route represent Alaska's recent PaxEx history, a solid level of consistency was visible throughout each one.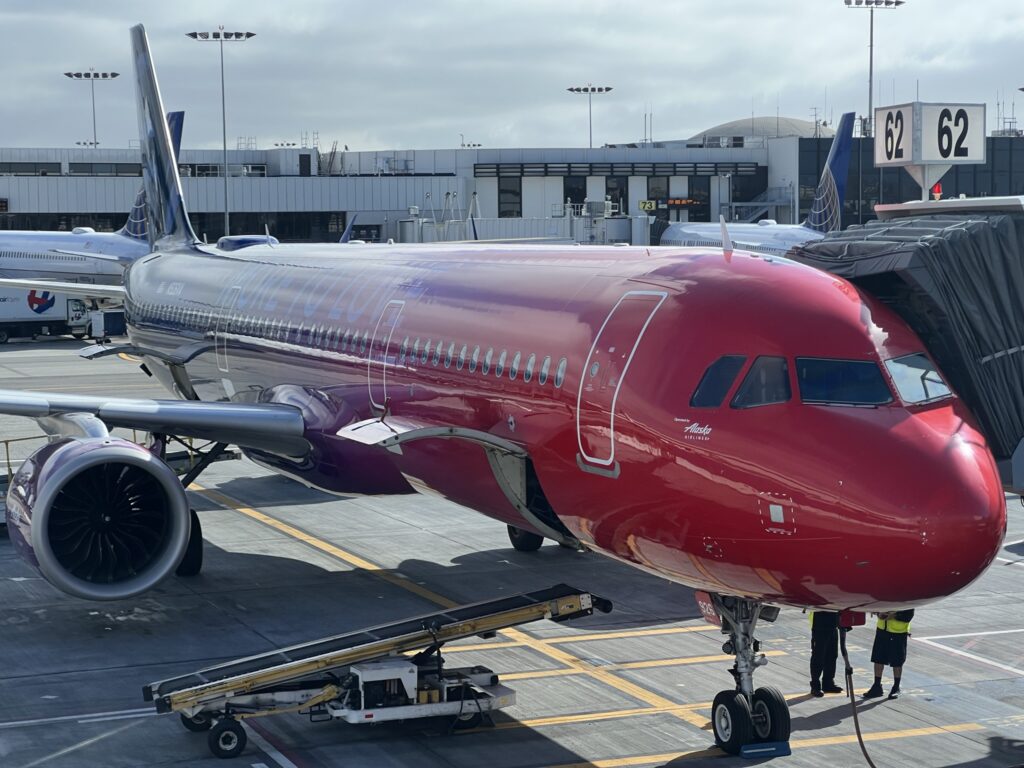 A consistent experience goes a long way in keeping passengers happy, and Alaska seems to have found its sweet spot. Everything was delivered and made available as promised, and the airline handled a very late equipment swap in Portland well enough that most passengers probably didn't even notice.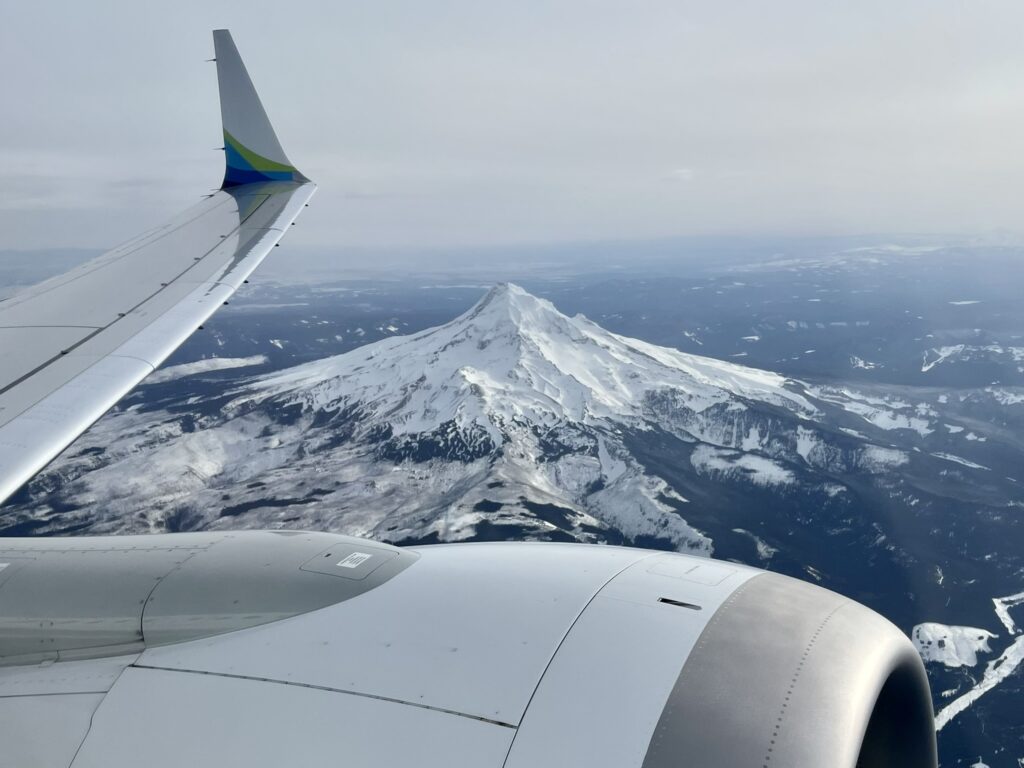 Related Articles:
All images credited to the author, Jason Rabinowitz