A Lufthansa Cargo Boeing 777 freighter (D-ALFA) departed Frankfurt early on 3 February, bound for Bengaluru, India and then onward to Chengdu, China. But something was different about the aircraft. Featuring an adhesive film from Lufthansa Technik and BASF, called AeroSHARK, the jet burned less fuel than on previous flights.
Forty years in the telling, the AeroSHARK story begins in 1982, when two paleontologists, A. Dinkelacker and Wolf-Ernst Reif published a paper examining the hydrodynamic properties of dermal denticles, the overlapping structures covering shark skin. These complex structures are precisely arranged in most shark species to optimize hydrodynamic efficiency. Put simply, they reduce drag.
Reif subsequently met Dietrich Bechert, an extraordinary scientist at the German aerospace research centre that later became known as DLR. Dermal denticles were arrayed in structures known as riblets, and Bechert realized their drag-reducing qualities. He studied their function in sharks and extrapolated that research to other surfaces, including aircraft skins.
Meanwhile, Michael Walsh, heading the Turbulent Drag Reduction Group at NASA Langley, was investigating how aircraft skin surface textures might reduce boundary layer drag. His April 1983 paper showed that he too had realized the drag-reducing potential of riblets.
Through the four decades since, industry stakeholders, research establishments and universities have grappled with the challenge of precisely and robustly replicating these microscopic structures on an aircraft's skin.
Jens-Uwe Mueller, project manager commercial for AeroSHARK at MRO giant Lufthansa Technik, tells Runway Girl Network how BASF and Lufthansa Technik finally solved the problem.
"We tried various techniques, including 'embossing' a coating [trialled on a Lufthansa A340 in 2012], but finally developed an adhesive film stuck on top of the painted aircraft skin," explains Mueller.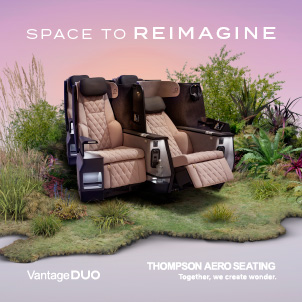 Sized in patches for easy and targeted application, the AeroSHARK film has millions of prism-shaped, barely perceptible riblets, each one 50 micrometers high.
The application is entirely manual; trained technicians trim each patch and install it in accordance with a plan based on computational fluid dynamics (CFD), and the aircraft's geometry and structure.
Lufthansa Technik applied 500 m2 of AeroSHARK to the lower fuselage of a Lufthansa 747-400 in 2019, aiming to review the product's effectiveness and resilience in regular service, but the Covid crisis intervened.
Nonetheless, Mueller says the trial highlighted the challenge of ensuring AeroSHARK would not affect the underlying airline livery.
"We placed bets on when plane spotters would start asking what was on the aircraft's fuselage," he tells Runway Girl Network. "We've seen photos of it online and we can see the AeroSHARK, but after three years and more than 5,000 flight hours, no one else seems to have noticed."
The 1980s' research was about saving money, but today's sustainability equation doesn't add up if AeroSHARK needs to be replaced often. Remarkably, each application is therefore expected to last four years, synchronising it with a jet's heavy maintenance checks.
"We've verified this durability in lab tests for abrasion, deicing fluid, ultraviolet and so on, and flight tests on different Lufthansa aircraft in scheduled service for at least six years," Mueller confides.
Just 500 m2 of AeroSHARK reduced the Boeing 747-400's fuel burn by 0.8%. With the aircraft type slated for retirement at Lufthansa in a couple years, Lufthansa Technik in 2021 began working towards an EASA AeroSHARK supplemental type certificate (STC) for the Boeing 777.
Lufthansa Cargo immediately signed for AeroSHARK on 11 777 freighters, and in 2022 SWISS added 12 777-300ERs to the programme. 
"We built on experience gained with the 747-400," explains Mueller, "but with almost twice the AeroSHARK area, it took more than a year before we were ready for the certification campaign."
"In August 2022, we modified a SWISS 777-300ER for STC flying in mid-September. These yielded detailed evidence that AeroSHARK had no negative impact on aircraft operational safety or handling. Several weeks of rigorous data evaluation, including our CFD simulations, followed."
The STC for the 777 was granted in mid-December 2022. And Lufthansa Techhnik began applying AeroSHARK in January, ahead of D-ALFA's February debut.
SWISS expects to have another two modified 777-300ERs back in service soon and Mueller hopes to begin working on non-Lufthansa-Group 777s later in 2023.
Related Articles:
Featured image credited to SWISS/Reto Hoffmann