Touch Inflight Solutions is heading into the New Year with a spring in its step. The content service provider has secured Delta Air Lines as a customer for "full scope" CSP services for inflight entertainment starting in January 2023. And Conetic — the new holding company which encompasses Touch, its cloud-based ABOVE joint venture with castLabs, as well as airport lounge designer and manager Oxygen Premium Services — is preparing to announce the opening of a new lounge in Europe that will utilize Touch's digital services.
André Valera, who serves as vice president of business development at Conetic, Touch and Oxygen, as well as Co-Managing Director at ABOVE, told Runway Girl Network at the APEX/IFSA Exhibition in Long Beach that Delta represents Touch's "first big US carrier" CSP award. Touch's customer list also includes Lufthansa Systems, Eurowings, GOL, LATAM, LOT Polish Airlines, TAP Air Portugal and WestJet in addition to a raft of others.
Among the reasons why Touch is attracting major clients is that the Coral Gables, Florida-headquartered CSP used the downtime provided by the Covid pandemic to innovate, developing flexible, rapid-delivery IFE solutions and cost-effective subscription packages to support airlines as industry entered a recovery period. Valera said Touch also knew that airlines "would need speed to match up with what's happening outside" aircraft in terms of media and entertainment consumption. "Everyone was launching their own direct-to-consumer platforms," he noted in reference to Hollywood studios' more meaningful pivot to their own streaming platforms during the crisis.
"We saw media licensing deals changing a lot as well. So, we really took the time to put the tools together and bring a new way of supporting the media supply chain to unlock the new business models that we see that are coming. And so, I think we will be a driver of that change. I think that's also one of the reasons why a player like Delta is trusting us to do … the disruption that they want to achieve. And particularly what they're doing with that Delta Flight Products division as well, I think they will see us as a good partner from that perspective as well."
One of the tools being employed by Touch is ABOVE, a standards-based platform for encoding, storing and distributing encoded video and related metadata, and which represents a joint venture partnership with DRM specialist castLabs. ABOVE can facilitate dynamic content curation and updates to aircraft, slashing the amount of time it takes to get premium entertainment in front of passengers' eyeballs in-flight.
That sort of model is particularly beneficial to Touch's content partners and airline clients because it means that Hollywood studios can quickly and exclusively premiere new content on inflight entertainment systems as part of broader airline/studio promotions, as demonstrated in 2021 and again in 2022 by Warner Bros. Discovery and Touch CSP client LATAM when they were able to speedily bring brand new content to passengers' seatback screens — And Just Like That, the sequel to Sex and the City, in the former instance, and House of the Dragon in the latter.
"We want to scale up those initiatives," revealed Valera, noting that: "If it's available now, let's bring it next day for the passenger. It's possible." That sentiment also happens to mesh with Warner Bros. Discovery's aspirations, which company SVP Esdra Lamy described to RGN at the APEX/IFSA EXPO. "[T]hose are some of the unique things that we look to do for getting the product onboard sooner with our partners that are ready to meet us there," said Lamy of the LATAM activations.
The creation of ABOVE will also support new cabin digitalization programs, such as the open IT platform being developed by AERQ, the joint venture between LG Electronics and Lufthansa Technik which will showcase movie and TV content, flight information, games, shopping and other applications via in-seat screens and digital signage. Under an agreement forged with ABOVE last year, AERQ's airline customers should expect to enjoy the "fastest and most cost-efficient end-to-end service for video asset encoding, integration, and deployment to aircraft", according to the two firms, which are eyeing availability before the end of 2023 or early 2024. Said Valera:
What we're doing with AERQ with our ABOVE platform is going seamlessly into their media processes meaning, you know, content will go direct to the aircraft without going through the usual processes that we usually have with IFE system providers.
Notably, ABOVE is an agnostic platform, insofar as Touch is making it available for any CSP or airline to use, even those who are not its partners. "We are not just building this for us, we're building this for the community," noted the Touch executive.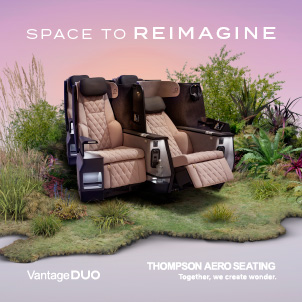 Beyond strictly inflight entertainment, Touch under the Conetic umbrella is broadening its footprint to the on-the-ground realm of the passenger experience, with a plan for enabling passengers to begin their content journey pre-flight.
Valera explained: "A little bit of background — myself and [Touch founder] Joe Carreira and other colleagues, we have a background specifically in VIP business lounges. So there's a professional background there where, for a little bit over five years, we actually built, designed and operated a network of ten airport lounges in Brazil, including the Star Alliance Lounge in Sao Paulo. So, with that experience and after we exited that business and had a non-compete for a period of time …then, eventually when we started to expand the scope of Touch, we created ABOVE together with castLabs and we looked at the passenger journey as a whole and we clearly identified that we can expand that role."
He continued: "[W]hen we looked at the dwell time and lounge experience, with our knowledge with inflight experience and with our knowledge as well with Touch and ABOVE, we saw an opportunity to use our network of contacts on the airline side, the customer experience departments. They are responsible for the whole experience — catering, inflight entertainment, lounge. So we already have the same contacts to deal with IFE and to deal with lounges. So, we created Conatic, pretty much a holding company, but at the same time a shared services company with this holistic vision of connecting the several touch points before and after the flight and inflight, and using our network of companies and expertise to enable that."
Now, when Touch talks with an airline today, it doesn't necessarily talk about IFE or lounges, but rather about that carrier's passenger experience as a whole, and what they want to achieve with that PaxEx. "Because it starts before the flight and it ends after the flight and we can have that discussion with them and expand the scope of 'IFE' within the lounge. And the lounge is the first, you know, marketing opportunity for the airline as well. And having the same hat  [of Conetic] but with different brands because they're different products, I think will help us get traction on each of those services and then slowly getting that adoption by the airline that you can be a passenger experience partner," said Valera.
He revealed that Conetic expects to launch its first lounge, under this model, in Europe. "So that will be a potential announcement soon enough."
Related Articles:
Featured image credited to Jason Rabinowitz