Delta Air Lines' new unit, Delta Flight Products (DFP), has taken full ownership of delivering seatback wireless IFE to the US major's brand new Airbus A330-900neo and A321neo fleets, and when retrofitting the system to its Boeing 767-400s. The solution, which features Hitachi tablet displays, will be completely Delta-sourced.
"The A220 wireless IFE system was developed in partnership with Gogo; however, Delta Flight Products has since expanded its IFE platform to be comprised completely of Delta-sourced and developed elements for installation on Delta's new A330-900neo and A321neo fleets," a Delta spokeswoman told RGN when asked if Delta Flight Products was still working with Gogo on the IFE project.
"The DFP wireless IFE system will also be retrofitted on Delta's 767-400 aircraft during their mid-life interior modernizations beginning in 2019," she said.
The pivot in branding and positioning is notable.
In 2017, Gogo announced itself as a development partner for Gogo Vision Touch, saying the system would debut on Delta's Airbus A220s. At that time, RGN reported that Gogo would only be providing the backbone part – responsible for content loading to the "approximately two" wireless access points that will be dedicated to the embedded Hitachi tablets. RGN also noted that Gogo was not involved in any way with (and declined to comment on) the key part of any embedded tablet solution: the mounting, power, certification, delethalization and specifically head injury criterion (HIC) testing for the large glass screens that make up today's tablets.
Importantly, at that time, Delta did not respond to RGN's questions about the system and its involvement, leaving Gogo to lead the messaging around the product.
But at the end of last year, Delta took the lead on its own IFE messaging, issuing a statement describing three ways that its Delta Flight Products start-up is "revolutionizing aircraft interiors", and listing wireless seatback IFE as number one. Gogo was not mentioned in the press release.
The system that was first created in partnership with Gogo for the A220 is being factory-fit to the twinjets at the Airbus A220 FAL in Mirabel. Details about how Delta Flight Products accomplished HIC remain at bay, though it's certainly possible that plastic screens are somehow in play.
For #PaxEx suppliers which have spent a lot of time and money on cracking into airframers' catalogs – and the journalists who have covered their travails –  the speed at which this IFE system obtained linefit offerability is notable indeed. So RGN put the question to Airbus Americas CEO Jeff Knittel in Mirabel, asking if there is some inherent flexibility to the A220, specifically, or if the airframer was simply willing to deviate from the catalog in order to attract buyers.
Knittel was fairly blunt in his response: "Delta had some specific needs; Delta obviously was buying in bulk and we felt that the request they had made sense and solved their problem."
In terms of fitting non-catalog seats and entertainment systems to Airbus aircraft, Knittel said broadly that the airframer works closely with airlines to understand their needs "and where possible try to create a construct that works for both of us". Airbus makes "the economic calculation" and goes from there.
A source told RGN that linefit offerability for the DFP wireless IFE system has also been achieved for the A330neo.
Gogo still highlights Gogo Vision Touch on its website. Whether it will be able to offer the solution to other airlines going forward is unclear, given Delta's considerable contribution to the original system.
A Gogo spokeswoman said: "In regards to your questions below, we partnered with Delta to build the IFE system and are excited for the A220 to start commercial service. We're both very much involved in it. We aren't ready to talk about our sales plans for it; for now we are focused purely on delivering a great product."
Delta's near-overnight pivot into IFE – and more broadly interiors – is obviously big news on a number of fronts. The carrier is Panasonic's largest embedded IFE customer, and the move comes amid rumors that the warranty is expiring on some of those systems, which would trigger additional maintenance costs for Delta.
The airline seems to have designs on providing IFE to others, with the still-barebones Delta Flight Products website linking through to employment opportunities, including a listing for an IFE systems engineer who would be responsible for, among other things, "interfacing with customers, suppliers and other project stakeholders pertaining to IFE design projects".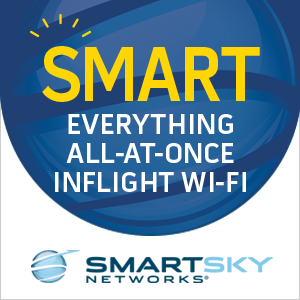 At the same time, however, Delta's move is not entirely unprecedented in the industry. Lufthansa Group has long offered wireless IFE to both its own airlines and others through its Lufthansa Systems unit, though Lufthansa Systems has not yet delivered a seatback solution.
Lufthansa Systems did showcase a tablet-based IFE system at the 2014 APEX EXPO, but the product required that a plastic screen be pulled up over the tablet to ensure it would pass stringent HIC certification. Clearly, the LS tablet system wasn't ready for primetime.
Meanwhile, wireless streaming technology enables the reduction of about one pound of wiring per seat when installed on an aircraft, according to Delta. "This means Delta's modified 767-400 fleet will nix about 1,330 metric tons of carbon emissions annually," said the airline. Yet, it remains to be seen if the passenger experience will be as solid as achieved via traditional, wired embedded systems, which boast impressive reliability. There is a reason, after all, why industry stalwarts have stayed the course with wires.
All eyes will be on the debut of the Delta A220, and the expected #PaxEx tweet storm over Gogo 2Ku on board. However, the government shutdown could delay the launch of commercial service.
Related Articles:
Featured image credited to Jason Rabinowitz