On 16 October 1908, Samuel Franklin Cody crashed at the end of a 27-second, 1,390ft flight over Farnborough Common. The American pilot had completed the UK's first sustained, powered airplane flight and secured Farnborough's position as the birthplace of British aviation.
Over a century later, Farnborough Airport is a business aviation hub and host to the biennial Farnborough International Airshow (FIA). The airport's heritage places it at the heart of an unusually aviation-aware community. The town's schools and colleagues, families and local authorities know and understand aviation through generations of employment at the airfield, and that's a key factor in the airport's success.
Reporting from an employee engagement survey, Farnborough Airport's people director, Siobhan Jenkins says: "It's clear that staff are very proud both to work for the airport and of its heritage. And we hear it from people who come in for interviews too: 'my grandfather was a ground handler here', or 'my mum worked at the airport'. They've grown up knowing about it."
But aviation is not alone in struggling to recruit young people into what is seen as a STEM career. Attracting talented young people requires more than heritage and Jenkins says Farnborough Airport works hard to ensure it is a standout local employer.
"We have strong links with Farnborough College of Technology [FCOT] and we're forging links with other local educational establishments. We had an educational coordinator at the Pioneers of Tomorrow event during FIA in July, working with schools and helping us reach out to any we maybe hadn't already thought about."
Clarke Moucher previously spent three years with Gulfstream's UK Service Center, a period during which the OEM moved from London Luton to Farnborough Airport.
"We always knew that our people were the key to its success. We needed to persuade them to move from Luton. And we needed recruitment and training pipelines — Farnborough's heritage means local people are invested in aviation," explains Moucher, who now serves as managing director of Gulfstream Customer Support, EMEA.
"Gulfstream is passionate about bringing youth into the industry, so we partnered with FCOT on a tailored aviation apprenticeship. They made an investment and we helped develop the curriculum. It carried the 'Gulfstream' name, so it needed to be a brand-appropriate, premium apprenticeship. Seven people have already completed the three-year program and we've recruited another six."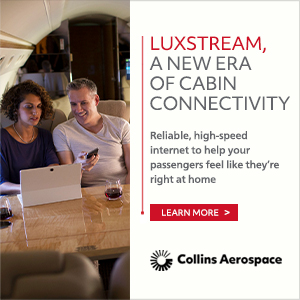 Under Gulfstream's wider local effort, Moucher and his team engaged with disenchanted 14-year olds at a disadvantaged school, promising the chance to sit in a Gulfstream in exchange for good grades.
"We put a curriculum together with the school, the children produced some fine projects, and a customer was delighted to have them in their aircraft. The school has asked us to do it again this year," he says.
Jenkins explains more about the connection between Farnborough Airport and FCOT. "We sit on the Aerospace Research and Innovation Centre steering group. The embodiment of Farnborough's heritage, it encourages local employers to work collaboratively with FCOT."
She continues, "We're also an active member of FCOT's industry board, providing input to ensure its curriculum delivers students with the knowledge and skills employers need. "Coincident with the beginning of the 2022-23 academic year we've begun a ground-handling apprenticeship with the college — most of the applicants are local. We're looking at others, including one in sustainability and corporate responsibility later this year, plus more for the future, alongside some graduate programs."
Yet Jenkins believes that there is always more to do, and excuses herself from the interview for a call with a government official, to prepare for a forthcoming Careers Day at Farnborough Airport. 
Related Articles:
Featured image credited to Farnborough Airport