Tenille Cromwell is Chief Pilot for Gulfstream's Airborne Customer Support (ACS) program, managing 20 pilots flying four jets across the Americas and Caribbean. Part of the company's Field and Airborne Support Team (FAST), the group works three shifts, and is on call should a customer jet be AOG (aircraft on ground), in need of parts and/or technical assistance.
"I plan to be on call and fly with the team at least once a week," Cromwell says, noting that her pilots also provide transport for the company's leadership. The work requires that she remain current on the team's G150, G280 and G550 jets, although: "They've kept me busy in the 11 years I've been here – I'm also rated on the G100, G200 and G450. I was an ACS line pilot for about four years, then moved up to be assistant chief pilot and chief pilot shortly after."
A former US Navy pilot, Cromwell flew the E-6 in the Take Command And Move Out submarine communications and command post roles. "I had 200 hours, plus a bunch of E-6 simulators before my first E-6 flight – it was overwhelming, but awesome. Later, as mission commander, I was in charge of the whole mission, with as many as 23 crew."
Her Gulfstream team is smaller than some E-6 mission crews, but: "Twenty pilots is very different to 23 crew! We plan quarterly group meetings, but three shifts, 24 hours a day, with pilots who could be thousands of miles apart, means we don't see one another often. I'm always available, just not necessarily face-to-face.
"There's no 'normal' ACS mission. I might get a call at 09:00 and, before I know it, I'm spending the night in Anchorage, you just don't know where you're going next. It takes any complacency out of the job and it's always exciting."
But when an ACS pilot arrives it's because of an AOG; they're the face of Gulfstream under potentially difficult circumstances. "For me, being a brand ambassador is a major appeal of the job. I get to be more than 'just' a pilot, there's so much more to it than flying."
Cromwell previously instructed on the E-6 and T-1. Now she teaches new hires on the ACS jets. "Military instruction was sometimes exciting and often rewarding. Instructing our new people is among my favorite things to do. You get to tailor it to every student, because everyone learns differently."
Cromwell is an obvious role model – relatively few pilots have flown the E-6, fewer still women, while the Gulfstream job is also unusual. Yet she says her career was never influenced by gender.
"Grandpa taught me to fly. My brother is four years older, so Grandpa taught him first. He learned to ride a bike before me too, it was just a growing up thing. I figured once he'd learned to fly, it would be my turn."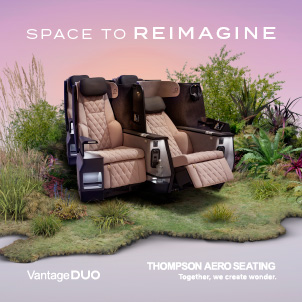 She continues: "Grandpa was in his late seventies when we started; what a great man to take on teaching a 16-year old girl. He just said, 'Sure, come on, let's do this!' Because that's how I grew up, I never felt the need to see someone who looked like me doing what I wanted to do. Now I realize that if girls only see male pilots, they won't know it's a possibility for them.
"It's a challenging career. You have to be super passionate, but it's so rewarding. I love my job and get to be an ambassador for aviation and for showing the importance of being passionate about what you do."
Cromwell reckons nominating her favorite aircraft to fly, "…is like choosing a favorite child!" (She has three.) But if she could rate on any type, it would be the DC-3. "Grandpa flew it when he started at United in 1942; he retired, on the 747, in 1978. He's been such an inspiration. Dad also flew with United and my brother flies with them now; I'm the black sheep of the family!"
Related Articles: