An announcement that the Airbus A220 — né the Bombardier C Series — has secured its sixth African operator in TAAG Angola Airlines via lessor ALC means that the small airliner has more than a third of its operators on the continent. Runway Girl Network sat down with Airbus' head of single aisle market development Claude Debeauquenne at the Farnborough International Airshow to discuss the aircraft. He suggested there are several reasons why the A220 is seeing niche success in Africa.
The A220, Debeauquenne says, "is the right size in terms of capacity for the African markets. What you see today, if you fly on the continent, is that you will find many cases where some of the airlines will fly the largest single-aisle aircraft because they need the range and therefore, very often had ended up with a lower load factor. So the A220 with a lower capacity enables them to more efficiently fly with the right size and right capacity that they need, still offering the flexibility of the range to cover pretty much all of the African market."
Alphabetically, the current African operators are:
Air Austral
Air Senegal
Air Tanzania
EgyptAir
Ibom Air
and now TAAG
TAAG selected the slightly larger A220-300, whose range of 3600nm enables the airline to cover the entire African continent with ease from its home hub of Luanda, reaching across the Atlantic to eastern Brazil, plus an arc covering all of Iberia, France, most of central Europe, Turkey and the Gulf.
Lessee operators like TAAG will have to negotiate interiors with their lessors, but Debeauquenne expects that "airlines flying longer sector will tend to usually have two-class configuration, so… it is likely that you will find on that particular market, a two-class configuration with with a business class up front and then an economy class in back. That is something that we already see on other continents. If you fly the A220 in the US, I think this is something which is very common."
This has, so far, involved recliners in a 2-2 layout aboard Delta and Air Canada, for example. Air Tanzania also offers recliners in business:
A critical part of the offering for airlines, especially smaller African operators, is around support — including maintenance, repair and overhaul.
"Today we're doing our best to make sure that we provide the necessary support operations to the A220 operators, but it is also our intention to bring an even better support network for A220 operators," Debeauquenne tells RGN.
"Like any new programme — and I think it's fair to say we are well established now, with over 200 aircraft in the marketplace, and a lot more to come — the support network is building progressively as we deliver more aircraft," he says. "So naturally, our intention is to strengthen the support network in the regions where we have more and more aircraft. So we haven't committed any particular new MRO centre or anything, but we already have obviously a strong network."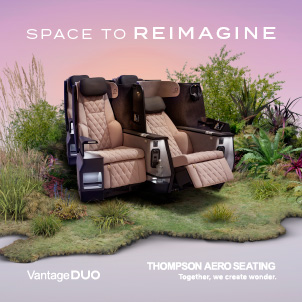 Like most airframers at this point, Airbus also offers a series of services contracts for maintenance, including the Flight Hour Services that add "on-site-stock, access to Airbus' spares pools and components engineering and repair services around the world," according to the manufacturer, which "will guarantee spare parts availability, generating value through increased fleet availability and operating maintenance costs savings."
But, with demand pressure on the larger A320neo — and particularly the A321neo — is Airbus actively trying to move some A320neo customers to the more available A220 programme? 
"Just to be very clear," Debeauquenne says, "we are trying to sell whatever the customer needs. Obviously, availability becomes an issue on the A320neo family. We already know that, but we have a lot of lessors in the programme. And the same stands for the A220 as well. The announcement from TAAG Angola, I think, is a great illustration of being able to actually introduce the type fairly quickly, in this case by ALC."
Deliveries to TAAG are due to start in 2023.
Related Articles:
Featured image credited to TAAG