Nearly five hundred million people worldwide – more than six percent of the global population – have hearing loss to a level that creates a disability. This number is rising, and aircraft manufacturer ATR is working on making aircraft accessible, together with experts from the Deaf and hard of hearing communities. At the same time, the airframer is showing how simple it might be to use braille placards and tactile graphics to deliver vital safety messages to blind and visually impaired passengers.
Irène Aliouat, the president of French association Audition & Vie, with which ATR is partnering on the Deaf and hard of hearing side of its work, was on hand at the ATR stand at the Aircraft Interiors Expo in Hamburg. Aliouat, who uses cochlear implants, explained to Runway Girl Network that the aircraft cabin is an incredibly stressful environment for Deaf and hard of hearing people, who can be overwhelmed in particular by the unique range of frequencies of multiple voices in close proximity, tinny and overly loud announcements, cabin air systems, and the noise of the aircraft itself.
(Runway Girl Network interviewed Aliouat in French at AIX and her words are summarized in translation here.)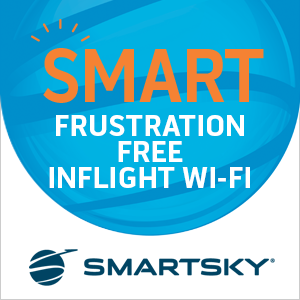 Deaf and hard of hearing passengers, Aliouat said, respond to the barrier this stress creates by flying less or utilizing other forms of transport where they are available, and when they do fly they will often turn off their hearing aids, cochlear implants and other assistive technologies.
An audio induction loop, also known as a hearing loop, generates a localized magnetic field that can be detected and transformed into sound by a hearing aid or cochlear implant when these devices are turned to T (for "telecoil", since the technology was initially created for use with telephones).
On the ATR stand, said vice president of marketing Zuzana Hrnkova, "at the moment we installed the loop into a removable headrest, as it provides a more flexible option for airlines in terms of seat allocation, but it could be installed elsewhere in the cabin." Many public spaces – from places of worship to cinemas and courtrooms – use the system to serve Deaf and hard of hearing people.
It is excellent to see an aircraft manufacturer at the forefront of removing barriers, with Hrnkova also presenting on the "Flying for All" session alongside David Brown of Bluebox, Martin Darbyshire of Tangerine, Paul Priestman of Priestmangoode, and Christopher Wood of Flying Disabled, with a video message from Geraldine Lundy of Virgin Atlantic.
"We want to raise awareness among airlines about the need to provide a more inclusive cabin environment for all passengers, to offer them a hassle-free traveling experience," Hrnkova told Runway Girl Network. "We believe that simple changes can make big differences, and ATR wants to lead the way in making air transport accessible for everyone. We are using AIX as an opportunity to collect feedback from our customers, then we will work on integrating this system into the ATR cabin."
Deaf and hard of hearing travelers, Hrnkova said, can be "reluctant to identify themselves as such when booking plane tickets, because they don't want their disability to be the first thing people know about them. And most of the time, when they get on board, they switch off their hearing aids because they can't hear any inflight or safety announcement, because of the ambient noise. They feel anxious and excluded."
ATR was also asking the question at AIX about why braille-embossed safety placards are not used on aircraft. These placards, delivering basic safety messages like seatbelt policies and the location of life vests, appear on every aircraft. At the same time, ATR was also showing an option for a tactile graphic for the safety card, where raised images and braille text help passengers to understand the aircraft layout, the location of lavatories, and so on. This journalist cannot remember ever seeing a braille-embossed safety placard on an aircraft, although some airports – most notably in Japan – offer tactile graphics.
One of the signs of a truly innovative passenger experience development at a show like the Aircraft Interiors Expo is when one responds "…but of course! Why aren't we doing this already?" In the case of the hearing loop, braille placards and tactile graphics, that response suggests there are quick and inexpensive wins available for the airline industry to remove barriers to travel, and that it should do so swiftly.
Related Articles: