On a recent Eurostar trip between France and London, it was striking to observe just how much the stark light onboard the train diminished the passenger experience. Not only did it compare unfavorably with the softer light on previous generations of the trains on this route, but also with many airlines which make clever use of lighting to enhance the perception of space onboard, soothe passengers' nerves, and build a mood that matches their personality.
There are many tools available to remedy poor lighting, including modern colourful LEDs, so it seems inexplicable not to employ them.
Passengers aboard Eurostar have taken notice, including the fashion elites who often use the service on the essential London-Paris corridor. Perhaps this clientele is more sensitive to such matters, but now that Eurostar offers journeys to the South of France and the Alps lasting many hours, spending such a long time under clinical lights may tire even the most stoic of passengers.  
In many ways, Eurostar's cabins are ideal candidates for mood lighting which would change the ambience onboard. In aviation, LED lights are deployed to great effect on the likes of  Air New Zealand, which uses a monochrome palette for its interiors, and then bathes them in different coloured lights, creating vivid environments to suit time and circumstance.
Utilising dark and intimate interiors with mood lighting, such as can be found on Virgin Atlantic, evokes a feeling of comfort and luxury, while suggesting spaciousness and, in the age of covid, cleanliness.
In economy cabins, these touches can make a big difference.
Aircraft interior lighting can also offer passengers a visual spectacle to wow them as they fly.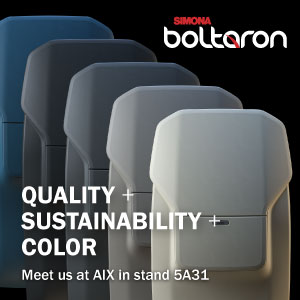 Icelandair, a carrier that capitalises heavily on its national heritage, uses this approach to excellent effect on its special Northern Lights-themed plane Hekla Aurora, which has an interior lighting scheme that mimics the Aurora Borealis for which the country is famous.
This addition boasts the added benefit of ensuring that tourists will have at least one encounter with the "Northern Lights", which can be frustratingly elusive on the ground. 
(Indeed, Iceland has proven to be a haven of whimsical passenger experience, even tapping lighting specialist STG Aerospace in 2018 to use a powerful combination of photoluminescent and LED technology to create new PSUs.)
Also striking is the way in which Etihad has implemented signature lighting for its Facets of Abu Dhabi branding.
Lighting can be a critical factor in whether or not a passenger enjoys their journey. Harsh and unwelcoming lights can make people feel stressed and unwelcome, while soft, mood-setting lights evoke calm.
Modern lighting technology means that cabins are not just bright or dark, and that airlines can apply nuance to their interior cabins. As passengers return to international travel post-covid, it is increasingly important that carriers prioritise wellbeing in their interior design, which sophisticated lighting can provide. Your author reckons that Eurostar would also be wise to consider doing the same.
Related Articles:
Featured image credited to John Walton