On a recent trip to Los Angeles, I decided to get adventurous when booking my travel home to Seattle, Washington. Allegiant Air doesn't fly to the Seattle area, but I had always wanted to try its product. After some creative work on Google Flights, I found a solution that would take me from Los Angeles to Eugene, Oregon with Allegiant before heading home to Seattle on Delta.
It did not hurt that the base fare was a shockingly low $10. Add in the mandatory fees and taxes and the price for a ticket alone was still a very low $44. Even with the Delta connecting flight back home to Seattle, I'd save $50-60 over a nonstop, plus the fun of a new adventure. I was sold!
As an ultra low-cost carrier (ULCC), Allegiant has a price point for everything: from seat choice to checked bags, Coke to carry-ons and everything in between, which can make booking on the website a chore.
Allegiant hits you out of the gate with a variety of escalating bundle options. Slow down, and do the math on what you need versus what you want versus something you might be able to live without, because the bundle may not always be your best value.
For example, I needed to check a bag on this trip. The cheapest bundle that included a checked bag added an extra $100 to the base fare. But the bundle included a lot of things I also didn't need: priority boarding, the most expensive seat choice on the plane, and the ability to change the ticket.
Instead I built up my own bundle à la carte: $9 seat choice, $29 for a carry-on (yes, Allegiant charges for anything that doesn't fit under the seat), and $28 for the checked bag. It saved me $34, with a final, "all-in" out of pocket cost of $110.
It's also worth noting that the airline's pricing model gets more expensive after booking. The same combo of seat choice and bags would have jumped 57% if I had added them literally five minutes after booking the ticket. If I had completely forgotten and added them at the airport, the cost would've jumped 75%. Ouch.
The flight itself was mostly uneventful. Check-in can only be done for free on the airline's app or via its website. I chose the latter and printed my ticket at the hotel. If you'd rather have an airline-printed ticket, Allegiant wants $5 for the pleasure.
Bag drop began inside the newly remodeled Terminal 1 at Los Angeles International Airport. The line was short and once my ticket was scanned, my checked bag was off into the bowels of the terminal.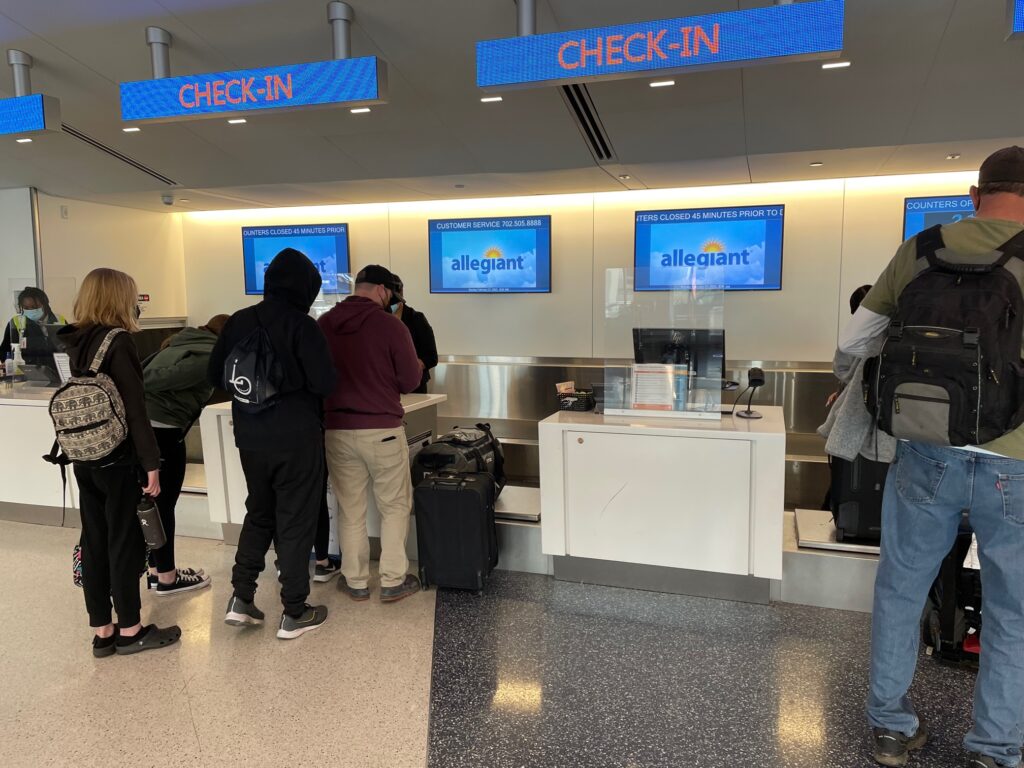 While Allegiant's headhouse is in Terminal 1, its gates are several terminals away in the new Tom Bradley International Terminal at the other end of the airport.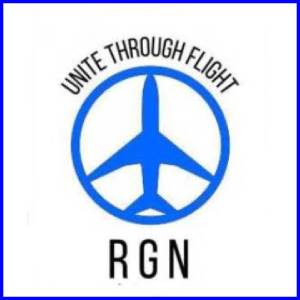 Getting to the satellite terminal isn't possible by foot, requiring a bus ride post-security to make the connection and then another 10-minute walk to the very end of the pier.
The airside views on the bus and the gleaming new terminal are excellent. But the adventure was a big time suck with a curb-to-gate time of 30 minutes. Had I pushed my luck with a last-minute roll-up like I usually do, or faced a backed up line at the TSA checkpoint, I would've been in trouble.
Boarding began on time with a seemingly inexhaustible list of various pre-board groups: military, parents with kids under two, frequent fliers, fliers who use the Allegiant credit card and have it on them (tough cheese otherwise, I guess), and on and on it went.
I boarded in zone two and settled into seat 24A toward the back of the Airbus A319 twinjet.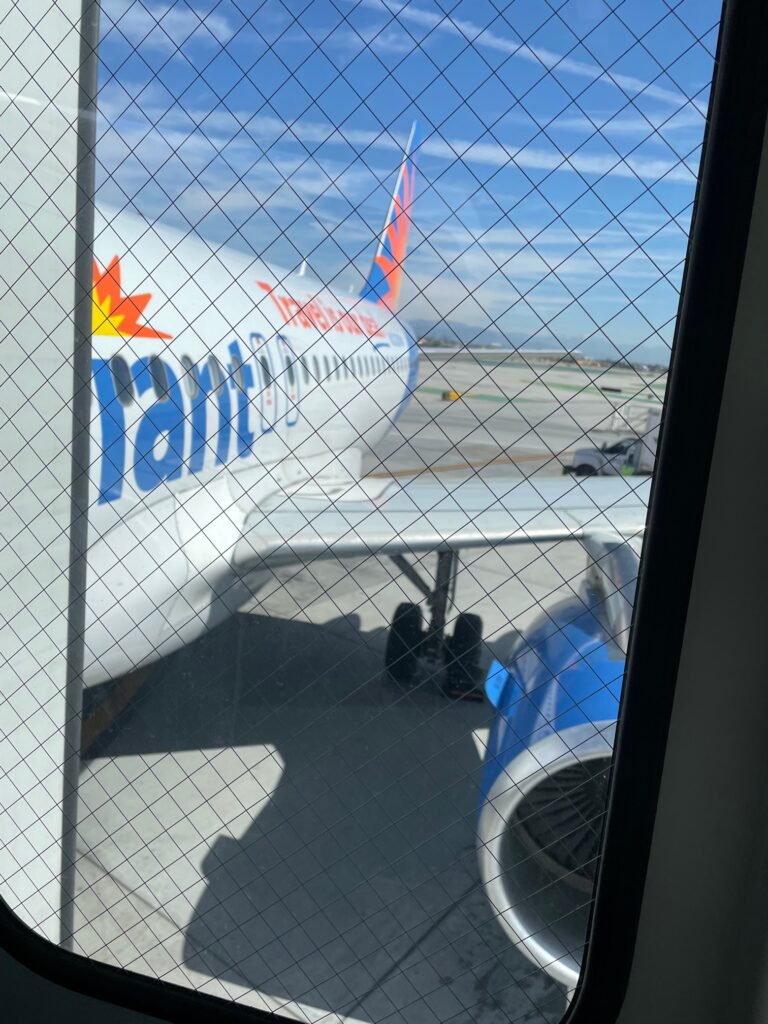 The all-economy 3-3 layout is not much to look at. A sea of blue pleather covering thin, fixed back seats greet you as you turn into the cabin. The view from the back looking forward isn't any more inspiring: drab gray thermoplastic seatbacks that taper into an unappealing bucket shape at the bottom.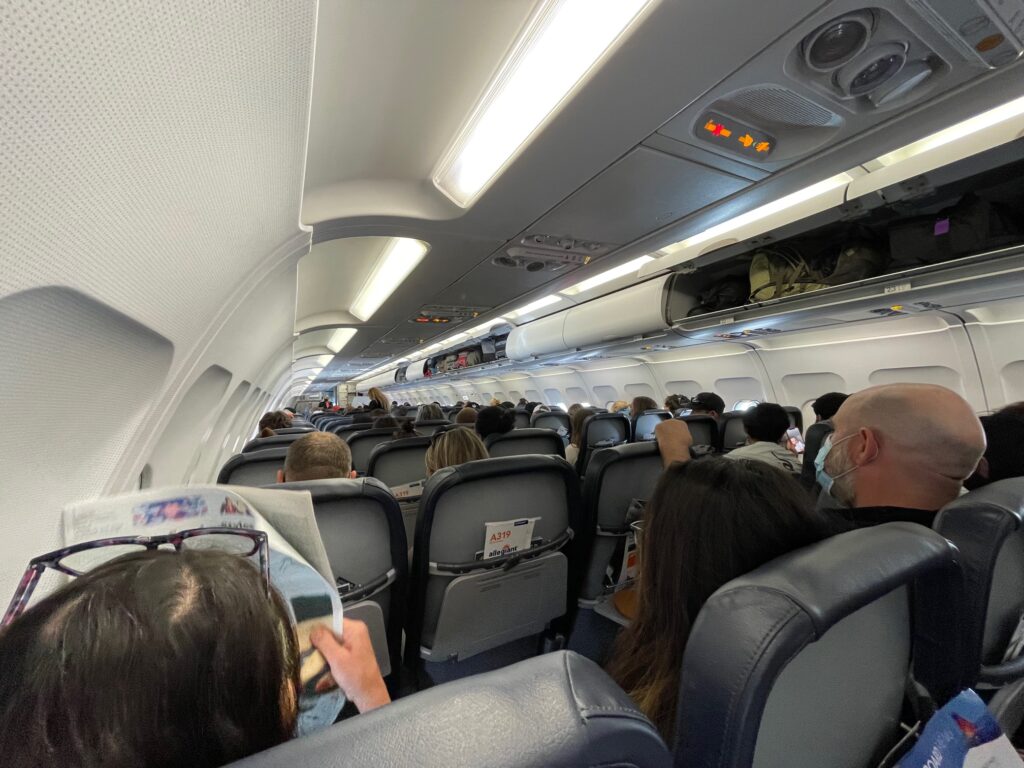 I personally didn't find the seat to be particularly comfortable, but at least the 30" pitch is better than competing ULCC cabins.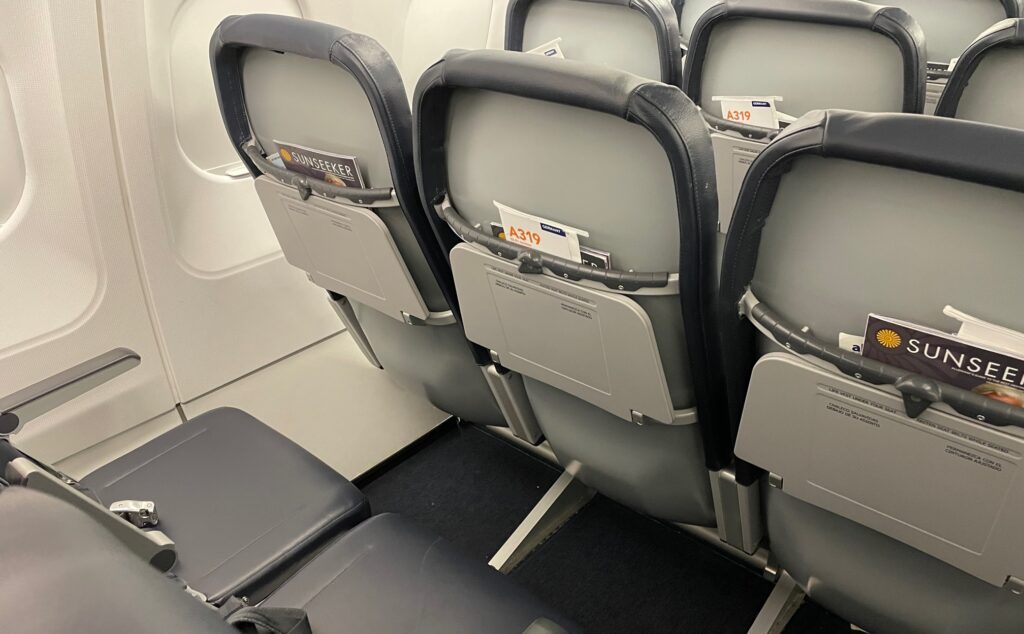 A table tray folds up into the seatback, and a small literature pocket above the table holds the airline's magazine (a nice surprise!), safety card, and credit card brochure. There wasn't room for anything else, though I guess I could jam my cell phone in there, which is more than I can say of many mainline carriers.
The flight took off on time, climbing over the stereotypically sunny and warm beaches of Los Angeles and set a course for cloudy, wet, and cool central Oregon. Flight attendants came through thirty minutes into the flight and offered food and drink for purchase. The airline has several buy-on-board options, ranging from $4 for a pack of Cheeze-Its to $11 cocktail/snack combos and even a $20 wine for two options.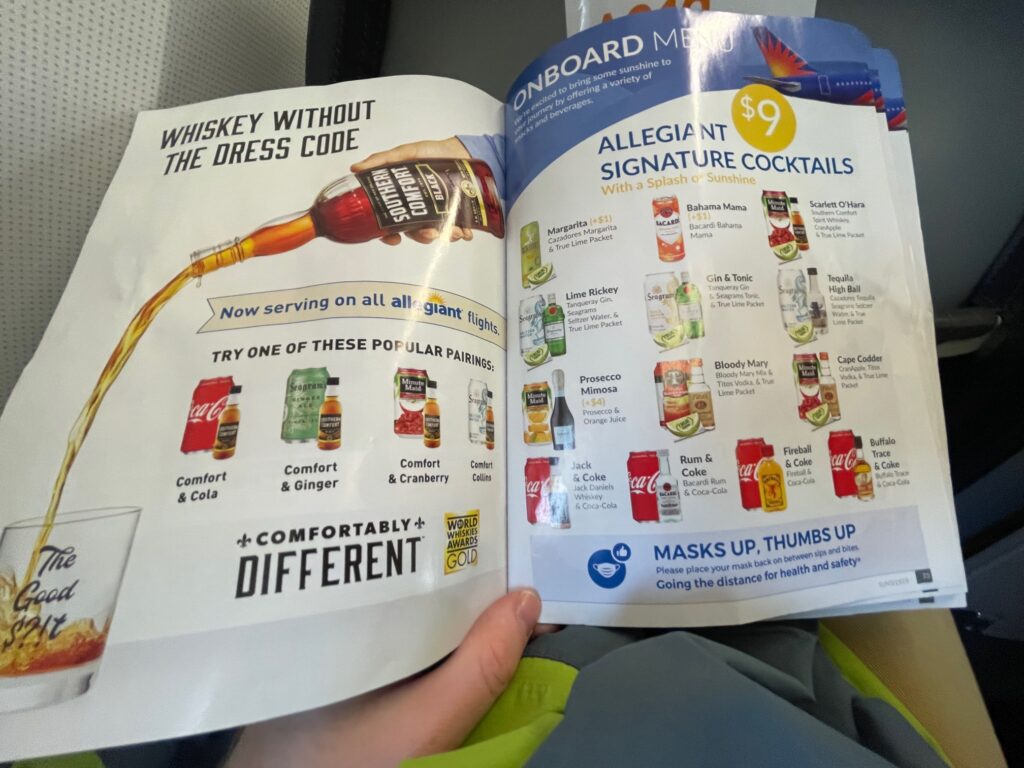 Allegiant's alcohol selection is extensive. There were several pages devoted to the options and combinations thereof in the inflight magazine. This is not surprising, I guess, given the airline's Vegas-centric model, but still.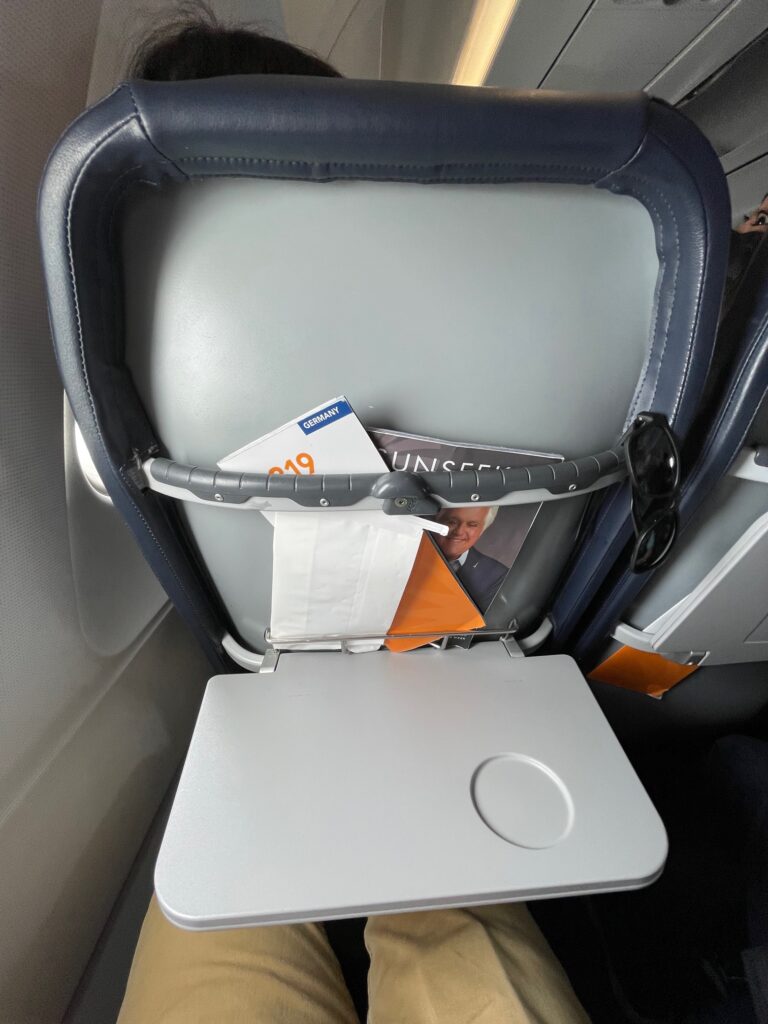 I decided to pass on the food or drink, and instead took a nap in lieu of much else to do. The airline has no inflight entertainment or Wi-Fi or in-seat power, and I planned badly having forgotten my charging bank back at home.
The flight landed ninety minutes later in Eugene with a sporty approach. My bag appeared an acceptable 24 minutes later on the carousel.
Allegiant may not be the most comfortable option out there, but it is frequently far cheaper than competitors. And that's what it hopes you remember when it comes time to book your next ticket. I know I will, at least after my back loosens up.
Related Articles:
All images credited to the author, Jeremy Dwyer-Lindgren