"Be kind, for everyone you meet is fighting a hard battle." The old maxim from Scottish author and preacher John Watson is a worthy principle to adopt even in the best of times. But as the world emerges from a crippling global pandemic, and we collectively come to terms with the staggering loss of life, lingering health problems and economic hardship created by both the disease and in some cases, our response to it, Watson's words take on fresh gravitas.
Frayed nerves and short tempers are in ample supply these days, not least of all in commercial aviation, where the number of unruly passenger incidents has surged in recent years, and cabin crew are expected to play mask-police in an enclosed tube flying 500 mph at 35,000ft during a time of great polarization in our society. 
Perhaps there has never been a better time to adopt kindness as a business model, or indeed a more challenging time. But that's just what US start-up Breeze Airways is determined to do. The budget operator, which took to the skies for its first revenue flight on 27 May 2021 — in the height of the COVID-19 crisis — describes its approach as one that merges "kindness and technology" to deliver 'Seriously Nice' nonstop service between secondary airports.
Using a fleet of Embraer E-190/195s, and soon-to-debut Airbus A220s, Breeze has been adding low-fare, point-to-point flights at a dizzying pace. Just last week alone, the carrier made Hartford, Connecticut's Bradley International Airport its fifth base of operations, meaning it will permanently house aircraft at the facility; hire local pilots, flight attendants, and mechanics; and fly new routes (its other bases are Tampa, Charleston, New Orleans and Norfolk, Virginia). It also added New York's Long Island MacArthur Airport (ISP) and Palm Beach International Airport (PBI) as its newest destinations together with eight new routes, bringing Breeze's total network to 42 routes. 
"Breeze is the fastest growing airline in America," declared Senator Chuck Schumer at Long Island MacArthur Airport, just before the carrier operated its first revenue flight on the ISP-Charleston route.
So, how does kindness as a business model translate at Breeze? 
For starters, by not following the playbook of certain ultra-low-cost carriers (ULCCs). "Some of the old ULCCs, we won't go into names, but we just see you will like your job better if your orientation is an expectation that you are the nicest people," explained Breeze founder and CEO David Neeleman.
Widely considered one of the most successful airline entrepreneurs in the world, Neeleman understands that crew members are essential brand ambassadors. When he founded JetBlue, he famously set the tone for an egalitarian corporate culture at the airline. And that same ethos is evident at Breeze.
When 'nice' is a focal point, it changes the dynamic for guests as well, and Breeze cabin crew report that they're seeing reciprocation from passengers.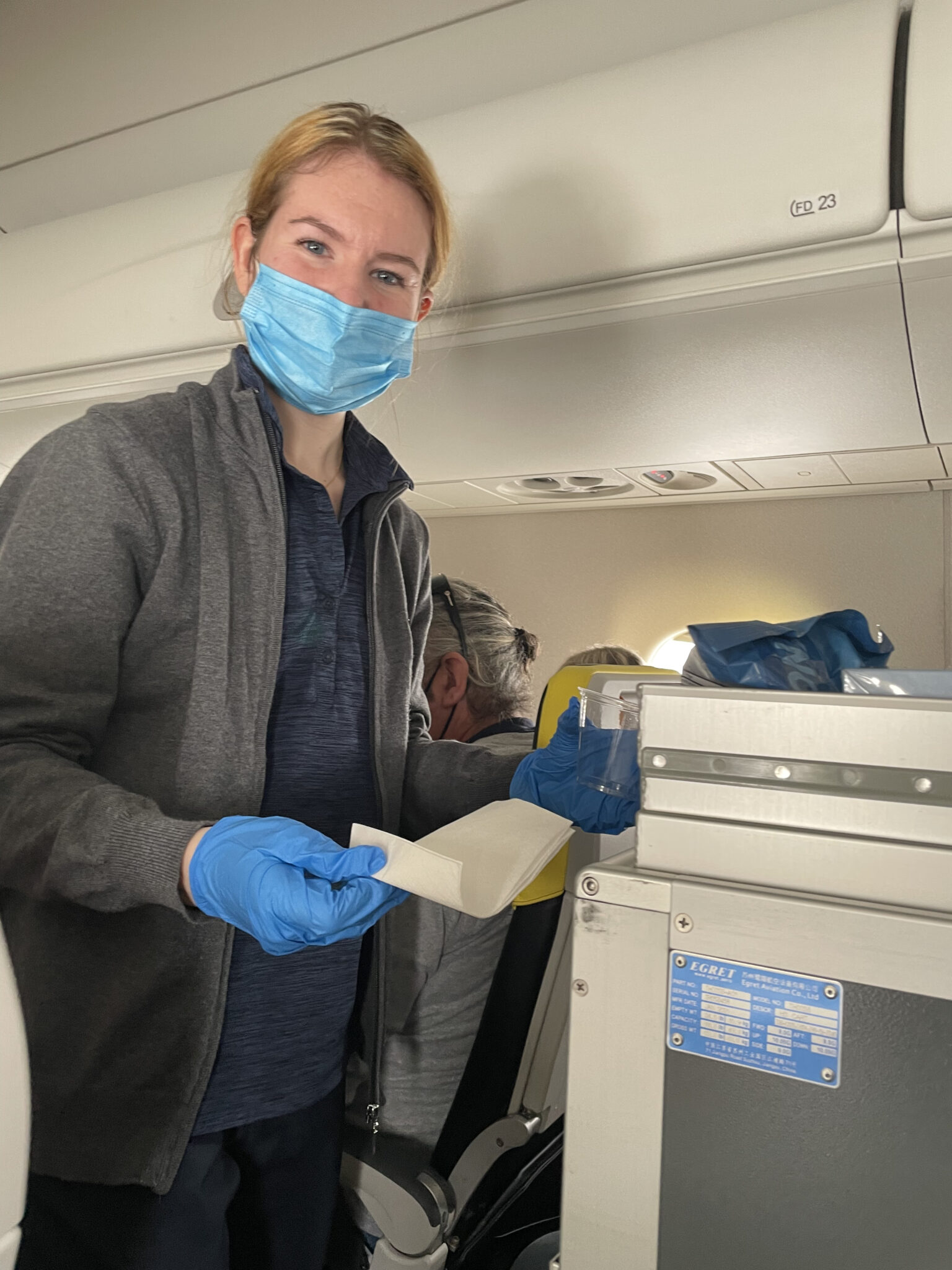 "If you rewind the clock 12 years ago, ultra-low-cost carriers really didn't exist in the industry. It was a 'low-cost carrier' and it was a 'legacy carrier' and then came along some of the ultra-low-cost carriers," noted Breeze CFO Trent Porter. "[H]opefully in a few years, people start calling us a 'nice low-cost carrier' that is differentiated from other low-cost carriers. It's a niche of its own that we treat the guests in the right way and that's really part of why we focus so much on being 'Seriously Nice' and what we are trying to differentiate."
Flying on the ISP-CHS inaugural as a guest of the airline, your author got a chance to see if Breeze's marketing matches the passenger experience. Outside of a cluster of Breeze executives and invited guests, most passengers onboard the E-190 were revenue-paying customers, some of whom had availed of the carrier's flash one-day sale in January of $35 one-way tickets. At that price, passengers were able to score a 'Nice' standard economy class seat pitched at 29″, and bring one personal item onboard. (One carry-on bag is included with 'Nicer' fares and is available for purchase with 'Nice' fares.)
Though Breeze launched service with rather mundane aircraft interiors, it has been busy updating its all-economy E-Jets with new Safran Z110i seats in a cheerful palette featuring two-tone grey seat covers with colorful accents. Tapping into a growing trend that sees airlines using contrasting fabrics to delineate the different sections of economy class, Breeze's 'Nice' standard economy seats are accented with yellow trim, while its 'Nicer' extra legroom economy seats up front feature a pop of red.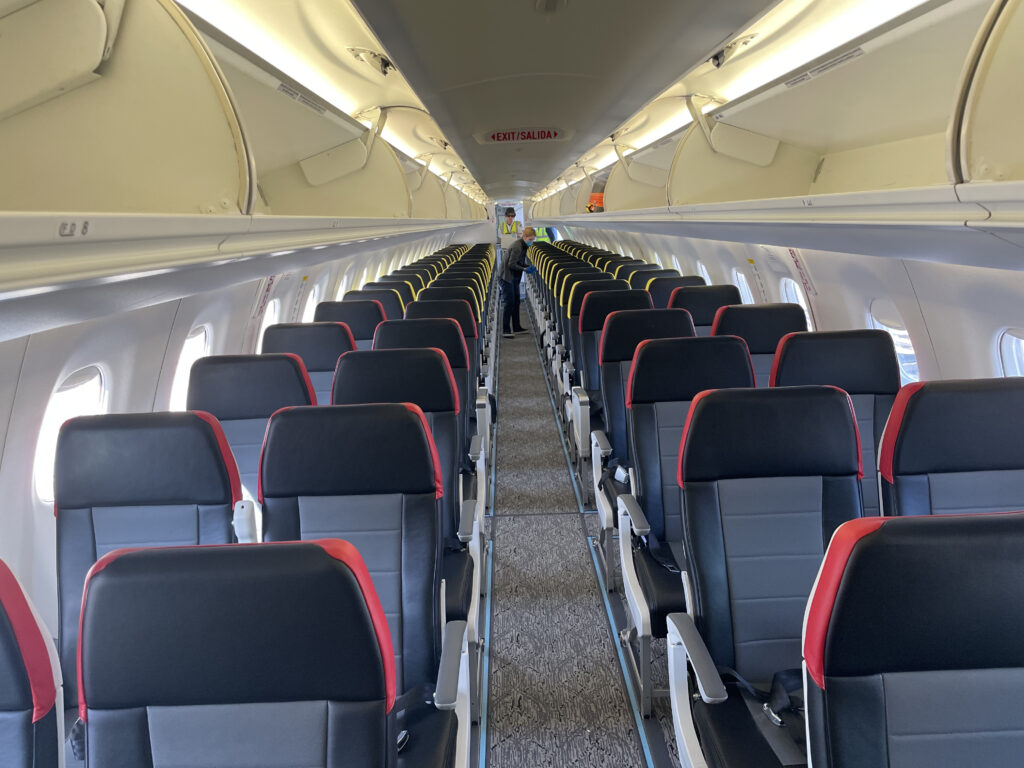 I was seated down back. Though the seats are definitely of the slimline variety, they were ergonomic and comfortable. And their faux leather covers felt soft to the touch.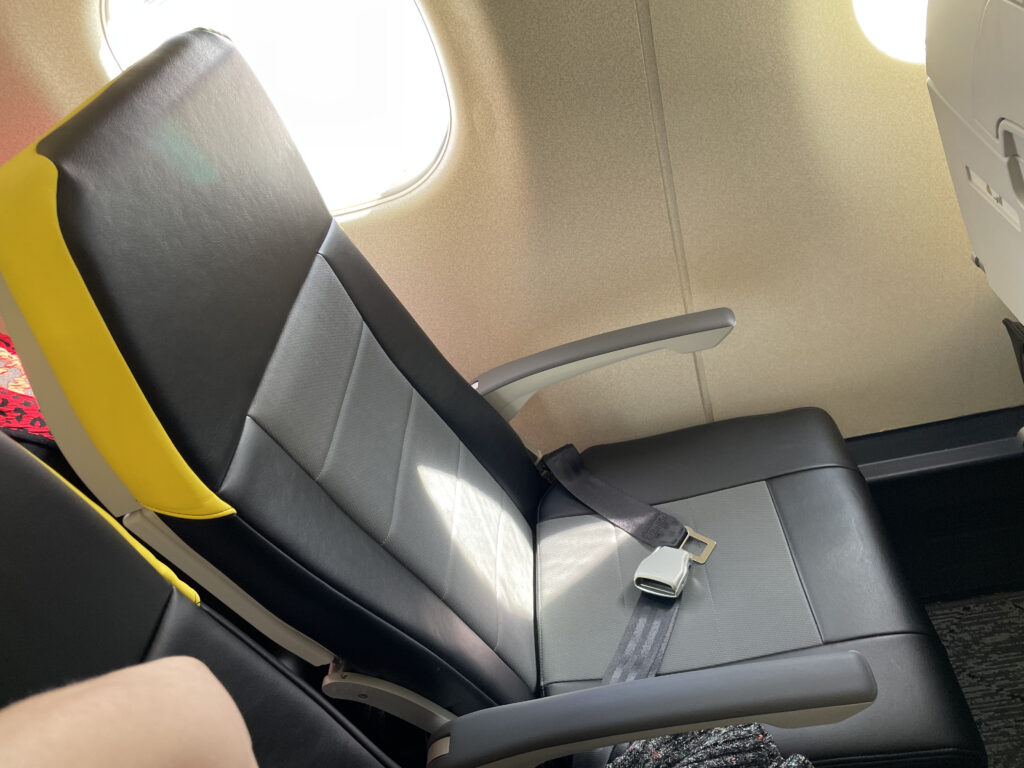 At 6ft tall, I had just enough legroom in the 'Nice' seat for this short, two-hour ISP-CHS flight. The lower seatback pocket in front of me was also fairly supple so my knees weren't pressed up against hard thermoplastic, as I have experienced on other low-cost carriers.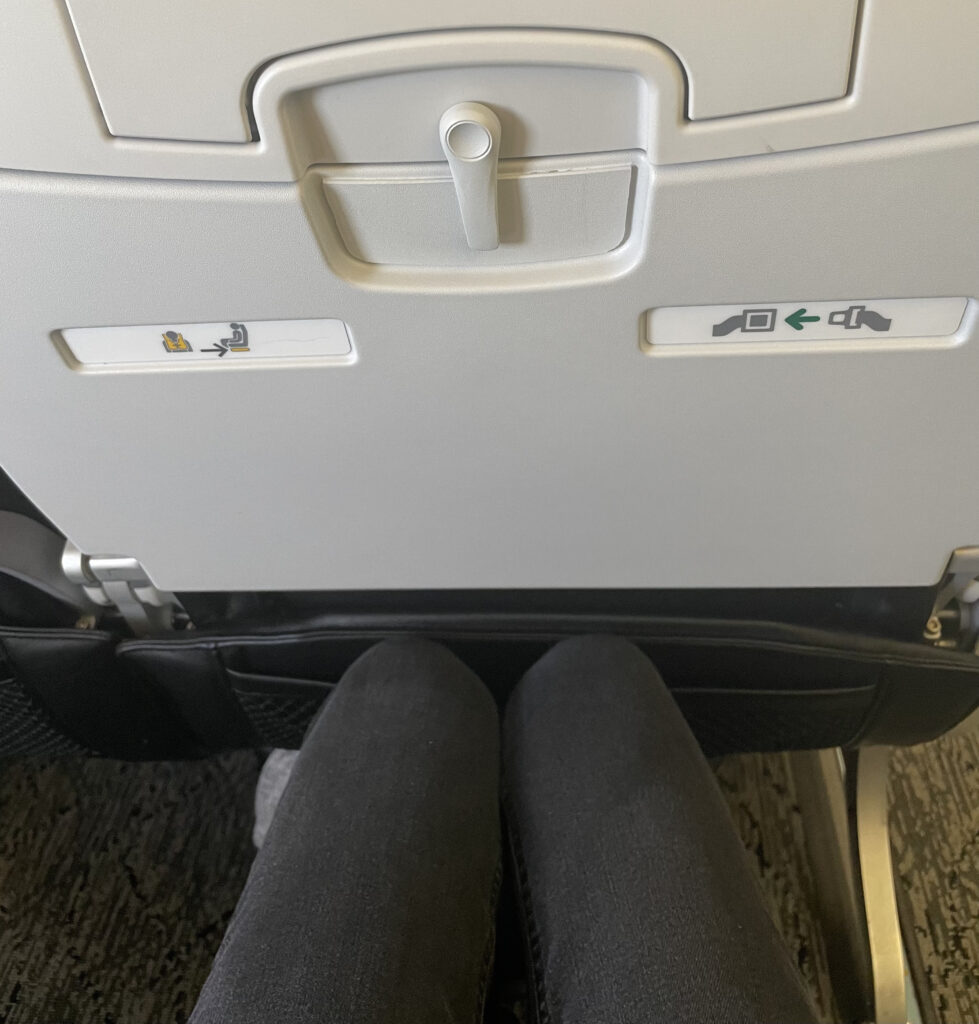 Unlike many other LCCs, the seats are not pre-reclined. You can, in fact, push back and relax.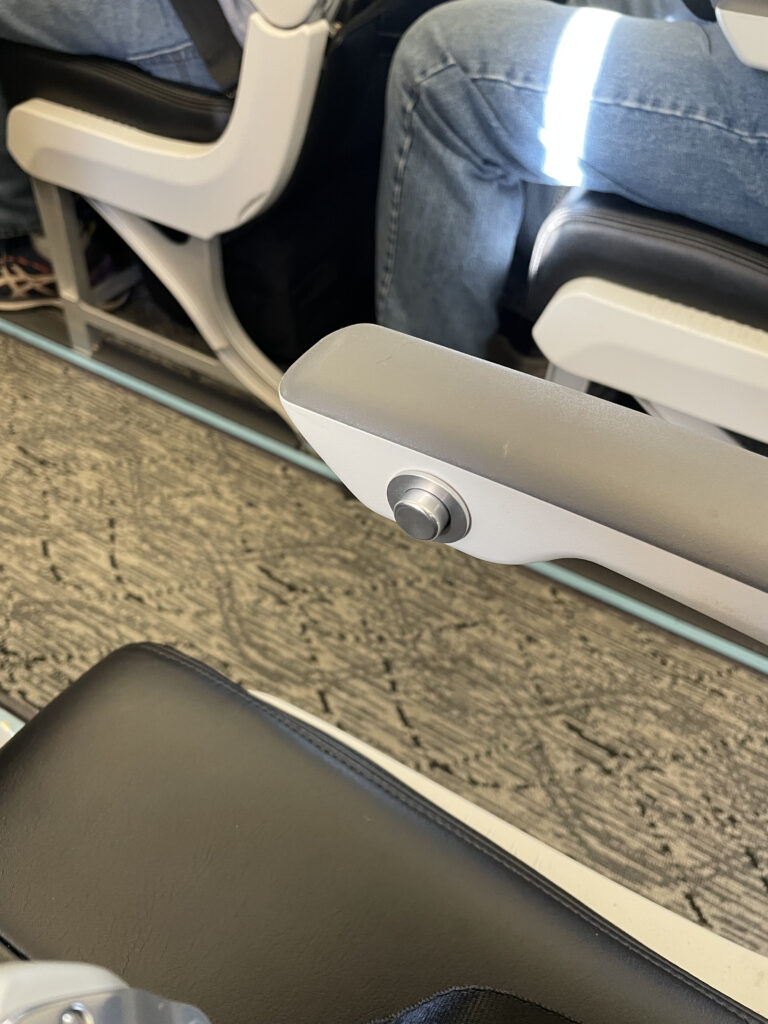 Each seat features a seatback device holder. I observed many passengers availing of its functionality during the flight.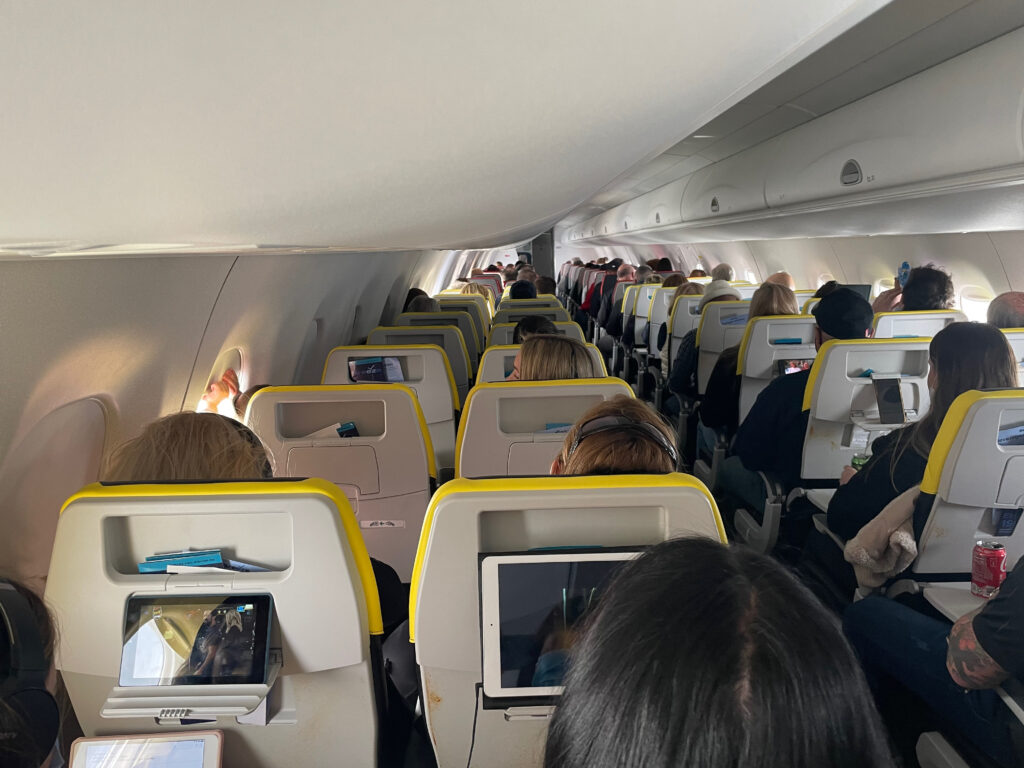 Breeze won't charge you for a complimentary cup of water, but snacks such as Pringles or M&Ms, and soft drinks will set you back $4.50 and $3.50 each, respectively. Alcohol was not on offer.
Conveniently, the carrier is offering 'Breeze Bundles' at a more palatable price for its beverages and bites. Given the current federal mask mandate, passengers must still wear masks onboard. Naturally, one can remove them when eating and drinking.
Notably, Breeze is now offering free 'BreezeOnboard'-branded wireless entertainment on its E-Jets via partner Anuvu's Airconnect IFE Pro product. The aircraft-powered server-and-WAP solution streams movies, TV shows and games to passengers' own devices, and the carrier has just started advertising its presence onboard.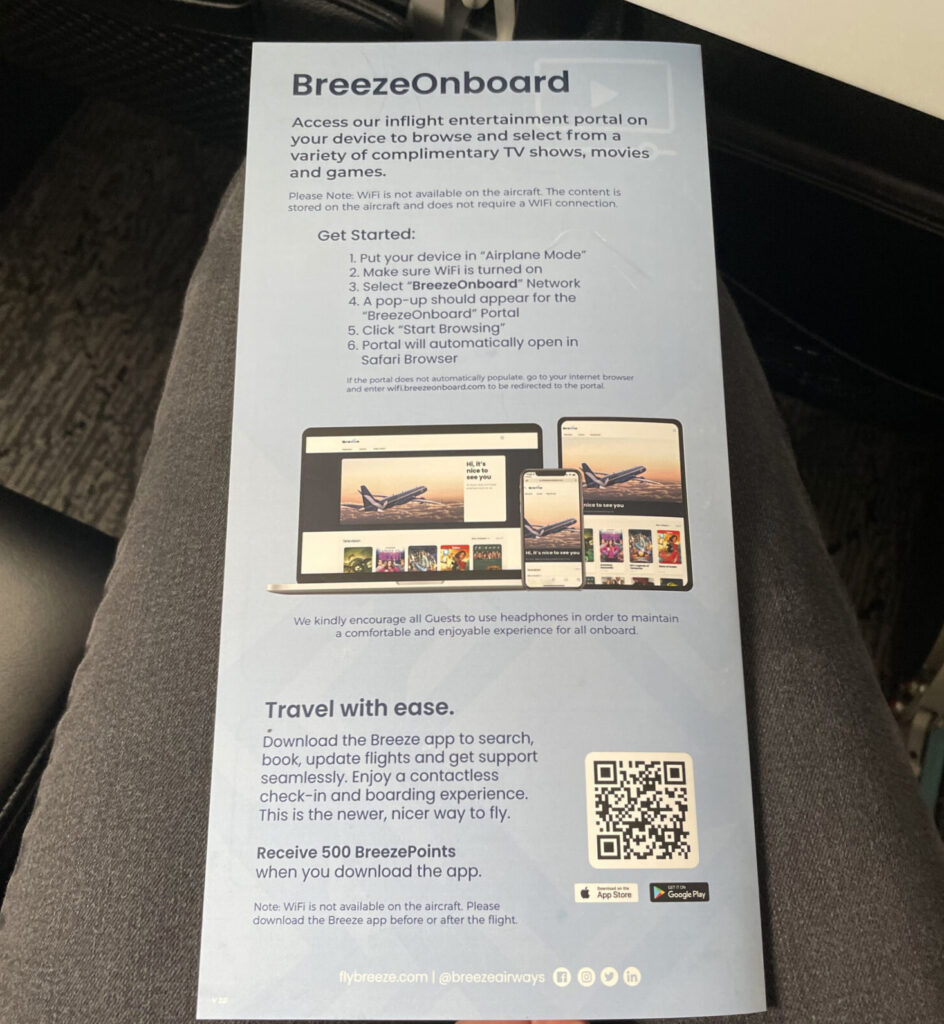 Management sees wireless IFE as a differentiator for the carrier, according to Porter. "[T]his is something that could set us apart with a business model, and it's a little nicer for the guests and so sticking with our brand of 'Seriously Nice' we are looking for those little tweaks, those little add-ons that really will differentiate us and set us apart."
"It's very economical too," said Neeleman, noting that Breeze didn't have to "tear open an airplane and run wires and all that stuff", though installing the Anuvu (formerly Global Eagle) system did require FAA approval through supplemental type certification.
Once seated, I easily and seamlessly accessed the entertainment on my iPhone.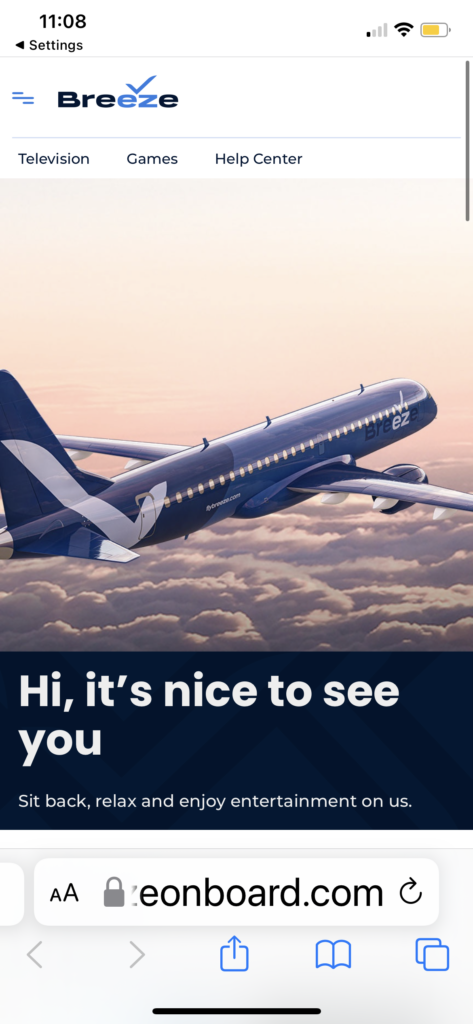 On the flight, BreezeOnboard served up a carefully curated mix of content, powered by Anuvu's Iris cloud-based platform. No power outlets are available to passengers on the E-Jets, nor is inflight connectivity provided (the two-class A220s are, however, in line for onboard Internet). But passengers who are eager for a bit of diversion can find it on the E-Jets with Anuvu's offering.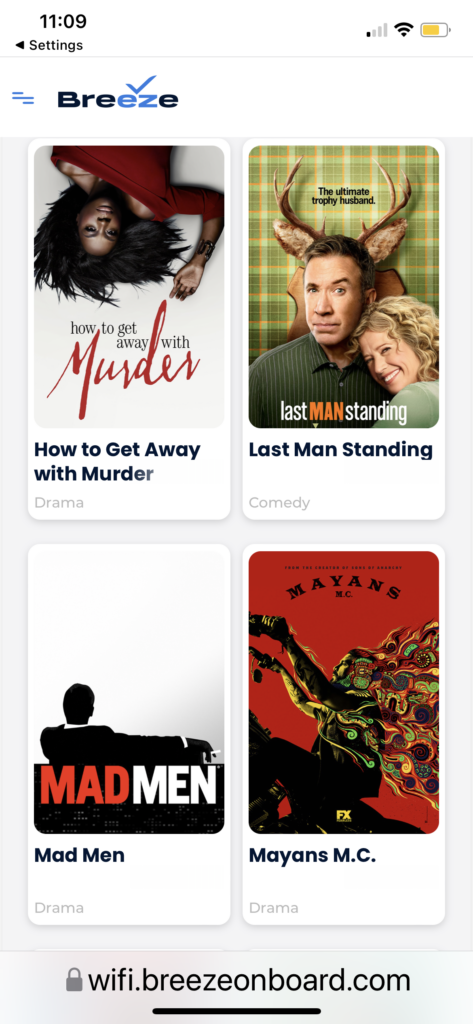 It wasn't long before the 'Seriously Nice' attitudes of the cabin crew — and those of fellow passengers — were tested in-flight. A small child needed to stretch his legs, and so his mother walked him up and down the aisle even as the attendants were trying to execute their tasks. When the child decided to walk on his knees at a snail's pace, the crew took everything in stride. There was no tension. No exasperated sighs. The crew remained patient and understanding.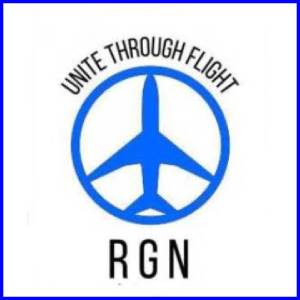 Porter later confided that Breeze's crew members are proving to be quite creative when dealing with small children. "So Hailey the flight attendant [on today's flight] actually told a story how she was on a flight where there was a little kid that could have been considered annoying but instead of treating him like that or the other passengers treating him like that, they actually took a hand glove, blew it up and made it into a balloon and he shut up the rest of the time and he wasn't banging on the seat, kicking the seat in front of him."
Enabling parents to entertain their children with kid-focused IFE content onboard is also smart.
"They have been a great partner to work with," said Porter in reference to Breeze's IFE provider, during an interview after the flight. "We've looked at other opportunities of working with them in the future. We are going to see how this IFE experience goes for our guests. So I was asking quite a few guests as they came off if they had the opportunity to experience it today. It was great to hear the feedback that it was so simple. Simple to use."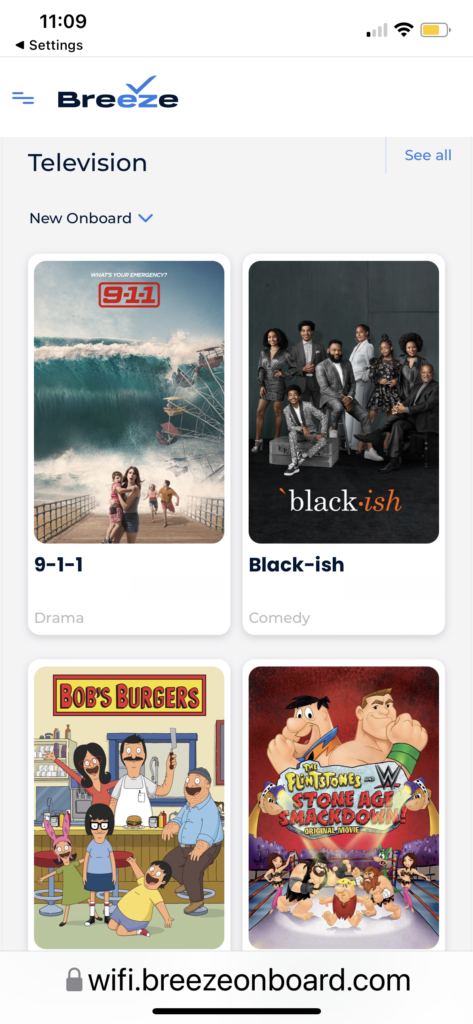 It will be interesting to see if Breeze's empathetic approach can be sustained as the carrier rapidly expands its network, and focuses on attracting leisure customers. But with a legacy of centering his businesses on being nice, its founder is certainly leading from the top.
Mary Kirby was a guest of Breeze Airways on its first revenue flight from ISP to CHS. All images are credited to the author, and as ever, all opinions are her own.