Breeze Airways has divulged new details about its hotly anticipated introduction of dual-class Airbus A220-300 service, and the concurrent launch of its first-class product which is based on Safran Seats' Z600 recliner.
Having issued an RFP to identify new airport partnerships that will facilitate A220 service in "the Americas, the Caribbean, and Western Europe", the US start-up intends to announce new longer routes for the A220 in the coming weeks. Starting in May, however, travelers will get the opportunity to try the new aircraft on 17 existing routes, which are usually flown by its all-economy Embraer E190/195s.
Until now, passengers have been able to select from either a 'Nice' or 'Nicer' fare when booking a standard economy or extra legroom economy seat, respectively, on flights plied by the carrier's E-Jets. When booking a flight on the A220, they will have a third fare option to select, the 'Nicest' fare, featuring a range of bundled amenities in addition to a first-class seat. Breeze is offering an introductory Nicest fare of just $99, though it is not available on all flights and must be purchased by end-of-play on 25 January.
Starting in May, the A220 will make an appearance on select flights from Tampa, Florida; Charleston, South Carolina; Norfolk, Virginia; Richmond, Virginia; Akron-Canton, Ohio; Louisville, Kentucky; Oklahoma, City, Oklahoma; Providence, Rhode Island; Tulsa, Oklahoma; Northwest Arkansas National Airport in Bentonville/Fayetteville; Huntsville, Alabama; Hartford, Connecticut; and Pittsburgh, Pennsylvania.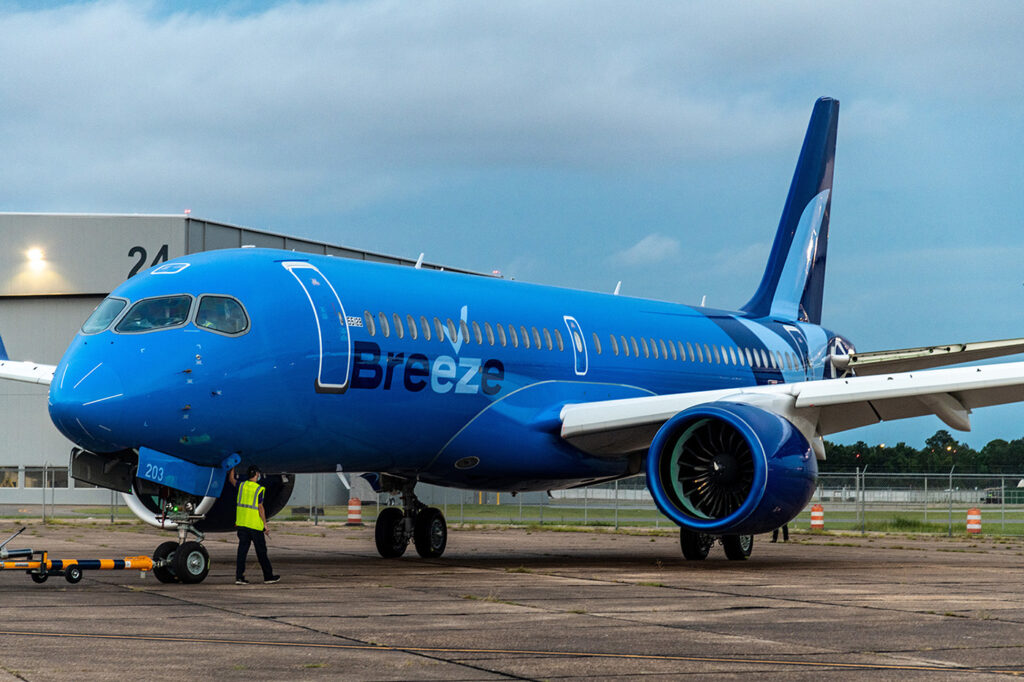 Last year, Breeze unveiled the first of its 80 Airbus A220-300s. The twinjet featured a surprising three dozen recliners up front — a very unusually premium-heavy layout — and the larger A220-sized economy seats down the back. But the carrier is adopting a dynamic seating plan for the aircraft type which can be customized for seasonality, or by route.
It says in a statement this week that its A220s will be outfitted "with between 12 and 36 first class seats" in a 2-2 configuration, featuring 39-inches of seat pitch, 20.5-inches of seat width and special features such as a footrest for added comfort. All seats are fitted with in-seat power and USB ports.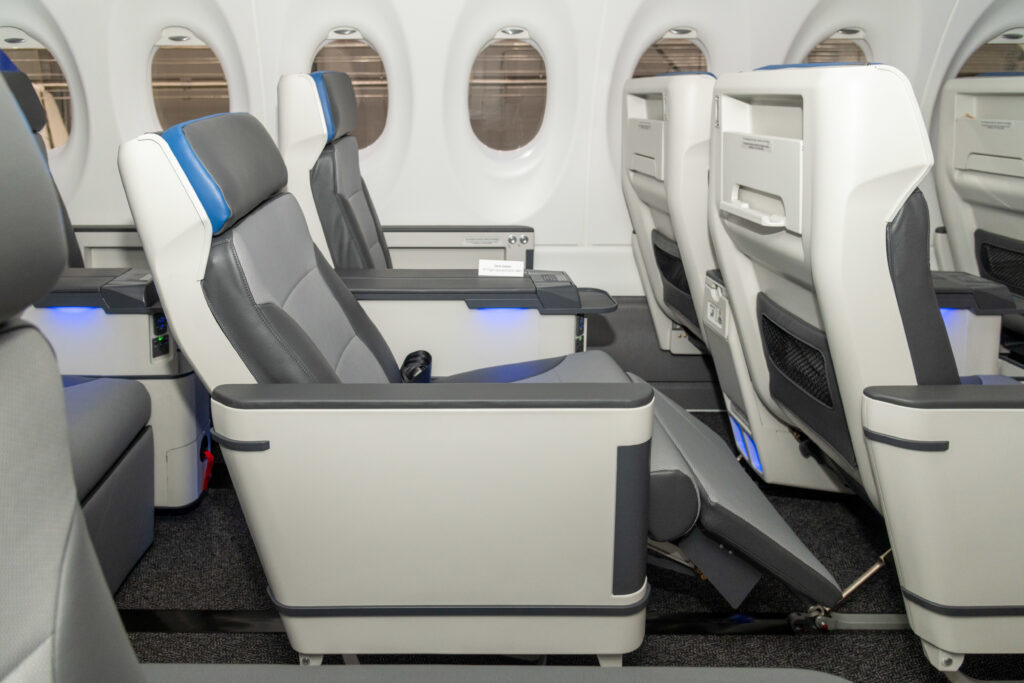 Depending on the premium layout of each individual A220, "a range between 10 and 45 extra legroom seats" will be offered, it says, and 80 standard legroom seats down back. The economy seats are based on Safran's Z110i platform.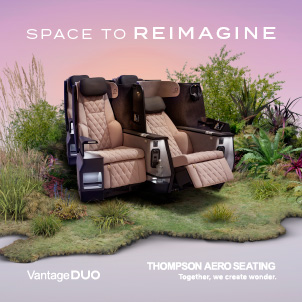 In-seat IFE will not be offered aboard the A220s, as Breeze is pursuing an all-wireless cabin for passengers' connectivity and entertainment needs.
"All A220-300 aircraft will be outfitted later this year with the technology allowing guests to seamlessly stream TV or movies, check email, browse the Internet and stay connected via social media or messaging apps while in-flight," says the carrier, though it hasn't yet disclosed its vendor.
Management previously told Runway Girl Network that Breeze was studying different inflight Wi-Fi models, with chief operating officer Tom Anderson saying: "Is it a tiered option? Is a certain amount of functionality free, something available to certain fare classes, or is there a commercial partner who would subsidize and help make it happen, the number of permutations are quite significant."
Breeze tapped Anuvu's Airconnect IFE Pro wireless entertainment solution for its E-Jets, which do not – and according to Anderson, will not – feature inflight connectivity.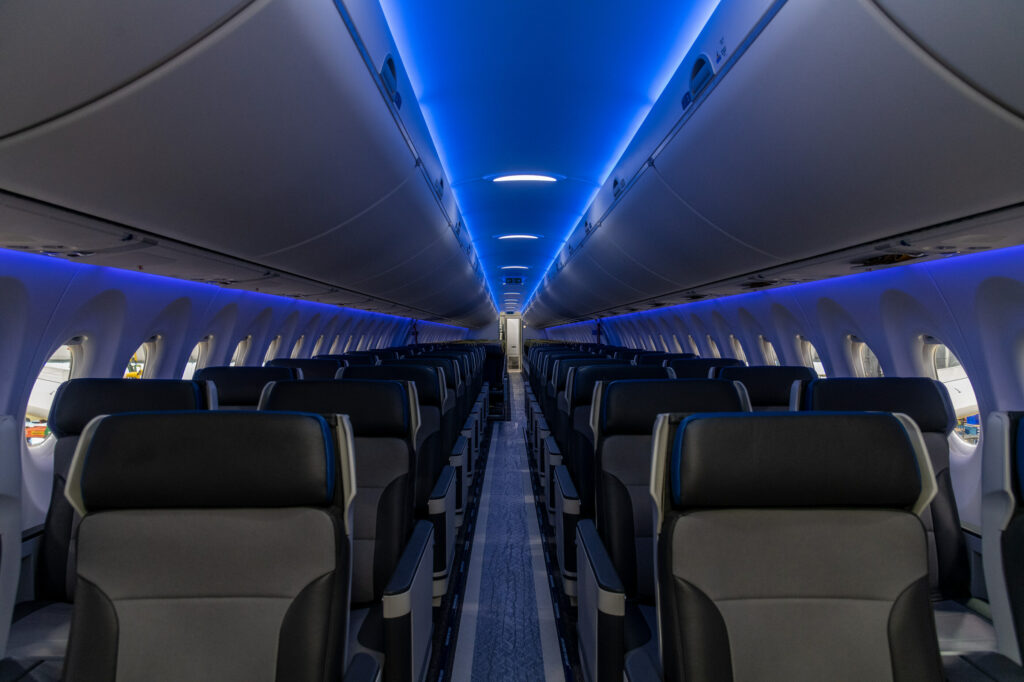 To determine which flights are operated by the A220, says Breeze, check to see if there is a "Nicest" fare option, which is only available on the Airbus twinjet.
Related Articles:
Featured images provided by Breeze Airways