After a week working in Dubai it was time to fly home to Seattle. Much like my outbound trip, Air Canada offered fares that were head and shoulders cheaper than the competition, including in business class. And so, I decided to treat myself to business for the return. The routing was Dubai-Frankfurt-Toronto-Seattle; this review will deal with the first leg.
Perhaps part of the reason why the ticket was so inexpensive was because it wasn't really all business class. The first leg between Dubai and Frankfurt — flown by Air Canada partner Lufthansa — was in economy. That was unfortunate, and almost caused me to bail until I saw the plane type: the increasingly elusive Boeing 747-400. Sold!
Entry to the United States required a negative COVID-19 test taken within three calendar days for vaccinated individuals such as myself (though new rules will require all inbound international travelers to produce a negative viral test within one day of departure starting 6 December). Thankfully, tests are extremely easy to get in Dubai and not terribly expensive: an in-hotel room test cost under $45US. It came back negative the following day.
Lufthansa has a dedicated micro-site for pre-clearing travel documents, which can be done 12-72 hours in advance of departure. I uploaded my test results and vaccination card a day before the flight and got the thumbs up within a few hours.
Check-in online was easy and uneventful, though the airport experience was a different story. Lufthansa and Swiss share a check-in zone, and the lines were quite long when I showed up at midnight for our 0200 departure. By the time I checked a bag, completed an in-person documents check, cleared out of the UAE, and got to the gate, well over an hour had elapsed.
Boarding began on time in a gate area much too small for the plane type. Economy class boarded by rows starting from the back, and I settled into seat 50A in the rear-most cabin ($30 to reserve in advance).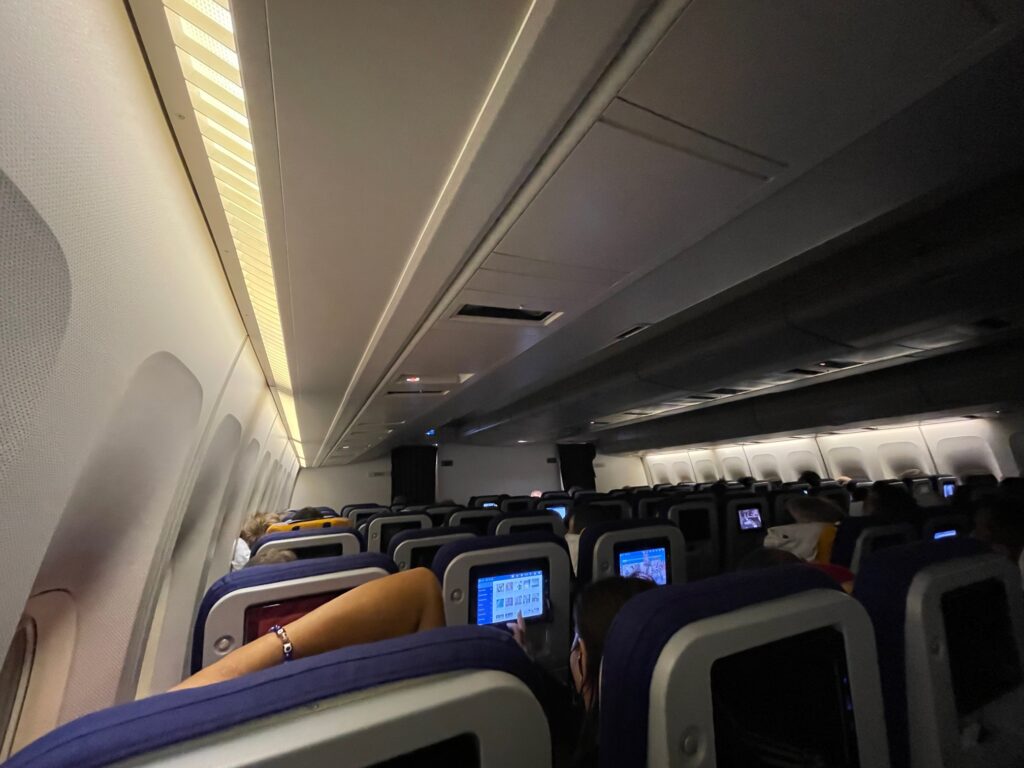 A thin, unpackaged blanket and pillow were ready on the seat, and headphones were distributed by the crew. Thanks to it being a 747 jumbo, I had no problem finding room in the overhead bins even though the flight was completely full.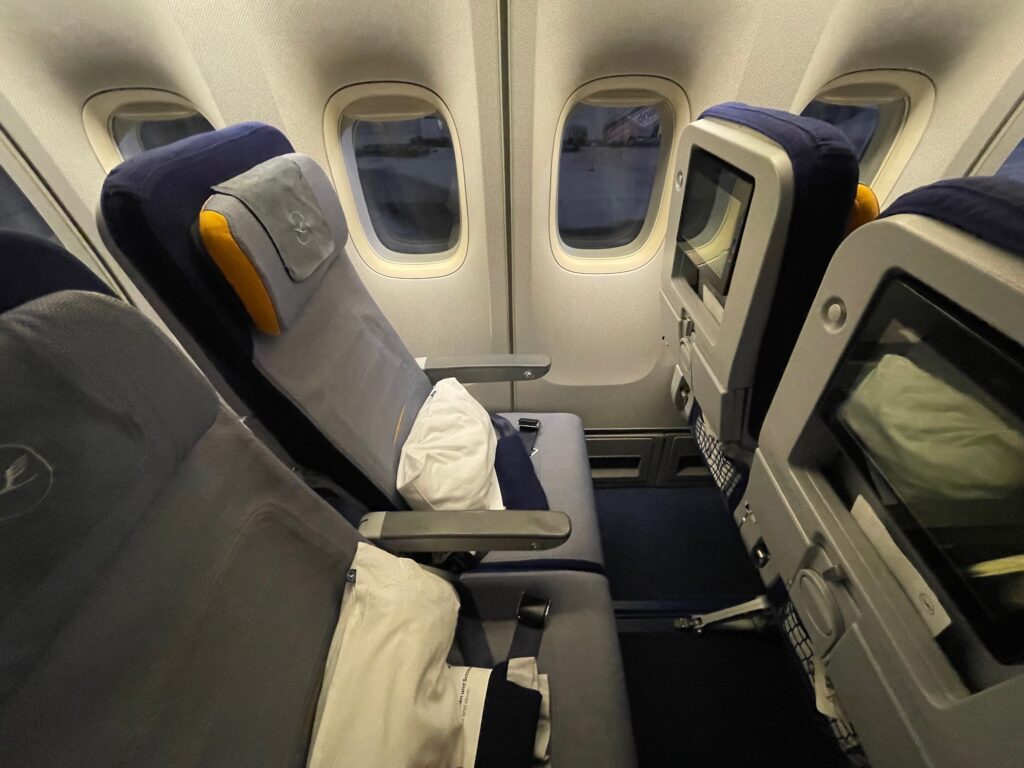 The cabin is arranged in a 747-standard 3-4-3 layout, and appears to have not been updated in quite some time. In fairness, Lufthansa had put the 747-400 out to pasture early on in the COVID-19 era, only to bring back a handful mere weeks ago as demand ramped up and it became clear the carrier's Boeing 777X order wouldn't be filled anytime soon.
Seat pitch is the oft-seen international standard of 31″, while width is a tight 17.5″. Window seats get a little more overall space thanks to the bowing of the side wall, probably adding two or three more inches. Each row has two international power ports, though neither were working in my row.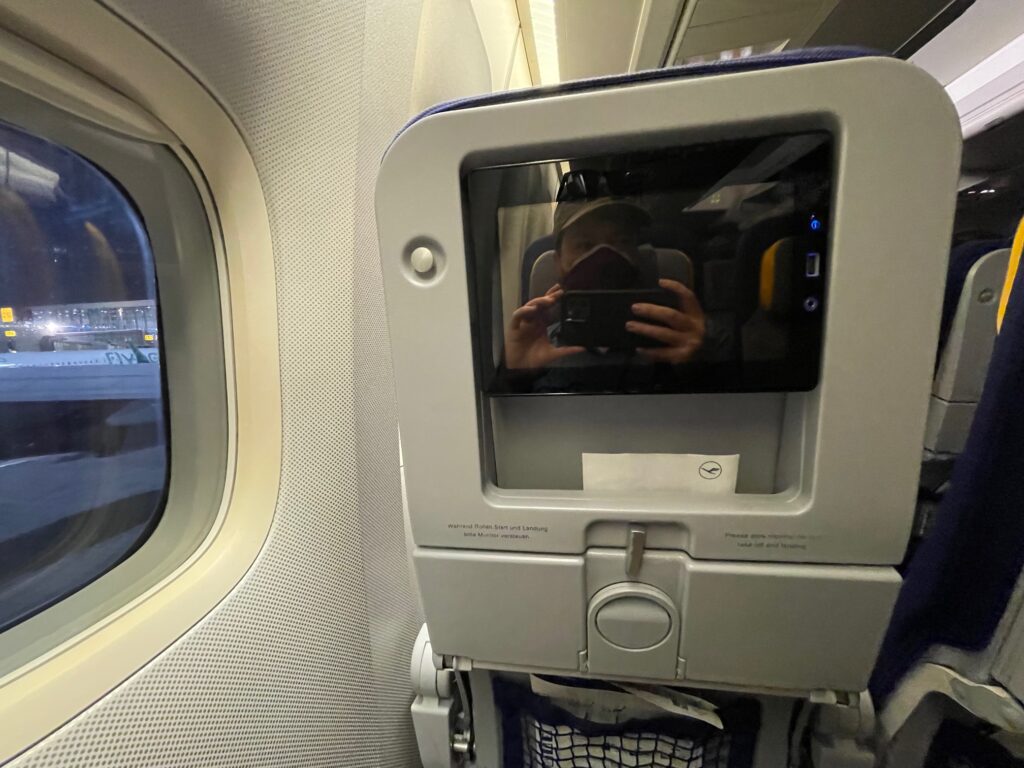 Being an early morning departure, I attempted to slide off into dreamland not long after takeoff. The adjustable winged headrests were a big help in getting some rest on and off throughout the flight.
Frustratingly, an early nap was interrupted by the first of two meal services, as the side wall cabin lights flickered on. Crews passed out a small snack sandwich and beverages. I wasn't very hungry and declined, but it appeared to be a plastic-wrapped meat sandwich of some sort. The affair took the better part of an hour before the lights mercifully went back out.
Between the two services and naps, I watched a movie on the inflight entertainment system. The ~8 inch touchscreen was reasonably sharp and clear despite probably not being all that new. It had a headphone jack and USB port, both of which operated without issue.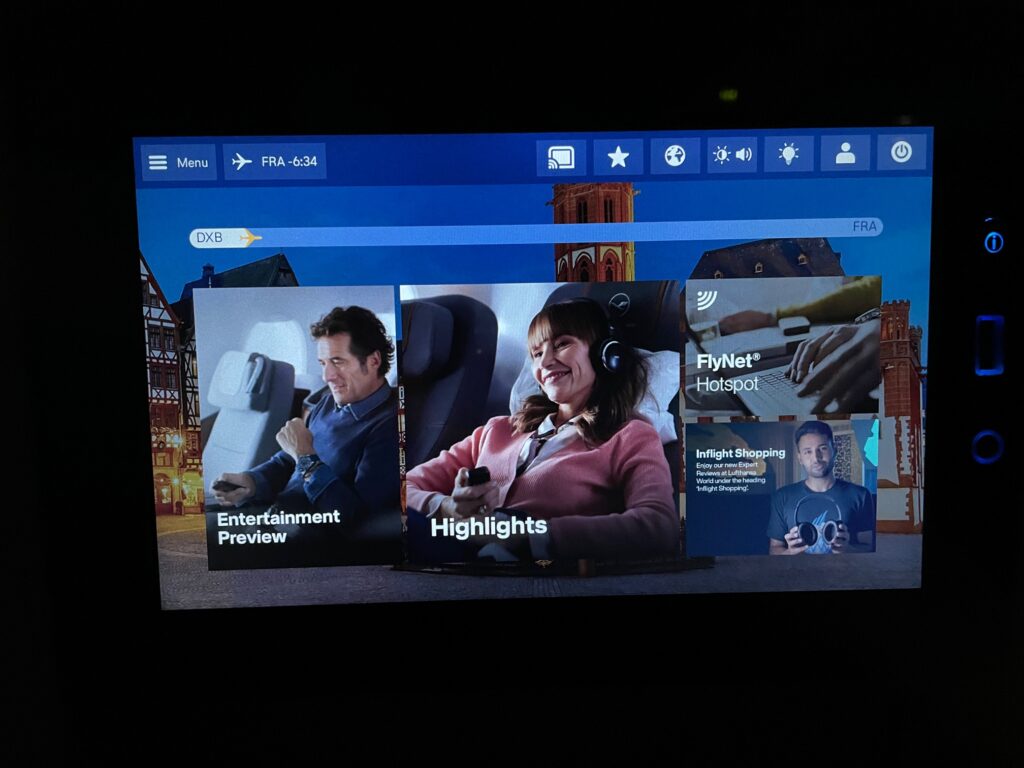 Content in total was decent but nothing approaching the vast supply of carriers like Emirates. Movie options topped out in the low 200s, TV selections at 50. I didn't play too hard with it, instead focusing on rest as much as I could.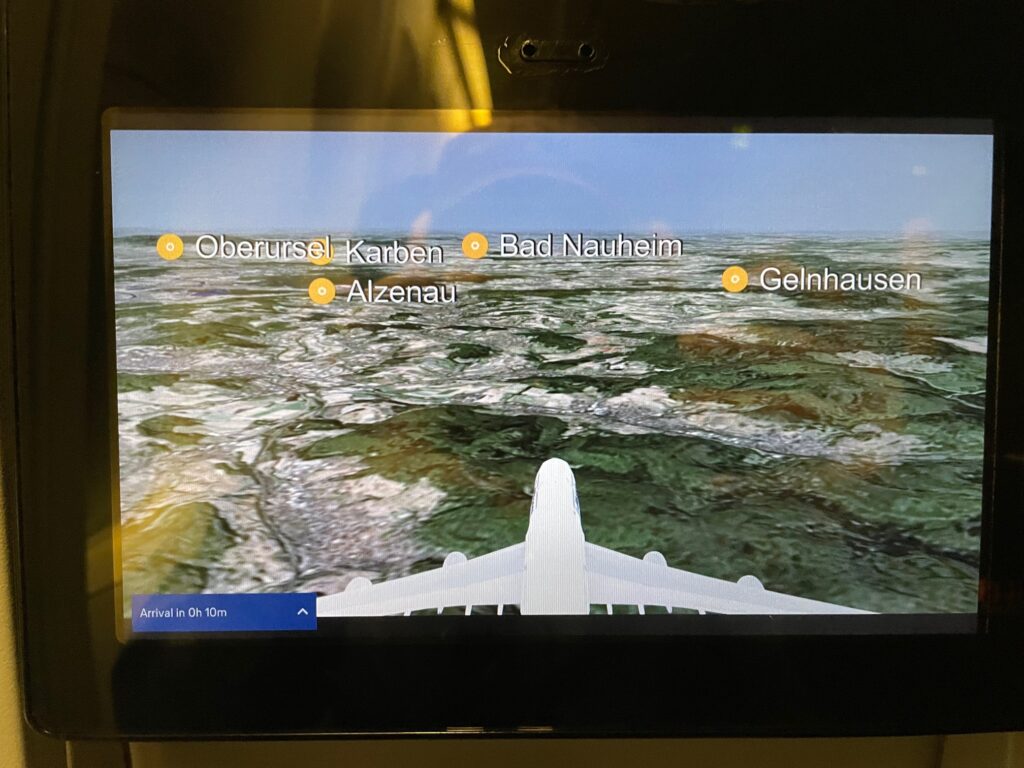 Panasonic Avionics-powered inflight Wi-Fi was also available. Prices started at $8 for chat only and scaled up to $34 for email and surfing. Folks with Lufty miles to burn could also buy Internet access via miles. Technically it was more like a data plan; speed throttles were triggered by data-use thresholds.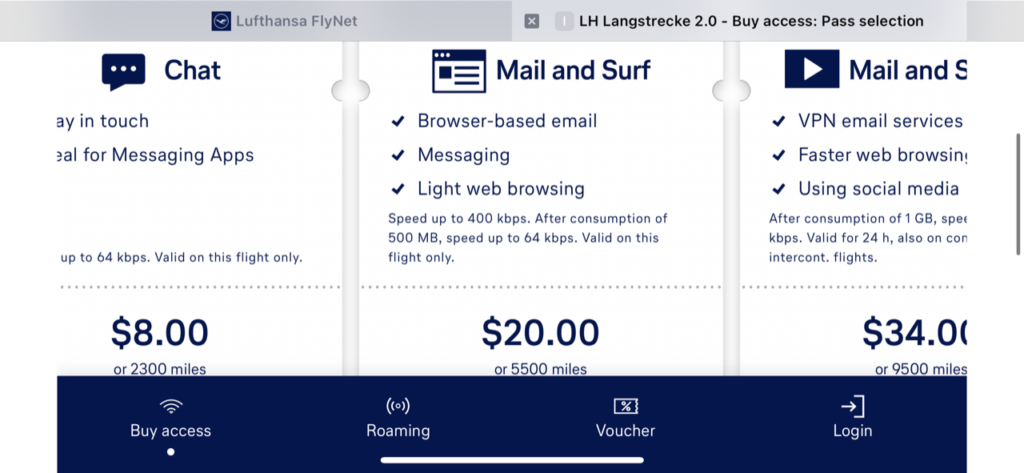 The more you paid, the more data you received. The mid-range $20 package, for example, promised speeds of up to 400 Kbps until 500MB were consumed, after which speeds were throttled down to 64 Kbps. I didn't try it.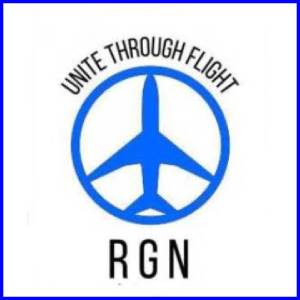 The lights came back on around ninety minutes before arrival, and breakfast appeared some thirty minutes after that. The hearty meal of eggs, potatoes and sausage was filling.
I slipped out to take a walk around the cabin while my seatmate was up, and managed to snag a brief aircraft tour from the flight attendants.
The 747 landed a bit behind schedule. Crewmembers deplaned the jet by section, and sometimes by individual row, by clearing them over the PA. I had my doubts about this plan until crews came through to make everyone sit back down until their row or section was called. I couldn't tell you why we did it, or if it achieved the intended outcome, but it happened.
Were it not for my love of the venerable 747, the flight would have been unmemorable (which, given the challenges of flying internationally these days, is AOK). But the 747 never gets old for me. Lufthansa even gave me a business class amenity kit as a keepsake.
Related Articles:
All images credited to the author, Jeremy Dwyer-Lindgren