Portable battery-powered and aircraft-powered Wi-Fi boxes have become — pardon the pun — somewhat of a fixture on LCCs and indeed other operators that want a quick and easy wireless IFE and e-commerce platform for their passengers.
AirFi, Anuvu, Bluebox Aviation Systems, Immfly, Inflight Dublin, and Lufthansa Systems are among the providers that have carved out meaningful business for their portable and semi-embedded Wi-Fi units, some by white-labeling other companies' server-and-WAP hardware. But myriad other solutions are on offer from a wide variety of stakeholders.
Now an Israeli start-up company called WhileFly has thrown its hat into the ring, insisting that its inflight server, which is already contracted for aircraft, is "the world's most powerful". Notably, WhileFly's model sees it offering free hardware, software, content and maintenance to airlines, and sharing a portion of the revenues generated by the advertising and e-commerce activities facilitated by its box.
"Our UI looks different. The AI algorithm understands the passenger profile during the flight, analyzes it in an offline environment (not easy at all), and offers content based on his/her profile. Games, video, content based on the destination all are mixed in a big bucket and pushed to the passenger per profile," says WhileFly CEO Yosi Avraham.
"Our advertisement platform enables advertisers to run A/B testings, modify the campaign on the fly (or actually when landing) and monitor everything like it was published on Google or Facebook. We will soon enable duty free stores to run and manage their own store inside the airplane including updates of prices and inventory."
He continues, "Our billing system supports offline credit card stores and forwards in a military-grade secured manner. Recently, WhileFly was awarded by the Israeli MOD for our encrypted solution which will be part of the intelligence forces' usage as well (and no, they are not going to use it for a credit card but for something much more sensitive). All these are very unique to WhileFly, drives passengers to take action and for us, it is an enabler to generate revenues and share them with the airlines."
In RGN's interview with Avraham below, the company CEO shares more details about WhileFly's hardware, business model, and growth plans.

RGN: What makes the WhileFly inflight server "the world's most powerful"? What are its storage capabilities? And what can it do that other servers cannot? Does WhileFly own the patents (and if not, are you licensing from the patent holder for the commercial inflight market?) Who manufactures the hardware?
Avraham: WhileFly developed and manufactures its own servers. It is a combination of low power CPU with a unique software (S/W) implementation that overcomes the massive usage of passengers at the same time. Our technology is not patented yet (we are in process) but we can say that it is a totally different way to present web pages on mobile devices which looks like a regular web page but far from being as such.
When we started, we used the regular method of serving HTML pages to passengers and we immediately found ourselves blocked at around 50 concurrent users. CPU was hot, power was drained fast and a 100Wh battery lasted for 3-4 hours. It did not help even when we increased the CPU and memory; rather it drained the battery more.
So we have built a new architecture. It was measured with over 150 concurrent users inside the airplane. I remember I could not believe the results when I was inside the airplane monitoring the CPU usage. A single-core usage with 3% overload and passengers were served immediately.
With the success, came the appetite. We have decided to invest in this low cost and low-power platform thanks to our unique S/W technology which enables us to present the lowest possible cost of server with the maximum time using only two batteries of 49Wh each.
The second bottleneck is the access point. Previous AP could perform around 300 Mbps which is a real limit if you consider HD of 3-5 Mbps per stream. We have solved part of it with a better gain antenna and S/W manipulation but the breakthrough is coming in the next months with the release of our new board that includes WiFi 6 with 4×4 MIMO (multiple input, multiple output). This with other improvements yields an effective 1.2 Gbps per airplane.
Storage capacity is 2TB and I don't believe it would be any concern in the next year or two.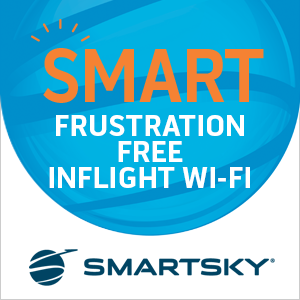 RGN: Are you offering the server in standalone form to industry (for various IFE applications outside of a contained portable Wi-Fi solution)?
Avraham: WhileFly provides a 360° solution to airlines. A hardware + content + portal branded with the airline logo and color. We work together with the airlines to find the right content fit. Airlines are responsible for the operation marketing inside the airplanes.
RGN: Regarding the WhileFly server-based portable Wi-Fi solution, how many boxes are needed to adequately support streaming content to a narrowbody's worth of passengers (one? two or more?)
Avraham: Only a single box. with the WiFi 6 we can support even 4K movies for a full capacity aircraft.
RGN: Am I right in saying that you're offering both battery-powered and aircraft-powered systems? Are the WAPs contained in the box, or positioned elsewhere in the cabin?
Avraham: You are right. The system is either powered by the aircraft (a minor STC modification and approval is needed) Or it is powered by two batteries. WAP is inside the box. We prefer simplicity.
RGN: EASA has flagged some safety concerns about battery-powered portable Wi-Fi units. How is WhileFly addressing these concerns from a design-perspective (and does it need to make any changes)?
Avraham: We are more conservative than the regulation. We don't allow any charging (even when the airplane is on the ground) of the batteries while onboard.
We have no problem taking them out. It is less than 10 sec and we provide a quad battery super-charger (we developed) to the airlines so it can boost the time it takes to charge the batteries.
The replacement of batteries is very easy as can be seen in the video [below]. You press the door and it falls, then you take out the batteries and replace them with a charged one. Our hardware is smart enough to manage the batteries and switch between both of them. It is also using S/W algorithm to extend the time of usage and extends the life cycle of the batteries.
RGN: Some portable Wi-Fi providers are pursuing connected solutions, including over Iridium NEXT satellites. Is WhileFly offering any lite connectivity with its solution? Is a connected experience forthcoming? And what would this kiteline of connectivity support (news updates, weather, messaging, telemetry, etc)?
Avraham: We are an Iridium VAR and with the new board that will be added soon to our servers, we will additionally add an iridium transceiver.  This will enable WhileFly to offer online credit processing and booking of taxi, last-minute hotels, and other online required services. We don't think it will be wise to open the connectivity for passengers. We evidence too many failures in the industry of those who tried to offer it. Our platform is hybrid. We load the pictures and content of hotels and other attractions before the flight and only use a very narrow compressed text file to perform transactions. Passengers feel like they were connected to the Internet with high-bandwidth connectivity which is far from being the case. Iridium NEXT is not a preferred option for WhileFly. We will take a different route in a later phase.
RGN: Are you offering a moving map with this solution? What software is offered as part of the package?
Avraham: No moving map at this phase. We have not found a business model to justify this investment.
RGN: Have you entered discussions with any airlines? What demographic are you targeting – ULCC, LCC, other?
Avraham: We are already operative today. We jump during the COVID crisis from seven airplanes in contract to more than 80 and we are trying to overcome the pipeline while talking with other airlines in parallel.
Our focus is LCC and domestic flights. Airplane size of 75 to 220 pax is our comfort zone. We do not play where there is another in-seat entertainment system in the airplane.
RGN: Has WhileFly forged partnerships with any content service providers? Are you looking to go direct with airlines, work with CSPs, both? What about retail partnerships to drive ancillary revenue for airlines? 
Avraham: All we can say is that we already work with the biggest companies that offer API for such services. In some territories where language is a key factor, we are working with the local "Netflix" type of companies. All happy to collaborate with us.
RGN: Can you support PCI-compliant credit card transactions? Will the streaming entertainment be accessed via an airline app, or are you offering it app-free via browser?
Avraham: We don't believe in apps. Simple because passengers are not willing to install them and on the airplane, if you don't have Internet connectivity you can't install it. So we made it a simple as possible to connect. Just go to the "FREE-WIFI" access point and connect. You will be directed to our portal.
Our credit card processing works differently as explained above. The simple answer is yes, it will be a PCI complaint once it gets to the gateway of processing. The technique of getting there is different, however.
Related Articles:
Featured image credited to istock.com/FG Trade