Toyota Boshoku — the boshoku translates as "textile" — is part of a complicated warp and weft of corporate mergers and name changes that also includes the now-separate Toyota Motor Corporation and Toyota Industries, and is part of the Toyota Group.
As a result, it's perhaps unsurprising that the company's historical focus has been in automotive seating, interiors and components, but in recent years it has broadened its capabilities into rail and air travel, with its 2019 economy class seats for All Nippon Airways' domestic fleet of 777-200 and 787-8 aircraft perhaps the best known in the industry outside Japan.
Runway Girl Network sat down with Richard Chung, the chief of Toyota Boshoku's Interior Space Visioneering Center, following the RedCabin interiors summit, who explains that "ANA came to us as they wanted Toyota's high quality seat supplier, who can also provide better comfort. It has been a great partnership so far. While our seat does not look dramatically different from other seats, I believe the ANA passengers can testify [to] better exit comfort at the end of journey. The seat has evolved a little by little, and we have introduced seven iterations of the seat so far."
Establishing a modern economy class seat, especially with a local customer, is certainly a smart way to enter the industry.
But with three new thought-provoking space and comfort concepts shortlisted for the Crystal Cabin Awards, including a three-segment economy product called Positively Economy, a premium-plus concept called Layered Rhombus, and the capsule hotel-inspired Cloud Capsule Concept, the company is on the move when it comes to innovation, especially in premium cabins.
One piece of premium cabin work on which it might draw brings us back to 2014 and the introduction of the Hokuriku Shinkansen, the new bullet train line to Kanazawa in central Japan. Toyota Boshoku developed the new Gran Class (equivalent to first class) seat for the new trains designed for this line, which maxes out at between 2.5 and 3.5 hours for the Tokyo-Kanazawa run, depending on how many times the train stops. Later extensions to Kyoto and Osaka may add an hour or more, making this a short- to mid-haul product that sits above standard class and the business class Green Car.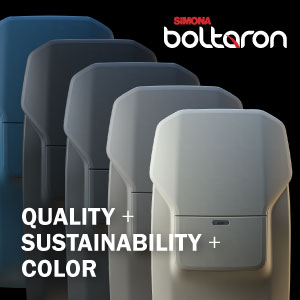 The aim from the railway company customers, Chung says, was to bring in a luxury automotive touch from brands such as Lexus. But with Gran Class relatively new to Japanese rail — introduced in 2011 with the E5 Series train on the Tohoku Shinkansen line — some unusual design questions and customer requests sprung up that might not have arisen in a more mature market.
"The original desire by the customer was to have piano black shell around the back of the seat," Chung explains. "While this looks great, we recognised that this shiny and highly reflective surface would be a nuisance for the passengers as the bullet train passes by various contrasting sceneries in high speed. But the customer insisted on the piano black finish, so we mocked up the seat in a vehicle and drove it around — demonstrating the potential problem. Even at lower speed, it became an annoyance. So the customer was convinced right away, and accepted our proposal to wrap it with black leather instead."
Another example, he says, was that "the customer wanted to have the luxury touch of quilted leather trim cover on the seat. Based on our experience, while this makes the seat cover durable, it hardens the structural property of the trim cover thus degrading the comfort greatly — especially in long travels. So we mocked up the seat with two styles: full quilt and partial quilt, which only has quilt finish on the seat back, as seat back only impacts less than 30% of overall comfort,. After having seated in both, it was a no brainer — the customer accepted our proposal to keep quilt only on the seat back."
It will be fascinating to see how the company expands its work in this premium space, particularly in the aviation sector, where Chung concludes that the "aviation business is an area that we want to grow beyond the current level, which is limited and small. So you can expect us to be a lot more visible in the future."
Related Articles:
Featured image credited to Toyota Boshoku