When Azul began exploring the possibility of bringing inflight Internet to passengers, management reached out to a number of other airlines to ask: "What's your take rate" for paid Wi-Fi sessions? "And it was very small, so it didn't seem like something we wanted to invest in," Azul CEO John Rodgerson confides to Runway Girl Network.
Known for quenching its Brazilian passengers' thirst for soccer and other live sports by offering free live television — and armed with the aforementioned Wi-Fi data from other airlines — Azul opted to retain a free model when it tapped Viasat to provide high-speed, Ka-band IFC on over 100 domestic aircraft, a mixture of A320neo family aircraft and Embraer E195-E2s.
"We wanted to make sure we have the best product in the market," says Rodgerson. The IFC solution, which is currently available on 15 Airbus A320/A321s and two E195-E2s, was initially installed by a partner MRO firm but Azul is now doing all the work in-house at its new hangar in Campinas.
Initial installs took roughly 11 days, but the burndown rate has greatly improved, and Azul technicians are now able to install in five days, says Rodgerson. He notes that the process was a little more technical than a Wi-Fi-only install due to the fact that Azul already offers live television via widebeam Ku and needed to place the Viasat Ka antenna underneath the same radome. "[A]nd that's also why we're a little bit delayed."
Offering free inflight Internet browsing is a differentiator for Azul, which is wrapping the cost of the service into the price of the ticket and further offsetting with advertising, says the Azul CEO.
Brazil is seeing an enormous boom for e-commerce, he notes, and "we are alone in a lot of the markets we fly to", serving twice as many destinations as the next closest competitor (110 in total). Moreover, in Brazil, Azul serves a disproportionately high number of business travelers – 65% compared to 35% leisure – and business customers have higher demands and need to be connected. As such, Azul was eager to ensure it offered "the best service available" and that people would be "proud" to fly with the carrier, he says.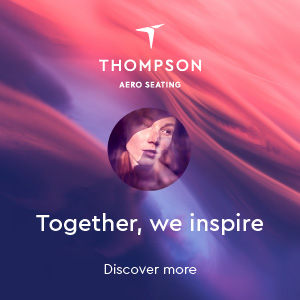 Wi-Fi placards inside and outside of the aircraft alert passengers of the service, and flight attendants are also announcing its availability and generating excitement. "There is a marketing aspect to this," explains Rodgerson, as people will choose to fly Azul because of it. "We want customers to always fly Azul so the more word of mouth the better…"
Flying aboard a Viasat IFC-equipped Azul jet recently, Rodgerson says he achieved a download speed of 68 Mbps with the free service. He confirms that passengers are already double- and triple screening – watching live television on the seatback and accessing social media on their phones [not unlike the scenes aboard fellow David Neeleman-founded JetBlue].
Azul will in time offer a paid tier of connectivity service, with an eye on supporting streaming services such as Netflix. "Some people prefer to pay for a more premium service … I think it will be minimal but yes we will offer that for sure," reveals Rodgerson to RGN.
Viasat's high-speed solution in Brazil leverages capacity on its Ka-band partner satellite, SGDC-1, owned by Telebrás. The satellite "gives enormous coverage throughout Brazil", supporting connectivity even "if I'm flying in the middle of the Amazon", says Rodgerson.
He notes that Viasat is already helping to provide satellite-supported connectivity to schools throughout Brazil "and that's the exact same one we're using, and it serves all of Brazil".
[T]he fact that we have so much coverage over destinations we're flying, that makes a big difference. This product is certainly helping us enhance the onboard experience, but also changing lives and educating many kids throughout Brazil, helping to take people out of pretty humble situations and giving them access to the same things that we have access to on the Internet.
Viasat plans to augment the SDGC-1 network with its next-generation Ka-band satellite constellation, ViaSat-3, when the latter is available. The launch of ViaSat-3 might also be well-timed to support IFC on Azul's widebody aircraft, though Rodgerson says talks to equip the Airbus A330s with IFC have not begun.
So, there is currently some linefit IFE that comes with the A330s, and so we haven't had that broader discussion yet. But certainly, as we get that fleet back up and flying, we want to have a more consistent product across all our fleet so that discussion is to be had still.
In terms of linefit offerability at Airbus, Viasat vice president commercial mobility Don Buchman tells RGN that the company is "definitely making inroads, obviously doing Service Bulletins and working with Airbus through that". He adds that Viasat is "working multiple lines of opportunities throughout all the [aircraft] platforms" but declines to comment on when or which Airbus type will first gain linefit approval.
Given the huge popularity of the A320neo family, there is "a lot of pull to get factory fit" and that is "definitely still in our plans".
Azul, meanwhile, is excited to see domestic traffic gradually return as Brazil's vaccination rollout continues apace. Compared to pre-COVID 2019, "we'll be at about 85%" for the month of July, says Rodgerson. "Our entire airline has been vaccinated."
Related Articles:
Featured image credited to Azul